How Napoleon's Italian Exile Set the Stage for His Return to Power
On Elba, the Ousted General Was Compared to Robinson Crusoe
A ruler sows destruction. He is brought down and punished according to the law and logic of his era. But then something terrifying happens. The disgraced ruler becomes even more powerful—precisely by trading on his disgrace. This is the cautionary tale of Napoleon's first exile.
In 1814 an allied coalition defeated Napoleon after nearly a quarter century of perpetual war. The former ruler of 80 million was banished to Elba, population 12,000. Ten months later, he escaped to the south of France with a few hundred supporters in tow and marched to Paris to reclaim the French throne.
Two centuries later, historians are still trying to figure out how he pulled off what is among the most miraculous and disastrous feats in history. We might find our answer by considering Napoleon's greatest natural gift: his ability to spin the most seductive tale out of whatever raw material life and history dealt him.
Napoleon once defined greatness as nothing more than the ability to make a racket. "The more noise you make," he said, "the farther it will go. Laws, institutions, monuments, nations, all this passes—but the noise it makes continues to vibrate through other generations." On Elba he proved that while his enemies might have shuffled him offstage to a tiny Mediterranean backwater, they could never hope to silence him.
In his diminished circumstances, Napoleon on Elba was observed at closer range by more people than at any other point in his life. He always made sure to put on a good show. Reports flowed back to the mainland about Napoleon the broken man, seething in a cramped cliff-side villa, close enough to his poor subjects to smell the frying of their fish.
Napoleon the wretch, so hard up that he had to serve his soldiers rotten bread. Napoleon the man of the people, grunting alongside his laborers as they decorated his garden with a giant N-shaped hedge. Napoleon the buffoon, passing lonely, inconsequential nights by cheating at cards against his mother.
Those were the stories based on fact. The rumors were much wilder. But the result was the same: in exile Napoleon had become a diverting mystery. He remained a fixture in European newspapers, whose writers and illustrators competed to create the most damning caricatures of the so-called "Robinson Crusoe of Elba," even while the man himself did very little that could be deemed newsworthy.
His replacement, the staid and stuffy king Louis XVIII of the restored Bourbon dynasty, meanwhile failed to elicit love from his people because the only story he had to tell was about the past grandeur of his family. Louis acted and opened himself up to critique. Napoleon, unseen, did nothing, and so made himself the subject of any number of speculations and interpretations.
The character of the fallen emperor became the vessel for projected dreams of grandeur, for nagging fears of obsolescence, for hatred of the other, for any story people wanted to tell themselves just then.
Napoleon promised common folks that they would each achieve individual greatness simply by having witnessed . . . his own crazed quest.
Napoleon knew that any good story needed an improbable ending. From the relative safety of Elba, the prospect of a return to France had struck his remaining advisors as suicidal. But that was the point. Defying counsel and rational thought, he felt compelled to return out of a heady mix of restlessness, narcissism, and an obsession with fulfilling his destiny. He risked his life, and those of the followers who sailed with him, not out of any concern for his people but because he had convinced himself that it was exactly the kind of bold and dangerous act that so great a man was expected to perform.
He landed with a weapon so dangerous it allowed him to retake power without firing a single shot: an entertaining new story. There is little evidence of any widespread French conspiracy to bring Napoleon back to the throne during his exile. Rather he succeeded, at least for the Hundred Days between his return and Waterloo, by trading on the propaganda value of this act of defiance in the wake of his public shaming.
Narrowly escaping capture on the high seas, washing up on the shores of Golfe-Juan, bringing the first royalist troop encountered over to his side by doing nothing more than walking alone through a field, daring these soldiers to shoot him: it all made for yet another thrilling tale to tell round the fire. People were shocked into submission by the audacity, the madness, of his lightning march. Still, they could see a certain logic to the whole enterprise. It was the natural (meaning completely bizarre and unexpected) next installment in the Napoleonic saga.
To the nameless masses, allowing Napoleon to act so recklessly was to allow for his pursuit of greatness to take its course, even if deep down they knew this pursuit only promised them more destruction. They would remain nameless. But at least for a moment they could feel as though they played part in something bigger than themselves, if by no means better for themselves.
This was Napoleon's finest trick. He promised common folks that they would each achieve individual greatness simply by having witnessed—and through their myriad minor acts of passivity, abetted—his own crazed quest. His performance, however, had only ever been meant for an audience of one. His nonsensical, diverting episode resulted only in tens of thousands of needless deaths at Waterloo.
People of any era must be prepared for the terrifying possibility that even their clearest logic and their harshest legal punishments can't always put an end to a good story. They might even amplify the story's appeal for certain audiences. History shows, again and again, that once someone becomes the object of popular fascination they can mostly do what they like to people, so long as they keep them tuned in to find out more. That's why fascination is always at the root of fascism.
Any era's law and logic are themselves a set of stories. They hold power only so long as people refuse to let any one individual rewrite them in his own image. This is hard to do. As Napoleon's exile reminds us, a slick storyteller armed with a fresh bit of entertainment can sometimes prove stronger than law and logic combined.
__________________________________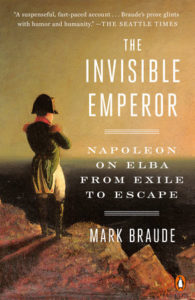 Adapted from The Invisible Emperor: Napoleon on Elba from Exile to Escape by Mark Braude, published by Penguin Books, an imprint of Penguin Publishing Group, a division of Penguin Random House LLC. Copyright © 2018 by Mark Braude.
---