How Monuments Help Us Remember—Or Not Remember—the Past
Andrew Shanken on the Origins and Meanings of Central Park's Memorials
Memorials are a tired topic, "dead," a well-intentioned colleague told me in 2006, a Freudian slip of a word to use for objects or sites that so often bring the living into contact with the dead. I would be better off with a different research topic, she thought.
On the surface, she was right. Scholarship on memorials is a crowded field. With new titles published every year, it has become increasingly difficult to gain a meaningful purchase on the topic. Even the wider public could be excused for tiring of the latest round of memorial proposals. A pandemic memorial, anyone? The Atlantic Monthly is already there, as is Forbes, NBC News, and NPR. Apparently, anticipating memorials is clickbait.
Indeed, we hear quite a lot about those honorific structures, statues, sculptures, plaques, and other objects that serve as memorials, an oddity for a period so willing to forget. Memorials are also commonly encountered as sites of political contestation, places where people go to raise awareness—or to raise hell. The Robert E. Lee equestrian statue in Richmond is a terrific example of the first, while the Lee equestrian statue in Charlottesville is a sad reminder of the second. Both are now gone. Damnatio memoriae can backfire and become an aide memoire.
While memorials are well understood in these two roles—as commemorative and political devices—most of the time they are neither. Most often they are just there, in the way, turned off, or enveloped by the quotidian. Birds rest on generals' heads. Teens cavort on their steps. Rush hour commuters race around them like any obstacle separating them from their appointments.
Frank O'Hara's poem "Music" (1954) bares this reality: "If I rest for a moment near The Equestrian / pausing for a liver sausage sandwich in the Mayflower Shoppe, / that angel seems to be leading the horse into Bergdorf's / and I am naked as a table cloth, my nerves humming." It is neither the anonymous equestrian, nor the surging angel that sets the narrator's nerves atwitter. These remain generic, deprived of proper name, in spite of the fame of both subject (General Sherman) and sculptor (Augustus Saint Gaudens). But the Mayflower Shoppe and Bergdorf's! These O'Hara names. It is the urban scene that grabs him; the memorial is foil. It is a scene, moreover, of bathos born of contrast, of solemn high culture brought low (and adoringly so) by commerce, while the narrator eats the most common of fast foods at the feet of an eternal golden angel.
While memorials are well understood in these two roles—as commemorative and political devices—most of the time they are neither.
What city dwellers have not, amid the bustle of urban life, plopped down at a memorial and not bothered to query its identity? Or worse, read the inscription with only dim recognition of the person's identity or event's meaning? We are no guiltier of amnesia than those who first erected modern memorials in great numbers in the late 19th century. Mariana Griswold Van Rensselaer, one of the most astute architectural critics of the period, wrote: "If a work of art is agreeable to look upon, we may be glad to possess it even if it commemorates a well-meaning nobody." She grouped Saint-Gaudens's Sherman with the American panther in Central Park and, more surprisingly, the monuments at Gettysburg. They belonged together because they were all, in essence, public art. So much for sacred memory or politics.
Art, however, is no less fraught. On aesthetic grounds, memorials met with savage criticism from the moment they began to embellish modern cities. In the mid-19th century Thomas Carlyle called the new population of statues "poor wretches, gradually rusting in the sooty rain; black and dismal." They "sanction and consecrate artistic botching" and "pretentious futility… No soul looks upon them… without damage, all the deadlier the less he knows of it." This attitude extended to their sites. What Van Resselaer called "right placing" was a purely aesthetic matter: "A beautiful statue may be shorn of half its effect if badly stationed." To some critics, places needed protection from memorials. Edgar Degas proposed walling off parks to defend them against the incursion of monuments.
This is one reason why Sherman is poised at the edge of Central Park, rather than being led through it. Frederick Law Olmsted, one of the originators of Central Park, plumped for parks entirely free of memorials. These detracted, he believed, from the pure encounter with nature. He rejected monuments and other intrusions on the natural aspect of his parks, which he called "townlike things."
The artfulness of the first parks—their pretense of imitating unadulterated nature—attempted to counter the corrupt culture of the city with nature as a place ostensibly free of culture. Olmsted's position was widely adopted, however ineffectually, across the United States. John McLaren, who served as the Superintendent for Golden Gate Park in San Francisco for over fifty years, famously hid statues behind plantings. To this day, many of them can be seen fighting with foliage. As memorials invaded parks, they populated a landscape intended explicitly as an escape from those associations conjured up by memorials.
Olmsted and his followers obviously fought a losing battle. Memorials are fixtures in parks. They failed to concede to the reality that parks immediately came under immense pressure to serve many purposes. There were precious few civic spaces to absorb the increasingly complex needs of modern urban life. Olmsted's insistence on unadulterated landscape met great resistance, not least of all from pragmatic reformers who saw the park as open land that could be put to use as a place of "cultural enlightenment," where they could inculcate values to the masses. Olmsted's purism surrendered to "museums and conservatories, aquariums, observatories, and zoos," and other institutions. Playgrounds and monuments further broadened the urban park's use and meaning.
On aesthetic grounds, memorials met with savage criticism from the moment they began to embellish modern cities.
Central Park bears the marks of these debates. Statuary lines the Mall. Again, Van Renssalear tells us why: "It should be remembered…, as a monument is a palpably artificial thing, the best place for it is where other artificial objects are conspicuous." She thus supported the Mall in Central Park as a place for monuments because its formality openly acknowledged its artifice, whereas those parts of the park that pretended to naturalness were unsuitable. A bronze faun or a statue of Pomona could appearance in a glade or an orchard, but where parks looked natural, memorials were undesirable.
This explains why so many memorials were pushed to the edge of the park. The Columbus monument stands (for the time being) at the southwest corner, a pendant to Sherman. Other memorials line the edge, in the view of landscape architect George Burnap, turning them into a screen of the park and preventing them from becoming the dominant note. Sherman is a quintessential example and it set a pattern.
The 107th United States Infantry memorial (1927) on the eastern side of the park exemplifies this approach. An ensemble of World War I soldiers advance from the wooded thicket bordering Central Park, as if mounting a charge. The vignette is acutely cut off by Fifth Avenue. Three traffic lights and multiple lanes of traffic thwart their charge down 67th Street. Apparently, the anomalous collision of war and city was less upsetting than a memorial in the park. Behind the soldiers lies a playground, its slides, rocks, and water elements, all obscured from the memorial by the low wall of Central Park, a green buffer between the park and the urban wall of buildings, a curtain to help visitors suspend disbelief.
In The Everyday Life of Memorials, I write about these boundaries, the way people frequently disregard them, the meaning of where we put memorials, and what we do at them. O'Hara had it right: The liver-sausage sandwich means nothing without Sherman, which is incoherent without Central Park or Bergdorf's or the teaming masses gawking, flirting, littering, and now texting as they move through the scene. They're all part of the total meaning of this urban fragment, which flows into other cultural landscapes that give it meaning. Sherman and his golden angel epitomize the formal. Placed by elites and official committees in a formally landscaped entrance to Central Park, they play the didactic role of keepers of memory, arbiters of culture, reminders of American hierarchies. They are symbols of authority, stand-ins for the powers that placed them there.
Yet all of this breaks down in O'Hara's poem—and in real life. The everyday is not just the spaces in between and the neglected buildings, people, and processes in them, but the entire mixed-up scene. It turns out that the formal ain't so formal, and the everyday is constantly under pressure to straighten up and tuck in its shirt. The formal Sherman and its formal setting, planned from above and gilded with high-minded allegory, are part of everyday urbanism.
As the geographer Richard Walker has written, largely to prod devotees of the everyday out of their purism: "The city and its monuments are an unending procession of spectacle, high drama, low farce, and play of representations upon the rude stones—fraud on the grandest scale—from classical Athens to Islamic Cairo or from Baron Georges-Eugène Haussmann's Paris to Frank Gehry's Los Angeles."
__________________________________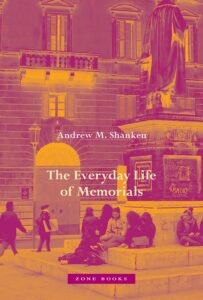 The Everyday Life of Memorials by Andrew Shanken is available from Zone Books. 
---