How Modern Storytelling Uses Aliens to Talk About Humanity
Mike Chen on the Power of Allegory in Science Fiction
Aliens are out there.
Just not in the way we might think.
While we haven't yet proven the existence of aliens, scientists have pointed to the vast expanse of our galaxy to explain why extraterrestrial life seems likely.
Do they appear how we imagine them—Star Trek's ridge-faced humans or Star Wars' actors in Storm Trooper costumes? Or are they the slimy and vicious aliens of so many horror movies, taking on the physical structure of Earth's wild animals?
Possibly, but not likely. In most cases, the aliens we see on-screen are based on a combination of storytelling practicality (someone's gotta fit in that rubber suit) and thematic allegory. Simply put, fictional aliens say far more about our hopes and fears than they do about reality. Consider the most common ways aliens are used in modern storytelling:
Fear of the other
Spielberg's E.T. The Extra-Terrestrial (1982) is a cinema icon, and it hits on a common message in storytelling: the gentle outsider who needs help but is misunderstood. These "fear of the other" stories hold up a mirror to our society, demonstrating that systemic aggression often overlooks compassion and understanding. From a literary perspective, Nnedi Okorafor's award-winning Binti trilogy takes a fresh look at this theme.
Fictional aliens say far more about our hopes and fears than they do about reality.
Fear of the unknown
What happens when aliens remain a mysterious and hidden force? Treating aliens essentially as spies and secret operatives infiltrating our systems and governments was something used for decades but used prominently in Cold War–era science fiction, a metaphor for the growing paranoia born of political tension and conspiracy theorists. Perhaps the best-known version of this in contemporary storytelling comes from The X-Files, where our heroes try to untangle the mystery of aliens secretly plotting with human governments (in between Monster of the Week excursions).
Fear of ourselves
Of course, why have a government conspiracy when aliens can dupe humanity into self-destruction? In these scenarios, we rarely see the aliens themselves, as they've infiltrated human minds and bodies. This theme enables us to look in the mirror and ask ourselves if toxic behaviors are really so alien. The cult classic film They Live offers a perfect example, where a secret alien takeover works as a metaphor for the mind-numbing effects of a capitalistic society.
Fear of annihilation
Science fiction has used extinction events to spark countless stories, and cataclysmic alien invasions have been popular since HG Wells' War of the Worlds all the way through Apple TV's aptly named Invasion (2021). Why do these stories resonate? Fear of the end, no matter how we get there, also sparks hope that humanity will put aside its differences to face a common tragedy.
Desire for diversity and collaboration
Of course, not all aliens in science fiction are metaphors for fear. In some cases they represent diversity, both in worldbuilding and in character. The two biggest science fiction franchises demonstrate this in different ways: Star Wars has a colorful cast of aliens, often puppets or stunt performers in suits. The only place you don't see a lot of aliens? The villainous Empire and First Order. From the heroes to the smugglers and side characters, the rest of the universe represents a more diverse and collaborative society. Meanwhile, Star Trek's aliens create an emphasis on diversity, but in a structured way that emphasizes both collaborative societies and cultural understanding.
As an allegory for inclusion and diversity—literally, with the phrase "infinite diversity in infinite combinations" being part of Vulcan philosophy—Star Trek uses aliens to show humanity's struggles against systemic and personal prejudice. Their aliens just happen to look like humans with ridges glued to their faces and spots painted on their necks.
Together, these examples showcase the power of allegory in science fiction. Whether through hope or fear, fictional aliens are a useful tool for storytellers to speak to audiences about their own humanity—identifying an anxiety to overcome or presenting an ideal to aspire to. These themes have existed since the birth of science fiction… though perhaps the most interesting evolution of "aliens as a metaphor" storytelling will come after the unthinkable: what types of stories will authors write after alien life is finally discovered?
__________________________________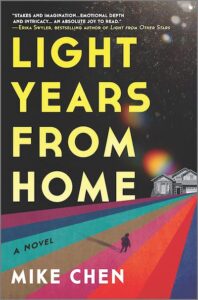 Mike Chen's Light Years from Home is out now from Mira Books. 
---