How Mermaid Stories Illustrate Complex Truths About
Being Human
The Tropes, Tricks, and Tools We Find in Tales of Merfolk
The following stanzas of Heinrich Heine's poem "Die Lore‑Ley" (1823), rendered here in Mark Twain's translation, "The Lorelei," encapsulate some of the most salient and lasting features of the mermaid as a beautiful and dangerous being who attracts men to their watery deaths.
The loveliest maiden is sitting
High‑throned in yon blue air,
Her golden jewels are shining,
She combs her golden hair;
She combs with a comb that is golden,
And sings a weird refrain
That steeps in a deadly enchantment
The list'ner's ravished brain . . .
Evoking popular Western iconography, Lorelei, bejeweled and combing her golden hair with her golden comb, appears to sailors and sings them a tune, the sweetness of which is irresistible and fatally entrances them. By the end, "Lorelei's grewsome work" is done, and the water has engulfed "sailor and bark."
Historically, Lorelei's tale emerged in the early 19th century as a local legend and cautionary tale connected with the dangerous waters and the echo heard in the vicinity of the tall cliff Loreley along the river Rhine in Germany. In a version that predates Heine's, the beautiful maiden, betrayed by her loved one and accused of witchcraft, throws herself down from the cliff into the mirror-like waters of the Rhine, where the echo of her name continues to be heard. Faced with the prospect of living without the one she loves, Lorelei desires to end her life, or eventually to be reunited with him in the water. But her backstory and act of romantic loyalty are forgotten in later musical and poetic compositions, in which she becomes emblematic of a widespread trope of femininity: a mermaid of alluring beauty who uses her siren-like song to draw men to her and to water.
Mermaids: What and who are they? What do they look like? How are they different from sirens? How are they related to other water beings around the world? What are the cultural, religious, and popular beliefs that sustain specific plots of human‑merfolk encounters? Why do we continue to tell stories about eerie mermaids and other water spirits in the 21st century?
The Penguin Book of Mermaids does not pretend to provide a definitive answer to any of these questions, but its more than sixty tales from a wide range of cultures and time periods illuminate our fascination with mermaids today. Our choices aim to broaden readers' knowledge of European mermaids; to encourage considering today's popular‑culture mermaid in relation to her merfolk kin in belief tales across the globe, past and present; and to foster appreciation of the cultural significance of the tales, since mermaids and other water spirits raise issues of gender, voice, and sexuality, as well as knowledge, ecology, and spirituality—especially but not only in Indigenous contexts. Our interest, in other words, is to provide an opportunity to enjoy and reflect on the diversity across place and time of human experiences with the mysterious, nonhuman, aquatic other.
*
There is something deeply unsettling about a being whose form merges the human with the nonhuman. Whether they dwell in fresh or salt water, aquatic humanoids raise questions about what it is to be human and what lies beyond a humancentered world. Physically, they are both like and unlike us. They eat, sleep, and breathe in a realm that we can access only temporarily, but they can live among us, as they are often able to shed the nonhuman portion of their bodies and infiltrate the human world.
Biform water creatures are signs that often serve both as admonition for humans not to cross borders and as incitement to do so.
And the shores and banks where we come across them, like the vessels on which we cross their waters, are thresholds between our world and theirs. We humans do not deal well with betwixt and between—liminality makes us anxious. We prefer our world organized into well‑ordered and sharply defined categories, and we prefer to be in charge of it. Nonetheless, we are strangely drawn to the other who is in part a mirror image of us and appears within reach, even if mentally ungraspable.
Our anxieties about water beings are magnified by our attraction to them, and, even more so by the mermaid's seductiveness, which in many stories results in the human's loss of control, self, and even life. Embracing a water spirit can prove lethal. Will the mermaid drag us beneath the water to drown us or to give us a new life? If we were able, with the help of magic, to survive in the merfolk's watery world, would we be their prisoners or their partners? And if a mermaid or maiden of the sea marries a human, will the relationship last, or will her otherness prevail?
Our ambivalence toward mermaids and other water spirits finds its representation in their bodies, which are often alluring, but can also be frightening. Perhaps most powerful is the image of the mermaid's hybrid body—her fish‑human, super-feminized, but strange form. Descriptions of the merbeing's fishy lower half tend to be generic, but there are a few notable exceptions. Water spirits with the lower half of an ocean-dwelling porpoise are found in Oceania; human mixed with freshwater dolphin (or porpoise), dugong, or manatee bodies are found in the Amazon region. Other merbeings and water spirits are partly reptilian—dragons or water snakes. This hybridity may be a sign of superhuman, divine powers, as in the case of the mythic Oannes; or of lack and subhuman bestiality, as exemplified in the "Feejee mermaid" hoax.
Whether it has religious significance or is bestialized, the human‑fish or human‑snake hybrid is all the more a monster because its element is water, which is both a life source and a mystery that humans are transported by but cannot fully inhabit. Our use of the word "monster" here reaches back to the Latin monstrum, a "portent" or prodigious being that defies what is commonly found in nature and thus elicits both fear and awe. In contemporary cultural theory, we are reminded that "a construct and a projection, the monster exists only to be read: the monstrum is etymologically 'That which reveals,' 'That which warns.'" Biform water creatures are signs, then, that often serve both as admonition for humans not to cross borders and as incitement to do so.
Such admonition and incitement come in innumerable permutations across sexual, gendered, racial, species, ontological, and spiritual divides. For instance, reductive definitions of mythological Sirens as real‑life "harlots outstanding in both instrumental music and sweetness of voice" who "reduced passers‑by to beggary" already circulated in Greek and Roman antiquity; and the appellation of prostitutes as "mermaids" in early modern British culture likewise attests to how a woman who oversteps the boundaries of gender propriety has, over centuries, risked being defined as monstrous. In contrast, as shown in Odysseus's encounter with the Sirens, it is manly, in fact heroic, to engage with their seductive powers, as long as one does not fall prey to them. Stories of merfolk and other water spirits thus provoke us to think about gender and our expectations of differently gendered bodies.
The representation of mermaids' bodies seems to have a stable history, but when we consider the etymology of "mermaid" we find that, even confining ourselves to the mythologies of northern Europe, "maidens of the sea" come as undines, selkies or seals, nixies, and sea nymphs in many shapes and forms, some of which are not even described. Furthermore, mermaids have been represented as having a single fishtail, marking them as having some control over their bodies, or as having two tails, perhaps suggesting sexual availability.
In current iconography, the mermaid usually has one tail, a fishtail that in its long and scaly shape is only somewhat reminiscent of the serpent's tail in some medieval stories. Iconically appearing upright and bare breasted with her piscine half hidden in the water, the mermaid's body is often read as a sign of her mutability and duplicitous nature. The striking reversal in René Magritte's painting The Collective Invention shows a mermaid lying on the beach, on her side, facing viewers; she has a fish's head and side fins, while her lower body is human and naked. Does Magritte's rearrangement of the mermaid's body parts show how dehumanizing a patriarchal "collective invention" of the mermaid can be?
While some mermaids, merfolk, and other water spirits unsettle the human‑nonhuman divide by their ability to inhabit different bodies at the same time, others do so by shapeshifting, for instance, from seal or reptile to human. Hans Christian Andersen's Little Mermaid's transformation into a human is the outcome of her pact with the sea witch. For other merbeings, shape‑shifting is a way of life: a seal woman may sun herself in either shape when she pleases. But her hybrid nature is more than skin deep: when access to her nonhuman body is taken away by a man who wishes to hold her on land, she is mutilated. As many tales about marriage between humans and merbeings suggest, interspecies romances are risky.
While some of the mermaids that real‑life voyagers and explorers have reported seeing in their travels are not described as beautiful, in most narrative and visual accounts it is the beauty of the mermaid—in contrast to the siren's knowledge—that attracts men. In misogynist ways, such beauty is often connected with vanity, as the mermaid narcissistically holds a golden mirror while combing her long, flowing hair. Beauty can be a powerful weapon—a lure that draws us nearer, a temptation that we are unable to resist. It beckons us, whispering that it will give us what we want most, whether that be love, sex, or both. But what does our fascination with this dangerous yet desirable other suggest about us?
Answers to this question are found in the many tales that different peoples tell about water spirits. They reflect our fascination with and fear of female bodies and of water and our dread of predators or poisonous creatures that live in or near water. But such tales are also social and cultural commentaries about what it means to be human: they encapsulate our beliefs and mores, express our weaknesses and strengths, and expose our deepest fears and desires. Furthermore, stories of sirens, mermaids, and other water spirits consistently admonish humans for testing their place in the social and natural world by mingling with nonhuman or monstrous water beings.
*
Since ancient times, humans have noted that stories from discrete cultures around the world can be remarkably similar, and have tried to account for why the same motifs and themes occur globally. This is true of stories about water beings. To explain this phenomenon, various theories explore the origin of traditional narratives, but they are difficult to verify. What bears keeping in mind is that the value of stories is not the degree to which they are authentically native, but the ways that they reflect the concerns or values of the group who tells and retells them.
Whether fresh, brackish, or salty, water holds a mystery that fascinates humans, has aesthetic qualities that delight our senses, and—like water spirits—is both attractive and destructive.
The popularity of water‑spirit tales also depends on the powerful material and symbolic role of water, without which life as we know it would be impossible. Given that everything we need to survive, in one way or another, depends on water, it is unsurprising that peoples across place and time have ascribed religious significance to water and developed water symbolism. But water is also a shape‑shifter that is not easily grasped and that affects nearly everything it touches. Whether fresh, brackish, or salty, water holds a mystery that fascinates humans, has aesthetic qualities that delight our senses, and—like water spirits—is both attractive and destructive.
Stories move about in the world in ways that are comparable to ocean currents, following a course as they move. This is not to say that the flow of these story currents is a natural occurrence. While it is difficult to ascertain with certainty whether parallel stories are the product of diffusion, it is easy enough to imagine the historical forces behind the circulation of stories—human migration and dispersal throughout the ages, exploration, trade, the expansion of colonialism and empires, and our age‑old fascination with humankind, which leads us to learn more about peoples and their cultures. The material and ideological forces of capitalism and colonialism, often in conjunction with sexist ideologies, may have caused localized and indigenous story streams across the world to dwindle and their currents to be diverted. Thus, mermaid and water spirit stories as a global phenomenon do not circulate in isolation from one another. Like the crosscurrents of rivers and oceans, they flow into and cut across one another; they cause whirlpools, run in overt resistance to a dominant current, or persist hidden under it.
All these forces come to bear on how a story is passed on. Thus the individuals who collected and recorded tales—and their culturally informed understandings of genre and the purpose of genre—have also impacted the circulation and appreciation of tales locally, nationally, and transnationally. Thinking of currents and crosscurrents of stories encourages us not to compare and contrast them as separate and innately different, but rather to think of them in dynamic relation to one another. The cross‑cultural dynamics of water‑spirit stories can help loosen the hold of the all‑too‑popular reading of the siren or mermaid across time as a symbol of dangerous femininity.
The cross‑cultural dynamics of water‑spirit stories can help loosen the hold of the all‑too‑popular reading of the siren or mermaid across time as a symbol of dangerous femininity.
Part of the attraction that keeps us telling and retelling merfolk and other water spirit stories lies in the mystery of these beings' existence and the lasting question, "Are mermaids and other water beings real?" Already in the first century AD, the Roman naturalist Pliny the Elder was writing in his book Natural History about sightings of the remains of nereids and tritons—sea nymphs covered in scales and fish‑tailed men. Visual representations of mermaids in medieval bestiaries, or visual compendia of beasts, also offered an outlet for answers to this question. The small images introducing each section of this collection gesture to the varied ways in which we have imagined merfolk and other water beings over the centuries.
Twenty-first-century people—whether in real life or through our imagination, as seen, for instance, in multiple Little Mermaid live‑action films—continue to wonder. Thus, along with historical accounts of mermaid sightings, we have included some first‑person accounts from recent or contemporary oral tradition of seeing or interacting with mermaids or other water spirits. Like any other narratives concerning one's personal interaction with the divine or the inexplicable, these tales are approached with respect, whether or not we share their sense of reality.
Mermaid stories did not emerge as fairy tales—that is, as fictions—but as myths and legends. Folklorists explain that, in different ways and in contrast to folk and fairy tales, myths and legends raise questions of belief—meaning not that every teller believes the events in the tale really happened, but that somewhere, at some point in time, people (not just one individual) believed or believe in the material and/or symbolic truth of the tale. Myths often narrate the beginning of all life, as well as human life, and attempt to explain how and why things are the way they are and who is accountable for what. These stories have religious, spiritual, and philosophical functions and meanings, and feature gods as well as humans, often interacting with one another.
While myths make accounts of early history believable or at least memorable, legends are grounded in a more recent and localized history that tells us how certain features of a place originated, or that situates events and their superpowered human protagonists within specific places and historical times. Place names and realistic details seek to verify the truth value of legends; folk and fairy tales (often called wonder tales), on the other hand, bolster our suspension of disbelief by staying away from specifics and following a magical logic of their own. However, this belief versus fiction distinction is not universally applicable when we consider how stories are relevant to the social group or community within which they circulate.
__________________________________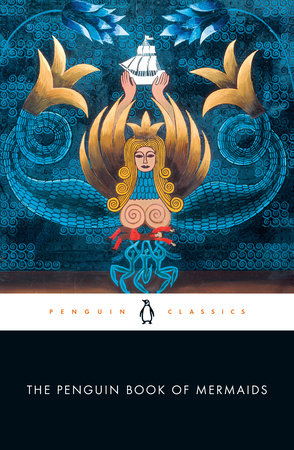 Excerpted from The Penguin Book of Mermaids, edited by Cristina Bacchilega and Marie Alohalani Brown. Copyright © Cristina Bacchilega and Marie Alohalani Brown 2019. Reprinted with permission from Penguin Classics.
---