How Linda Wertheimer and Susan Stamberg Found Their Voices at NPR
Lisa Napoli on Four Radical Women Who Changed
Broadcast Journalism
Allowing a woman to have a byline in print was one sort of progress. Permitting her to deliver the news over the airwaves was downright revolutionary. Yet over at one of the nation's newest programs, the prevailing concern wasn't the status of women. For the small staff churning out 90 minutes of All Things Considered, navigating the free-for-all chaos of the daily program was enough of a challenge.
It didn't help—in fact, it hurt quite a lot—that since the show's debut, no structure had been put in place. It wasn't always even clear who'd show up for work each day. Whoever arrived at the office first in the morning found themselves that day's producer—vetting breaking news, wrangling the reports gathered in the field, making sure they'd been spliced down and mixed and prepared for air, booking telephone interviews with guests (an inexpensive way to pad out the time), writing copy, sifting through the poorly catalogued pile of taped story submissions from affiliates in search of stories they might use, and assembling all the pieces into a loose-fitting "road map" so as to fill the promised 90 minutes. With so few staff reporters, everyone pitched in, assigning themselves whatever stories sounded interesting, with little direction or oversight and even less—make that no—editing.
A persistent struggle over the show's identity had emerged—a tug-of-war between those who wished it to serve primarily as a hard-hitting news-of-record daily report, a radio version of the front page of the New York Times, and those who wished it to be more reflective, with a feature-driven, analytical approach in the vein of the New Yorker. Just as writing a quick, breaking news story on deadline required an entirely different set of skills than a well-crafted, deeply researched magazine piece, "newspaper radio" was far less costly to produce than "artistic," long-form radio.
Neither approach was easy, or cheap. With fewer than 30 people, there simply wasn't the personnel, nor the budget, nor hours in the day. A million exhausting and exacting decisions were required to create an hour and a half of material every day. The reality of the elastic spirit of experimentation necessary to redefine news that had seemed so fun and liberating at the start had quickly worn thin. Each day, as they toiled to fill the time, it felt, one staffer lamented, like they were using a "teaspoon to fill the Grand Canyon."
Often, as it had on the very first day, the show would begin with nary a finished tape in the smoke-filled control room. Suddenly, a dozen reels would get hurled in there "like Frisbees," or a tape would break as it played, leaving the host to scamper in improvisation.
Working long, hard hours for a fraction of the pay earned by commercial broadcasters was hard enough, but was anyone even listening? Even the radio start-up's location was a stark reminder of its puny stature. They'd moved from I Street into 2025 M Street—directly across the street from the broadcasting Goliath CBS, with its endless resources, hefty audience, and vaunted reputation for excellence.
The most pressing issue holding back All Things Considered, though, was neither its physical plant nor its lack of organization or listenership; it was its host. Robert Conley eschewed scripts, insisting on speaking extemporaneously, freezing in mid-sentence when Linda spoke to him from the control room to tell him he was running too long.
Off the air, his brusque manner toward the staff didn't square with the collaborative vibe Siemering aimed to instill. After a matter of months, he'd been pushed off the air and replaced by two of the five reporters, Mike Waters and Jim Russell. With their attentions now devoted to hosting duties, this stretched the mettle of the already overworked staff even more.
Susan, thoughtful observer of the proceedings from her perch as a part-time associate producer, offered wise insights to the managing editor (a newspaper veteran with no radio experience) about the show's lack of "shape, form, style, and personality."
Listeners needed to be able to count on hearing similar types of stories at the same time each day, she explained. News should be summarized at various points throughout the broadcast, and shorter pieces were necessary, too. They'd fallen into the lazy, bad habit of "covering" press conferences, she observed: Why not, after briefly describing the press conference, talk to someone whose life would be affected by it instead?
She brimmed with ideas. Informed by her experiences as a working mother wading through her new and often daunting role, she pitched a program called HouseBreak, an afternoon show aimed at women that would provide an intelligent alternative to soap operas. There was little in any medium that appealed to her, a smart, educated woman concerned with issues surrounding motherhood and marriage and care for the elderly. Wasn't family a major institution that deserved to be covered? she wondered.
The women's pages in newspapers, and the women's magazines, were vacuous. As much as management might have liked the idea, and Susan's occasional on-air contributions, there simply weren't the resources to make HouseBreak a reality. So, she contented herself with filing stories that addressed these issues as best she could.
One week, when the new cohost Mike Waters was about to head out on vacation, he encouraged Susan to sit in as his substitute; he liked what he had heard of her style in the stories she filed. Waters had his own unique approach. An acolyte of Siemering who'd come with him from Buffalo, he'd once narrated a "breaking news" report about a sunset. Another time, to approximate for a listener what it was like to ride in a barrel over Niagara Falls, he and a colleague sent a microphone for the ride. ("Sounds just like a toilet bowl flush," observed a bemused onlooker.)
On one of those days, while Susan served as fill-in host, the lead story centered on a topic near to her heart, India—an official state visit by Prime Minister Indira Gandhi. Next came a piece by Barbara Newman, a former print reporter; another from Kati Wetzel, a research assistant; and yet another from arts reporter Connie Goldman.
"That's too many women in the first part of the program," the day's (male) producer scowled.
"What?" said Susan. "Do you say the same thing when Walter Cronkite introduces Dan Rather to report on what Richard Nixon did today, followed by Daniel Schorr on Capitol Hill with Senator Hubert Humphrey?"
Why shouldn't the show factor in an abundance of female voices? Why did there have to be a scorecard? Why was it that the male voice dominated the airwaves, even here at NPR, as it did most everyplace else on earth? How come one half of the population was routinely shunted aside, included only as tokens? Why shouldn't women be heard in equal measure? They hadn't been in broadcasting till now. If any place was to reflect the new world order, the recognition that women counted, shouldn't public radio be that place? Wasn't that what Bill Siemering meant when he talked about featuring diverse voices?
It was. Diverse—and human. Susan didn't sound like an announcer. She sounded like a person. She spoke the way she wrote, in all caps and exclamation points and ellipses, with energy and enthusiasm, like she was gathered around the piano in her parents' living room on West 86th Street, inhaling that glorious nicotine, chatting up a gathering of friends as if at a salon.
How come one half of the population was routinely shunted aside, included only as tokens?
Siemering didn't tell Susan about the derision her hosting had received from station managers in the small network of affiliates. News wasn't supposed to sound like this, they grumbled. News was supposed to be buttoned-up, delivered in stock broadcast inflection, by a man. A woman, as host? A woman whose voice was tinged with New York ("New York," of course, being code for "Jewish")? A lively woman, at that, laughing during convivial exchanges with guests. No one laughed during the news.
Even the big boss, Don Quayle, who'd known Susan from her previous job at WAMU, didn't think putting her in the host's slot was a terribly good idea. But at the time, there was a bigger issue: the organizational mess. Quayle insisted that Siemering appoint a steady producer to deal with that. Siemering, in turn, chose NPR's very first employee, Jack Mitchell, who was competent and organized and, having worked at an actual educational radio station before, had a sense of a format that might work for stations. (He'd also done some time at the British Broadcasting Corporation, having been dispatched by the Corporation for Public Broadcasting before NPR had even launched to observe their procedures.) Now he set about inventing and imposing a structure to make life easier both for the people who worked on the show as well as for anyone who bothered to tune in.
* 
On a wintry day in January 1972, Susan found herself standing with Linda by the Xerox machine outside the tiny office they shared. Just as Susan had been appearing on the air, Linda had risen from her behind-the-scenes post as director, where her role had been to traffic cop the component parts of the broadcast and make sure the show timed out, to on-air reporter covering consumer affairs.
On this day, the two women were photocopying portions of a new magazine that captivated their attention in order to prepare a special 11-minute report about it. This publication wasn't like anything either of them had ever seen. Any woman could immediately grasp the significance of the cover illustration. It featured a multiarmed ancient Indian goddess clutching the accoutrements juggled by the modern working woman: a steering wheel, a frying pan, an iron, a makeup mirror, and a phone. The stories inside articulated Susan and Linda's own experiences and frustrations with the juggle and expectations faced by working women, inside and outside the home.
If a person's sex shouldn't determine her fate, why should her marital status?
Even the magazine's simple name was resonant. Ms., the publication was called—Mmzzzz—that "neutral form of address for women that obscured marital status," as Linda described it in their report. The honorific wasn't yet widely used. The women behind the magazine, it seems, had considered other titles—Sisters, or The First Sex, or Everywoman, or The Majority—but they'd chosen this simple two-letter word because it conveyed a complex concept. It announced, "I'm a feminist." The word itself was fraught, radical. If a person's sex shouldn't determine her fate, why should her marital status? Linda and Susan felt that if they were so enthralled by this magazine's ideas, their listeners would be, too.
Other magazines for women, Ms. cofounder Gloria Steinem had explained in a taped interview, offered "glossy, sweetness and light" fantasy, like a "Saturday afternoon at the movies." But Ms., she said, had been designed to offer support, to raise consciousness, and to help women change their lives by telling the truth—instead of merely offering escapist fantasy.
In voices both defiant and proud, the reporters proceeded to tick through the issues raised by Ms., as if they were reading a manifesto at a rally. Though All Things Considered now reached 130 stations around the country, up from the 90 at launch, and though there was no budget to commission ratings, the potential reach of a radio audience, even on the still largely undiscovered non-commercial airwaves, was far greater than would ever appear for the average protest.
"The Housewife's Moment of Truth," as the magazine's first cover story was called, examined the inequity of household chores and why men got congratulated when they bothered to pick up dirty laundry, while women didn't think to question why they shouldered the time-intensive chores of cooking, cleaning, and child care—even when they held jobs outside the home. (Liberation from, or at least shared responsibility over, such chores was a key component of the burgeoning feminist movement.)
Another article questioned why girls excelled over boys when they started school but grew up to sabotage their success in order to supplicate themselves to men: "The cost of success was more dangerous than the cost of not succeeding." Another piece in the debut issue, "How to Write Your Own Marriage Contract," offered wisdom on equalizing the marital vows.
These "smoldering" and "dangerous" stories in this "text for a revolution," Linda and Susan announced to the audience, underscored this important truth: In the 1970s, a woman no longer needed to exist purely to support and bolster a man.
__________________________________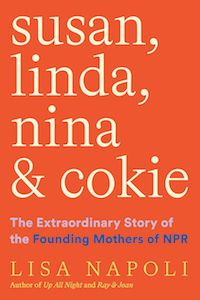 Excerpted from Susan, Linda, Nina & Cokie: The Extraordinary Story of the Founding Mothers of NPR. Used with the permission of the publisher, Abrams Press. Copyright © 2021 by Lisa Napoli.
---