How J.M. Coetzee wrote His Booker Prize-Winning Book
On the Many False Starts and Revisions to Disgrace
The preparatory work for Disgrace undoubtedly reveals disaffection on Coetzee's part, but his disquiet actually lay deeper than his scepticism about this or that aspect of the prevailing discourse. It had more to do with anxieties about the future. The problem of how to imagine South Africa's future, as it had been articulated in Waiting for the Barbarians and Life & Times of Michael K, resurfaces in Disgrace but, if anything, in politically more challenging ways because the transition was well under way. The anxieties were also personal as much as they were political, because they had to do with being an aging parent and imagining one's children and their future.
In the novel, David feels bereft when he realizes that with Lucy's pregnancy from rape, his own line will 'run out, like water dribbling into the earth.' The thought paralyses him momentarily, leaving him supporting himself against the wall of the kitchen, hiding his face in his hands and heaving until he cries. It is, of course, only his patronymic line that will run out, not the biological one, which is present in Lucy and her child. Coetzee's own circumstances were entirely different, but they, too, would have challenged his sense of continuity with future generations. Nicolas had died. If he was to remain sanguine, his hopes would rest on his daughter, Gisela. The comfort that a daughter provides for an aging father was in fact central to the conception of Disgrace, as the notebook reveals in referring to a daughter's 'clear eyes', but Coetzee had also planned that the novel's 'moral centre' was to be the following: 'He', that is, the one who would become David Lurie,
consistently takes the line, Nothing matters, soon I will be dead anyway. In other words, he cannot see beyond his death. Somehow he (I too!) must get beyond that. Hence, of course, the daughter, the only way in which he (I too!) can conceive of the future. (Think of James Joyce on the girls in Shakespeare's late plays.)
The final parenthesis in this note refers to the Scylla and Charybdis episode of James Joyce's Ulysses, which takes the form of a conversation in the National Library of Ireland in Dublin, in which Stephen Dedalus, Lyster (the librarian) and friends discuss Shakespeare. Stephen offers a brilliant if slightly implausible theory about the autobiographical basis of Hamlet, and then argues that Shakespeare was able to pass from the darker tragedies like Hamlet, King Lear and Othello to the later romances by focusing on daughters: Marina in Pericles, Perdita in The Winter's Tale and Miranda in The Tempest.
The Master of Petersburg's preoccupation with a father and a son transmutes into Disgrace's reflections on a father and his daughter. The daughter figure develops into Lucy, who by the end of the story is pregnant, and David is beginning to learn what Joyce refers to in the same passage as l'art d'être grandpère, the art of being a grandfather, a phrase derived from a book of children's poems by Victor Hugo. Coetzee kept notes of Hugo's poems in his files.
In one version of the relationship between David and Lucy, he was to be a fully fledged writer, not just a literary critic and part-time librettist, and he would say to her, 'You are my best critic,' and 'I depend on you to tell me when to stop when my powers begin to leave me.' She reads his work, realizing that it is 'surreptitiously confessional'. When it becomes clear to her that certain episodes could not possibly belong to his 'real' life, she continues to read them allegorically anyway, as if they were about him. She reflects, 'He may think that he is being driven by the fiction, but he cannot escape the expressive function.'
In the published text, the intellectual tussle between father and daughter takes different forms, but the consistent thread is that Lucy is the answer to David's problem of feeling that the future is not worth living. He ruminates on verb-tense constructions that he calls 'the perfective', constructions in which the pastness of the past is emphasized ('Burned – burnt – burnt up'). When he tries to reassure himself, following the attack on the farm in which his face and hair are burnt, that he will feel better about the world when his wounds heal, he thinks, 'the truth, he knows, is otherwise. His pleasure in living has been snuffed out. Like a leaf on a stream, like a puffball on a breeze, he has begun to float toward his end.' At various stages in the manuscripts David either commits suicide or considers ways of committing suicide, including with Lucy's help, and both in the drafts and the published text she plays a central role in David's recovery by steering him towards an appreciation of the life he shares with animals.
* * * *
The realism to which Coetzee was committed meant that he had to make the relationships between David and Melanie Isaacs, and David and Lucy, as socially credible as possible. The David-Melanie affair went through several iterations: she is a student of psychology, working on the history of mental health institutions in the Western Cape. He arranges a panel at a conference in Johannesburg on colonial historiography and sees to it that her paper is accepted so that they can spend time together. He then turns Lurie, who is still known as X at this stage of drafting, into an academic lawyer who has been appointed to an investigative tribunal, working in a warehouse, poring over police files and preparing indictments.
X no longer gives lectures but continues with supervisions, and agrees reluctantly to supervise Melanie, who is a psychology post-graduate working on the rights of the insane. The student later becomes a student of literature, writing an MA thesis on 'Landscape and Gender in [Early] South African Settler Writing', with Thomas Pringle as 'colonial conqueror'. It is only at a late stage that she becomes Melanie the drama student of the novel.
If David was to be a member of a TRC-like tribunal, then a realist novel would require his social life and especially his political connections to be fleshed out. This created difficulties for Coetzee:
Stalled over the question of his political identity. If one makes him belong to the ANC, the question of the texture of his social life arises.
The whole enterprise slides into Gordimer territory. Wouldn't it be better not to make it the story of a man of high station brought down, but rather to make him a lowly toiler in the academy, five years short of retirement? After the event, pressure is brought on him to retire early. He accepts retirement, finds the package includes exclusion from the campus and the library (he was hoping for a researcher's cubicle). This hits him particularly hard. He haunts the SAPL [South African Public Library], spends more and more time with his daughter.
The Lurie we know begins to take shape here, together with some of his intellectual interests. Lurie was to be busy on 'a major work' in keeping with the protagonists of earlier books, and initially this took the form of a study of 'the landscape tradition in the generation before Collins and Thomson, i.e. in Pope, with Virgil and Horace behind him. The mediatedness of landscape.' He would reflect on 'the shantytown landscape of the N2 [a highway east of Cape Town]', making 'the tone of the book lighter, more ironic'.
While the subject would have brought the scholar and his student together, and while it resonated with Coetzee's earlier writing, the ironic touch implies that Coetzee was reluctant to return to landscape as the subject of fiction. Lucy's farm in the Eastern Cape enables Coetzee to rework the tradition of the farm novel, but Lurie's artistic interests took a different course.
The switch from landscape studies to a minor opera on Byron and his lover Teresa was a late development, for which, among other things, Coetzee read Byron's letters and journals and Peter Quennell's Byron in Italy. He considered having Lurie write a book on Giacomo Leopardi and toyed with titles derived from Arrigo Boito. He used Leopardi's Operette Morali when writing Teresa's lines for the libretto. Lurie's Byron project works much better than the landscape studies might have done, both because it enabled Coetzee to develop Lurie as a properly post-Romantic intellectual, and because Byron is sufficiently removed from contemporary South Africa to bring out Lurie's cultural isolation.
The realism also demanded incident, action. Coetzee recorded the first version of the attack on the farm, the novel's pivotal event, on April 20, 1996. Following his resignation from the Cape Technical University, Lurie removes himself to the countryside and Lucy's house:
He finds a more or less happy existence living with his daughter, working at the SPCA, looking after the garden. He makes friends with one of the workers at the SPCA. One afternoon this worker and an associate attack him, beat him over the head, try to strangle him, pour motor oil over him and set him alight, and run his car over him, before making off with the car.
His daughter looks after him. He mends, but scarred. He returns to his job, demands to teach.
By this stage, Coetzee had begun to look for ways of making the text more edgy and violent. Soon after imagining the attack he writes, 'What is missing, what makes the whole project so lukewarm is an element of savagery, of anti-social-ism. As it stands it is a plea for aging men to be allowed to have affairs with their students. The relationship with Melanie is too polite, Melanie herself is too nice (or too blank).' He revises the meeting with Melanie in the university rose garden, making her more sexually precocious. Thereafter, he often sought to roughen the edges of the narrative, making it more menacing, as in the following entry (which did not survive editing): 'In the middle of the night the bulldog growls. He peers out. In the moonlight, a man waits. He thinks: Africa; I'm in a novel by Doris Lessing. He goes out. The man wanders away. Later, sound of talk from Petrus's house. Lucy joins him: "What is it?"'
The realism also demanded that Lucy's inner life be represented. This is a source of much discussion in the criticism because Lucy is, indeed, undeveloped as a character. We see her predominantly through David's eyes, and after she is attacked she becomes defensive and inscrutable. Critics have read this as deliberate on Coetzee's part, as if he was emphasizing that the novel's perspectives are limited, that the subjectivity at the centre is strictly David's.
This interpretation of the published text is undoubtedly correct, but if we look back over the drafts at how the restricted perspective came about, the situation is more conflicted. For what emerges from the novel's development is that while Coetzee realized that the realist portrayal of Lucy would require him to develop her inner life, especially in relation to the violence she suffers, he simply did not have the means, or even the desire, to do so. 'The problem is Lucy. Whatever she is going through, I can't feel it from the inside. Try the following. After the rape she spends long periods with Dot Shaw, getting "support". At the same time she loses interest in the dogs, in the farm. He (and Petrus) have to look after things. Lucy becomes slordig, unkempt.'
The problem was intractable, even threatening to derail the entire novel, or turn it into something different. He writes: 'This is not a novel. Not possible to keep the emphasis from shifting to Lucy's inner world, thus splitting the work in two.' The solution was to 'Speed up the narration, make the control of the narrator more formal, denaturalize it, emphasize symmetries.' It was a phase of crisis that forced Coetzee to look back and recompose the changing narrative structure:
Thus: (1) his placid concupiscence; (2) the disruption caused by the student, and the fall into disgrace; (3) retreat to his daughter; (4) the daughter's crisis and her attempt to illuminate him; (5) his return to face the hearing. Closes with scene of him making his way through contemptuous crowd. 'They revile him.'
30,000 words. One of a series of 'exemplary tales.'
He began to think in terms of a 'synopsized novel', as if 'there were a fully written realistic novel in the background which is retold in synopsis. One gets an example in Don Quixote, when Q tells the story of a stereotypical romance. Impression of pace. Not being sure whether you are in the base novel or in the summary of it.' Needless to say, the synopsized novel was not the novel he ended up writing.
In earlier projects, like Waiting for the Barbarians and Life & Times of Michael K, difficulties on this scale led to thoroughgoing revisions, often with metafictional outcomes. On this occasion he pressed on, albeit tempted by the idea of giving a synopsis while hinting at a larger work in the background: 'So: how to give it in summary without moving into a half-baked postmodernist mode.' The crisis passed with Coetzee keeping to the story. Lurie's work with animals, the Byron material and David's relationship with Lucy provided the areas of intensity that were needed to keep the writing responsive, buoyant and forward-looking.
While Coetzee took the view that he could not represent Lucy's interior life or the specific character of her suffering, the historical meaning of her being raped was a subject that he was able to turn into fiction. Moving swiftly towards the most contentious of possibilities in this theme, he writes, 'Rape should be seen as part of project to drive whites off the land and out of the country …' The note is ambiguous: should be seen by whom: Coetzee, the narrator, Lurie, the white community around Salem, the reader? It is too cryptic to be clear.
Less ambiguous is the entry immediately following, in which he develops the difference of opinion between Lucy and David, as follows:
the problem, as she sees it, is that no amount of individual reparation will suffice to save the individual. There is no way to acquire the mark on the door (cf story of the plagues in Egypt) that will spare one. Only when the white community as a whole is recognized as having made reparation will it cease to be victimized. This is a prospect Lucy does not foresee.
OR: She believes that only in the countryside where people are not anonymous, can salvation be secured at an individual level.
In Lucy's eyes, David Lurie is preoccupied with irrelevant matters. Hence, in part, her indifference to him.
DL sees something that Lucy will not adjust to herself: that she is laying herself open to rape upon rape. How many rapes before one is made clean?
It is more obvious here that it is Lurie's views that are in play. He would argue that Lucy is wrong to imagine that individual reparation will save her. In the novel, David asks Lucy whether by refusing to lay charges against her rapists, she imagines that she will be treated differently in future, whether she thinks that her progressive outlook will be 'a sign to paint on a door-lintel that will make the plague pass you by.' Later, he puts it to her that the rape did not involve personal hatred – it was a matter of 'history speaking through them', that 'it came down from the ancestors.'
From the point of view of the challenges that he was facing, Coetzee pursued what seemed to lend itself to fictional representation, and the issue he turned to was alive and well in the culture of liberal whites: whether or not it was possible, through goodwill or through their actions, for individuals to earn immunity from historical guilt and from the suffering that might come with reparation. The rest of the plot of Disgrace answers that question: it is not possible for Lucy to escape reverse-colonial 'subjugation', as she calls it; and, in fact, to have a future at all she must embrace the humiliation fully by submitting to a polygamous arrangement with Petrus.
David, too, would have to own his disgrace in order to progress beyond it. Coetzee even toyed with the idea – though it was not a serious proposition – of having David return to Cape Town and lock himself in the empty lion cage of the zoo on the Rhodes Estate, the problem being that no one would come to look. Coetzee had read David Garnett's A Man in the Zoo (1924). The suicidal impulse never leaves Lurie: Lear-like, he is full of empathy as he watches the corpses of dogs roll down the conveyor into the hospital's incinerator.
The novel's final scene, in which David puts down the dog he has befriended, is a residue and displacement of his own suicide, a self-sacrificial gesture in keeping with the self-destructive tendency that was present all along in his surrendering to Eros and the erotic fire ignited by Melanie, but that has now become more dire.
The care with which the final scene is written turns it into a moment of literary sublimity that is mysterious and profound, though behind it lie more ordinary feelings of bitterness and anger. Before the dog was given the touching name Driepoot ('Three Paws'), it was to be called Byron, or George Gordon. If David was to play God in sending the dogs to their deaths, he should learn to do so impartially: 'Pass one, pass all,' Coetzee wrote, using the phrase coined by militant students campaigning against high failure rates.
Coetzee thought of putting together a volume of short acerbic essays on South Africa at this point, including one that would reply to the new education policy of 'affirming the child' (whose feminist roots he saw in eighteenth-century sentimental literature), with a Nietzschean injunction that children should be taught to repress the demonic in themselves.
It is somewhat miraculous that Coetzee was able to burn off much of this palpable bitterness in the incendiary artistic language developed out of David Lurie's wayward desires. Coetzee's standing face to face with time in Disgrace included facing down the times he was living through. His reading in the late stages of writing the novel included Milan Kundera's Testaments Betrayed, an account of 20th-century artistic investments betrayed by the history in which they reside. Anticipating the betrayal of art, of his art, by a corrosive alliance of market instrumentalism and postcolonial nationalism, Coetzee was handing the culture a story that was proud in its very shamefulness, triumphant in defeat. It was also a resolute reclaiming of the space of art from time's, and the time's, degradation.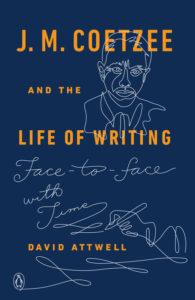 Excerpt from J.M. Coetzee and the Life of Writing by David Attwell, paperback published on September 27, 2016 by Penguin Books, an imprint of Penguin Publishing Group, a division of Penguin Random House LLC. Copyright by Uitgeverij Cossee and David Attwell, 2015.
---