How Iconic Movie Monster "The Pale Man" Was Created
Behind the Scenes of Guillermo del Toro's Pan's Labyrinth
As told to Howard Berger and Marshall Julius.
With every character I've created with Guillermo del Toro, he's never said, "Right, so, this is exactly what I want."
He'll come with an idea and usually some drawings, and from there, it's up to you to develop the concept. It's a process.
The earliest take on the Pale Man, from Pan's Labyrinth (2006), was of a wooden man with drawers in his chest. Inside one of them is a dagger that Ofelia has to find, but if she opens the wrong drawer, there's a thin, long, slimy tongue that licks her face.
Guillermo was like, "No, no, no. We need something else."
Next, we came up with a fat, old man, sitting at the banquet table, who suddenly becomes very thin.
Again, Guillermo was like, "No, no, no. Let's change it."
He wanted the Pale Man to be stick-thin with hanging skin, and for reference he gave us that Salvador Dali painting of melting clocks.
But he's like, "I still don't like it . . . Remove his eyes."
I was like, "Remove his eyes? What the hell? But OK."
We removed his eyes. Then Guillermo tells us to remove his nose as well. I'm like, "How is he going to breathe?"
So Guillermo says, "Do a manta ray sort of thing."
As a director, he's the most creative person I've ever worked with. But as a producer, his first and only priority is the film itself.
So we did those little, round holes. And we were getting pretty close to what we ended up with in the movie. But then Guillermo's like, "It's not right. Let's do this: When Ofelia eats the grape, he'll transform. He'll open his mouth, his lips will recede, the screaming skull of a horse will come out, and he'll turn into a four-legged creature that chases her."
We were in the middle of pre-production, we had no money left, and suddenly Guillermo came up with something that not only required a make-up, but also a mechanical thing, and then a puppet. I told him he'd have to find someone else to do it and he got mad at me.
The thing is, whenever I talk about Guillermo, I always say the same. As a friend, he's the best you could ever have. As a director, he's the most creative person I've ever worked with. But as a producer, his first and only priority is the film itself.
We took some time to cool down and met a while later in Madrid. Guillermo backed down from the screaming horse concept, but the make-up was still not quite there. As he has no eyes, I asked, "How is he going to find Ofelia?"
Guillermo said to me, "Close your eyes and try to find me."
I thought maybe he'd slap my face, but OK, I closed my eyes. First, I felt around on the table on front of me, then I reached out as far as I could, with my hands wide open. Guillermo yells, "Stop there!"
And he comes up to me and draws eyes on my palms. I was like, "That makes no sense! He grabs the fairy with his eyes?"
But he says, "Stop thinking about practical stuff and think about magic."
I was like, "You're right! OK. Let's do this."
The first make-up test we did was with just the face and the hands. Guillermo said maybe we should add some tattoos or something, but I convinced him we didn't need more detail. That the simpler the design, the better.
So Doug Jones is sitting in the chair, playing with the make-up, trying things out. He holds his hands up to his face, like he's staring at us, then he closes his hands, and opens them again, like he's blinking. It was just the most amazing moment.
We painted his pointy fingers black, so they'd look like eyelashes. And finally, we agreed: we had our Pale Man!
He didn't come from Guillermo's mind, though, or mine. More, a mix of accidents, financial limitations and great ideas from many different artists. Plus Doug, of course, flapping his fingers!
And that's how we somehow created what very quickly became an iconic movie monster.
_________________________________________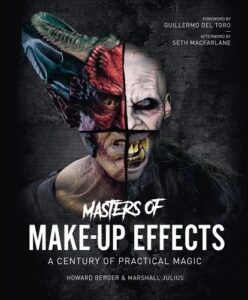 From MASTERS OF MAKE-UP EFFECTS: A Century of Practical Magic by Howard Berger & Marshall Julius. Photos courtesy of David Marti.
---