How I Learned to Let Form Do the Work
Muriel Barbery on Writing About Kyōto
Translated by Alison Anderson
I lived in Kyōto in 2008 and 2009 and have visited the city as often as possible since then. I have never felt at home there, unlike certain Westerners who, from the very start, view Japan as a natural home, their heart's native land. I'm not particularly erudite when it comes to Japanese culture or history, I don't speak the language, I even feel somewhat reticent about exploring its mysteries. I've lived there, and when I go back there, I'm like a woman who's in love with a stranger yet remains indifferent to the reasons for her love, eager only to experience it; or perhaps she sees the ties that bind that love to her—esthetic bedazzlement, spiritual complicity, the sense of a world newly enchanted—without feeling the need to know anything more about it, only to bear witness.
Those two years in Japan, together with my trips to Taiwan—another island I love—and the Japanese and Chinese poetry I read every day have all taught me that Asia accepts and honors the very mystery that the West does its utmost to dispel: the mystery of being here, in this life and in this world. That is not to say we should abandon the effort to understand what life is, but rather we should doubt that it can take the form of an explanation. This way of relating to the mystery of life has had a decisive impact on my life, has nurtured in me a profound faith in intuition and yearning. It has thrown light on my estrangement from philosophy, my failure to be drawn to conceptual constructions; it has illuminated, too, my vision of fiction in literature.
Of course, you can find experts on concepts in Asia, and poets of the elusive in the West; I'm exaggerating this opposition for the sake of clarity. But in the end, it is in Asia that I have learned to think that since life is a mystery, art is not a torch shining on the root of things, but an ineffable mist where, sometimes, the invisible is revealed; and that our taste for novels—par excellence an exercise in questions and not answers—is perhaps our most Eastern attribute.
However, in the ten years that followed my departure from the archipelago, right up to the composition of my fifth novel, A Single Rose, I failed to write about Japan. I thought about Kyōto all the time, I went back there as often as I could, I wanted to write about Kyōto, I was convinced that from then on the city and its culture would be at the heart of my literary endeavors. And yet, for a decade, I wrote about the rest of the world: about Burgundy, about Abruzzo, Extremadura, and even the land of elves. Of course, a Japanese aesthetic had filtered into the imaginary landscapes of my fantasy novels, just as in my second novel, written before I ever set foot in Japan, there was an obvious tropism toward all things Japanese. But write about Kyōto? Impossible.
Looking back over that decade, I am aware of both the impossibility and its sudden dissolution. This was due to a particular set of circumstances, but also to structural reasons, and understanding this became part of my writing process.
Illumination does not arise from explanation, but from form. Anyone who wants to explore the mystery must find the adequate form.
The circumstances involved my relationship with Japan in general and Kyōto in particular. This is typical of people from the West: we sense that there is something sacred about the land of Japan, that its spiritual and aesthetic quests, having attained a degree of accomplishment that has never been equaled, call for reverence and humility. How dare anyone write about something that so greatly surpasses us? How can we claim to pay tribute to such grace without betraying it? For a long time, I believed that this was the main obstacle. I was wrong.
Writers of fiction are neither journalists nor sociologists, and they always suffer from a time lag, of varying duration, because to write they draw on material that has ripened at length in a deep place inside where thought cannot go. But once life has metabolized in this dark place, it can emerge into the light in the guise of an imaginary tale, which always surprises and disconcerts even the writer. The fact that I had to wait ten years for the shock of Kyōto to be transformed into fiction is in the order of things—but while I try, every time, to remind myself of this obvious fact, it would seem that a writer's psyche is often prey to forgetfulness, another ordinary phenomenon it would be interesting to explore.
A second obstacle that was keeping me away from Japan was also perfectly obvious, and it's a wonder I wasn't able to express it as such earlier on. And yet, one thing I learned in Japan is that illumination does not arise from explanation, but from form. Anyone who wants to explore the mystery must find the adequate form, the one that makes us see and feel, without resorting to concepts. Is that not, moreover, the definition of the novel? Unlike Ruth Benedict, who in 1945 tried to understand Japan without being able to go there, without speaking the language, novelists, who are neither ethnologists nor anthropologists but simply explorers of life, have the vocation to describe what they see without trying to explain it. And they have a weapon at her disposal: form.
Form: in other words, style and structure—the registers of language, syntax, vocabulary, composition, rhythm, motifs and leitmotivs—in short, everything that goes beyond the story. For some time already I'd been thinking of writing the story of a woman from her birth to her death, covering a few decades. The fact that my initial intention was transformed into A Single Rose, a novel set in Kyōto that describes a week in the life of a fortysomething Frenchwoman, summoned to the reading of the will of the Japanese father she has never met, is due to the appearance of a specific style and structure. These were the true questions: What form for describing the gardens and temples? The influence of Zen on aesthetics and spirituality? The floating world? Art understood as an emanation of nature?
At one point, I felt the quiver of a style that was infused with Japan: tighter, more sober and controlled, employing more concise poetics, less lyrical prose than in my previous novels. At the same time the intuition of the structure came to me, also fed by Asia: twelve chapters corresponding to the months of the year, placing Rose's life within the cycle of seasons, in the flow of nature; before each chapter, a little Zen-like parable, indicating, in the form of a paradoxical question, the existential challenges Rose must face; in the dialogues, unprecedented concision and curtness; finally, a short narrative, without chitchat or digression, focused solely on capturing the transformation brought about in Rose by her perception of Japan. After that the rest came effortlessly: the pretext for the trip, the mourning, the Japanese father, the characters and, last but not least, the liberating sensation of finding the words to describe Kyōto and its mystery.
Sensibility comes from form, and form from nature as viewed through the prism of sensibility: anyone who has ever walked down the paths of a traditional Japanese garden can feel this. Writing about Japan presupposes an understanding of both the mystery and the lesson, and finding a form that can do it justice, particularly when writing in French, that radically heteronomous language. It so happens that the triad of sensibility/nature/form corresponds to my intuitive modus operandi. I rarely pay attention to the stories I want to tell; I am sure they are there, tucked away inside me in a place where I cannot see them taking shape. The themes of my novels are recurrent, with a few specific exceptions, and I don't worry about them, either: I am made up of them, they are powerful, and they will make themselves heard when the time comes. They are a part of my nature, just as nature is part of them.
On the other hand, I am passionate about varying the form my writing takes, and I devote all my energy to that end. To look at, or frame, a same landscape through different windows, and find therein, each time, an aspect that was previously invisible: that is what the painter in Peter Greenaway's The Draughtsman's Contract does, and I see this as a metaphor for the art of the novel.
Just as we must find our own way as we navigate our inner self, without ever being able to encompass that entire self with a single gaze, the understanding we have of our existence is never anything more than an intermittent glimpse into the mystery—shifting like a fog bank, sometimes lifting, only to form again nearby. Truly seeing means finding the right frame through which to catch that elusive glimpse.
__________________________________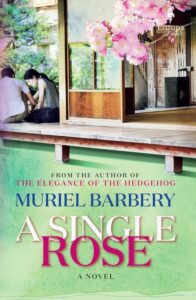 A Single Rose by Muriel Barbery is available via Europa Editions.
---