How I Built My Own Game of Thrones Iron Throne
Lauren Harms Reveals Some Secrets of the Book Designer
If you have ever read George R.R. Martin's A Song of Ice and Fire series (or watched an episode of Game of Thrones), you know that it is both outrageous and compelling; a violent, fantastical world with dragons, distorted seasonal patterns, and feuding families. Martin has created such a complete world that even something as imprecise as the plausibility of killing someone with molten gold doesn't seem questionable. But comedian Helen Keen did decide to question it all, and wrote a witty and incisive look at the true science behind the phenomena. It's a fun read for fans and not-yet-fans alike.
When I found out I would be designing the cover for this book, I knew it would be both a challenge and a lot of fun. I saw it as a great opportunity to think beyond a representational image and maybe create a bit of the Westeros world myself. When I thought about the imagery of the television series, I realized how powerful it was; so much so that some of the 2015 marketing posters didn't even feature the show's title, but only showed a dark image with the premier date in the now iconic, stylized typeface. I knew there were many ways the cover of Helen's book could connect visually to fans. My job as a designer would be to make the connection to the television show and books, but to keep it from looking like a piece of merchandise.
I started the design process with extensive research. I read fan sites, review articles, and even Wikipedia entries. One of the amazing things about Game of Thrones fans is how deep their passion and interest goes. There are instructions on making homemade Khaleesi Halloween costumes and tutorials on how to make your own dragon eggs with styrofoam balls and thumbtacks. What stood out most to me were the homemade Iron Thrones. Some replicas were rough, five swords askew at a disproportionate scale, but the interest in recreating the piece was still there. Even the thrones that were not quite replicas were instantly recognizable; they all maintained the concept of a chair with swords fanning across the top.
With a short list of visuals I thought were strongest, I headed to the stock image sites to begin research. There were some cool images of ice cubes on fire and some very menacing ravens that could easily be photoshopped to have three eyes. I explored making our own science-themed version of a sigil, like the house flags. But whenever I brought these images into a layout with the title of Helen's book, they felt generic and what's more, they weren't funny and therefore didn't seem like the right fit for her cover. Keen is an award-winning comedian, after all. I thought the UK publisher did a good job conveying humor with a quirky and light illustration of scientists testing a dragon.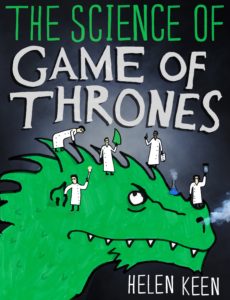 But I wanted to do something else. Going back through my research and inspiration, I came back to the idea of homemade thrones. Ideas started sparking: I could totally make one of those. What would I do with my own Iron Throne? What if I had a guy—a scientist—in the throne, covered in gold? That'd be two visual cues at once! And funny, like Nickelodeon slime! I took the out-there-idea to my creative director, Mario Pulice. He asked me to make a rough sketch and present it at the next jacket meeting.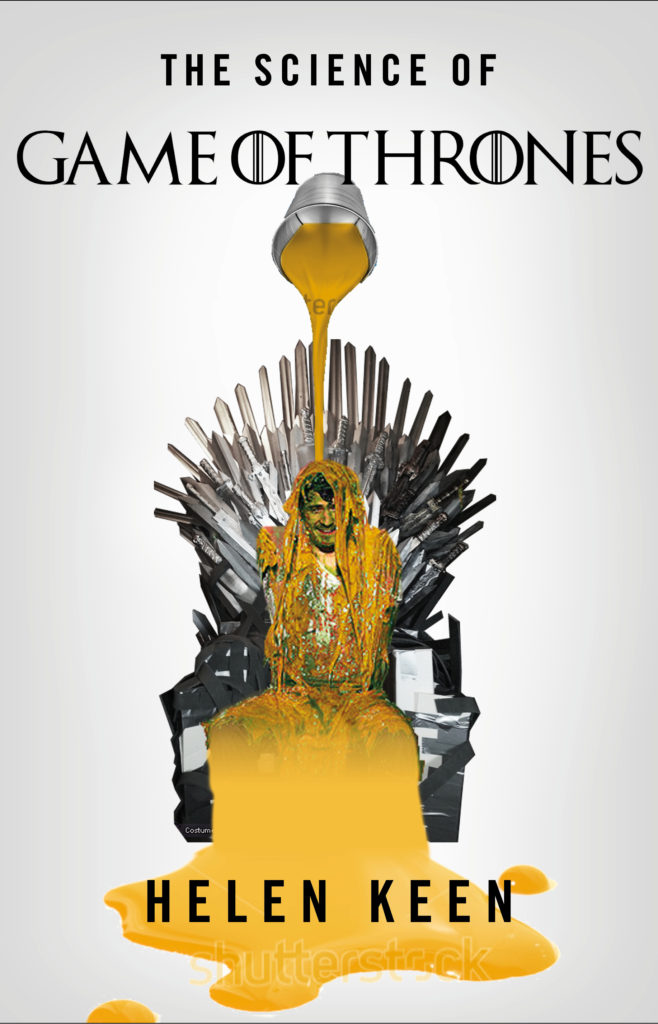 This is what I showed them. I included some mood boards too, featuring everything from Bill Nye to The Daily Life of Darth Vader photo project by Pawel Kadysz. Part mad scientist, part modern minimalism, all parts humor. The fact that they approved the shoot based on this showed a lot of faith, which I was grateful for.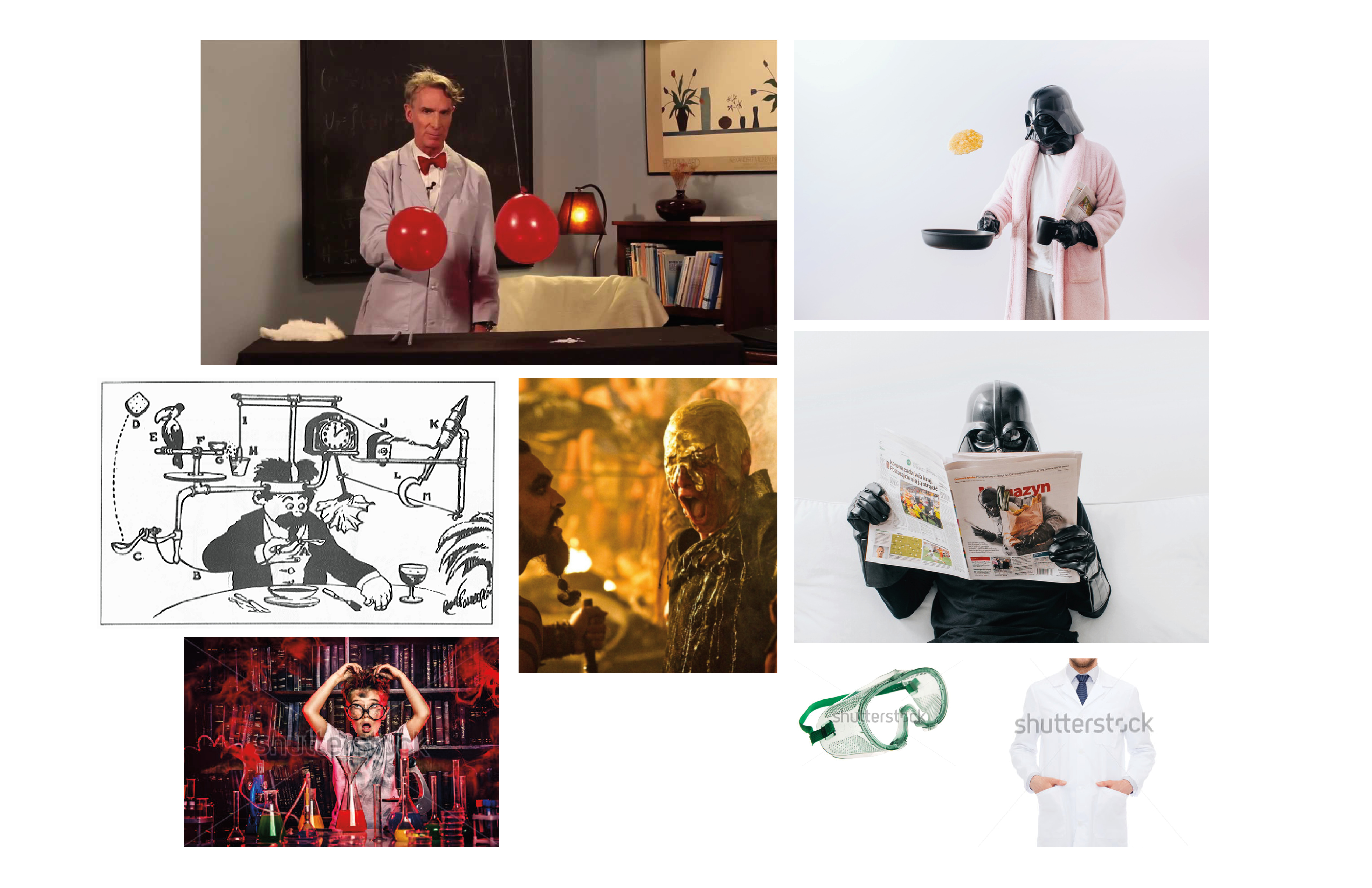 To get started, I ordered a zillion plastic and cardboard swords online, and tracked down a deck chair in January (no small feat in a New York City, a place with no space for out-of-season inventory). With swords and buckets of gold paint, I got to work.
It goes without saying that everything about this shoot was fun. But it was more than fun… It was an experience in creating an image that combined a known visual cue and an outside element—something that would connect with fans and peak their curiosity. A cover with a homemade throne would have been just as fun to make, but could easily be piled in with endless other GOT merchandise. Adding a scientist to my throne allowed me to create a cover that could only belong to this book. The concept was certainly out-there, and part of me expected it to get killed after the shoot, but that drove me to work harder.
It turned out that the gold paint didn't look like molten gold at all, so we cut it from the cover. However, in designing and building our own Iron Throne, we created a concept that incorporated visual cues from the books, the television show, and from the book at hand. For fans of the show, I hoped to bring in a bit of Ned Stark: a scientist deep in thought, contemplating the power of the wildfire in his hands as he sits upon the Iron Throne.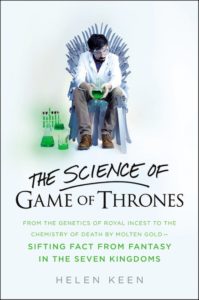 ---