How Goethe's Sorrows of Young Werther Led to a Rare Suicide Cluster
Dr. Nicholas Kardaras on the Dangers of Social Contagion
In January of 2007, a strange thing started occurring in Bridgend, South Wales—young people started hanging themselves. By December of 2008, a total of 26—mostly teenagers—had taken their own lives in the traditional Welsh community. Speculation ran rampant as to what was causing this suicide epidemic: Was it a suicide cult? Some sort of internet effect? Or just depressed teens feeling trapped in a gray and economically depressed former mining town?
Although rare, suicide "clusters" are not unheard of and are considered a classic social contagion effect. This type of suicide social contagion has also been called the "Werther effect," named after Goethe's novel The Sorrows of Young Werther.
That novel, published in 1774, narrated the story of a young, sensitive, and passionate artist named Werther. Werther falls in love with a woman named Charlotte, who is engaged to an older man, Albert, whom she eventually marries. Charlotte does share strong feelings for Werther, but knows that their attraction cannot move forward and asks him to limit his visits. Werther is tortured by his unrequited love of Charlotte and has also been ridiculed during a brief foray into noble society, where he's rejected there as well.
Convinced that his only option in this love triangle is the death of one of the three of them, he eventually realizes that he must take his own life because the idea of murder is unpalatable to him. So Werther borrows two pistols from his love rival, Albert, and shoots himself in the head.
The novel became an instant sensation and established the 24-year-old Goethe as a literary genius. But it had one other significant—and lethal—effect: young men throughout Europe started to dress like Werther and would then kill themselves in what also came to be known as "Werther fever." They apparently found a deep resonance with his pain and alienation and were inspired and emboldened by this fictitious character to take their own lives. The problem became so severe that the book was banned in both Italy and Denmark in an effort to stop the spread of this suicide contagion that was seemingly caused by this provocative book.
With Werther fever, young men were being influenced to end their lives—by a book.
Werther fever was a classic social contagion effect. With suicides, the thinking goes something like this: when one person does something extreme, it lowers the threshold and makes it more permissible for the next person to do it. And the same for the next person and each subsequent person thereafter. And thus with each successive suicide, it becomes more and more normative and acceptable for the next person to do it. Recall my earlier skinny-dipping example—it's hardest for the first person to strip and jump in the water; by the tenth person, it's now the normal practice of the group, and the forces of peer pressure drive action.
With Werther fever, young men were being influenced to end their lives—by a book. And a fictitious character, no less. Imagine the power of social media and real-life suicide influencers—now that's digital madness.
In Bridgend (perhaps not so coincidentally, the town's name is derived from the old Welsh for "Bridge's End"), the suicides remained rather mysterious. Some blamed the publicity that the suicides received for the apparent copycat effect. Also odd was the number of female teens who were hanging themselves. Hanging—like suicide by gunshot—is traditionally a male method of suicide, while women tend to overdose or slit their wrists. Some psychologists theorize suicide has gender differences: the violence of shooting and hanging drawing more men, while women may be temperamentally predisposed to choose less violent methods.
As mentioned, there was also speculation about an internet suicide cult. After some of the hangings, the person's friends would put up a memorial page dedicated to him or her on Bebo, a popular social networking site. In a couple of the cases, friends who wrote eulogies on the site were found hanging a short time later. This inevitably led to the memorial pages being taken down.
There are indeed instances of internet-influenced suicide cults, specifically in Japan, where there was an epidemic of people taking their own lives by inhaling gas made out of household chemicals—in most cases, hydrogen sulfide—in cars, closets, or other enclosed spaces. Also known as "detergent suicide," over two thousand Japanese suicides occurred during a two-year period between 2009 and 2011, inspired by websites that carried recipes for the chemical mix, as well as detailed instructions on how to use it.
But the suicide cluster in Wales didn't seem to fit that category. It may have been as simple as a social contagion that started out with the usual suspects as the causes of the initial one or two suicides: boredom, anhedonia, and feeling trapped in a bleak, gray town. As one Bridgend girl told the Telegraph, "Suicide is just what people do here because there is nothing else to do." Another said, "I really do feel sometimes like I will never get out of here."
Or, as Loren Coleman, the author of Suicide Clusters, wrote: it "is probably merely being pushed along by the copycat effect, in which the model for suicide among impulsive, action-driven, forlorn youth has now been placed in front of them in an area that has turned grim in a downward economy reinforced in the nearly perpetual damp mists that shroud Bridgend in the long winter months. The darkness of despair can run deep. One need not blame cults, pacts, video games, the Internet, or even the media. The gloom is like the fog surrounding one at night in Bridgend, and for many, the modeling of past suicides shout out from those Welsh nights."
People can sometimes want to kill themselves in bleak places where they feel trapped. But the large number of suicides in Bridgend that year was particularly unusual. That part—the 26 total suicides—speaks to more than just "damp mists" and "long winter months" and the occasional random suicide. It speaks to the power of social groups to influence one another as a social contagion and create a group effect where people can feel normalized to do the most unspeakable of acts.
However, in the digital age of social media, we now have new variants of the Werther effect that aren't limited to 18th-century books as the source of the contagion; these new digital variants are especially malignant and virulent and can lead the young and the lost into feeling a misguided sense of purpose and community as they commit horrific acts in the furtherance of their social media–inspired goals.
__________________________________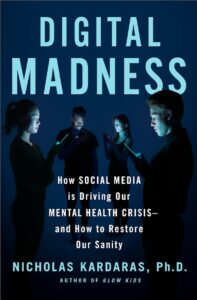 From Digital Madness: How Social Media Is Driving Our Mental Health Crisis—and How to Restore Our Sanity by Dr. Nicholas Kardaras. Copyright © 2022 by the author and reprinted by permission of St. Martin's Publishing Group.
---