How George Eliot Became a Social Outcast at the Height of Her Fame
On Her Final novel, Daniel Deronda
At the height of her fame, while every respectable Victorian household had a copy of The Mill on the Floss in the bookcase, George Eliot became a social outcast.
The novelist, born 200 years ago this weekend, moved into a house near Regent's Park in 1854 with George Henry Lewes, a married journalist whose wife, Agnes, was living with the founding editor of the Daily Telegraph, Thornton Hunt, and bearing his children. This open marriage was so offensive to public morals that George Eliot, whose real name was Mary Ann Evans, was forced to form her own discreet circle, seeking friends among fringe people—artists, crackpots, penniless intellectuals.
Among those who entered her life at this time was a low-paid curator at the British Museum, a polyglot bachelor from Berlin who had just written the first study in English of the Babylonian Talmud. George Eliot, enraptured by his 60-page monograph, hired Emanuel Oscar Menahem Deutsch to teach her Hebrew once a week. Before long, she fell in love with Deutsch's lively mind and took to calling him "rabbi"—Hebrew for "my teacher." He addressed her as 'Mrs Lewes'.
Between the dusty archivist and the wealthiest self-made woman in England flashed a spark that would change the world and transform the godless Eliot into a Messiah of the Jews. On her bicentenary, it seems to me odd that her political impact should have been almost totally forgotten.
In my new book Genius and Anxiety, I describe Deutsch, on an 1869 trip to the Holy Land, sobbing against the cold remaining stones of King Solomon's Temple in Jerusalem. On his return he told Eliot, "All my wild yearnings are fulfilled at last." From this day on he set about convincing his student that the Jews needed to return to the land of their fathers.
They did not have much time left for discussion. Deutsch was suffering from a stomach ache which, under surgery, was found to be caused by a cancerous tumor. Eliot, while writing Middlemarch, visited him at the home of a Marylebone vicar who had taken him in as an act of Christian charity. Eliot begged Deutsch not to end his life prematurely ("like Mary Wollstonecraft") but to carry on sharing his boundless knowledge of ancient languages and literature as long as possible. Deutsch taught the vicar's wife beginner's Arabic, and then set off once more for the Middle East, dying in Alexandria at the age of 43.
"I am going to the East… the idea that I am possessed with is that of restoring a political existence to my people, making them a nation again."
George Eliot was devastated. On her way to Paris for a holiday, she informed Lewes that she was germinating a new novel around Deutsch's ideas. Back home, she pestered his literary executor, Lady Strangford, for his unpublished essays and notes and immersed herself in books about Judaism. She visited synagogue services, impressing the Chief Rabbi with her detailed command of custom and practice.
She called her novel after its Jewish hero, Daniel Deronda. Its heroine, Gwendolyn Harleth, is widely thought to be a self-portrait of George Eliot, secretly in love with an unattainable Jew.
In the novel, when Deronda finally kills off Gwendolyn's hopes of capturing him, he tells her, "I am going to the East… the idea that I am possessed with is that of restoring a political existence to my people, making them a nation again." These may be presumed to be the words that George Eliot had heard from her "rabbi" and they quickly set off a firestorm across the Jewish diaspora.
Daniel Deronda, published in 1876, was disparaged by Lewes, who warned that "the Jewish element seems to me likely to satisfy nobody" and by its publisher, John Blackwood, who remarked that "even her magic pen cannot at once make (the Jews) a popular element in a Novel."
Despite these anxieties, the novel sold in vast quantities and in many languages—German, French, Italian, Dutch, Russian and, significantly, Yiddish, the vernacular of the Jewish Pale of Settlement in Russia. Unauthorized extracts appeared in a Hebrew magazine as early as December 1876.
Five years later, in 1881, a wave of anti-Jewish pogroms in Russia provoked mass emigration to America and the stirrings of a return to the Holy Land, the Daniel Deronda dream. Leaders of the Zionist movement embraced the novel. Theodor Herzl was seen reading it on the eve of the first Zionist Congress in Basle in 1897. Eliezer Ben-Yehuda reinvented Hebrew as a living language after reading the novel. Chaim Weizmann's assistant Nahum Sokolow said "Deronda paved the way for Zionism." Golda Meir had a copy on her shelf. "In terms of its practical effects," wrote the British historian Paul Johnson, Daniel Deronda "was probably the most influential novel of the 19th century."
It was to be George Eliot's final novel. Before her death in 1880, she refused an offer to be buried in Westminster Abbey, whether because of her aversion to organized religion or because of her anger at a society that condemned her for living in sin.
Daniel Deronda is not considered her greatest novel by any means, and some academic critic—notably FR Leavis—suggested cutting out its Jewish theme and republishing it under the title Gwendolyn Harleth. The BBC's 2002 television adaptation was an Andrew Davies bodice-ripper which centered on the love story and studiously avoided any intimation of the Israel-Palestine conflict. Deronda will always defeat scriptwriters who refuse to acknowledge its Zionism.
George Eliot's reputation has risen ever higher. She ranks above Dickens and Trollope as the greatest English novelist of her century and is still widely read for pleasure. As for Emanuel Deutsch, he has faded so comprehensively from history that no street or building is named after him in Israel, the nation-state that he envisioned, or in London, the city he lit up with arcane knowledge. Deutsch deserves better—at the very least, a blue plaque in Bloomsbury, on the wall of the British Museum.
_________________________________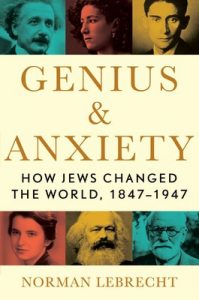 Norman Lebrecht's GENIUS & ANXIETY: How Jews Changed the World, 1847-1947 will be available from Scribner on December 3.
---