How Friends and Family Can Support Survivors of Domestic Violence
Ruth M. Glenn on Being Present at Every Stage
As CEO and President of the National Coalition Against Domestic Violence, Ruth M. Glenn has spent years advocating for survivors of domestic violence at every level, from planning prevention strategies to responding in moments of crisis. In her new book, Everything I Never Dreamed: My Life Surviving and Standing Up to Domestic Violence, she shares some of her own story as a survivor as well as what she has learned from decades of working in the field. Here, she answered a few questions about how family, friends, and communities can support survivors of domestic violence, both during and after abuse—and about the importance of continuing to openly discuss domestic violence, even in a society that remains uncomfortable with that conversation.
This interview has been edited for length and clarity.
*
Corinne Segal: I wanted to start by asking if you can speak to some of the difficulties of knowing someone who is being abused. Why is it sometimes so challenging for people to know how to respond?
Ruth M. Glenn: First of all, we still live in a society in which domestic violence is a taboo subject. We choose to either ignore it or be in denial or even, quite frankly, don't know how to approach it even when we suspect it. Secondly, we are still living in a society that for some reason still holds women who are most frequently the subjects of domestic violence at a lower class, a marginalized group. And then the third [thing] is, we're human beings.
And even if we were to feel comfortable saying something, all of the things that we would want to say would not be helpful, because as human beings we want to fix it—we want to make it go away—and so the things that we might say are "get out" or "I have a room in my basement" or those types of things. And those are not always, and in fact most of the time are not, what victims of domestic violence need.
CS: What are some signs that someone might be in a relationship where they are being abused?
RG: Some of them are obvious, which are physical marks and physical signs, such as bruising or black eyes. Unfortunately, as a society, that's also the first thing we look for, rather than more subtle signs, which are being very aware that someone has all of a sudden stopped communicating. If you're a family member, all of a sudden you're not hearing from Ruth as often, or the partner is monitoring the calls. Or: How come Ruth is not at the family barbecue? And why is it that at Christmas they only come over for an hour?
All of those types of things. Their personality has changed. Particularly the victim's personality has changed—has probably become more withdrawn, more acquiescent to their partner in the relationship. They may have been someone who worked before and now no longer works and says, "Well, my partner says I don't have to." One of the things that I talk about in particular is the lack of access to their own financial resources. So the list kind of goes on and on and on, but more so around the not-so-overt signs. [The perpetrator] will do everything [they] can to keep that person from being visible and present.
"You don't have to name it. You can just say something as simple as, 'Ruth, I just feel like something's not quite right.'"
CS: Say that someone suspects that someone they care about is being abused, but the victim is not able to leave, for any number of reasons. What can that person—or in general, a community—do, at that point? How can they support someone from outside the relationship?
RG: I think there are plenty of things that we can do. The first and foremost is acknowledging with that person that you know something's not right. You don't have to name it. You can just say something as simple as, "Ruth, I just feel like something's not quite right. You don't have to say anything. I don't expect a response. But I want you to know that I am here for you when and if you ever want to talk about it, or if there is a need to talk about it."
Always, after saying that, make sure that you have resources and information for that person, should they come forward and say, "You know, Corinne, I would love to talk to you about what's happening because I'm so lost." And you would be able to provide the domestic violence hotline number, you would be able to provide other resources and the number and location for the Community Domestic Violence Program, walking through with them about a safety plan.
Maybe they're not ready to call the hotline, but you say, "Okay, well, what else can I do for you? Would it help if you and I talked about some kind of safety measure or safety plan? If I'm your neighbor and your porch light is out when it should be on, or you blink it three times, should I call the police? Do you want to pack the toiletry bag and a copy of your birth certificate and keep it at my house?"
"Just always be prepared that if you open the door, that they can rely on you."
There's a myriad of ways, depending on your station in that person's life and how comfortable you feel talking to that person in it. If you're a coworker: "Do you need me to walk you to your car? I can tell you're not quite comfortable today, do you need me to walk you to your car?" Always being very thoughtful, and of course not putting yourself in a dangerous position. I would like to remind us that while we're trying to make sure that someone else is feeling supported and safe, we also have to watch out for our own. Abusive persons can be quite volatile when they feel like they've lost control.
Just always be prepared that if you open the door, that they can rely on you, to provide them with a minimal of what they need.
CS: It sounds like there are so many different ways to simply be very present—to not disappear on that person.
RG: Correct. And they are not going to do the things that seem rational. They're just not. They have too much to think about. They have too much to work through. I don't know how many times I heard, "I would have just left." Well, that's easy for you to say. … Please understand that they are probably being as rational as they can be.
CS: Can you speak to some of the ways that a community can support a survivor after they do leave? And also, what are some of the common mistakes that you see people make?
RG: It's less helpful to be supportive, and then, once they've left, you feel like your work is done. It's not. Once they've left, if we think that the abusive person has given up, we're sadly mistaken. And if the victim has been left to now fend for herself, the ability for that abusive person to worm their way back in is pretty strong. And it's not the fault of the victim. It's like, Well, now I'm out here and I don't know what else to do.
I'm not saying by any stretch of the imagination to handhold—just to make sure we're clear about what we can and cannot provide support with. And if this is where I have reached my max on the support that I can provide, I have these other avenues for you.
Victims who have left, and left safely, need to know that this society is okay talking about domestic violence. Too often we're in rooms where that is not a subject that's discussed. If I'm a survivor I need to feel like I have a place here, and that we can talk about it. … I can't tell you how many times I've told my story over the years and had survivors say, "Oh my God, I can finally talk about it." In various ways, of course—not all of them said it exactly that way—but the relief they feel, to know they're not alone and they can talk about it, really puts them in a different place in their survivorship and their ability to move through this.
We live in a society that, because it doesn't recognize domestic violence in the appropriate ways, the work that needs to be done—particularly on the prevention side—is terribly under-resourced. We want to make a world in which domestic violence doesn't exist. … It takes more than talking about healthy relationships in a classroom setting for, you know, [grades] six through 12. It just does. It really has to be a much broader, greater strategy that we're all willing to take a look at and say, in the year 2050, we will have implemented these great prevention strategies for [everyone] that helps us understand that someone treats you badly, no matter whether they're your partner or not, does not respect you. And that's the first place to start.
CS: Going back to what you were saying about the importance of providing space for survivors to talk about their experiences: a lot of people just don't know what to say to someone who has been abused, especially if the person who's disclosing to them is maybe not that close to them. Maybe they are a coworker or a friendly acquaintance or someone they haven't seen in a while. I'm wondering if there's any language that you could offer to people for when someone discloses that they are a survivor.
RG: My suggestion is to empower that person to teach you. … It's a perfect opportunity for you to get educated and say, "Help me understand. I've never experienced that, I don't think," or, you know, "Is it what my mom experienced? And this is what happened to her—was it physical, emotional? Help me understand what your experience was, because I want to know better." And I think that that opens up a wonderful [conversation] if you are prepared to hear it.
__________________________________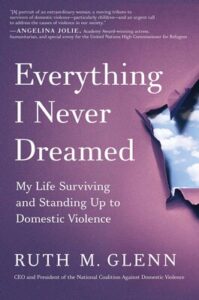 Everything I Never Dreamed: My Life Surviving and Standing Up to Domestic Violence by Ruth M. Glenn is available via Atria Books.
---