How Eve Ensler Shaped the Five Wives of Mad Max: Fury Road
Kyle Buchanan on the Vagina Monologues Creator's Unique Contribution
Who are the five women that Furiosa frees from Immortan Joe? Like most of the characters in Mad Max: Fury Road, all we learn about them is what we can pick up on the fly. Miller and his co-writers conceived the quintet with a set of simple characteristics—"funny," "brainy," "fragile," "seductive," and "leader"—and began to flesh them out based on how those characters might react to the changing circumstances of the chase.
Cheedo the Fragile (Courtney Eaton) is the youngest of the sex slaves and the most tempted to return to her captor, Immortan Joe. The Dag (Abbey Lee) contributes cracked, funny observations, while Toast the Knowing (Zoë Kravitz) is practical and grim. Capable (Riley Keough) is still innocent enough to form a tentative romance with the War Boy turncoat Nux, but Splendid (Rosie Huntington-Whiteley), pregnant with the Immortan's child, is willing to risk the baby's life—as well as her own—if it will help them all escape.
After drawing up the storyboards, George Miller and his writers had a vague sense of who the five Wives were, but the director was still eager for more authentic input. "The things about blokes writing stories with women in them is that it's always the man's point of view," said Peter Pound, the film's lead storyboard artist. "George was very good at getting a female opinion."
Miller gave the actresses playing the Wives an unusual freedom to develop their own backstories, and to help them better understand the stakes of the movie, he also engaged a surprising recruit: the Vagina Monologues playwright and activist Eve Ensler, who was working with Congolese survivors of gender violence.
*
Eve Ensler: It was surprising for me, too! I had been a Mad Max fan, and when I was younger, I was kind of obsessed with dystopian films because I always felt like we were moving towards that state. Sometimes I fear they were actually preparation! But I was still pretty surprised to be contacted, because I didn't see huge feminist overtones in the original movie.
I had given a talk in Sydney, a peace lecture about violence against women around the world, and George had heard about my lecture. He reached out to me directly—George sends voice memos, that's how he communicates—and he sent me a voice memo introducing himself, telling me about the movie, asking me if I had any interest in participating.
Miller gave the actresses playing the Wives an unusual freedom to develop their own backstories.
George Miller: It occurred to me that we needed somebody to really help the female actors find a way into their characters and their world because everybody in this story, except Immortan Joe, is in some way a commodity. As it happened, I was listening to the radio down in Australia and Eve, who is extraordinary in the work she does for human rights in Africa, happened to be in the Republic of Congo around the time we were in Namibia.
Eve Ensler: George is a deeply thoughtful, intellectually engaged person, so I think he was very interested to hear my thoughts. He would send me pieces of the script for feedback, and we began to get into a dialogue about the women who were going to play the sex slaves and how they could embody those parts and know what that lived experience was. How could they be true to it as actors? Eventually, he invited me to Namibia to spend time with them.
George Miller: She gave us a week in the middle of a very busy schedule and she came down and ran wonderful workshops. A lot of them were quite intimate with the five girls, and by osmosis it crept into the movie. I'm quite certain of that.
Zoë Kravitz: Even if a lot of the women's history wasn't in the dialogue, it was important to George that we understood what we were running from.
Eve Ensler: George prepares for these things for years and years and years, so that microscopic attention to detail was mind-blowing. It was really a privilege to be asked to bring my own experience of having been an activist over the last 20 years, traveling to war zones and being with women in those situations.
Abbey Lee: To give a bunch of girls, who had only just met, this time with someone as powerful and open and ferocious as Eve was quite a spectacular experience. She really created a safe space for us to ask her questions and explore things we'd experienced in our own lives as women growing up in a world dominated by men.
Zoë Kravitz: We'd meet with Eve all day for seven days, and she told us about what she'd seen and heard and the women that she's come to know.
Eve Ensler: We talked broadly about the use of rape and sexual violence as a systematic tool of war throughout the world, and my experiences in Bosnia, Kosovo, Afghanistan, Haiti, and more recently working in the Congo. If you've been somebody's sex slave for years, what would your relationship be to your enslaver? It's very complicated, obviously.
Rosie Huntington-Whiteley: The workshopping process was really emotional. I went places that I'd never been before, and it was particularly dark at times. Having grown up with a very pleasant childhood in a middle-class family in the UK, it was a big shock to the system.
"It could have just been like, 'This is a big Hollywood movie, now put on your bathing suits and get outside.'"
Zoë Kravitz: We would read the script and do exercises like writing letters to our captor. It was interesting stuff and it created deep empathy.
Eve Ensler: We talked about how damaged your body would be after all these years. Where would your level of agency be in your body? Have you ever tried to fight back? And what happened if you rebelled? We would map out all these stories based on those characters.
Riley Keough: By the time we were done, we knew our characters so well. We didn't have to think about it, ever.
Abbey Lee: She challenged us to go deep within our own lives. There was something blessed about it. It was very sacred, I suppose.
Riley Keough: It was amazing that George cared so much. It could have just been like, "This is a big Hollywood movie, now put on your bathing suits and get outside."
Eve Ensler: It was a radical thing that George asked me to do that. To me, it's another indication of the depths of his exploration and his desire to really get things right and true and intricate.
George Miller: I wondered why I was always attracted, despite my better instincts, towards making Mad Max movies, and then I realized it's a wonderful world to play in. Even though it's set in a dystopian future, the stories allow you to go back into the past—in the case of this film, almost as a medieval world, really. The behaviors are much more elemental, the dominance hierarchies are much more obvious in the way that the few control the many, which is the constant in human history. Ultimately these films are really about who we are today, referencing the past. Their first aim is not to be cautionary tales or speculative. They basically look at who we are.
Nadia Townsend: With the stunt guys, it didn't sit well with them that we kept talking about the masculine being violence and destruction, and the feminine being nurturing. So, I organized a night where I said, "We should have a meeting with Eve where we talk to her about it." George heard about it. He was like, "I want to go to that."
So it was this beautiful night with about ten of the stunt guys, George, and a couple of other people, and we sat on a floor with Eve in a circle. She spoke about her take on the allegory of the story and about this idea that the feminine is about nurturing. She talked about the Green Place and about how the only way that we can turn things around is to move into the feminine space.
It was beautiful to watch George on the floor, on his stomach, looking up to Eve. He was taking in this woman who he had flown over to imbue the film with some of those ideas, and going, "Yes. Yes. I want to hear that."
Zoë Kravitz: I'm glad we had that, because it was such a crazy experience, so long and hectic and chaotic in so many ways, that it would be easy to forget what we were doing if we didn't have this great foundation that we could return to. I felt like that was a saving grace.
__________________________________________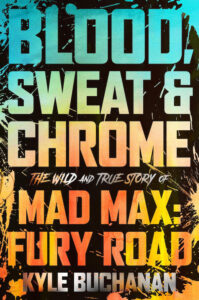 Excerpted from BLOOD, SWEAT & CHROME: The Wild and True Story of Mad Max: Fury Road, copyright © 2022 by Kyle Buchanan. Reprinted courtesy of William Morrow, an imprint of HarperCollins Publishers.
---