How Domestic Violence Victims' Advocacy Works in an Insular Island Community
Hanna Halperin on the Barriers for Victims on Martha's Vineyard
I moved to Martha's Vineyard in August of 2016. By September, the Island had emptied out. The days grew shorter. The Summer People went home and the Islanders resumed their normal lives. School started. I got a job as a domestic violence and rape crisis counselor. I didn't know anyone and I spent most weekends alone. The days passed quietly—I'd walk on empty, stunning beaches and then drive to the Chilmark Library, where I clung to the novel I was writing. The hours spent with my Microsoft Word document seemed a less lonely world than the one I was currently living in. But when the sun went down, dread would set in.
That was usually when the domestic violence hotline rang—a cellular flip phone we took turns bringing home with us each week. During the winters, I rented an apartment in Edgartown; a studio above a garage in the woods and it was eerily quiet. The rest of the houses around mine were vacant—everyone else on the street had closed up their homes for the off-season. The phone would break through the silence of my apartment and suddenly I'd be catapulted into someone else's life—into crisis. I was easily startled. Each time the ringtone went off—every time a branch cracked outside—I would jump.
Once I was on the call, my own little island of solitude and anxiety would melt away. I'd be there with her—usually it was a woman on the line, though not always—and I'd forget my problems. There were certain questions that were important to ask. Are you in a safe place to talk right now? Is there anyone you need me to call? I tried to keep any shakiness out of my voice.
Sometimes the hotline calls would require me to meet a client in the emergency room or the police station. I remember the profound quiet in my apartment, punctuated by my own clumsy human sounds, as I got ready to go. Changing out of my pajamas into work clothing, finding my advocate badge, making myself presentable—but fast. My breathing was so loud; my adrenaline pumping.
As soon as I arrived wherever she was, I would calm again. The next few hours would be a blur of harsh lights, unfamiliar voices, police officers, bodies. Violence and trauma have a smell. Whether it's sweat or blood or stress or a mixture of those things or others, I'm not sure, but it was myself I was smelling, too. The most important thing was to be there with her. It's an intimate, bodily experience to be beside someone during something like that. We talked when there was time—during the moments in-between doctors and exams and questions—in a hospital room, on a hallway bench, leaning over paperwork in a foyer. We would plan for what came next. Many times these plans were imperfect and temporary.
Violence and trauma have a smell. Whether it's sweat or blood or stress or a mixture of those things or others, I'm not sure, but it was myself I was smelling, too.
On the drive home, I always listened to MVY radio. I grew attached to a particular DJ. She had a low, grounding voice. It was soothing and kind. 88.7 became my own lifeline those nights; hearing that woman's voice on the other end, and the music she'd play—Lucinda Williams, Aimee Mann, Keb' Mo', Wilco. Mine was usually the only car on the road. Driving by the ocean in the middle of the night, there was the lap of water against the shore—sometimes calm, sometimes ferocious—the sound of her voice between songs, and I was overcome. I felt grateful that I had a safe home to return to. I felt very lonely—but also, connected.
Once you're "on Island," there's nowhere to go. Ferries run every few hours until nighttime. It's expensive to take your car over. In the winter, boats get cancelled due to wind or bad weather. There are some Islanders who haven't left the Island for years or decades. There is no domestic violence shelter. It's impossible to stay anonymous because most people know or recognize each other. Word travels quickly, and Islanders often hear of news in the community before it comes out in the paper.
Finding safe housing is a barrier to leaving an abusive relationship anywhere, but on the Vineyard it's especially tricky. The Martha's Vineyard people often think of is the summer version: the one where celebrities and presidents come to vacation; extreme wealth and privilege, Vineyard Vines types. In reality, there's not much affordable housing available, and many Islanders can't afford to buy property. It's difficult to find year-round rentals, and lots of Islanders who rent shuffle to find alternative housing in the summer, when the population swells from 17,000 to 200,000. Many property owners on Martha's Vineyard only reside there for the summer months and more than half the houses on the Island sit vacant for nine or ten months out of the year—my grandparent's summer house in Chilmark being one of those houses.
Domestic violence does not discriminate; it happens in every community, regardless of socioeconomic status—as well as age, race, gender, sexuality and nationality. Lack of resources makes leaving more difficult, especially when someone is looking for a home not only for herself, but for her children. Relatedly, when an abuser is well off, they will often use their wealth and connections to control, intimidate and threaten their partner.
When you break up with someone on the Vineyard, you see them around. You're likely to run into them at community events, or the grocery store or the post office or one of the few bars that stays open all year. And if they want to run into you, they'll know where to look. You recognize people's cars the same way you recognize people's gaits. The truth is a domestic violence shelter wouldn't work on Martha's Vineyard. There wouldn't be a way to keep its location safe and discreet.
I felt the prevalence of violence most when I accompanied clients to the courthouse to file for a restraining order. A survivor of spousal abuse might also be the mother of a teenage perpetrator. A supportive friend in the ER might have been a victim of assault herself. We all gathered, in that one tense, overheated courtroom, thrown together with separate but overlapping lives. I started to think about how I had ended up there; why I took this job to begin with.
Filing for a restraining order often means having to be in the same room as your abuser. It means having to talk about the abuse in front of a judge, a courtroom of people, and in front of the person who abused you. Sometimes it means having your abuser lie, deny the abuse, gaslight you, or intimidate you in subtle or not so subtle ways. Some people find the process empowering, and some people find it frightening and dangerous. At the end of the day, a restraining order is only a piece of paper. After the hearing, when we all stepped outside the courthouse and went our separate ways, many clients reported still being terrified. Sometimes it was only a matter of minutes or hours before the abuser violated the restraining order.
The prevalence of domestic violence is not specific to Martha's Vineyard—it exists everywhere, in every town, suburb and city—although the smallness and insularity of the Island changed the way I understood violence. Though the name suggests that it's a private, domestic issue—and usually we associate the word domestic with women—it is not a women's issue, and it's certainly not a relationship issue. Still, though, the focus and blame tend to remain on the victim. What did she do to provoke it? Why did she go back to him, again and again?
I started to know more people. In the same way the Island could feel small and claustrophobic, it could also feel protected and homey. Friends and neighbors looked out for one another. I made a small, close circle of friends. We got together and made dinner and walked on empty beaches. We shared our writing and art with one another. I recognized in them the melancholic yet connected feeling that I associated with living there. I loved many parts of my job, though I never got used to being on the hotline. My calmest moments were still those Saturdays spent in the Chilmark Library.
The prevalence of domestic violence is not specific to Martha's Vineyard—it exists everywhere, in every town, suburb and city—although the smallness and insularity of the Island changed the way I understood violence.
I wrote the first draft of my novel in spurts. Some weekends that's all I did. Then there were weeks and months where I didn't write at all. When I felt stuck, I'd drive up-Island to the cliffs in Aquinnah, just to pass the time. I'd listen to the radio until I lost service—my backpack beside me in the passenger seat, my computer packed inside. I'd park in the empty parking lot by the ocean and walk down to the water, as though I might find something there.
I felt lost in my life, but having my novel to return to, steadied me. The characters became real, and I thought about them a lot, even when I wasn't writing. I had never spent so much time alone before, and writing didn't just give me something to do—it made me happy. On the best days it transported me.
During my final summer on the Island I met the disc jockey from MVY Radio at a party. It was a June evening in Oak Bluffs, the sky a gentle swirl of orange and pink and blue. I recognized the DJ by her voice. I'd heard it so many times over the last two years, and hearing that very same voice in person, moved me. The kindness that I felt over the radio was there in real life, too. She had a warm, easy smile and a melodic laugh. From my work on the hotline, I'd become attuned to the intimacy of voice. You could hear so much, listening to someone speak—calm, fear, exhaustion, openness.
We introduced ourselves. "I love hearing you on the radio," I told her, because it seemed a normal thing to say to someone you had just met. I didn't know how to tell her what I really wanted to; how she'd kept me company all those drives home in the middle of the night; how she'd kept me afloat.
_____________________________________________________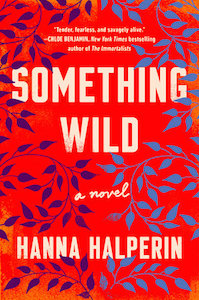 Hanna Halperin's Something Wild is available now via Viking.
---