How Does a Lobster Wind Up With the Pepsi Logo "Tattooed" on Its Shell?
On the Impact of Ocean Plastic on Human and Animal Health
How does a lobster wind up with the Pepsi logo "tattooed" on its shell? A question no one imagined they would be trying to answer. However, when Canadian fishers noticed a strange marking on the back of one of their catch, it took a regular Pepsi drinker in the crew to identify the blue, white and red markings. The Pepsi marketing team had not gone a step too far and started branding underwater creatures; rather, it was just another example of how we humans are making our mark on the ocean through the rubbish we throw away. The finding made global headlines, a shock story about how far things had come—but among my colleagues and those familiar with the issue it was not met with surprise, but with sad resignation.
In summer 2017, my team led an expedition around the coast of Scotland on a Greenpeace ship called the Beluga II, a small yacht that can sleep twelve people at an absolute maximum. The purpose of the expedition was to document the presence of plastics in the feeding grounds of some of the UK's most iconic wildlife like puffins and basking sharks. Basking sharks are the world's second largest fish; enormous, mysterious sharks described by the legendary Scottish poet Norman MacCaig as a "room-sized monster with a matchbox brain." It is a source of great frustration that I have yet to see one. Kayaking through their feeding grounds on several occasions at the right time of year, longingly looking down in the hope of seeing one pass beneath me in the depths, they continue to elude me.
Regularly growing to over ten meters long, they dawdle across the world's oceans feeding on tiny plankton. Their mouths can be over a meter wide, permanently open in search of food, which specially formed bones in their mouth filter out of the water. The width of their mouth is equivalent in size to the fine-mesh nets we trawl alongside the Greenpeace ships to test for microplastics; these prehistoric beasts must now be consuming vast amounts of our modern-day waste along with their dinner. Over the course of a couple of months the team undertook nearly fifty of these trawls, finding microplastics in two-thirds of the samples.
Throughout the expedition, a team following the ship's route by land undertook beach cleans and detailed surveys at every opportunity, often working with local schools and community groups to pick up and document the plastic waste being washed up ashore. Every single beach, some of them among the most beautiful and remote of the British Isles, was littered with plastic: wet wipes, bottles, bags and countless more casually discarded items. Listening to the endurance swimmer and UN Patron of the Oceans Lewis Pugh speak to a group of politicians, I was moved to hear about a similar experience he had on a beach clean he led on Barentsøya (otherwise known as Barents Island), an uninhabited island in the Svalbard Archipelago, far north in the high Arctic.
Despite never being home to human residents, he and the marine biologists accompanying him found the island's beach covered in bits of plastic. Some of it, such as old fishing gear, may have drifted onto the beach from relatively nearby, but the majority had been carried by the ocean currents, possibly traveling several thousand miles. Gathering an enormous sack of plastic within less than an hour was heartbreaking enough, but it was devastating to see, several days later after some rough weather, that the beach was just as covered as it had been before. As he wrote on the matter: "Barents Island is for polar bears, not plastic."
So many remote regions of the world are in a similar state, for example the Mariana Trench in the western Pacific Ocean. Measuring up to 11 kilometers below the surface of the ocean, it is the deepest place on earth, and one of the most mysterious on the planet. Scientists from Newcastle University discovered that every single sample they had taken from the deepest point of the trench contained microplastics. Amphipods, tiny shrimp-like bottom-feeders, which could never even have seen sunlight before, had ingested tiny fragments of plastic. The highest density of plastic ever to have been documented was on an uninhabited coral atoll called Henderson Island in the South Pacific. Scientists studying the island estimated there were over 38 million pieces of plastic, with items from Germany, Canada and other distant places recorded. The sad conclusion is that no matter how hard we work to get rid of plastic now and in the future, the impact of our actions is so vast that it will be visible across the globe for generations to come.
The Impact on Wildlife
These spectacular, far-flung places littered with our waste are, of course, more than just landscapes. They are safe havens to fascinating creatures and complex ecosystems, home to species that have evolved to the conditions particular to that place—conditions which are already increasingly threatened by a changing climate and which do not need the additional burden of plastic pollution to deal with. Research on the extent to which some species are impacted by plastic is still emerging; however, what is clear is that few ocean creatures have remained untouched. In 2015 a group of Australian scientists published a ground breaking study in the Proceedings of the National Academy of Sciences which estimated that over 90 percent of seabirds were likely to have plastic in their guts. It's possible on reading this statistic that the famous image taken by the photographer Chris Jordan comes to mind. He made headlines with his picture of a dead albatross chick in the North Pacific, its decaying body revealing a stomach filled with fragments of plastic, killing it before it had the chance to flee the nest. For me it certainly remains one of the most iconic images relating to plastic pollution ever taken.
Products that are taking centuries to break down in the ocean are posing a major threat to ocean creatures.
I am a birdwatcher, not an obsessive—my skills at identification are nothing to write home about—but sitting for an hour with a pair of binoculars watching these incredible beasts swoop and glide above or peck their way across the seashore is one of the most rewarding ways I know to experience the natural world. Whether it's the daredevil gannets diving into the water around me at speeds of up to 100 kilometers per hour, the delicate and occasionally vicious Arctic terns that spend their lives traveling back and forth between the polar regions or the mighty albatrosses that ride among the roaring skyscraper-size waves of the Southern Ocean, so big they can only take off in flight when the winds start blowing at near gale force, seabirds are some of the hardiest creatures on earth. As the ocean they depend on changes quickly, their food sources are increasingly scarce and many colonies are struggling to adapt. Studies show that seabird populations have declined by as much as 70 percent in the past few decades. The last thing these beautiful wild things need is additional problems caused by floating bits of plastic filling up their stomachs.
On one Greenpeace expedition, my colleague, the wildlife photographer Will Rose, spent three days camped out on the remote Shiant Isles, documenting the puffin colony there. Puffins are hardy sea parrots with oversized beaks that can bob around in some of the roughest seas on the planet, completely unfazed, for months at a time before returning to the same network of hillside burrows to nest underground. Like other seabirds, they are coming under increased pressure from climate change. Even on these fairytale-like islands nestled between the Outer and Inner Hebrides off the west coast of Scotland, he captured a haunting image—a puffin, proudly perched on a rock its ancestors have called home for potentially thousands of years, carrying in its beak a dainty strip of light-green plastic.
Seabirds are not the only victims, of course. Whenever I arrive in a new city for work one of the first things I do is go out running—years of living aboard a narrow boat means I head for the city's waterways, trying to explore by foot its network of ponds, lakes, rivers and canals. No matter where in the world I go, I come across a familiar sight. Whether it's the moorhens on London's Regent's Canal, the night herons beside Oakland's Lake Merritt, the gulls over the River Elbe in Hamburg or the bulbuls in Taipei's City Park—spend long enough watching and you are bound to come across the all too familiar sight of birds making their nests with plastic or pecking their way through it in search of food. The plastic that litters these inshore waterways is of course due to be taken by the current out into the ocean where it is not just birds that are at risk.
Whether it's turtles mistaking plastic bags for jellyfish or sperm whales mixing up our rubbish with the squid they hunt for in the deep sea, products that are taking centuries to break down in the ocean are posing a major threat to ocean creatures. One of the more obvious ways it can cause problems is through entanglement. A 2014 report prepared for the US government found that young sea creatures, in particular seals, were prone to getting tangled up in debris, and that over 200 different species had been recorded in US waters suffering from entanglement (although they also noted this was likely to be a conservative estimate). Ingestion and entanglement unfortunately aren't even the only ways in which plastic can hurt wildlife. Plastic is being eaten by everything—from the tiniest plankton to the great whales, it is entering the food chain at every level.
Toxins
It is a well-known phenomenon that the higher up the food chain you get, the greater the chance of toxins accumulating and becoming more problematic. This process is known as bioaccumulation. One of the more famous examples is that of mercury, regularly seen at extremely high levels in tuna and other predator fish like swordfish where it accumulates in the muscle tissue. Sitting at the top of the food chain, we humans are often the ultimate destination for this toxic matter (although fortunately food standards do a reasonable job of keeping the worst off our plates). Before it gets to us humans, however, as might be expected, bioaccumulation can cause a range of problems for the predators themselves such as making them sick or preventing them from reproducing.
Ocean plastics, as well as being made up of their own set of chemical compounds that could prove problematic, can act as sponges.
Another famous toxin example is that of polychlorinated biphenyls (PCBs), a group of chemical compounds used widely since the 1930s in some products (for example flame-retardant coatings, fluorescent lighting and more) until countries began to ban them in the 1970s, culminating in a global ban in 2002. These polluting compounds can leak into the environment through industrial processes, where in a similar process they are seen to accumulate in the blubber of marine mammals like whales and seals. Once PCBs have accumulated beyond "safe" levels they can cause many problems such as lowering the immune system, making these animals more susceptible to parasites and preventing them from reproducing. In a particularly sad phenomenon, marine mammals will metabolize their blubber and the toxins in it and end up feeding them to their young through their milk.
How does this relate to plastic pollution? Ocean plastics, as well as being made up of their own set of chemical compounds that could prove problematic, can act as sponges. Researchers from San Diego State University found that after it enters the ocean, plastic can continue soaking up other toxins in the water, including PCBs. This means that before being eaten by an unwitting fish or ingested by a mussel or oyster, its toxicity has increased and the bioaccumulation process is therefore exacerbated. Research into this phenomenon is still in the early stages, but these initial results are worrying. Research into how this accumulating toxicity in seafood impacts on human health is also in its relative infancy, and it's too early to draw any clear conclusions. However, this must become a priority for government public health bodies given the growing prevalence of plastics on our dinner plates.
________________________________________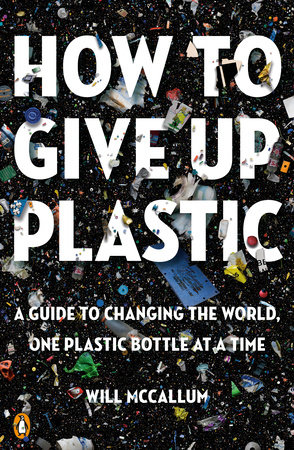 From HOW TO GIVE UP PLASTIC: A Guide to Changing the World, One Plastic Bottle at a Time by Will McCallum, published by Penguin Books, an imprint of Penguin Publishing Group, a division of Penguin Random House, LLC. Copyright © 2018 by Will McCallum.
---