How Do You Write a Memoir of the Unknown?
Rose Andersen on Confronting the Mysteries of Her Sister's Death
Write what you know, they say.
This is what I know. On November 19, 2013, my younger sister, Sarah, died of a drug overdose in the bathroom of her boyfriend's home. She was 24 years old and an opiate addict. Her body wasn't found for four days. Her dog was locked inside the house with her body and spent those four days trying to reach her, clawing and biting at the bathroom door.
When you are writing memoir, there is an expectation of truth, a foundation of verifiable facts that gives the writer authority over the narrative. I was estranged from my younger sister when she died. The last time I had seen her was six months before at an ill-fated intervention. I was five years older than her and despite being close as children, both of our issues with addiction had pushed us away from each other. I had hit my bottom and gotten sober when I was 24, which only widened the gap between us. In writing about our lives and her death, I had to acknowledge that a great deal of what I wanted to explore were things I would never know.
In the months following Sarah's death, a rumor would appear on Facebook that she had been killed by a hot shot: an intentional lethal overdose. I would find out from a coroner that Sarah had died of an unusually high meth overdose, a drug that Sarah hated. She preferred the numbness of heroin. I learned she had a connection to a gun that was used in a series of homicides and that one of the men on trial for those deaths had been with her the morning she died.
I imagine two movie screens running next to each other, our lives side by side. There are places where the images are the same: the night we did coke and I threw up into the bathroom sink (all I could say was "I'm so sorry, I'm so sorry" as she cleaned vomit from my hair); the weekend she made her amends to me at a women's sober-living house; the day our father died. But there is much of her screen that is blank for me.  So I had to make it up. I had to imagine. I had to speculate; the antithesis of memoir and writing what you know.
I felt paralyzed early in the writing process. A few months in, visiting a friend in Portland, I stood in the "How to Write" section of Powell's books and wept, sure that I wasn't capable of the task. I came home with three or four books on writing and tried to read my way into a solution. Despite coming across some good advice, I still struggled with putting words on the page. I turned my attention to investigation and research, trying to fill in the shadowy gaps of her life.
I started with the most credible account or at least, what we were initially told by officials, that her death was an accidental overdose.
I filled up a legal pad with notes about the unknowns of my sister's life. I went to great lengths to resurrect her; I read her diaries, attempted to hack into her email, collected newspaper clippings, studied articles and records, sifted through our family history. I examined each memory and replayed every shared moment, but I could not summon a story that can be told with certainty.
I decided to lean into the horror of the unknown, the thoughts that haunted me since she had died. I sat down and wrote four imagined versions of her death: death by accidental overdose, her death from the point of view of her dog, death by hot shot, and a version where I laid with her as died and told her stories until her body was found. These speculative chapters served as keystones throughout the book. If I couldn't write a true version, then I could write iterations of something resembling truth.
I took everything I knew (details from the coroner's report and toxicology) and everything I had researched (what happens to a body when there is a lethal dose of meth) and paired it alongside what nightmares are made of: what happened to her, what was she thinking when she died, what was it like for her sweet dog. Instead of showing the reader facts, which I couldn't definitively know, I showed them how I processed her death.
Many grief memoirs are written chronologically, with the death of the loved one occurring later in the book; there is time to get to know the person before they are shown their death. I wanted Sarah's death to inhabit the reader from the first pages, to make the, live with the grief as they moved through the story. I started with the most credible account or at least, what we were initially told by officials, that her death was an accidental overdose. The reader encounters this version right away; each subsequent version serves a different emotional and narrative purpose.
Then, there is the dog. My decision to write from this point of view wasn't one rooted in craft—it was purely an emotional choice. Bubba was a tender-hearted boy who liked to run. He was excitable, would take off in the woods and get lost easily, and would always return to Sarah, drawn by a recently worn shirt she would leave for him to find. I dreamt of him, often, in the days following her death. So, I wrote of their final moments together, knowing that he will always be looking for her scent.
As the reader moves into the true crime sections of the book, where I research the crimes and criminals my sister was connected to, there is the version of Sarah's death where she dies of a hot shot. This was a culmination of all the investigative research I had done, a representation of the theory that she was killed. In a strange way, this was the easiest story to write because I was the least emotionally attached to its protagonist, the maybe-murderer. I had to detach myself, much in the same way I imagine a killer might, from my sister and focus on what needed to be done.
The last version of her death is the most fantastical, a version that allowed me to take care of her as she was dying. I had done a lot of therapy in my grief, including a number of EMDR sessions. In one of them, I processed her final moments by placing myself next to her. It was a way of confronting the dark, viscous thoughts that followed me around and the guilt of not being able to save her. In this chapter, I took the guts of what I had envisioned and turned it into a written wish. Oh, to have held her and let her know how deeply she was loved. It is the closest thing to an elegy in the book.
Write through the unknown, I say. It brings its own kind of truth.
__________________________________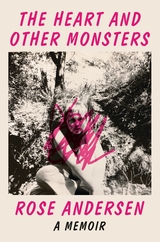 The Heart and Other Monsters by Rose Andersen is available via Bloomsbury.
---