How Digital Activism and Organizing Inspired Brazil's #MeToo Movement
Rachel B. Vogelstein and Meighan Stone on an Overdue Reckoning
In October 2016, when the US presidential contest between Hillary Clinton and Donald Trump dominated headlines in newspapers across the globe, a quieter political revolution was afoot a continent away, in Rio de Janeiro. At its center: an election for Rio city council. Among its candidates: an unknown 37-year-old political activist named Marielle Franco.
Marielle was an unlikely competitor in a political system ruled by white men. A descendent of African slaves who was born to a family of migrants from the northeast of Brazil, one of its poorest regions, she hailed from Maré, a favela, or slum, in Rio's North Zone. She was raised in poverty, put to work at the age of eleven, became a single mother by nineteen, and labored as an underpaid preschool teacher to support herself and her daughter while pursuing her own education. She also faced discrimination as a Black woman and, when she came out later in life, as a lesbian. But Marielle was driven. Despite her challenging circumstances, she won a scholarship to a private university and vowed to use her education on behalf of the disenfranchised, especially Black favela women with whom she was raised and who remained shackled by discrimination and violence. She made good on her promise, obtaining a master's degree in public policy and becoming a vocal critic of government neglect of the impoverished, advising city council members on the needs of a community often ignored by those in power.
Marielle's unexpected rise left her determined to open doors for others—and she put herself on the line to do so. In 2016, inspired by a rising tide of women's activism online and in the streets decrying discrimination against women, she took the improbable step of seeking election to the male-dominated city council for which she served as a staffer, campaigning for inclusivity in representation under the slogan "I am because we are." Though her campaign was historic, no one expected a Black, lesbian human rights activist from the favelas to win political office in a country controlled by wealthy white men. Brazil had long struggled with racism, a legacy of Portuguese colonizers who, upon arriving in 1500, enslaved indigenous people to help fuel the economy, and then began trafficking in the African slave trade. By 1850, Brazil had an estimated four million African slaves—more than seven times the number in the United States. Brazil was the last country in the Western world to abolish slavery, in 1888, and had notoriously neglected its Afro-Brazilian population ever since, the majority of whom were concentrated in slums on city peripheries, far from the centers of power.
Marielle's race also ran counter to the history of underrepresentation of women in the national and local legislatures of Brazil. Although women made great strides forward in health and educational attainment after the birth of the modern women's movement in the 1970s—ultimately winning equality with men under the Brazilian constitution that was ratified after a series of coups and military dictatorships in 1988, and electing their first female head of state in 2010—they continue to face discrimination and underrepresentation in the economic and political sphere. Today, Brazil ranks only 92nd out of 153 countries on the World Economic Forum's Global Gender Gap index, in part because of the continued dominance of men in positions of power. At the time of Marielle's campaign, elective office was especially elusive for Black women, who comprised nearly a third of the Brazilian population but held only 3 percent of state and federal elected positions.
In this context, Marielle's run was improbable; her staff predicted she would earn about seven thousand votes at best, eking out a respectable loss. Instead, that October, she won nearly fifty thousand votes in a landslide, receiving the fifth-highest vote total of the fifty-one candidates elected and besting more than fifteen hundred others, due in part to outreach to marginalized populations and the overwhelming turnout of women voters. "People used to look at her and say, 'She represents me,'" remembered Anielle Franco, Marielle's sister. "'That's me right there in the public arena.'" Marielle's election was a warning shot, signaling the growing power of women's voices in Brazil and around the world—and threatening those desperate to preserve the status quo.
"They really wanted to talk about it—almost as if sharing their story would help them take power over what had happened."
The activism that fueled Marielle's rise was ignited by the Brazilian #MeToo movement, which had begun back in 2013, long before the hashtag campaign was popularized in the United States, and had birthed a season of political activism known as the Women's Spring. As in other countries, this new wave began online—sparked, in this case, by a 28-year-old journalist in São Paulo named Juliana de Faria. Juliana had faced sexual harassment throughout her life, in childhood and in the workplace. But she could not persuade the newspapers or women's magazines for which she wrote to publish stories on the topic. The editors—almost all white men—insisted that "women don't want to read about these issues," she recalled during an interview in a bustling coworking space in downtown São Paulo.
Juliana disagreed. Like so many other women around the world, her experiences with sexual harassment and violence had shaped her life—what she wore, where she went, with whom she traveled and worked—and she knew the same was true for others in whom she confided. The first time she was harassed on the street by a man, walking home from a bakery, she was only 11 years old. To this day, she said, she can still feel the humiliation and distress. "He said things to me that you could never print in the paper," she said, averting her eyes. "I was too young to fully understand what had happened, but I felt violated and I started to cry." Upon seeing her tears, an older lady consoled her, but then laughed after learning what had happened. "Oh, dear, don't be silly," Juliana recalled her elder saying. "You should take it as a compliment." Juliana understood then that she was expected to accept this behavior—from this man, from any man. She didn't dare tell her family, for fear of condemnation.
Across Latin America, discrimination, harassment, and violence against women are endemic to machismo culture, and Brazilian women are particularly at risk: they face the highest incidence of femicide—the killing of a woman because of her gender—in the region, and one of the largest rates in the world. Legislators in Brasília only recently passed legislation, in 2006, recognizing all forms of violence against women as criminal, establishing special domestic violence courts, and opening shelters for abused women. The law was named for Maria da Penha, who was paralyzed after being shot by her husband in the 1980s and campaigned for 20 years for stronger legal protections. Despite the law, the cultural acceptance of discrimination against women has persisted, leaving women without recourse and often blamed for the violence and harassment they face.
Juliana became determined to challenge these norms, especially after reports began circulating on the internet in 2013 that a famous female TV presenter had been groped by a powerful director. Although the incident made the news, it was covered as a humorous story. "Lots of men were defending the guy," Juliana recalled. They argued that "she was asking for it, because of what she was wearing—because she is the kind of woman you could do that to." Those supporting the groper included not only harassers but also men Juliana respected professionally, who had wives and sisters and daughters but nevertheless defended this man. Juliana concluded that these men were not malicious—after all, she knew many of them—but instead simply didn't appreciate how millions of women experienced such behavior.
"They are not monsters," she insisted. "They are the men of our society. We work with them, we are raised by them, we are friends with them." In the face of continued rejection each time she tried to pitch an article on harassment, she resolved to find a different way to send a message to these men. Like so many of her activist peers, Juliana eventually turned to the internet, founding a website and creating a hashtag—#ChegadeFiuFiu, or "No More Catcalling"—that quickly went viral on Facebook and Twitter. Recognizing that attempts to address sexual abuse in academic and legal circles hadn't received traction, Juliana kept her campaign relatable to young people, at first even eschewing the word "harassment": "I thought the word was too heavy for the moment," she recalled. Instead, she used humorous graphics, illustrations, and irreverent posts. She remembered being pleased when the campaign account she'd created reached one hundred followers.
Women in the south of Brazil began printing and posting stories of harassment on street poles, so those without internet access could read them.
Then her hashtag began to spread. Thousands of women started posting from all across Brazil, sharing stories about their daily experiences. "The more we published, the more they would write us," Juliana said. "They really wanted to talk about it—almost as if sharing their story would help them take power over what had happened." She soon became overwhelmed by the women's devastating accounts and enlisted the help of two colleagues to sift through them. At first the deluge shocked her, but she quickly recognized that the validation these posts afforded inspired even more to share. "It made me feel like I was in the right place, like I wasn't crazy, or the only one who hated it," she recalled. The volume of stories posted online started to be reported on by the same publications that had refused to publish Juliana's stories on harassment just weeks before.
The response was striking—and so was the backlash. "We received lots of criticism," Juliana said. "Rape threats. Thousands of messages. Horrible things said about me and my colleagues." Some critics took umbrage at the characterization of men's behavior as harassment, arguing that many women enjoyed catcalls. "You may not like it, but there are a lot of women who do," several wrote. "Women want it to feel good, to feel empowered." In response, Juliana and her team decided to survey women about their experiences with harassing behavior. The vast majority reported that they did not like it and would adjust their clothing or travel choices—not taking a bus or walking alone at night, for example—to avoid it. The numbers were impossible for the mainstream media to ignore: a staggering 98 percent of respondents had experienced either sexual harassment or assault.
Notwithstanding the data, some disputed that the problem was as widespread as women reported, claiming that harassment happened only in certain neighborhoods or communities. To help demonstrate the pervasiveness of the abuse, Juliana and her colleagues used visualization technology to create a crowdsourced map of the location of those being harassed, modeled after a similar website launched by Hollaback!, an advocacy organization based in New York City whose work had been profiled at South by Southwest, a media conference that garners international news coverage. With this tool, women experiencing harassment could anonymously pin their location on the map to report it; as a result, Brazilians who thought that harassment was not an issue at their workplace, on their street, or in their university could see the problem in real time. Data and information technology were critical to these efforts. "With the internet and social media, I could have my own platform without filters," Juliana recalled. "I understand that not everyone is online or has the same access to the internet—but a lot of people do." Online activism even spilled into the streets. Women in the south of Brazil began printing and posting stories of harassment on street poles, so those without internet access could read them.
The #ChegadeFiuFiu campaign also prompted recognition of the link between women's concerns about violence and their underrepresentation in politics. Women's activism on a host of issues was rising both online and off—including in the political arena, where the exclusion of women correlated with the failure of government leaders to take women's experiences with discrimination and violence seriously. "In the end, it became a conversation about women's mobility," Juliana said. "With street harassment, men think that the public space is theirs. And we don't have enough representation in public policy to change it."
This growing chorus hit a crescendo two years later, in October 2015, when another cultural moment captured national interest. The television show MasterChef Junior, a popular children's cooking competition, featured a 12-year-old contestant named Valentina Schulz who attracted widespread attention that quickly turned sexual, despite her young age. Thousands of men began posting graphic comments online about the middle schooler, shocking the program's many followers. "If it's consensual, is it pedophilia?" one asked. "Let me keep quiet to not be jailed," another wrote. Like many others, Juliana was sickened at the pedophiliac fantasizing about this young girl, which echoed her first experience with sexual harassment, at the age of 11. So she decided to create a new hashtag—#MeuPrimeiroAssedio, or "My First Harassment"—and invited others to share stories of their first encounters with sexually abusive behavior.
The response was a tsunami, equivalent in size to the outpouring by millions around the world who would go on to tweet #MeToo just two years later.
__________________________________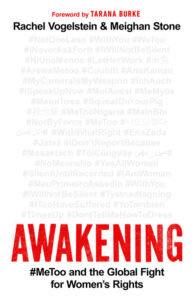 Excerpted from Awakening: #MeToo and the Global Fight for Women's Rights by Rachel B. Vogelstein and Meighan Stone. Copyright © 2021. Available from PublicAffairs, an imprint of Hachette Book Group, Inc.
---