How Celebrities Can Leverage Their Influence for Good in 2020
David Plouffe Makes an Appeal to Those Who Can Help Defeat Trump
A quick word to campaigning celebrities. You're probably not one of them, but to Angelina, Brad, LeBron, George, Jennifer, and all you other A-listers who may be reading this—if you do happen to be tuned in, I implore you to think more expansively about how you can use your creativity and prodigious social media assets to further the cause you support. Like it or not, you can create waves, not ripples, waves. Exhibit number one was that electrifying impact of will.i.am's mash-up of Obama's concession speech in New Hampshire in 2008. 
Now, you celebrities are no match or substitute for the combined might of the grassroots' social media activism and ground game drawn from the tens of millions of supporters of the Democratic nominee. We have just seen—and will see again—how that works. But we also need to exploit the fact that this nominee in 2020 will enjoy the support of most of you who have tens of millions of followers.
Your passionate activism can be a major advantage for us. With all due respect to those who have toiled in the political vineyards for years and decades, a truly dedicated creative class will generate more effective and clever content and arguments than we professionals have been able to deliver on issues like climate, taxes, health care, Cuba, and many more. 
Article continues after advertisement
Just imagine, if all the celebrities with social media assets of more than ten million followers would just once a week post a response to a common lie bouncing around the internet about the Democratic nominee, that wave would reach a far larger audience than Sean Hannity could ever hope to and thereby accelerate the building of a national rapid-response network. It would be a tragedy if this asset were not leveraged effectively and fully to win the most important election of our lifetime. Ideal would be a coordinated campaign among you. Any volunteers? 
Or imagine you're an actor with a massive social media following who travels to a small town in Pennsylvania with no film crew, just the phone. Say Mount Pleasant, a town of 4,000 less than an hour outside of Pittsburgh. You hit a local diner like the Main Street Deli and Café and engage the patrons in a discussion about the election, and shoot a little amateurish video while you're at it. You edit the piece in the car on the way to the airport and before you take off, you post it to your millions of followers and ask them to share it.
The bottom line is that Trump has the Fox/Sinclair/talk-radio axis of evil echoing and amplifying his every argument and wild-ass assertion.
By the time you're back on whichever coast you live on, you've achieved virality, reaching far more people than are watching the highest-rated Fox News show on any night. You are not spitting into the foul wind. You are standing up to it with powerful weaponry—your voice, your art, and your massive audience. 
Imagine a singer (or maybe a band) who decides to record a musical call to action for the climate and the election, releases it on YouTube and other platforms, asks the fans to share it, implores them to vote, and provides how-to links for volunteering. That call to action would be more effective than three speeches in the candidate's "climate week."
As someone who has put a lot of time into planning and thinking about such speeches, this is a sobering fact. But the world has changed. Trump knows this—it's a large reason why he won in 2016. The bottom line is that Trump has the Fox/Sinclair/talk-radio axis of evil echoing and amplifying his every argument and wild-ass assertion. 
Or maybe a basketball star with tens of millions of followers, who each time they travel for a road game, records a quick video. In town to play Giannis and the Milwaukee Bucks, they say, "Hey Wisconsin. I hope we win tonight in Milwaukee, but the bigger contest is the presidential election. It could all come down to Wisconsin. So, I want you all to make sure you're registered to vote, you have a plan for voting, and you're giving whatever time you can to the campaign. Go to democraticnominee.com to find out how. We have to beat Trump. But it will take a team to do it." The more specific and actionable, the better. Less sentiment, more strategy. 
You have been given more than the proverbial 15 minutes of fame. How about using a mere 15 minutes of your fame a week to defeat Donald Trump? 
__________________________________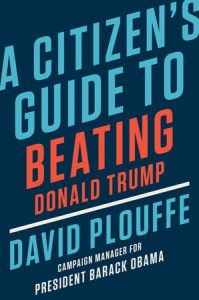 From A Citizen's Guide to Beating Donald Trump by David Plouffe, published by Viking, an imprint of Penguin Publishing Group, a division of Penguin Random House, LLC. Copyright © 2020 by Stand Up Strategies LLC.
---