How Black History Saved Me: Peniel E. Joseph on His Path to Scholar-Activism
Tracing an Education, from W.E.B. Du Bois to Sonia Sanchez
Before I ever read W. E. B. Du Bois, I learned about double consciousness from my mother, who seemed capable of loving and criticizing both the United States and Haiti. She loved history, and she loved that I loved it too. It drew us closer together as silent co-conspirators determined to unravel the secrets of our shared existence as Black people.
Dignity required a deep sense of community, one that my family managed to forge in sometimes unforgiving terrain. My neighborhood was less African American than it was Black: immigrants from Haiti, Jamaica, Belize, Trinidad and Tobago, and Barbados lived alongside Black Americans whose deep southern roots wound back to antebellum slavery.
In my racially segregated, working-class section of Queens, as a young boy I sometimes felt embarrassed watching my mother converse with neighbors, in stores, or at home in Haitian or French or Spanish, depending on the audience. My friends' Black moms just spoke English, and I felt eyes staring at me, and at her, in wonder when these exchanges took place. These feelings quickly subsided the more I learned about Black history in all of its transatlantic, multilingual, and culturally rich complexity, and my embarrassment gave way to pride.
Black history saved me: It became my North Star, my guide for making sense of my environment.
I came to proudly identify as both a Black American and a Haitian, and, over time, as African, and I was both inspired by the history lessons that I learned at home and on the picket lines and enraged by them. I couldn't help but notice the material differences between my own segregated Black working-class neighborhood in Jamaica and the lily-white part of Queens where I went to high school.
Unbeknownst to me, my high school had been founded in the 1950s at the exact moment that racial integration had gotten underway in Queens. It had driven many white students—not just those at my Holy Cross High School, but across America—toward private enclaves. I stepped into this history unaware of the details, but able to sense the emotions that my presence elicited. The first time I ever heard the word "nigger" directed at me by a white person was at Holy Cross. But my experience was only one among many that triggered similar confrontations between Black and white students across the city and the nation.
Black history saved me: It became my North Star, my guide for making sense of my environment. The more I read, the deeper I searched, and the deeper I searched, the vaster the expanse I encountered and the safer I felt. Other generations of Black folk had confronted the same challenges, disappointments, and lies that I was now encountering. I watched Eyes on the Prize, and I read The Autobiography of Malcolm X, a book that I found myself returning to time and again. Malcolm's journey from childhood trauma, juvenile delinquency, and prison to the heights of radical Black political activism was mesmerizingly instructive to me. He became my role model, a historical figure whom I recognized intimately.
My future changed by chance. After graduating from high school in 1990 I enrolled at Stony Brook University, a state school that attracted a robust contingent of Black students from the New York City boroughs like myself.
At Stony Brook, I found my métier, not as an organizer but as a scholar-activist. When I later moved to Philadelphia, in the early 1990s, to enter a history PhD program at Temple University, however, I still didn't really know what to expect. Just shy of turning twenty-one, I lived in North Philly, a part of the city where segregation, poverty, urban decay, and racism were even more acute than in some parts of Queens. Philadelphia taught me to put aside my New York City ego.
I met Sonia Sanchez, the brilliant poet and Black Arts pioneer who, in 1967, at what is now San Francisco State University, had helped found the first Black Studies program in the nation. She became my mentor and quietly began putting things in perspective. A Harlem native, Professor Sanchez had long worked for civil rights. Her humility invariably rubbed off on even the brashest students. Her patience and willingness to share her story, and the story of Black people, cast a spell on me and left an indelible impression on my life.
Philadelphia's jaw-dropping racial history included the May 13, 1985, bombing of MOVE, a grassroots Black naturalist movement that had been targeted by police and local officials since the 1970s. I eventually moved to West Philadelphia about twenty blocks away from where the bombing had taken place. City officials had razed the entire city block that was home to MOVE's headquarters and let it burn to the ground, killing eleven people, including six adults and five children between the ages of seven and thirteen. In the 1990s, remnants of MOVE, the Black Panther Party, and other Black radical organizations in Philadelphia found common cause in supporting Mumia Abu-Jamal, a former Black Panther turned journalist and MOVE supporter.
Abu-Jamal found himself on death row after being accused of killing a police officer in 1981. In Philly, he had joined the ranks of Black revolutionaries who had come to embody the afterlife of the radical movements for Black dignity that flourished during the 1960s and 1970s. These included Assata Shakur, who later went into exile in Cuba after being accused of killing a New Jersey state trooper in 1973 (she remains there as of this writing).
The pursuit of Black dignity through history, rooted in the lessons my mother had taught me as a boy, now became my vocation.
I supported Abu-Jamal, convinced of his innocence, and impressed by the compassionate intellect he exhibited in his book Live from Death Row, as well as in the tape-recorded dispatches he produced from prison. On the tapes, he discussed how his youthful experiences as a Black Panther had exposed him to the depth and breadth of the criminal punishment system. It was that system that had eradicated the Panthers, bombed MOVE, and placed him on death row for a crime he maintained he did not commit. Ramona Africa, one of two survivors of the 1985 MOVE massacre, helped to organize and lead demonstrations for justice for him. These demonstrations also advocated for reparations for MOVE victims and demanded an end to Philadelphia's systemic racism against—and punishment of—Black people in general and political radicals in particular.
Ramona Africa, Mumia Abu-Jamal, and other Black activists in Philadelphia gave me a new understanding of dignity, spurring me to investigate the deep roots of Black Power politics. They fearlessly criticized not only white supremacy but also narratives of American exceptionalism. Those narratives, they said, had allowed certain parts of the Black community to thrive while others still suffered. By getting access to elite educations, sought-after jobs, and, in some instances, the trappings of celebrity and wealth, these "successes" made the revolutionary politics of the 1960s seem unnecessary to the larger American public. The revolutionary ideals animating the Black Power era had become a distant unrealized dream.
But the Philly activists were not giving up: they demanded that all Black lives matter before that phrase became popular, and their example burrowed itself deeply into my scholarly work. I was a Black Gen Xer in Philly, and we lived our own version of the dreams our parents had carried during the civil rights era. The soulful sounds of Erykah Badu and D'Angelo became our soundtrack, the Neo-Soul background music in cafés populated by a Black bohemian community that became a part of a revival of poetry, protest, and spoken word. Philly's arts and culture scene was just as dynamic as the one I had left back home. And the pursuit of Black dignity through history, rooted in the lessons my mother had taught me as a boy, now became my vocation.
______________________________________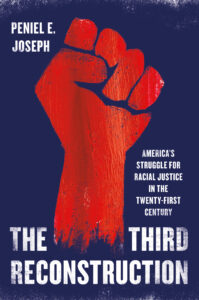 Excerpted from The Third Reconstruction: America's Struggle for Racial Justice in the Twenty-First Century by Peniel E. Joseph. Copyright © 2022. Available from Basic Books, an imprint of Hachette Book Group, Inc.
---