How America Came to Enthusiastically Embrace Sushi
The Rapid Rise from Buzzworthy Trend to Grab-and-Go Staple
Strictly speaking, "sushi" refers not to the raw fish, but rather to the rice seasoned with vinegar, salt, and a bit of sugar. The concept of sushi came from China, where a 4th-century cookbook mentions salted fish being placed in cooked rice to undergo a fermentation process that helped preserve the fish. It likely made its way to Japan in the 9th century. By the 15th century, Japanese cooks had discovered that the fish didn't need to be fully fermented to taste good. A new form of sushi—mama-nare zushi, or raw sushi—was created.
It wasn't fully raw, though, until the early 19th century, when Hanaya Yohei set up a sushi stall along the Sumida River in the city of Edo, now Tokyo. From it, he served what is essentially modern sushi—freshly cooked rice seasoned with vinegar and salt and hand-pressed with a thin slice of fresh fish from the bay. The fish was so fresh, it didn't need to be fermented. By the early 20th century, there were hundreds of sushi carts around Tokyo. By the 1950s, sushi was almost always served indoors.
It is a sign of how enthusiastically America has embraced sushi that this Japanese specialty can now be found at the grab-and-go refrigerated sections of pharmacies and at grocery stores next to containers of potato salad.
It got to be ubiquitous in a relatively short window of time. Although sushi was trendy among the monied class in the early 20th century, it didn't really start to proliferate until the mid-1960s. Around that time, Japan began a period of economic growth that lasted through the 1980s, necessitating travel—often globally, to places such as the United States—by Japanese businessmen.
In "The History of Sushi in America," the Michelin Guide pins the creation of the modern American sushi bar to a single man. Sometime in the years between 1964 and 1966, a Japanese importer named Noritoshi Kanai opened Kawafuku in the Little Tokyo section of Los Angeles. He hired master sushi chef Shigeo Saito to work the knife and Saito's wife to serve. The menu was primarily local seafood such as sea urchin, abalone, mackerel, and tuna, and everything was made fresh as it was ordered by customers sitting at a counter. "It was a real sushi bar," the Michelin writer notes, "—a phrase Kanai claimed to have coined."
It got to be ubiquitous in a relatively short window of time. Although sushi was trendy among the monied class in the early 20th century, it didn't really start to proliferate until the mid-1960s.
At first, Kawafuku catered to Japanese and American businessmen on expense accounts, but it quickly became a sensation. More sushi restaurants opened in the neighborhood, including Tokyo Kaikan, which had an entirely different feel from the mom-and-pop-style Kawafuku. It could seat about 300 people in its main dining room, and in addition to sushi had sections of the restaurant dedicated to tempura and teppanyaki. It even had an upstairs disco, Tokyo a-Go-Go.
Other sushi spots began popping up outside the neighborhood—one right next to the 20th Century Fox studio. Los Angeles was a perfect place for sushi's debut in America. The food was new, hip, and thought to be reasonably healthy. Celebrities flocked for sushi and made restaurants buzzworthy.
Once sushi was relatively established, innovation followed. One of the first—and still one of the most popular—twists on traditional Japanese sushi was the California roll, which Tokyo Kaikan claims as having created. The story goes that chef Ichiro Mashita could not get fatty tuna belly—which was then a seasonal fish—and so substituted rich, fatty avocado, and crab for the tuna to give it the flavor of the sea. The roll later evolved to include the nori tucked inside, presumably to hide the seaweed—which could be a challenging ingredient to some less-adventuresome diners. The California roll—absent of raw fish—is often the first type of sushi many Americans try.
The most traditional Japanese sushi chefs may have been horrified to see sushi amended with ingredients like mayonnaise and sesame seeds, but in recent years American sushi has embraced a more neotraditional approach, emphasizing quality ingredients over fancy presentation. Chefs say educating diners is key—the virtues of wild versus farmed fish, types of rice, the difference between warm-water and cold-water fish.
Some of those American innovations have even made their way across the Pacific to the sushi houses of Japan.
Barely more than 20 years after the end of World War II, sushi—which had been a strictly defined cuisine for a thousand years or more in the Japanese archipelago—came to America and was quickly adopted, adapted, and embraced.
_____________________________________________________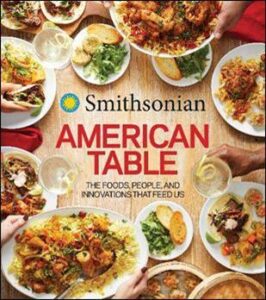 From SMITHSONIAN AMERICAN TABLE by Lisa Kingsley in collaboration with the Smithsonian Institution. Copyright © 2023 by Smithsonian Institution. Reprinted by permission of Harvest, an imprint of HarperCollins Publishers.
---