How A Group of High-Flying Women Helped Win World War II
Lena Andrews on the Ninety-Nines and the Formation of the Women's Auxiliary Ferrying Squadron
On November 2, 1929, a group of twenty-six women sat assembled in a dark, musty aircraft hangar at Curtiss Field in Valley Stream, New York. It was loud and cold, with a persistent hum in the background, as Curtiss mechanics got to work repairing six-cylinder Challenger engines. The day had seen bad weather, so most of the women had arrived by train or car, bundled in winter furs and leather gloves, and were now passing around a tea cart that was actually just a kettle balanced precariously in a toolbox.
In a photo taken on the day of the meeting, most of the women were adorned with cloche hats, furs, and oxford pumps—all typical of the time. Some are looking in the direction of the camera, but others are turned away, clearly enjoying each other's company. Aside from the setting, the gathering could have easily been mistaken for a luncheon, except for the presence of one woman, off to the side and staring directly at the camera. Fresh off the flying line, outfitted in grease-stained coveralls, a flying cap, and goggles, clipboard in hand, she was clearly a pilot. And so were the women dressed in furs.
The photo depicted the inaugural meeting of what would become known as the Ninety-Nines—named for the number of its charter members—the small but growing organization of women pilots in the United States, whose goal was "good fellowship, jobs, and a central office and files on women in aviation." The Ninety-Nines had been founded in August 1929 after the first annual Powder Puff Derby, when nineteen women pilots took off from Santa Monica, California, and raced to the finish line in Cleveland, Ohio, just over a week later.
The Ninety-Nines sprouted from the growing sense of community among women pilots, who numbered just over one hundred at the group's founding. Although they were as fiercely competitive with each other as they were with the men, the women had an undeniably strong bond as the forerunners of women in aviation. Each of them was daring, fearless, and talented, and each recognized the same traits in their counterparts.
The women had an undeniably strong bond as the forerunners of women in aviation.
The inaugural class of the Ninety-Nines included several women who had become minor celebrities for their flying prowess, both in stunt flying and racing. The most famous at the time, and now, was Amelia Earhart, still years away from her final flight and the peak of her fame. Also in the group and only slightly less well known at the time, however, was Jacqueline Cochran, the brash, beautiful, and exceedingly talented wife of a self-made millionaire, who would soon be in charge of American women pilots during World War II.
Born Bessie Lee Pittman in Pensacola, Florida, in 1906, Cochran described herself as a refugee from Sawdust Road. "Until I was eight years old, I had no shoes," she would state years later, and "my bed was usually a pallet on the floor and sometimes just the floor. Food at best consisted of the barest essentials—sometimes nothing except what I foraged for myself in the woods or in the water of the nearby bayou." The details of Cochran's early life are sketchy, in part because she was known to fabricate or omit certain parts of her biography, but no one would contest the difficulty of her upbringing, which she remembered as "bleak and bitter and hard." At fourteen, Cochran had been married to a twenty-year-old salesman, and three months later she gave birth to a baby boy. Seven months after that, she left the boy and his father and moved to Montgomery, Alabama, where she worked alternately as a beautician and a nurse for several years, until returning home four years later when her son was killed in a fire. Two years after the tragedy, she and her husband divorced, and, with nothing left for her in the South, she bought a train ticket to New York.
By the start of World War II, Bessie Lee Pittman had changed her name to Jackie Cochran, met and married Floyd Odlum—a millionaire who had acquired his fortune buying up companies during the Great Depression—and started her own cosmetics brand. Observing her business's breakneck pace of growth, her husband had encouraged Cochran to get her flying license, joking it was a more efficient means of travel for a woman with her ambitions, and so she got it.
Flying soon became more than a savvy business move: it was an obsession for Cochran. After devoting months to training and licensing, Cochran began competing in air competitions in the 1930s and quickly became one of the best-known women pilots in the country. An exceptional flier and a media darling, she always insisted on changing out of her flight gear and adorning the signature products of her cosmetics line before granting any interviews.
In 1938, Cochran achieved a triumphant success for both her and the Seversky P-35 she flew, winning the Bendix race, one of the most popular air competitions of the time. Cochran landed her plane among a crush of reporters and in her typical fashion, "kept them waving their notebooks and press cameras while she put on fresh face powder and lipstick." Cochran's first question after opening the canopy, writes historian Sally van Wagenen Keil, was, "Where's my husband?" Her second: "Does anyone have a cigarette?"
Behind the scenes, however, Cochran's reputation was mixed. She harbored a deep feeling of inferiority within the often-elitist world of professional flying, which could make her seem sharpelbowed, particularly in the face of perceived disparagement of her intellect or skill. Though Cochran had come into money through her marriage to Odlum, she never forgot where she came from, and despised the upper-crust elitism found in women's flying circles before World War II. Cochran's distaste for the wealth and privilege of this community proved especially challenging during the war, since her primary counterpart, Nancy Harkness Love, came from precisely that rarified set.
Love was, in almost all respects, Cochran's opposite. The daughter of a doctor, she had attended Milton Academy and Vassar College, and had started flying at a young age with the full support of her family. Her father had responded to her request to take flying lessons with a simple statement, "Do it well, or not at all."
But even with her starkly different upbringing, Love did share one attribute with Cochran, ambition. Love received her pilot license at sixteen and soon after became qualified as an instructor and test pilot. With her husband, Robert Love, she built an impressive aviation-sales company in Boston and began competing in air races. She was a businesswoman, flier, and visionary—and perhaps not so different from Cochran after all.
The B-17 Flying Fortress, the United States' first operational four-engine bomber, had started development in the mid-1930s and reflected the expanding mandate of American airpower at the time. Whereas aviation in World War I was intended primarily to enhance the effects of ground forces, American air commanders during the interwar period saw airpower as having its own independent effects. This vision formed the basis of strategic bombing doctrine, which employed airpower to cripple the productive capacity of Japanese and German industry and required a fleet of long-range bombers packed with munitions to enact it.
Under the leadership of General Henry "Hap" Arnold, the Army Air Forces devoted considerable resources to building such a fleet over the course of the conflict, and the B-17 was among the first of the American bombers to be given this mission. It looked the part. "With all those guns," Arnold remembered someone saying, "it looks like a fort that can fly."
By 1942, as the first murmurs about a women's flying program started circulating, the war had crept to the far corners of the globe. Pearl Harbor ushered in a wave of Japanese victories, culminating in May with the fall of Corregidor. In Europe, the Germans and Italians took advantage of the momentum at their backs and continued to open new fronts.
But the news was not all good for the Axis. While the Nazis had occupied France with relative ease, they had been rebuffed in their cross-Channel attempt to invade England during the Battle of Britain, due largely to one of the best performances in the Royal Air Force's storied history. The Allies, seeing this success, took note of the important role airpower could play in future battles.
The loss, however, had done little to temper Hitler's seemingly endless ambitions. He quickly moved to advance on Yugoslavia, Greece, and Crete, only to then turn his attention to the Soviet Union, where he began a grueling assault on his former ally. The Italians, similarly undeterred by some early missteps in North Africa, were reinforced in that theater by the formidable German Afrika Korps, under the infamous "Desert Fox," Erwin Rommel. The British, spread too thin and struggling to prioritize, found themselves unable to keep up with the growing scope of the conflict. They waited, impatiently, for the United States to meaningfully commit trained men to fighting on the ground.
As the war spread to farther-flung corners of the globe, both Jackie Cochran and Nancy Love were aware that airpower was only growing in importance. Over the course of several months, the war had become truly global, crossing through dozens of borders, climates, and terrains. Many people, including most of the leaders in the US Army, understood that airpower had the unique capability of seamlessly crossing these varied thresholds.
As 1942 unfolded, Love and Cochran watched closely when the Army, recognizing the important role that airpower was playing on the battlefields in Europe and the Pacific, elevated its Air Corps to a semiautonomous organization within its ranks. The new organization was called the Army Air Forces—the predecessor to today's independent Air Force—and it consolidated all American air pilots and air assets under a single chain of command. Cochran and Love had also heard the pleas from politicians and military commanders for increased aviation resources, including Roosevelt's public demands for more planes. They had watched male pilots sign up to serve, noting that they often received a direct assignment to the Army Air Forces, their flying skills at a premium. They had seen many of the remaining men enroll as instructors and civilian ferrying pilots, contracted with the Army to move the surge of planes from manufacturing facilities to bases and, eventually, to the field. They had heard rumors about the WAAC and had seen the legislation moving through Congress. And they both wondered, to themselves and to their high-placed friends, could they find a way for women to fly too?
Though motivated by the same vision of establishing a women's flying corps within the Army, Love and Cochran took very different approaches to the task. Cochran quickly found her way to the ear of General Arnold, the senior air commander in the Army and freshly appointed head of the Army Air Forces. For several months, Arnold rebuffed her requests to begin setting up a women's flying corps, insisting that existing manpower and training rates would be sufficient to meet the Army Air Forces' needs. He did assure Cochran, however, that if the time came for a women's pilot organization, she would be asked to develop and command it.
As Cochran worked the upper echelons of the American flying establishment, Love had insinuated her way into a lower-ranking but still powerful element of that same community, Air Transport Command (ATC), the hub of the Army Air Forces' flying in the United States. ATC was responsible for two primary missions: airlifting equipment and personnel into the field and ferrying military aircraft from manufacturing plants to bases around the country. By 1941, ATC was dealing with an exponential increase in demand for its services, and, within a year, they needed more pilots than even existed in the Army Air Forces. In the immediate aftermath of Pearl Harbor, they had hired over 3,500 civilian pilots to fill the gap, but they still struggled to keep up. Within weeks of her introduction to the command's senior leaders, Love had convinced ATC commander Brigadier General Harold George that women pilots could help ease the burden of transporting aircraft around the country, freeing up men for other duties. Overwhelmed by the sudden swell of aircraft and the limited number of pilots qualified to move them around the country, he jumped at the idea.
Under Love's guidance, ATC recommended the establishment of an organization of highly experienced women ferrying pilots— ideally with over one thousand hours in the air—with Love as their commander. "I have been able to find forty-nine qualified women pilots I can rate as excellent material," she reported to Lieutenant Colonel Robert Olds of the Army Air Forces' Plans Division, adding, "I really think this list is up to handling some pretty complicated stuff."
By the end of 1942, informal negotiations about establishing a group of women pilots to be used for domestic Army Air Force tasks were progressing steadily on parallel tracks—the first under discussion between Cochran and Arnold, the second being hashed out between Love and ATC. But this introduced two problems. First, conflicting promises had been made. Both Cochran and Love expected that they would oversee efforts to build a women's flying organization, and both had been promised the coveted appointment to lead the new organization.
They both wondered, to themselves and to their high-placed friends, could they find a way for women to fly too?
Second, and more problematic, Cochran and Love had competing visions of the scope for militarized women fliers. Love advanced a narrower proposal. She believed women pilots' primary contribution to the war effort should be to support the domestic aviation tasks of ATC. Therefore, she wanted to recruit women who met the high standards necessary for cross-country flying.
Cochran, on the other hand, had a far more expansive vision. She advocated for women with limited flying experience but exceptional competence and verve to be trained by the Army, not just to ferry planes, but to undertake any and all stateside duties that could release male pilots into combat. "We have about 650 licensed women pilots in this country," Cochran noted, adding that "most of them would be of little use today, but most of great use a few months hence if properly organized. And if they had some official standing or patriotic initiative (rather than just flying around an airplane occasionally for fun), there would be thousands more women pilots than there are now."
Although these two visions were equally valid approaches to the challenge at hand, it would have been difficult if not impossible to sustain both. And, clearly, two women could not be tasked to head a single women's flying unit. The conflict came to a head in mid-September 1942, when Love, attending a ceremony with George and Secretary of War Henry Stimson, was publicly announced as the new leader of the women's ferrying organization. The New York Times summed it up:
WOMEN WILL FORM A FERRY COMMAND; ARMY AIR FORCES SET UP A SQUADRON WITH MRS. LOVE AS COMMANDER; FIFTY IN THE FIRST GROUP; MEMBERS WILL RECEIVE $3,000 A YEAR AND HAVE A CIVIL SERVICE STATUS.
Noting that the women's flying organization would have exacting standards, the article went on to detail Love's qualifications: "Mrs. Love has been flying for twelve years and has logged more than 1,200 hours of flying time. She has passed tests qualifying her to handle planes with engines of 600 horsepower, is an expert in flying with instruments and is also rated to fly seaplanes." By the look of it, the issue was settled. Love was certainly qualified, and the presence of War Department and ATC leadership at her swearing-in indicated their support of the venture. ATC had beaten Cochran to the punch, it seemed, and Love would oversee the newly created Women's Auxiliary Ferrying Squadron (WAFS).
Unfortunately for ATC, however, the head of the Army Air Forces, Arnold, did not agree. Cochran had immediately confronted him after the announcement and demanded an explanation of whether and how she was going to figure into this arrangement. Arnold claimed that the WAFS had been announced without his knowledge or approval and, surely recognizing that he had offended and humiliated a woman with influential friends, did what any commander in his position would do: he ordered that the mess be cleaned up. "He called General George…to his office," recounts one history of the women's flying program, and told him the WAFS would need to be revised. Then, pointing to Cochran, he instructed George to work it out with her.
Four days later, and much to the dismay of Love and the ATC, Arnold announced that Cochran would head up the newly established Women's Flying Training Detachment (WFTD), a civilian organization that would find and train women to conduct a wide range of domestic tasks for the Army Air Forces, including but certainly not limited to ferrying planes.
Behind the scenes, Cochran had acknowledged that eliminating the WAFS so soon after its establishment would only serve to further confuse matters. Instead, she agreed to allow Love to remain in charge of the unit, ostensibly under the umbrella of Cochran's WFTD. In the meantime, the press release cleared up any confusion that the announcement of Love's appointment days earlier may have caused. "The formation of the Women's Auxiliary Ferrying Squadron, which was announced September 10," it was clarified, "is part of the program for the utilization of this additional reservoir of trained pilots."
It served as a useful, if tenuous, compromise for both women. Cochran's vision of a broader women's flying command had been embraced, while Love retained her command over an elite corps of highly capable women ferrying pilots. It was certainly not the last compromise that either woman would have to make.
__________________________________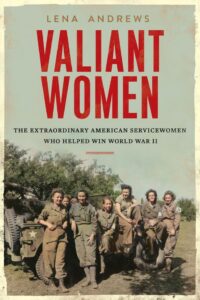 Excerpted from Valiant Women: The Extraordinary American Servicewomen Who Helped Win World War II by Lena Andrews. Copyright © 2023. From Mariner Books, an imprint of HarperCollins Publishers. Reprinted by permission.
---