Holly Ringland on the Life-Affirming Experience of Seeing Her Novel Adapted for TV
The Author of The Lost Flowers of Alice Hart Goes Behind the Scenes (and Shares Exclusive Photos!)
The miniseries adaptation of Holly Ringland's bestselling debut novel, The Lost Flowers of Alice Hart, is streaming now on Prime Video. The story follows Alice Hart (Alycia Debnam-Carey and Alyla Browne), who grows up on her grandmother's (Sigourney Weaver) flower farm after losing her parents to a mysterious fire—and the answers she finds after a two-decade journey for the truth.
We asked Ringland about her experience seeing the novel adapted; the conversations she had with the showrunner, actors, and crew; and a very cool appearance she made in the finale.
*
How does it feel to see your characters come to life on screen?
The genesis of this novel was trauma, resilience, and joy: I've lived with male-perpetrated violence for a lot of my life, which silenced my voice, courage, and the dream of being a writer I've had since I was a child. In 2012, while researching traumatic experience and the process of writing fiction, I discovered Tom Spanbauer's concept of "dangerous writing," which is the idea of going into the sore place we all have inside of us and writing from that place; using fiction as the lie that tells the truth.
I realized that I'd never written from the sore place. So, my research became my own call to arms, but threw up all kinds of questions. What would become of me and my life if I wrote the thing that I was most scared to write? What story would emerge, and how might it live in other people's hearts, if it ever saw the light of day? What else can trauma be made into, other than unrememberable memories? Writing my first novel, getting it published, having it be loved by readers was one entirely mind-blowing thing. Now, for The Lost Flowers of Alice Hart to take new life on screen, with the cast and production that it has… I'm aware that it's ironic for a writer to say, nevertheless it's still true: I really have no words.
What notes or pieces of inspiration did you share with the creators?
I spent a lot of meaningful time with Sarah Lambert, writer, executive producer, and showrunner of the series, having deep-dive conversations into the characters, story, and the language of Australian native flowers that I created in the novel, which binds everything. Sarah and I have similar storytelling minds; we're wired in similar ways, fascinated by the things we say and the things we don't, and why. I knew from being in the gardens of the women who raised me that Australian flora often thrives under harsh conditions, in extreme landscapes and weather. My language of flowers grew from there, as I considered the ways we find to use our voices even when we're not able to speak our stories. Sarah understood the power of that, as well as the connection between story and land.
My experience of growing up on Bundjalung Country, the southeast Queensland coast, informed my portrayal of Alice's childhood seaside world as much as my experience of living on Anangu land in the Western Desert informed my portrayal of Alice's life in the desert. A sense of place tells us who we are and how we are: Sarah took all of my love, power, and connection to the story into her scripts for the show.
What's the hardest part of having your book adapted for film?
As the author, the most difficult part of having my book adapted for screen was also the most wonderful: Alice's story became the creative vision and collaboration of cast and crew—hundreds of people—often all at once. When everything flowed, it was incredibly powerful. When it didn't, it was challenging. As is the case with every adaptation.
What I learned as a novelist is that for the integrity of the story to translate from book to screen, it's essential that the DNA of a book remains intact. Nadine Gordimer said, "Nothing factual that I write or say will be as truthful as my fiction." Fiction is emotional truth. The Lost Flowers of Alice Hart isn't autobiographical in the sense that, for example, I haven't ever actually lived on a flower farm (dammit). But everything in this novel is emotionally true. This story is drawn from my lived experiences. The reason I think Alice Hart has been beloved around the world, to my absolute bewilderment, is because readers can feel that truth. Stories remind us we are not ever as alone as we think we are. And that we are often so much braver than we believe. That's the power of fiction. And that's the power of keeping the very essence, the DNA of a story, intact, no matter the medium.
What's the best part of having your work adapted for film?
Having the opportunity to meet and learn from the extraordinary cast and crew who have made this series what it is. I mean, Sigourney Weaver?! The conversations we had were life-affirming. Spending time with Alycia Debnam-Carey, who plays Alice, has also been incredibly special. As was mucking around and hanging out with Alyla Browne, the extraordinary young actress who plays young Alice. I love her. I was deeply moved by times I shared with Asher Keddie and Leah Purcell, two iconic Australian actresses I've grown up watching on the screen.
But it wasn't just the stars in front of the camera that blew me away. It was the stars behind the scenes in production and art design, floristry, costume, hair and makeup… being around these people at the top of their game, pouring their passion, love, and skill into the adaptation was truly awe-inspiring. I made friends through the adaptation that have become family. I'll always be especially grateful for that.
If you could play a minor role in the adaptation, what would it be?
No plot spoilers here: there's a moment in the final episode when I appear in a crowd and call Alice Hart's name. I have director Glendyn Ivin to thank for it: I don't think I could have had a more powerful experience as the author of the story than to stand in the world of it, on camera, calling for my protagonist. I can't rewatch it, it makes me a wreck! I've been bowled over by the outpouring of readers' responses online to spotting me. A core memory made, for sure.
__________________________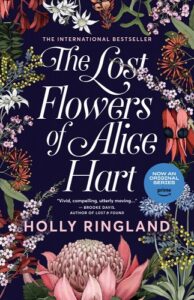 Holly Ringland's The Lost Flowers of Alice Hart is available now from House of Anansi Press.
---