Hiroshima, the Holocaust, and the Meaning of "Survivor"
"There is No Payment That Could Begin to Make Up for Any of It"
There is a Japanese word for people who lived through the August 1945 nuclear attacks on Hiroshima and Nagasaki. They are called hibakusha, which usually translates as "bomb-affected people." It's estimated that the combined death toll from the two cities is approximately 250,000. Most of the victims' names are recorded in something called The Book of the Past, stored in a stone chest beneath the Memorial Cenotaph in Hiroshima. Nearby, a memorial mound contains ashes of the estimated 70,000 nameless dead. Of the known hibakusha, who numbered around 280,000, only one man has been officially recognized by the Japanese government as having survived at Ground Zero of both blasts. Tsutomu Yamaguchi, who lived to the age of 93, was called by some media reports "the luckiest and unluckiest man to have ever lived." The most literal Japanese word for survivor, seizonsha, is rarely used by anyone other than scientific investigators. Even more relevant, Japanese often avoid using the term seizonsha in connection with Hiroshima or Nagasaki because it emphasizes the idea of remaining alive—as in, "fortitude"—with the implication that this is unfair to the less fortunate people who were killed.
The definitions of survivor are indeed intricate for the Japanese, as noted in this excerpt from the AtomicBombMuseum.org website:
A broad accounting of survivors takes into account several groups:
– directly exposed persons (primary victims),
– fetuses exposed in their mothers' wombs,
– indirectly exposed persons affected by residual radiation (secondary victims), including
– early entrants into the two cities and
– fallout victims in areas where the "black rain"*
Besides these, "victims" include another large group:
– "others affected" (tertiary victims) by loss of spouse, close relatives, and housing and household
*"black rain" is a form of nuclear fallout, caused by residual radioactive material propelled into the upper atmosphere following a nuclear blast or a nuclear reaction conducted in an unshielded facility, so called because it "falls out" of the sky after the explosion and the shock wave have passed.
A project called Hibakusha Stories is devoted to sharing survivor testimonies in the name of educational awareness, actively entrusting young people with "remembrance responsibility." These trained storytellers are referred to as denshosha—the "designated transmitter of memories." While some of these denshosha are the offspring of survivors—their adult children as well as their grandchildren—others are Japanese citizens unrelated by blood; they are simply (or not simply) choosing to take on this intimately personal role in honoring the collective past. In addition to the goal of preserving and passing on the experiences of atomic-bomb survivors, whose numbers are dwindling rapidly, this project is also part of a larger commitment to spreading an international message of disarmament, especially advocating for the permanent abolition of nuclear weapons.
Currently, 210 people with an average age of 55 are learning testimonies to recount at the museum and nearby memorial. In reading about these designated narrators, I recognize the paradox of using my own voice to share my parents' histories.
"The biggest challenge is how to tell a story about someone's experience in someone else's words," said Ayami Shibata, the city official in charge of the three-year-long program. "Many find it difficult to decide whether to speak first-person and which parts of their mentor's life to focus and to inherit."
"Can successors pass on the words that come out of our souls, something so painful, our experiences and thoughts and feelings?" one hibakusha said. "[Yasukazu] Narahara [one of the denshosha] is passionate about spreading the message. That's something that I'd like to applaud, that's something that I want him to carry on doing."
There has been some criticism from survivors not involved in the project, who question whether someone who did not experience the bomb directly can claim to speak for those who did.
"I've been told more than once that I have no right to tell their stories," Ritsuko Kinoshita, a denshosha, said, before leaving to guide a group of high school students around the Atomic Bomb Dome in Hiroshima. When she speaks to groups in the museum's lecture halls, she says, she shows them a PowerPoint presentation based largely on [a particular hibakusha's] recollections.
*
Researching online, I find this excerpt from an organization called No More Hibakusha, about detailing the witness testimonies:
Question 4: Do you have anything unforgettable, terrifying, or regrettable in your memory about your experiences on the day when the atomic bomb was dropped and immediately after? If you have, what is it? Please describe what happened, what were the circumstances, and what you felt, in keeping with following guidelines:
a: How people died or were dying. What the victims suffered.
b: What you felt in witnessing it.
c: If you could not do anything for those crying for help or water, what regrets do you feel?
*
After refusing to apply for more than 70 years, in the summer of 2016, my father agreed to work with me on filling out a restitution request from the German government—that is, monetary compensation for his wartime suffering and losses. I used to ask him every once in a great while if he ever regretted the decision not to apply, unlike the way my mother had chosen. He never used the phrase "blood money," but it was implied.
"There is no payment that could begin to make up for any of it" is what I recall as his answer. Although I wasn't sure what changed his mind at last, I thought that maybe our trip to Germany the year before had triggered his internal accounting system—telling him that it was time, finally, to accept a symbolic measure of amends.
The 12-page restitution application includes a page on which to "check yes or no" in response to questions such as these:
Did you perform forced labor?
Were you in a camp or similar place of incarceration? Were you in a ghetto?
Were you forced to live in a specific place? Were you forced to wear a yellow star?
Did you live in hiding or under false identity? Did you flee to escape Nazi persecution?
Did you experience any other type of Nazi persecution? Please specify.
*
At the end of the Civil War in 1865, General Sherman announced a plan ("Special Field Orders, No. 15") to distribute reparations for African American slaves in the form of land ownership, often historically referred to as "40 acres and a mule." The phrase has become shorthand (to this day) representing the US government's broken promise(s) of economic justice. These policies at the time of emancipation and reconstruction were largely intended to provide land for political reasons (e.g., agrarian reform, land redistribution) rather than to compensate unconditionally for lifetimes (and multiple generations) of unpaid labor. Not to mention compensation for incalculable suffering and loss. To call such payment a symbolic gesture is an understatement.
When Ta-Nehisi Coates wrote an article for The Atlantic on the subject of reparations to descendants of African-American slaves, he referenced Germany's process regarding Jewish Holocaust survivors. The initial period of government amends in 1952 was met with what Coates calls "violent" resistance.
"Very few Germans believed that Jews were entitled to anything. Only 5 percent of West Germans surveyed reported feeling guilty about the Holocaust, and only 29 percent believed that Jews were owed restitution from the German people."
Citing figures from historian Tony Judt's book Postwar, Coates's article continues: "The rest were divided between those (some 2/5 of respondents) who thought that only people 'who really committed something' were responsible and should pay, and those (21 percent) who thought 'that the Jews themselves were partly responsible for what happened to them during the Third Reich.'"
*
In addition to the 80 or so Jewish and Communist survivors of Buchenwald who attended the 70th-anniversary commemoration of the camp's liberation, and in addition to the surviving members of Patton's Third Army who liberated the camp, and in addition to the children and grandchildren of those survivors, there was a special group of former soldiers in attendance as well. These men were among the few surviving "Lost Airmen of Buchenwald." In the summer of 1944, 168 airmen from the United States, England, Canada, and other Allied countries were captured in Paris by the German Gestapo and, instead of being taken to a POW camp in accordance with the Geneva Convention of 1929, were imprisoned in Buchenwald.
I spoke with one of them when we shared a table during dinner at the Hotel Elephant. Chasten Bowen explained that he and his fellows attempted to notify the German military that they were being held at Buchenwald "in error," but nothing was done to transfer them.
"A Nazi general was visiting the camp one day, and we saluted him as he passed by our work detail," Bowen said. "That was our way of saying 'Look at us! We are American soldiers! We should not be here!'" His pale blue eyes glittered under startlingly dense white eyebrows. His adult son sat beside him, nodding.
Bowen continued. "Whether this particular general failed in his efforts to get anyone's attention, or whether he never even bothered, we can never know. The group of us was taken outside the gates of the camp, somewhere to be shot, we figured. Thankfully, that didn't happen . . ." His voice faded, and his gaze drifted elsewhere, far back in time, I imagined. He took a sip of water.
"After we all were liberated, our home countries spent a lot of energy to convince us that the entire episode never happened. They put us through psychiatric examinations and all sorts of stuff, denying and denying that any of us had been imprisoned in a concentration camp. Years later, we were told that the supposed reason for the hush-up was in order not to 'further humiliate' the defeated Germans."
"Are you bitter?" I asked. It seemed an obvious question, but the old man had spoken with astonishing calm, an almost eerie display of serenity. He and his son exchanged a quiet glance.
"I've never heard my father raise his voice," Bowen's son said. "It's true," he said. "I don't believe that anger does anyone any good."
All I could think of was the paradox of these imprisoned soldier-survivors being deliberately erased by their own government. Denied the validation of their own experience.
Later, I learn that in Bellingham, Washington, at the 2011 premiere of the film based on their story, an audience member told Joe Moser, one of the surviving pilots, "We believe you now."
*
Following the unconditional surrender by the Japanese government in August 1945, which was announced within a week of the bombing, American military analysts entered both Hiroshima and Nagasaki to conduct studies of the devastation. Photographs were taken of bodies that had been turned to "pure carbon," and measures made of "atomic shadows" (i.e., surfaces imprinted with darkened or lightened areas whose indicative shapes could be used to determine the precise angle of the blast). The US government crated the Atomic Bomb Casualty Commission (ABCC), not to treat victims but to study them.
Though the impersonal term "casualty" has been a component of war language for many decades, it seems in this case to foreshadow the use of "collateral damage" describing civilian deaths caused by US bombs in the Middle East during the earliest days of the Iraq War, and now seems part of war's brutally casual lexicon. The ABCC was eventually renamed the Radiation Effects Research Foundation, in which data from 120,000 survivors has been gathered for more than 70 years.
I can't help wondering if the Japanese term hibakusha, for bomb-affected person, is a direct reaction to the detached language used by the scientists who studied them. And of course the newer terminology leaves out human subjects altogether, as if "effects" are literally disembodied—and are perhaps more accurately measurable in units like skin and organs. The subjective psyches of the victims cannot be so neatly categorized.
It wasn't until 1952 that certain survivor testimonies and other audiovisual evidence from the immediate aftermath of the bombing were released to the public. Before that, all firsthand witness materials and government reports had been confiscated and/or suppressed. In one example of an exceptionally prolonged delay, although American journalist George Weller was the "first into Nagasaki" and described the mysterious "atomic illness" (the onset of radiation sickness) that was killing patients who outwardly appeared to have escaped the bomb's impact, Weller's articles were not made public until 2006.
In the weeks leading up to President Obama's visit to Japan in May 2016, as the first sitting president to visit Hiroshima since the bombing, much public debate took place regarding the possibility that he might "apologize" to the Japanese. Op-eds in a variety of American newspapers proliferated with outrage in advance at the very idea of such an action, and the Obama administration made repeated announcements about what the president did and did not intend to say or do.
A group of hibakusha was present at the ceremony, during which President Obama did not apologize but expressed sympathy for the victims. "Mere words cannot give voice to such suffering," he said. He hugged Shigeaki Mori, age 79, a survivor who spent 35 years trying to locate and console the family members of 12 captured American servicemen who were killed in the bombing.
"Someday, the voices of the hibakusha will no longer be with us to bear witness," President Obama said. "But the memory of the morning of August 6, 1945, must never fade. That memory allows us to fight complacency. It fuels our moral imagination. It allows us to change."
__________________________________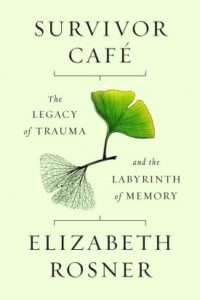 Excerpted from Survivor Café: The Legacy of Trauma and the Labyrinth of Memory by Elizabeth Rosner. Courtesy of Counterpoint Press and copyright of the author. All rights reserved.
---