Hilary Mantel Loved Newspapers and Other Insights From Her Longtime Editor
Nicholas Pearson on a Writer At the Peak of Her Powers
When Hilary Mantel died, unexpectedly, in Budleigh Salterton, Devon, in September 2022, she was a week away from moving to Kinsale, Ireland, a reconnection with her Irish Catholic roots. She and her husband Gerald McEwen had bought a house with views over the surrounding countryside. At the heart of this collection is a piece about the writer John McGahern, the great chronicler of Irish rural life in the shadow of the Roman Catholic Church. Their move to Ireland was also, in part, an attempt to re-establish European citizenship in the wake of Brexit. Here too can be found an essay about nationalism and identity, a theme that fed into Hilary's fiction, in particular her pinnacle achievement, the Wolf Hall Trilogy. Also in these pages is an essay about Jane Austen, a lifelong passion of hers. She had recently embarked on a novel, Provocation, that centered on the middle sister in Pride and Prejudice, Mary Bennett. At the time of her death, Hilary was a writer at the peak of her powers, one for whom fresh creative vistas were just opening up.
Reading the entirety of Hilary's writing for newspapers and periodicals in order to make this selection has been a revelation. Despite being her book editor for the last twenty years, much of what I read was new to me. Her wicked sense of humor, which was a mark of her in person, comes shining through many of the pieces collected in a new book, A Memoir of My Former Self: A Life in Writing. In fiction, writers tuck themselves away to various degrees, sometimes telling stories to escape themselves, even if they are hiding in plain sight. The story of Hilary Mantel is scattered throughout her novels. But in her journalism and essays a full and exhilarating self-portrait emerges: she isn't afraid to lay herself bare. The book is organized with that in mind – a patchwork of a life revealing itself.
At the time of her death, Hilary was a writer at the peak of her powers, one for whom fresh creative vistas were just opening up.
Hilary loved newspapers. She talked about drenching herself in them. "I can make any paper last two hours, and when I've finished, it's not fit for another hand; it looks as if a drunk has been making paper hats with it." As she explained in her introduction to Mantel Pieces, a selection of writing from the London Review of Books, her early life as a novelist was not an income. The advance for her first novel was £2,000. She needed work to subsidize the slow process of writing fiction and it was to the periodicals she turned. She didn't feel qualified to do anything else. Auberon Waugh offered her a piece a month for the Literary Review for £40 a time. She wrote for Alan Ross at the London Magazine, but he paid her even less.
In 1986, Hilary submitted an essay to the Shiva Naipaul Prize, awarded to "the writer best able to describe a visit to a foreign place or people. It is not for travel writing in the conventional sense, but for the most acute and profound observation of cultures and/or scenes evidently alien to the writer." The judges included Martin Amis and the then editor of The Spectator, Charles Moore. Hilary's entry, "Last Morning in Al Hamra," which describes her years living in Saudi Arabia, won the prize and was published in The Spectator in January 1987.
In her journalism and essays a full and exhilarating self-portrait emerges: she isn't afraid to lay herself bare.
In "Last Morning in Al Hamra," Hilary sets out her ambition. Expatriates tend to play out their lives in "a plastic bubble of their own culture," protected from the world which is filtered through their own prejudices. But Hilary was an expatriate apart: she committed herself to look more closely, and this led her to get beyond the barriers that interfered with her strange surroundings and to a deeper understanding of herself: "It needs only a pinprick of event, a chance germ, and the outside world has breached the defences. You know what you have avoided knowing; it is not the country that is foreign, it is not the climate or the people, it is you."
On the back of this essay, Charles Moore offered Hilary the Spectator film column. She quickly learned to make notes in the cinema gloom and, over the next four years, would go on to write more than 160 reviews. Mickey Rourke was in his prime; suffice to say he didn't impress Hilary. Other actors did, and some extremely astute and often very funny reviews of films that have stood the test of time are included in A Memoir of My Former Self. Hilary's first piece for the New York Review of Books was published in 1989, and she continued to contribute there for the next twenty-five years. Also included are Hilary's BBC Reith Lectures, first broadcast in 2017, her meditations on how we interpret the past. "Is there a firm divide between myth and history, fiction and fact, or do we move back and forth on a line between, our position indeterminate and always shifting?" she posited. As others have commented, the Reith Lectures are perhaps the finest distillation we have of the art of the historical novelist.
The majority of A Memoir of My Former Self comprises occasional pieces from various publications and in particular journalism published in the Guardian, for whom Hilary wrote for many years. Often, the starting point for these pieces is a fragment from her own life, continuing the story she began in her memoir, Giving Up the Ghost. The page was where she invented herself: from her unusual childhood to the years completing the Wolf Hall Trilogy, it was the place where she processed who she was and how she fitted into the world. What emerges is a portrait of Hilary Mantel's life in her own words, "messages from people I used to be."
___________________________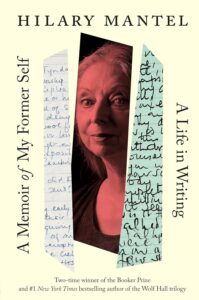 From Nicholas Pearson's introduction to A Memoir of My Former Self: A Life in Writing by Hilary Mantel, selected and edited by Nicholas Pearson. The book is published in hardback and ebook by John Murray Press in the UK and Ireland on 19 October and Henry Holt in the USA on 24 October.
---