Here is Werner Herzog's Eerie Prose Script for Nosferatu the Vampyre
To Be Read Aloud in His Voice, Obviously
A gloomy moon shines on the silhouette of a gloomy castle. The coach drives through an arched doorway into a sort of forecourt. Harker climbs out, and the coachman indicates with an imperious gesture that he should mount the steps before him. Harker remains standing indecisively before a large, closed portal. As he is mustering the courage to knock, the leaves of the door creak, and slowly, very slowly they swing open of their own accord. Inside all is dark. 
Out of the darkness emerges an almost rigid figure in a tight-fitting black jacket. Its shoulders hunch forward slightly, and its hands are cramped together. The legs appear to be long and thin, and the fingers seem to be long as well, pale, with elongated claw-like nails. The face is as pale as a corpse, the head completely bald. The ears are crumpled, and pointed like a bat's.
The eyes that stare at Jonathan cause us, like him, to shudder. Count Dracula? Jonathan asks. Yes, he is Count Dracula, and he welcomes him to his castle. He has been expecting him and invites him to enter. The night is cold, and he must be tired and hungry, the Count says. 
Dracula takes a lit candle from a ledge along the wall and lights the way. When he holds the candle in front of himself for a moment, Harker thinks he can see the light shining through his body. But that effect disappears almost at once, for the Count takes pains to keep the candle to one side of his body. The door creaks shut behind them. 
*
The dining hall, lit by candles. A fire flickers in the fireplace, casting crazy shadows on the walls and ceiling. The table, chairs, and other furniture very large. A long oak table and chairs with high, uncomfortable backs. We can tell how thick the walls are by the embrasures of the windows, which are barred. Despite its generous proportions, the room feels gloomy and inhospitable.
Two trunks with iron fittings, apparently locked for centuries. On the table stands an iron candelabrum from the late Middle Ages, and indeed everything here seems to originate in that period. The table is set with a sumptuous meal, but for only one person. 
Dracula takes the seat at the head of the table and places Harker beside him where the meal prepared for the guest has been laid out. Harker hesitates, not sure at first how to break the silence; out of embarrassment he begins to talk business, producing the papers on the house and a letter from Renfield. He explains that the folded sheet of paper contains the layout of the house, which will certainly be of interest to the Count. Dracula pays it no mind, however; he has his eye fixed on Jonathan. He should help himself, he says softly; unfortunately he will have to dine alone.
The knife slips and slices into his thumb. In a flash Dracula is standing beside him, grasping his wrist.
It is almost midnight, and at this hour he, the Count, does not eat. Unfortunately, too, the servants are not available now, so Jonathan should allow him, the Count, to see to his comfort. Dracula speaks with exceptional courtesy, all in a very soft voice. Something about it conveys menace; his very presence fills us with trepidation. 
Jonathan overcomes his nervousness and begins to eat heartily. The long journey has indeed made him hungry, and he applies himself enthusiastically to the wine. After a while he senses he is being watched intently and looks up. We see Dracula from close up. He is hiding his face behind Renfield's letter, which is encoded in almost illegible hieroglyphs. Slowly he raises his eyes from the page. His gaze meets Harker's. Both hold their breath for a moment, and then Harker resumes eating. Suddenly a small grandfather clock buzzes and begins to strike. 
The clock close up. With every strike a little skeleton hits a small anvil with an ax. At the stroke of 12 a door opens, and the figure of death appears, holding a scythe. It swishes the scythe mechanically through the air, then disappears jerkily behind its door. 
Dracula is highly aroused. He pricks up his ears. Suddenly the grisly howling of wolves can be heard from outside. Listen, Dracula says, those are the children of night. What music they make! He notices Harker's terror, but then Harker catches himself and assumes a sheep-like expression. Ah, young man, Dracula sighs, as a city dweller he, Jonathan, cannot place himself in the soul of a huntsman. 
Harker has become shaky and does not pay proper attention as he cuts himself a piece of bread. The knife slips and slices into his thumb. In a flash Dracula is standing beside him, grasping his wrist. He is about to apply his mouth to the blood, but Harker's alarmed reaction causes him to pause. A terrible conflict takes place inside the Count. Then he releases Harker's hand, excusing himself with the argument that the knife might be contaminated and Harker could end up with blood poisoning.
He should let him suck the wound—the oldest cure in the world. But Jonathan declines politely, saying it is nothing, a tiny cut like that is not worth mentioning. But to Dracula the wound proves irresistible; he can no longer control himself—or can he? No, he refuses to allow himself to show his true face so soon. He turns away, starting to return to his seat. But as he turns, his hand, as if no longer in his power, darts toward Harker's, and faster than the speed of light seizes it like a steel claw.
The rest of Dracula's body spins as if electrified, and at that same moment his mouth attaches itself to Harker's thumb like a leech. For several seconds the two of them remain motionless, until the vampire lets go, as if struck by a blow. He recoils at his own loss of self-control. Jonathan should understand, he says, he wants only the best for him. 
Harker, by now on his feet, backs away and falls into a large leather chair near the fire. The flitting shadows of the flames are joined by two large fluttering, flitting bats. Slowly, very slowly the vampire approaches. They should stay up together, he says softly; sunrise is still a long way off, and during the day he is always out and about. Overcome with nightmarish fear, Harker shrinks deep into the armchair. 
*
Lucy's room. She is tossing and turning, tormented by dark dreams, when a slight sound makes her sit up suddenly, her hair wild. She looks like someone who is not yet awake. The window is open, and the curtains stir slightly in the nocturnal breeze. A large black bat has become tangled in a curtain, where it is jerking its wings and clinging to the fabric with its hook-like claws. Its mouth gapes wide as it squeaks venomously. At the sound an abrupt, inexplicable shock courses through Lucy's body. 
*
Harker, still in the heavy leather armchair, opens his eyes and looks around, drunk with sleep. Only with difficulty can he shake off the oppressive dreams he had during the night. What happened? Where is he? He looks around and recognizes the room, which only now, in the daylight, reveals its shabbiness. The heavy draperies are moth-eaten; there are spider webs in the corners, and dust is everywhere, as if the place has been unoccupied for decades. A ray of light enters through one of the windows, shining directly on Jonathan. Strange, hollow notes of a fiddle can be heard from outside, like someone practicing runs. 
Harker yawns. His eye is drawn to his thumb, and he remembers cutting himself. He touches his neck. What is this? A mosquito bite? He gets up and goes over to a mirror on the wall. He sees two puncture wounds side by side, not large, not conspicuous, but certainly odd. For a moment Harker is taken aback, but then we can see that he rejects the thought that has occurred to him. He inspects his surroundings more thoroughly. He sees that the table has been set, quite obviously for him. It veritably groans with dishes.
Before he sits down to eat, however, Harker takes a closer look around. The main entrance is securely locked, but a door to one side of the dining hall is open. He wonders where his luggage might be; it is missing. The side door takes Jonathan into a strange, gloomy corridor, almost like a dark tunnel. From there a small door opens into a room with a bay window. Ah, there are Harker's travel bag and the saddlebags, neatly placed on a chair, along with his coat and hat. A bed, a candelabrum, a few pieces of furniture, all in manorial style.
The castle here is so unreal that sometimes I am tempted to believe it is just a figment of my dreams.
The bay window juts out like the prow of a ship, offering a view of a bright day and wooded mountains. Not a house, not a village in sight. A strange, unreal wind seems to blow through the castle, which seems like something in a dream. Harker pokes his head out the window, high above the ground. Far below yawns part of the inner courtyard. Down there in a niche he spies a ragged gypsy boy, practicing his fiddle with utmost concentration. Harker calls to him, but the boy is so engrossed that he does not hear him. An air of mystery surrounds the lad. 
Next we see Harker stepping through a door into the courtyard, but now no one is there, although the fiddling can still be heard, clearly and unmistakably. 
Harker continues exploring the castle. The gloomy corridor up above extends all around the castle, with other smallish rooms with bay windows opening off it. He comes upon an old kitchen, equipped with a stove but no other appurtenances. All the exits are locked up tight. Before Harker wends his way back to the dining hall, he opens a door into what turns out to be the library.
A strange, gloomy, dusty space with barred windows. Bookshelves up to the ceiling, with thousands of volumes, left unread for decades. In a gallery reached by a short staircase a collection of stuffed birds and other animals. All these rigid objects placed without rhyme or reason. The passage of time has faded the collection to the point that none of the natural colors remain.
Harker returns to the dining hall and sits down calmly to eat. The fact that he cannot get out of the castle seems not to preoccupy him. For now his bodily needs are well met. From outside the fiddling can be heard, disconcertingly hollow. 
*
Jonathan is sitting at the window and staring out, deep in reverie. In his hand he holds the medallion with Lucy's portrait. He pauses and looks at it attentively. Then he extracts a notebook and writing instrument from of his saddlebag, reflects for a bit, and begins to write. His handwriting is fluid but full of character, and we can read along.
Lucy, my dearest, he writes. There is no postal service here through which I might send word to you, so I shall keep a journal, in which I can record all my thoughts and feelings for you at home. So last night, after a toilsome journey, I reached my destination in Transylvania, the castle of Count Dracula. 
He breaks off and looks out through the shattered panes of his window. Outside wind tosses the crowns of the large trees. Ravens screech. Jonathan resumes writing: I had oppressive dreams last night and hope that will pass. They have left me feeling torpid, but perhaps that also comes from the insect bites on my neck. Ah, well, I hope to bring my business with the Count to a happy conclusion this evening. The castle here is so unreal that sometimes I am tempted to believe it is just a figment of my dreams. 
__________________________________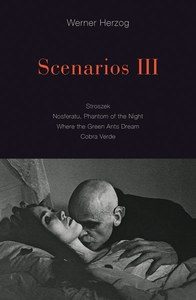 Excerpt from Nosferatu, Phantom of the Night in Scenarios III by Werner Herzog, translated by Krishna Winston (University of Minnesota Press, 2019). Originally published in Germany in Stroszek-Nosferatu. Zwei Filmerzählungen, copyright 1979 by Carl Hanser Verlag, Munich. English translation copyright 2019 by Krishna Winston. Used by permission. All rights reserved.
---