Henry Hoke on making P-22 into "me-22"
In Conversation with Christopher Hermelin on So Many Damn Books
Henry Hoke makes a visit to the physical space of the Damn Library to talk his novel Open Throat, and allowing P-22 to become "me-22," as well as the rest of his work, plus the novella Potted Meat by Steven Dunn and the power of short weird books in general.
Subscribe and download the episode, wherever you get your podcasts!
*
What'd you buy?
Henry: Remarkably Bright Creatures by Shelby Van Pelt and Post-Traumatic by Chantal Johnson
Christopher: Tiger, Tiger by Lynne Reid Banks and Les Pizzlys by Jérémie Moreau
*
Recommendations:
Henry: Rental Person Who Does Nothing by Shoji Morimoto, transl. by Don Knotting (out Jan. 2024)
Christopher: The Art Thief by Michael Finkel and What We Fed to the Manticore by Talia Lakshmi Kolluri
*
From the episode:
Christopher: The book is full of these mishearings that the mountain lion hears, like "the youngest slaughter" for their youngest daughter. I love that sort of stuff. But it also seems like it might be something that maybe you had to cut a few. And you've been talking about fun having fun. What was the most fun part of this book for you? Is there a day or section that you're like, "Boy, that was that was a fun day?"
Henry: In a way. Every day was a fun day, you know, fun in the sense of, I felt like I was really embodying something. You know, I felt aligned with this creature, which is a special thing. Like, I felt like I was a witch. I felt like I had I had sort of gone inside of a whole other experience, which is what I guess magical fiction writing can do. 

But yeah, right. The mishearings I tried to use. Yeah, I did shave some off. I also, like, sharpened some. There's only really like four or five that are like, become pivotal. Like "scare city" instead of scarcity, which is like, Hecate hears that as like maybe a place. Like we're living in Scare City. So is it L.A., it's Hollywood, but it's also Scare City. Like, that's the city we live in. And so that was perfect for me because that really represented like however one's feeling, you know, that we live in scarcity like everyone, no matter what, has a level of scarcity in their mentality or in their actual lived experience, if they're experiencing homelessness or whatever, like there's so many elements that that sparked. 

I guess I wasn't having necessarily fun with… I guess I'm always having fun with language because that's the whole ballgame, right? But I was having a lot of fun with getting to an expression that I felt crystallized something I'd always been wanting to feel or say. And getting through it by like talking about a mountain lion, like eating a deer and eating its heart first or something. I was just like, yeah, I had to go through this to crystallize my own thinking and my own feeling. Like so much of like the queer desire in it, like the gender affirmation. Like, "if you're feeling alone in this world, find someone to worship you," these little morsels that I would land on.
That's what I've been trying to feel, you know, something I could never tweet, you know what I mean? Something that's so beautiful and deep for me, that I can't ever tweet it. And I'm letting it emerge as the mindset of this big cat. I thought that was beyond fun. It was like, affirming. It was life affirming. And like, what's happening with the book is obviously amazing, but actually just writing it and creating it was a very, very pleasurable experience. I don't know if I'll ever have as much fun writing a book, sadly.
*
From the Damn Bar: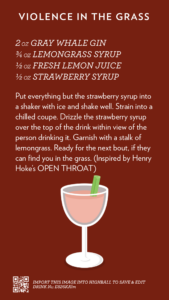 ---