Gossip, Deceit, and Heartbreak in 19th-Century New England
Christine Leigh Heyrman Unpacks an Unlikely Calvinist Love Triangle
No shortage of "obstacles" might have given Martha Parker second thoughts about giving her heart to Thomas Tenney. As she and her cousin carried on their exchange in the fall of 1825, two other men were pursuing her. The first suitor, then unknown to Thomas, was Elnathan Gridley, who, thanks to his friend James Kimball, had entered Martha's life. The two would have met only occasionally as the aspiring missionary traveled the countryside raising money for the American Board and organizing local auxiliary societies. But sometime in November, Elnathan "took pains" to see her and raised the possibility of their marrying. Whatever he said stopped short of a formal proposal, or she stopped him short by declaring herself "not inclined to favor his addresses."
More fixed as a presence in Martha's life that fall was her second suitor, Elisha Jenney, a young man of Thomas's acquaintance, then a junior at Dartmouth College, the son of an affluent merchant family in Fairhaven. During her time teaching at the academy there, Martha had met Elisha through his sister, her new friend, Caroline. He became smitten, the two corresponded, and by the end of 1825 he was laying siege at Dunbarton. Since remarrying, Martha's mother had taken up residence at her second husband's home but continued to use what had been the Parker home farm as a boardinghouse. Elisha and Caroline Jenney lodged there without charge for some weeks that winter, keeping company with Martha and perhaps some of her younger siblings.
Elisha might have taken an early leave from college to teach a winter school in Dunbarton, a common practice for Dartmouth students, but his main occupation seems to have been skewering Thomas Tenney. He warned Martha that Thomas fancied a woman in Hanover and also that he was "once engaged to a young lady, and after she became tenderly attached to him, he deserted her without assigning any reasons for his conduct." When Thomas returned to the Parker home farm at the end of December, hoping to propose again, there was Elisha, still firmly lodged, gloating to his rival that Martha's "feelings were changed" and that she loved her cousin no longer.
The news devastated Thomas, and his audience at Townshend got an earful about how much. "I was confounded, I was distressed, I was miserable! Never did such mental agitation distract my bosom! I felt that I lived only to be tormented." Unable to sleep that night, he "wrote a crazy billet [letter]" to Martha, demanding to know why she had encouraged his suit in the late summer only to spurn him now. The next morning, she told him that one of her sisters—most likely Emily—had threatened to disown her if she wed Thomas. When he pressed Martha, urging that her family would become reconciled to their marriage, she cut him off. Elisha had told him the truth, she admitted: her feelings had changed, and she "did not think she could be happy connected with me." Thomas crawled back to Hanover, hopes dashed.
Thomas, desperate with desire, had mistaken civility for enthusiasm.
Then—only a week later—what he called "business" brought him back to Dunbarton, and his hopes renewed. He stopped for tea at the Parker home farm and found Martha there, "much agitated." She urged him to pass the night and then "at length told me, I was the only person she had ever loved—said she could never love another—she could not be happy, if she saw me connected with another!" A long conversation ensued, during which she blamed Elisha Jenney for driving a wedge between them. She realized now that he had spread lies about Thomas, scheming to win her for himself, but "did not possess those qualities necessary to render her happy." Before dawn, Martha and Thomas had become engaged, and he "left Dunbarton more happy than I ever had been before."
That ecstasy lasted until the love letters he so eagerly expected failed to arrive. Days and then weeks dragged by as Thomas's "forebodings of the future" mounted. At last, sometime in February 1826, the ax fell: Martha wrote from the Kimballs' parsonage in Townshend that she could not gain Emily's consent to their marriage and broke off the engagement. "This is probably the last letter you will ever receive from the hand of Martha," she wrote in farewell. "And I now feel, that I wish not to meet you again, till we meet in Eternity." Martha was counting on that postponement until the next life, because by now, in her mind's eye, she was sailing to Beirut as Elnathan Gridley's wife. The missionary had renewed his "informal overtures" to her about that prospect soon after she had agreed to marry Thomas in December, and by April 1826 she and Elnathan were engaged.
Thomas still had no idea that Elnathan Gridley even existed, let alone that he had won the woman of their dreams. Convinced that Martha loved him still and that "some false report" had "prejudiced" Emily against him, he sent the latter a letter demanding to know why "she had determined to place herself between two, whose hearts were united and thus destroy all their earthly happiness." He had felt sure that he "possessed her confidence," because at their last meeting Emily had told him "how much pleasure it would give us all to see Martha connected with you."
If, in fact, Emily had said that, she spoke like someone from whom assurance was being wheedled by her sister's importunate suitor. Thomas, desperate with desire, had mistaken civility for enthusiasm. Now, faced with his letter, Emily replied that she had withheld her approval of the engagement not out of any reservations about his character but because Martha didn't love him, and "for her to marry you, or any other person, without love, I should consider sinful in the extreme. I should advise you to think no more of her." She weighed in again with the observation that Martha "has repeatedly told me, she never had found a person she could love; and she has probably told you the same."
That was Emily's story, and she was sticking to it. It must have struck her as more polite, to say nothing of more Christian, than disclosing to cousin Thomas the litany of faults that she and Ann had long held against him. Most likely, too, neither of her elder sisters wished to believe that Martha could be fond of him. In light of her views about marriage, Emily's insistence that Martha loved no one does raise an intriguing question: What did she make of Elnathan's courtship of her sister, a wooing—often right under the roof of the Townshend parsonage—that moved quickly toward engagement during the early months of 1826? Had Martha still "never found a person she could love" even a few short weeks before agreeing to marry Elnathan? Was it her love of the missionary cause rather than of the missionary himself that drew Martha toward marrying him? Had she confessed as much to Emily? Or was Emily gilding the truth about her sister's feelings in order to soften the blow for cousin Thomas—or to placate him?
Still more questions arise from the fact that the Kimballs had actively encouraged the match with Elnathan, even after they knew that Martha had accepted Thomas's proposal. The couple evidently felt free to persist because Martha had told them that her engagement to their cousin was "conditional"—pending Emily's consent—which left room for both women to maneuver. Martha felt free to back out of her "conditional" promise to Thomas, and Emily, by holding back her consent, pushed her sister into Elnathan's waiting arms. No doubt Emily believed that her matchmaking—and unmaking—served the cause of missions. Possibly, too, she was evening the score with Thomas for his earlier humiliation of her. She had refused his proposal a couple years earlier, yet it must have stung, discovering that he much preferred her younger sister. Even a minister's wife would have felt the temptation, if offered a chance, to stick in the knife and twist it.
Once he divined "the design of God" in his romantic disappointment, he "felt I had reason to regard this as one of the most profitable occurrences of my life."
Meanwhile, Elisha Jenney saw an opportunity in his former rival's heartbreak. Questioned by Thomas, he denied "with much promptitude and openness" that he had ever tried to turn Martha against his rival. To the contrary, Elisha insisted, it was she who "had said and done" things "inconsistent with true affection" for her former fiancé. Thomas believed him. Indeed, the two became friends, growing so close in their commiseration that Thomas even gave him extracts of his many letters from Martha. What Thomas might not have known is that at some point in that eventful winter of 1825-1826, his new friend had also proposed to Martha. For a time, Elisha might have been in the running for her favor, but when he failed to "improve upon acquaintance," as she put the matter, she dismissed him as "a mere boy." She rejected his offer of marriage and, after he left Dunbarton, refused to correspond with him and sent him a message, through Thomas, to destroy all her letters. "I do not now approve of females corresponding with gentlemen," she added primly, "and I regret that I ever have." She would regret it even more once Elisha Jenney served up his revenge.
Jilted by Martha and convinced that she had never felt any "real attachment" to him, Thomas opened his final volley of recriminations. He accused her of being "irrational" and "deceitful," and he requested—superfluously, it would seem—a release from their engagement. She fired back: "You say you wish me to be a rational girl. I certainly must be so if I hope to be in any degree useful in the world. I profess to be a follower of the Jesus whom you love." (And she was by then, having been accepted for church membership.) Even so, she asked for his forgiveness, and "I did forgive," Thomas told the company at Townshend. He "cherished not one hard feeling"—not even a few weeks later, when at last he learned about her engagement to Elnathan Gridley. The capacity to forgive was important to evangelicals, and Thomas expressed something even more essential to their ideal of holiness by the admission that he had erred by his "unwillingness that my Heavenly Father should lead me in his own way." Yet once he divined "the design of God" in his romantic disappointment, he "felt I had reason to regard this as one of the most profitable occurrences of my life." Reconciled to the will of his sovereign God, Thomas felt happier than he'd been for many years—until, a few short weeks later in the late spring of 1826, he heard from Elisha, now back home in Fairhaven.
Many young New Englanders—conservative Calvinists who, to outward appearances, seem models of decorum and reserve—reveled in taking a deep dive into and then a long wallow through their feelings.
Submitting to God's will sat even less easily with Elisha. Or perhaps he believed that providence was offering him a prime opportunity to even the score when Martha and her new fiancé turned up in town. As the rest of Fairhaven flocked to Elnathan's sermon and fawned over the bride-to-be, the prominent Jenney family held back. Then Elisha took to following the couple about, looking "downcast," and when asked why, he identified himself as "one of Martha's rejected lovers." One of them? Ah, yes: this so-called spiritual paragon, this soon-to-be missionary's wife, had a habit of leading men on before cutting them dead, and to prove it, Elisha spread around town those extracts from old letters to her other castoff, Thomas Tenney. Exhilarated by the stir he caused, Elisha sent his news of taking their revenge to Thomas, adding that Martha, when confronted, had even denied giving the schoolmaster any "encouragement."
For Thomas, this news was too much—not Elisha's conduct, but Martha's unwillingness to admit and repent her flirtatious ways and their broken engagement before all of Fairhaven. It "awaken[ed] in me the liveliest sense of wrong," he told his hearers at Townshend, as well as the conviction that she was "wholly unfit for the holy and sacred employment" of a foreign missionary. He wrote to Emily and to Martha, demanding a meeting. Then, out of the blue, he had received that inquiring letter from Esquire Evarts.
So much sounds so familiar in Thomas Tenney's lament. It's the story we've all heard, overheard, or at worst related ourselves over a kitchen table, at a coffee shop, in a bar. It's the plot of countless novels and plays, television shows and movies. Here's the lover who cannot give up hope, the poor fool jerked around by the object of his or her obsession. But listening closely to Thomas's tale of woe also turns up some surprises.
What's most unexpected is that many young New Englanders—conservative Calvinists who, to outward appearances, seem models of decorum and reserve—reveled in taking a deep dive into and then a long wallow through their feelings. Altruists all, they were committed to careers demanding personal sacrifice—the ministry, foreign missions, and teaching. That did not keep them from dwelling—and with no apparent awareness of any contradiction—on their inner states of thought and emotion. The word they reached for most often was "feeling." That term had first taken on a buzz back in the 18th century as philosophers, writers, and artists in the West popularized a culture of sensibility. Their message was that the capacity for experiencing profound emotion, particularly the power to sympathize with the suffering of others, ranked as humankind's worthiest trait, one to be prized and cultivated. Sensibility's elevation of feeling, in turn, prepared the way for the romantic movement, with its emphasis on freely expressing emotion and asserting selfhood. The immersion of New Englanders in the cult of sensibility—invoked to inspire their involvement in every good and pious endeavor—helps us to understand how romanticism struck root in the inhospitable soil of Calvinism, a creed that inculcated thoroughgoing self-denial.
_______________________________________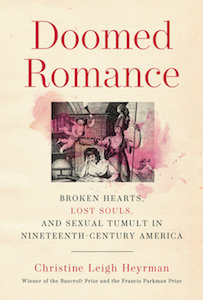 Excerpted from Doomed Romance: Broken Hearts, Lost Souls, and Sexual Tumult in Nineteenth-Century America. Copyright © 2021 by Christine Leigh Heyrman. All rights reserved. No part of this excerpt may be reproduced or reprinted without permission from the publisher.
---