God Bless the Grievers: Zoe Fishman on Reclaiming Widowhood Narratives
"By laughing through the tears, I was finally in charge."
Long ago I read a great piece of advice in Anne Lamott's Bird by Bird. "Write like people are dead," she told me.
She meant this metaphorically of course, in the sense that a writer can't be afraid of offending someone, either directly or indirectly—that they have to stay true to themselves on the page without any apologies. But what if the person they're writing about really is dead? And what if they're not so much writing about the person but themselves in the wake of their existence?
Anne? Are you there? It's me: Zoe.
My new novel, The Fun Widow's Book Tour, began as a different book entirely. It was called The Book Tour. It was about the life of an author who's perpetually on the cusp of making it, even six books into her career. It lifted the proverbial curtain on book tours since everyone seems to assume that publishers send authors first class to every bookstore in the country when it's mostly the authors themselves hustling for readings and paying out of pocket for coach. It was about loving what one does for a living but not quite making a living.
It was about me. But not really. I was avoiding my grief because it didn't seem important or interesting enough to carry a plot. The problem was: there's no me without my grief. It flows through my veins, the missing of not only my husband, who died very suddenly in 2017, but the me before his death. The me who didn't know any better.
I wrote the first draft of The Book Tour in my garage during the pandemic, in between ferrying an endless array of snacks to my virtual-schooling four and eight-year-old sons. In this first version of the book, I had the protagonist on a road trip/ book tour with her three closest friends during the early days of Covid. The days when we thought it would be over in two weeks tops.
It was terrible. The Book Tour, that is.
My editor very kindly suggested that the The Book Tour shouldn't be about a book tour at all. It should be about a widow who happens to be on a book tour. It should be about the power of her village. It should be about single motherhood. It should be about grief.
Wherever you go, there you are as they say.
So, I rewrote it. It's equal parts liberating and terrifying to write about a character that closely resembles yourself. The voice screaming Get over yourself no one cares! was very loud. But my heart was louder. It had been broken but was determined to put itself back together the only way it knew how. On the page.
I'm proud of myself for creating life out of death.
The second draft was much better. Then it was time to retitle the book.
The problem with the new book was that it was about a widow—a loaded, dreaded word. How to title it to my book without drowning it in sap?
I told my agent about a story in the book that happened to me: when the protagonist, Mia, goes with her best friend Rachel to get a manicure after her husband's death. Mia (i.e. me) wonders out loud if she's even allowed to pick a fun color after what had happened. What if someone thought my nails were disrespectful? I couldn't appear to be having fun. I was a widow.
Mia picks up a fiery red and jokingly says "hashtag fun widow" and then she and Rachel laugh. Mia hadn't laughed in a long time at that point; she didn't know if she was allowed to laugh, but she knew that it felt good. It was in that moment that she—I—realized that I had been letting my grief own me instead of the other way around. By laughing through the tears, I was finally in charge.
And thus, The Fun Widow's Book Tour was born.
It doesn't matter if some readers hate the book or the liberties I took as its creator. Some lovers would be nice, sure. What really matters is me, and I'm proud of myself for creating life out of death. That's not nothing.
Already the first year of my grief seems light years behind me and it's only been five. Grief slithers around your neck one minute and then evaporates in the next. It's always there, but time does to it what it does to everything. It softens its edges.
The Fun Widow's Book Tour is about a very specific window of a very specific time and I hope that it resonates with readers in that same way. I hope it provides them with solace if they're grieving and insight if they're not. If they read my book and think who cares? that's okay. I didn't write Fun Widow for them.
F*ck the haters, but God bless the grievers. Every day is a battle when you're grieving. Finding your voice again is the victory.
______________________________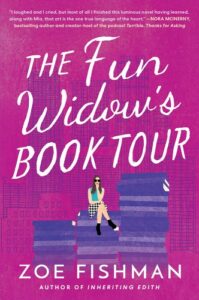 The Fun Widow's Book Tour by Zoe Fishman is available from William Morrow, an imprint of HarperCollins, Inc.
---