"Garbo Talks!" On the 1930 Sound Film That Gave Greta a Voice
Robert Gottlieb Describes the World's Reaction to That "Husky, Throaty Contralto"
Bette Davis was speaking for the world when she described how in 1930, the year she moved to Hollywood and before she had ever made a movie, she was filled with anxiety waiting to hear how Garbo, her idol, would sound in Anna Christie. And how relieved she was when she first heard the sound of Garbo's voice on the day the movie was released, and the voice was so exactly right. "The voice that shook the world!" said Picture Play, and this was no hyperbole. Garbo was at the peak of her extraordinary fame, her hold on the imagination of the world's audiences as powerful as ever.
Bette Davis—and M-G-M, and Hollywood, and Garbo—were not the only ones holding their breath. Naturally, the first reviews focused on the voice itself. What was it like? Did it fit the Garbo image? Richard Watts, Jr., in the Herald Tribune: "Her voice is revealed as a deep, husky, throaty contralto that possesses every bit of that fabulous poetic glamour that has made this distant Swedish lady the outstanding actress of the motion picture world." Her accent? "Anna" has been raised by Swedish relatives on a Minnesota farm, so it's no surprise that she has an accent. In fact, the Swedish accent is underplayed—Garbo had been working on it both in California and back in Sweden, and some reports say she had to exaggerate her normal Swedish intonations to find the right balance.
She herself reported in one of her rare interviews, "I do not know how my voice will record since I have made no tests, and do not intend making any until I have my part to play. I am not taking voice culture or staying up nights practicing Shakespeare. I will speak naturally and as I feel the lines should be spoken, just as I play any character now. If I cannot play a role naturally and without artificial devices, I cannot give a sincere performance."
Even so, she was nervous. Her young Swedish friend Wilhelm Sörenson had indeed followed her to Hollywood. She had written to him, "They are making sound movies here now and nobody knows what is to happen to me. Perhaps I will not stay here much longer." After he arrived, she had him run lines with her at home. Her first day filming in sound was to be October 14, 1929. She telephoned Sörenson the evening before and said, "This is it, Sören. Tomorrow's the day when silent Greta gets a voice!" And then called him again—at 2:30 am—demanding, "Come over here immediately and drink coffee with me. Step on it!" They talked until after 6:00, and then while they were on their way to the studio it occurred to him that she was suffering from stage fright. Silence. "Then I heard a voice from underneath the rug beside me in the car. Instead of a deep, rich timbre, I heard the moving plaint of a little girl. 'Oh, Sören, I feel like an unborn child just now.'"
"They are making sound movies here now and nobody knows what is to happen to me."
When she joined him for lunch in her dressing room after the first scene had been shot, she said, "Well, it wasn't really so bad, though I became a little scared when I heard my own voice." She had said to the sound engineer, "My God! Is that my voice? Does that sound like me—honestly?" Everything went as well as could be expected, except that two weeks later, on October 29, there came news from New York of an event even more cataclysmic than the talkie revolution. It was Black Tuesday. Despite the catastrophe, filming went ahead and was completed on November 18.
A rough cut was rushed to a sneak preview in San Bernardino, and the audience, which had paid to see The Kiss, was thrilled to be seeing Anna Christie instead, and the preview was a sensational success—"It's in the bag!" Louis B. Mayer declared—and Thalberg decided to release it just as it was, no retakes needed. Garbo, as usual, had refused to attend, nor did she attend the premiere in January, but the following day she went with Sörenson and Jacques Feyder to see it in a theater. While it was playing, she seemed positive about it, but afterwards she said to them, "Isn't it terrible? Who ever saw Swedes act like that?"
Anna Christie is very far from terrible. And Garbo is extraordinary, as usual. When she slouches into the film, 16 minutes after it begins, she's so low-keyed she's a little hard to understand, but even so her first words are electrifying: "Gimme a whiskey—ginger ale on the side. And don't be stingy, baby." The bartender: "Shall I serve it in a pail?" Anna: "That suits me down to the ground." What's really startling is not the voice or the accent but the character. Garbo—the prima donna, the vamp, the spy, the flaunter of furs and jewels, the doomed driver of an Hispano-Suiza, the murderess, the mistress of Deco—as a bedraggled, world-weary, sickly prostitute from St. Paul swigging whiskey in a waterfront bar? The big challenge wasn't vocal, it was artistic.
Eugene O'Neill's Pulitzer Prize–winning play—filmed as a silent with the excellent Blanche Sweet in 1923—is awkward and strained, and Frances Marion's script doesn't solve the problems. The first scenes are dominated by that old vaudevillian and character actress Marie Dressler, co-star with Chaplin and Mabel Normand in the wonderful 1914 Tillie's Punctured Romance, often identified as the first full-length film comedy ever made. ("Of all the scene-stealers I've ever watched," wrote Hedda Hopper, "Marie Dressler was tops.") Having mugged and carried on outrageously as a drunk old wharf rat—you either love her or can't stand her, or both—she just disappears from Anna Christie except for one brief scene in the middle of the movie. Everyone back then loved her, including Garbo, and her career skyrocketed, but the focus on her, followed by her disappearance, distorts the movie. And then there's that endlessly repeated and endlessly irritating O'Neill line "That old Devil sea!" And all that fog!
Anna Christie is the announcement to the world that, like her or not, she's an actress, not simply a spectacular look.
So what? Garbo underplays, does nothing to mitigate the cynical, angry wreck Anna has become, revealing her anguish at her past life, her abandonment of hope for something better, and then her gradual transformation by love (and sea air) through exquisite modulations of her eyes, her expression, and—yes—her voice. She can't help being beautiful, but she doesn't play being beautiful in her cheap skirt and sweater, her small, low-slung breasts clearly prominent. And at the crisis of the plot, her explosions of rage at life, at fate, at men are deeply felt and powerful. "Oh, how I hate them—every mother's son of them!" and "Nobody owns me . . . I am my own boss."
Yet when she and Matt, the sailor with whom she falls in love, spend the day on shore at Coney Island, she's charming in a frilly feminine dress, laughing, adoring, so overjoyed when she realizes that he wants to marry her. (She's even been knitting him a sweater—"Garbo Knits!") This is the Garbo we've had only glimpses of before—in The Divine Woman, The Mysterious Lady, The Single Standard: the happy Garbo. Love transforms her—and here propels her into the 1930s and romantic comedy.
Can it last? Not until that old Devil sea has its way and forces her to reveal her horrible past to her father and lover—her abuse at the hands of her farm family, her time in a "house." She can't, in honor, marry Matt without his knowing the truth, and Matt, with all his Irish pride, can't live with it. Until he can, because he loves her so deeply. But he can't marry her until he exhorts her to swear on his dead mother's rosary that despite what she's done, he's the only man she's ever loved. She swears it—we believe her—and then it emerges that she's Lutheran. So much for the rosary!
As Richard Corliss puts it in his indispensable book on Garbo's films, this creaky business makes Abie's Irish Rose look like Romeo and Juliet. (Matt, by the way, despite the awful stage Irishisms he's stuck with, is vigorously and appealingly played by the young Charles Bickford, giving Garbo one of her few virile leading men.)
The crucial thing is that in her first talking film, Garbo successfully plays a real woman, however stagy much of the dialogue and action may be. Anna Christie is the announcement to the world that, like her or not, she's an actress, not simply a spectacular look. And the public certainly did like her—the movie broke box-office records everywhere, made M-G-M over a million dollars in profit, and became the top-grossing film of 1930. Its success was helped immensely by the advertising campaign, perhaps the most famous ever launched in Hollywood. Thalberg didn't like anything he was being shown—silent-era portraits weren't going to sell a talking film about a prostitute.
Then Frank Whitbeck, a longtime publicity/exploitation executive at the studio, picked up an envelope, drew an immense blank billboard, and added two words: "Garbo Talks!" History was made. Some time later, Whitbeck walked into an M-G-M office where Garbo was in conference. "Miss Garbo," someone said, "I think it is high time you met the man who first said "Garbo Talks!" Looking up at him, she said, "Aren't you ashamed?"
_______________________________________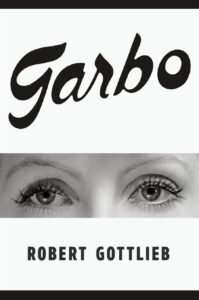 Excerpted from GARBO by Robert Gottlieb. Published by Farrar, Straus and Giroux. Copyright © 2021 by Robert Gottlieb. All rights reserved.
---