From Outcasts to Secret Agents, 5 Sudanese Books You Should Read
Leila Aboulela Recommends Some of Her Favorite Reads
The popular Twitter account @SudaneseCulture has carried the same pinned Tweet for as far back as I can remember. It says, ''Sudan has more pyramids than any other country on earth—even more than Egypt.'' The accompanying photos show small, perfectly formed pyramids scattered amidst larger ruined equivalents. Perhaps they are a riot of experimental versions, rich and playful. These pyramids are tucked away from the world's view, rarely visited. The same is true for Sudanese literature—its classics deserve more readers and its emerging writers better opportunities for translation.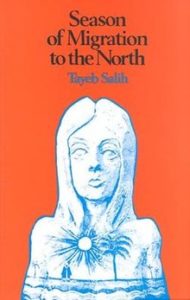 Tayeb Saleh, Season of Migration to the North, tr. Denys Johnson-Davies
A newcomer to the village by the Nile has a mysterious past. As a precocious youngster he had been taken to England, patronized and fêted by his British colonizers, sought after by women who wanted him to enact their orientalist sexual fantasies. In revenge he leaves behind a trail of suicides and murder. This stunning novel, with its dark themes of racial, sexual and political antagonism, caused controversy and sensation when it first appeared in 1966. It was first serialized in the magazine Hiwar. Copies of the magazine were scarce, and it is said that students in the university hostels jostled and squabbled to take turns to read the installments. In the end, a 24-hour schedule had to be enforced. When the book was published in its entirety, critics hailed it as a Heart of Darkness in reverse, while ordinary readers reveled in the thrills and intrigue of the narrative. Edward Said described it as "among the six finest novels to be written in modern Arabic literature."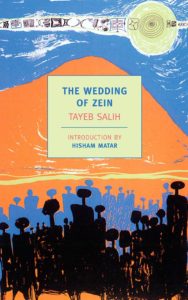 Tayeb Saleh, The Wedding of Zein, tr. Denys Johnson-Davies
Saleh's earlier novella is one of my favorite books of all time. It tells the story of Zein, the scorned village idiot, who against all odds ends up marrying the most beautiful girl in the village. Rooted in village traditions and Islamic mysticism, this serves as a quintessentially Sudanese story, revealing the nation with its limitations, quirky possibilities, lush spirituality and the miraculous triumph of a reckless, marginalized character. The expression "Zein's wedding" entered the Sudanese language, evocative of community celebration and undreamed-of-success.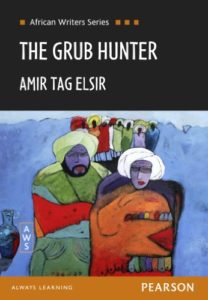 Amir Taj El Sir, The Grub Hunter, tr. William Hutchins
Life in a police state is comically and sharply depicted in this story of an injured secret agent trying to reform himself by writing a novel. Farfar, now forcibly retired, starts to frequent a café that he knows from his surveillance work is a hotbed of dissidents and intellectuals. In time, he loses his position in society and his own former colleagues start stalking him. With bizarre characters and clever stabs at the pretensions of the literati, no one and nothing can be taken for granted in this delightful novel.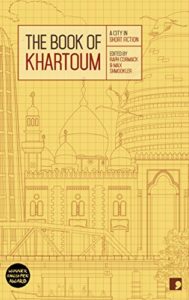 The Book of Khartoum—A City in Short Fiction (ed. Raphael Cormack and Max Shmookler)
This is a recent collection showcasing Sudan's top writers—Abdelaziz Baraka Sakin and Hamour Ziada, among others. The unifying theme is the capital city, its Arab-African fusion and the upheavals wrought by urbanization and civil war. The Sudanese literary scene is heavily male dominated and so it is a delight to find Rania Mamoun's haunting story of grief and recovery. And if all this is not enough, the icing on the cake is poet Bushra al Fadil's story, The Story of the Girl Whose Birds Flew Away, which went on to win the 2017 Caine Prize for African Writing.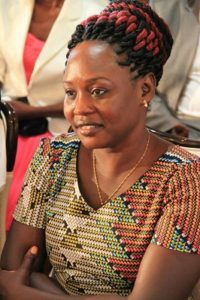 Stella Gaitano, Wilted Flowers
Urgently in need of reaching an international audience through translation, Stella Gaitano's first collection of short stories was the publishing excitement of the past decade. As a young Southern Sudanese, a non-Arab who writes in Arabic, Gaitano is in a unique and complex position bringing a crucial, startling perspective. She was born in Khartoum, the daughter of refugees from the Lutaka tribe who had fled the civil war in the south. Her stories are seared with the experience of dislocation, featuring characters marginalized by poverty and race. Mothers struggling in the shantytowns surrounding the capital, drunken men, crime and violence are her territory. But so too is the tropical south with its papaya and wild buffalo.



The preceding is from the Freeman's channel at Literary Hub, which will feature excerpts from the print editions of Freeman's, along with supplementary writing from contributors past, present and future. The latest issue of Freeman's, a special edition featuring 29 of the best emerging writers from around the world, is available now.
---