From Nabokov to Erdrich: Reading Complex Portraits of Criminality
Rebecca Bernard on Learning from Criminal Stories
Portrayals of criminality and violence in popular culture often aim to entertain and excite audiences, and in the process, they can dehumanize individuals, turning them from people who have committed a crime to criminals. Literature, I believe, is an agent against this. We know that difficult, challenging, and unlikeable characters abound in fiction—from Ignatius Reilly in A Confederacy of Dunces to any character in Ottessa Moshfegh's opus—and yet some characters move beyond unlikability to commit genuine acts of harm against others.
For example, Louise Erdrich's character Pauline in Tracks not only commits murder but lures her friend's husband to sexually pursue a child; Mary Gaitskill's character Stew in "Tiny, Smiling Daddy" is forced to remember how he physically and emotionally abused his daughter because of her sexuality. These are acts of unredeemable violence, and yet somehow, we're able to see the characters beyond their worst moments to the complex individual beneath. The challenge in writing these kinds of narratives is not only convincing the reader these characters are worth their time but getting a reader to recognize themselves in that which they might want to reject.
With the stories in my collection, I sought to understand why people act in violent or unsavory ways, and what we might learn from them by recognizing our shared humanity. In one story, we have a narrator who struggles, in the first person, to reconcile his physical abuse of his partner with his sense of self; another character enters dating life following a prison sentence for a murder he committed as a teen. We're all imperfect creatures, and literature gives us the chance to dwell in that imperfection, perhaps to learn about ourselves and the kind of people we'd like to be, or to see that by labeling someone as criminal or casting them aside, we miss out on a deeper, more complex understanding of our shared personhood.
Whether or not we'd choose to befriend the characters in the books on this list, these authors have made their subjects fully human often by allowing us access to their inner thoughts and presenting them unapologetically, but truthfully, so they're more than titillating Law & Order SVU-fodder—they are full people operating on the page. These characters don't require our forgiveness, but they challenge our capacity for empathy.
*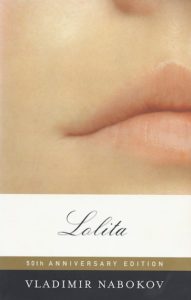 Vladimir Nabokov, Lolita
(Knopf)
Perhaps the quintessential literary offender, Humbert Humbert is unabashed in detailing his brutalities against Lolita, the young girl he molests and kidnaps. Though it's difficult to imagine this novel being greenlit today, I think it's one of the key models of writing a violent, brutal protagonist in full, complex color. Told in first person, we, the reader, are trapped in Humbert's point of view, aware of the itching, messiness of our voyeur-culpability. Most important, in my view, the narrative does not make excuses for what Humbert has done; rather he openly admits the wrongness, and gradually, as he relates his story, we see an increasing self-awareness of how he has hurt Lolita, and the wounds that his lust has cut into her personhood. Humbert's incarceration is also crucial, as well as his frequent reference to himself as a monster; we, as readers, need not serve as warden over his actions as his ongoing threat has already been eliminated. Instead, we're given rare, unfettered access to a mind that is at once alien and yet very human.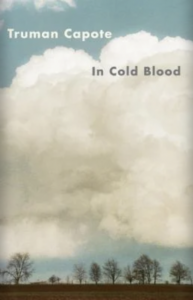 Truman Capote, In Cold Blood
(Vintage)
Although In Cold Blood is classified as a work of nonfiction, or new journalism, enough controversy about the embellishments Capote made to his narrative and characterization make it an excellent model for how to write a compelling character made human despite being guilty of horrific violence. The narrative explores the homicide of a family in Kansas from the close third-person vantage point of the victims, the perpetrators, the townspeople, and the members of law enforcement investigating the crime. Within this kaleidoscopic portrayal, it's notable that Perry and Dick, the men ultimately sentenced to death for the crimes, come to steal the show. Through close interiority, Capote draws out the frailties and psychology of the two men, not to make excuses for their actions, but to illustrate their humanity, flaws and all. The reader is left grappling with the difficult truth that the line between good and evil is not so stark as we might want.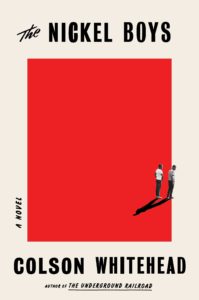 Colson Whitehead, The Nickel Boys
(Doubleday)
We can't discuss portrayals of criminality without acknowledging that large swaths of the American population have been marked as criminal based purely on the color of their skin, absent of any wrongdoing. Mass incarceration and the over-policing of bodies of color and its reality as modern-day slavery, though not the focus of this list, must be part of the conversation. Whereas the other characters on this list are culpable for their crimes, many of the boys incarcerated at Whitehead's Nickel Academy (based on the real-life Dozier school, a reform/juvenile detention center in Florida) are either innocent or simply young people placed in impossible situations and forced to deal with the side effects of poverty and institutional neglect. The novel follows Elwood, an academically thriving boy in his teens who is convicted for unwittingly riding in a stolen car on his way to attend early college course. Sent to Nickel Academy, we see his attempts to survive the harsh, brutal environment where he befriends another young man named Turner. The novel pushes us to consider what it means to be deemed criminal, and who are the true bad actors—the boys in the care of the facility or the guards and overseers who exploit them and brutalize them for economic gain or out of baseless cruelty.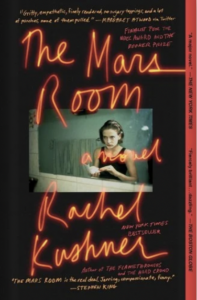 Rachel Kushner, The Mars Room
(Scribner)
Kushner weaves a complex, moving, and empathic narrative that challenges our assumptions of criminality and simultaneously exposes the gross inequities within the prison system. The primary first-person point of view follows Romy, a 20-something woman convicted of murdering her stalker as she begins a life sentence within the California prison system. On paper, Romy, a sex worker and a single mother, might elicit a dehumanizing dismissal, but Kushner puts us directly in her shoes, privy to the complex workings of her mind (and importantly, Romy is new to the system alongside the reader). The real magic in Kushner's narrative comes through the bold offering of multiple close-third person viewpoints alongside Romy that include an incarcerated former policeman, one of Romy's peers in prison, Sammy, and the teacher of the prison GED program. With each perspective, we see more deeply into the character's actions, both their capacity to hurt others, as well as their methods for survival in a society and system that rarely protects its most disenfranchised members from the gross and far-reaching effects of poverty and abuse. Daring in its empathic reach, this book enforces the idea that no individual holds all parts of a story, and we're better for the humility that awareness brings.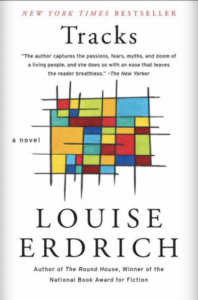 Louise Erdrich, Tracks
(Harper Perennial)
Erdrich's novel follows two alternating points of view, characters who will be already familiar to readers of her work: Nanapush, a tribal elder, and Pauline, a young woman (girl at the novel's outset) who is half Chippewa and half white. Though Nanapush, with his bawdy humor and deep paternal kindness, is a favorite voice to read, Pauline offers a sharp contrast with her sadomasochistic tendencies and progressive disavowal of her Chippewa heritage. Although the ultimate arc of the work focuses on the external loss of land, home, and culture through the political theft and scheming of the U.S. government, Pauline's cruelties and violence might almost be read as manifestations of her confused sense of identity, a sense of punishing herself while also punishing those who represent her indigenous self. Pauline's vengefulness is mitigated by the reader's awareness of how plain brutal she makes her own life through her strange religious ideations of punishment. At the same time, Erdrich allows us to see Pauline as a victim as well, both sexually and of society's standards for beauty. She is a force of destruction, but not without depth and complexity. Through the first person narrative, we're immersed in the irrational melee of Pauline's interiority and worldview, and though we might not understand her decisions and actions, we can feel, a bit, the chaos it is to be her, the loneliness at its core.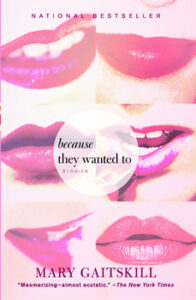 Mary Gaitskill, Because They Wanted To: Stories
(Simon & Schuster)
Mary Gaitskill is consistently my north star in writing deeply empathic accounts of characters we might otherwise ignore or reject. In this, her second collection of stories, there are so many brave, challenging narratives that push the reader into an uncomfortable reckoning with how we might in fact understand (or sometimes feel) for someone who commits a brutal act. In "The Girl on the Plane" Gaitskill masterfully offers up the interior thoughts of a rapist, but he's not a bogeyman—he's a regular guy, a married man, a person even capable of intuiting the brutality he's laid bare, though not perhaps able to fully confront it. When the man confesses his rape to the woman seated next to him on the plane, she refuses to absolve him, thereby serving as the reader's proxy. We keep reading because these are people we know, people who have crossed a line, but that line itself feels familiar, is not so foreign or removed. Gaitskill asks us to witness the humanity in inhuman acts, to understand why a young girl would abandon the children she's watching, or how a cycle of violence gets propagated. By looking closely at that which troubles us in human behavior, what was once inexplicable might begin to make sense.
Keith Ridgway, Hawthorn & Child
(New Directions)
On the more avant-garde, experimental end, Ridgway's stories in this collection present a crime narrative of sorts, but unlike a traditional whodunnit we weave in and out of various points of view, and the crime itself remains amorphous and undefined. In "Goo Book" we're with a young man, a pickpocket who becomes a driver for a mafia-type, finding himself inadvertently deeper than he'd like to be in an unfamiliar, sinister world, longing for the innocence of his romantic love. In "The Association of Christ Sejunct" we're in the mind of a person struggling to hold onto their sanity, and the violence they commit and terror they reign whirls around them as they try to make sense of a world that will no longer hold still. Reading these stories feels like standing in a dark room as your eyes slowly adjust, and the true mystery isn't something to be solved but human nature itself. The clear lines between good and evil, criminal and police become increasingly blurred, and we're left with the sense that at the end, we're all just people trying to get by.
__________________________________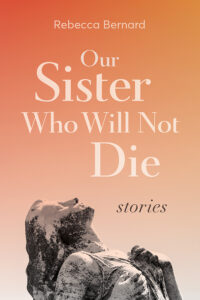 Our Sister Who Will Not Die: Stories by Rebecca Bernard is available via Mad Creek Books.
---