From Music to Fiction: How Artistic Callings Shift Across Generations
Keziah Weir on Finding Her Literary Voice Through Her Parents' Musical Talent
One of my earliest memories is of being held upside down by my ankles on a fast-moving train. My captor was a clarinetist, a fact that didn't matter or even register at the time; I was three years old and interested only in the fact he was willing to entertain me during a long day of travel. My parents were there, too. I can picture them sitting across from each other in the dining car, my dad's bassoon case beside him, my mom's flute beside her.
But that part of the memory, that image of the two of them, is false, built from photographs and memories of other days, other trips; on orchestra tours, which this was, they never would have carried their own instruments. Those traveled separately, in big black trunks packed after each show. I was already too accustomed to my parents, maybe too attuned to their presence for my hippocampus to lodge real pictures of them from that train ride—the hippocampus being a notorious devotee to the unusual.
Because my parents are classical musicians—my mom was a member of the San Francisco Ballet orchestra and my dad the San Francisco Symphony for a combined total of 74 years—one might imagine that music has occupied an outsize role in my life. My fetal brain registered it, surely, in utero, as mom practiced and performed in the months before my birth.
When a soloist found her nursing my infant self backstage at one of dad's concerts, the symphony's pianist called in the item to the Pulitzer-winning humorist Herb Caen; between the two of them, a fabricated quote and a misgendered baby emerged in that week's column: "The wonderful Jane Anderson, who's singing Richard Strauss' 'Four Last Songs' with the S.F. Symphony this wk., walked into her dressing room to find the wife of an orchestra member breast-feeding her baby. Thinking fast, the mother said 'I'll be right out—he's getting his four last gulps.'"
It's difficult to escape the inherent selfishness of being a child.
I am almost always the main character in my stories of my parents' music. I always loved to be their audience—as they filed onto the stage I waved at them and their friends to let my seatmates know I was connected to the people they'd all come to hear. On weekends and after school my little brother and I spent hours in the bowels of Davies Symphony Hall and the War Memorial Opera House, where I turned the tip of my nose blue with pool cue chalk, played "sardines" with the other musicians' kids, and peered at ballet dancers eating take-out sushi in full costume, sweatshirts pulled over their leotards.
For a dozen summers my parents played with a chamber group at the Telluride Music Festival. For them, this meant powering their lungs up to play at altitude. When I talk about that time I describe finding fool's gold and running my fingers through glacial runoff waterfalls.
In Noah Baumbach's Frances Ha, Greta Gerwig as titular Frances looks at a picture of an acquaintance's new baby and says, "It's so funny when people have kids and they're all, 'I used to be so focused on me and now I'm totally not.' It's like, no, it's still you, it's half you, it's a mini you!'"
When, in 2017, I posted a photo to Instagram of my parents sitting at the edge of the Davies Symphony Hall stage, each holding one of my hands, having just performed the Rite of Spring, I was doing the inverse of the baby as an extension of the self: look at these glorious people who made me, who raised me; look at these musicians, who are mine. It's difficult to escape the inherent selfishness of being a child, even an adult one.
*
I started violin lessons when I was five years old. I was not destined for greatness. During my daily practice hour, while mindlessly cycling through memorized exercises from Schradiek's School of Violin Techniques, I propped books on my music stand and read. On weekends, I played with an old manual typewriter, writing about princesses and clones in a way I never would have picked up my instrument, just for fun. The cassette tapes I listened to while tidying my perpetually untidy room were not music, but prose: abridged versions of A Midsummer Night's Dream and A Winter's Tale, Lake Wobegon Days.
When my parents told me the names of the composers whose work they were playing, the syllables sparked a magic—a music—that the work itself didn't: Tchaikovsky, Brahms, Schubert, Shostakovich, Haydn, Dvorák, Prokofiev, Copland, Mahler. In the players' lounge, the rehearsal sounds coming through the loudspeaker reached me only vaguely—tuning instruments; the strangely unmusical drone of a conductor dictating a phrase—and arrived as background to Little Women, Lucie Babbidge's House, From the Mixed-Up Files of Mrs. Basil E. Frankweiler. It was always stories, for me.
Can we ever pinpoint why we become who we are? One might only line up facts and posit. Perhaps music didn't take for me because music was what took my parents away—on long tours I couldn't attend, and concerts most nights besides Mondays. As a kid, I'd sit on their bed after dinner and plead, "Don't put on your black clothes." My dad ironed his dress shirt. My mom pulled on her heels. They never pressured me to pursue a career in music, never demanded that I participate in competitions or even join the school orchestra.
By age 18 I had quit completely. (Midway through the first year of the pandemic my now-husband and I moved back into my parents' house in San Francisco. On one of the countless days spent inside I took out my childhood violin, a pretty French instrument, and started bludgeoning Bach. "Maybe I shouldn't have given it up," I said. "Maybe I could have been a great performer." My mother, who attended every one of my violin recitals, who once gamely accompanied me for a school talent show, said gently, without looking up from the papers she was going through at the dining room table, "I don't think so.") Blame my poor musicality on their lack of helicopter parenting, then, and on all the books they kept in the house.
*
Around the time I sold my debut novel, during that first pandemic year, my parents retired from their orchestras. From the opposite coast I watched what turned out to be the final show of my mom's career—Balanchine's A Midsummer Night's Dream, set to Mendelssohn, which the company performed to an empty house in March 2020—on a laptop screen soon after it was filmed, tears flowing.
In those long early months of isolation, when it became clear they wouldn't be returning to their jobs, my parents played duets for me over FaceTime. Was it then that I began to worry I'd only started to fully appreciate and understand their careers now that they'd ended? That's what I planned to write about in this essay. You don't know what you've got 'til it's gone. But memory is slippery.
As I began to write, images surfaced. The dozens of moments over the years when, after I'd finished making sure everyone in the audience was aware that I was a daughter of the orchestra, I'd settle back in my seat and the lights would dim and I'd fall into the time-slip of live music, absolutely mesmerized. The recording of Bach's Goldberg Variations, performed by the pianist who called in the backstage nursing anecdote, that I listened to throughout college while I wrote.
I even realized that two of my favorite childhood cassette tapes were, if not purely music, at least heavily music-leaning. Beethoven Lives Upstairs and Mr. Bach Comes To Call—narratives about children cut through with excerpts from symphonies and sonatas. I hadn't thought of either in more than two decades; they came to mind as I wrote, and I found them online.
Perhaps music didn't take for me because music was what took my parents away.
When I started listening to Mr. Bach Comes To Call, I thought I had the wrong recording. It begins with a launch countdown, followed by the unmistakable sounds of rocket fuel igniting. "In 1977," a narrator's voice intones, "the capsule voyager was sent into space. Inside were greetings in 54 languages, 117 different pictures of the planet earth, a drawing of a man and a woman, sounds of whales, wind, rain, elephants, avalanches, birds, fires, crickets, wild dogs herding sheep, ships, trains, frogs, volcanoes, mothers, children, a kiss, and music. 27 pieces of the best music from all over the world. All kinds of music… and three pieces by Johann Sebastien Bach. Voyager is still out there in space with the stars, but down here, on earth, a little girl practices the piano." A plunky rendition of his Minuet in G begins.
In my novel, which I began writing in 2014, an astrophysicist and a novelist fall in love, and their child becomes a classical pianist. Did my countless repetitions of Mr. Bach Comes To Call—purchased by music-bent parents for their narrative-obsessed child—seed a predisposition toward interweaving science and music and literature?
*
In adulthood, while listening to a recording of Hilary Hahn play Sibelius' Violin Concerto or Anne Akiko Meyers play Arvo Pärt's Spiegel im Spiegel, I itch for my violin—a longing as simple as the one I felt in childhood when, leaving a performance of The Nutcracker, I skipped down the street just like Clara, arms raised. I have wanted to be a ballerina, a physicist, a professor, a member of a cult, have wished to live in Houston in 1968 and to step out of my beautiful, comfortable life in favor of something brand new.
In fiction, I can. "There has to be some pleasure in this job, and that's it," Philip Roth told The Paris Review, in 1984. "To go around in disguise. To act a character. To pass oneself off as what one is not. To pretend." Zadie Smith told me something similar during an interview for Elle Magazine in 2018. When a novel is working, she said, the sensation is akin to acting, a shrugging off of the self to clamber around in someone else for a while: "It's very freeing."
Yesterday, I indulged the urge for the first time in years, pulling my old violin from the closetful of books in which it lives. The piece that floated back to my muscle memory was Bach's Minuet in G. I played through it a few times, and then Dvořák's Humoresque, some arpeggios, a beginner's etude. Then I put the violin away. The sounds I had produced weren't the ones I heard in my mind—my fingers were clumsy, the notes had none of the purity or emotion I'd hoped for—but I could imagine how it would feel if they were.
__________________________________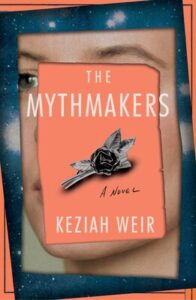 The Mythmakers by Keziah Weir is available from Simon & Schuster/Marysue Rucci Books, a division of Simon & Schuster.
---