From Arthuriana to Space Opera: April's Best Sci-Fi and Fantasy Books
New Fantasies and Fables from Catherynne M. Valente, Fonda Lee, Peter S. Beagle, and more
After a very weird, protracted winter with just enough days of fool spring to give you seasonal whiplash, it might… finally… be spring?! But even if you can't trust the weather, what you can trust is these excellent SFF releases. April has novellas aplenty, including new adventures from the familiar world of The Last Unicorn and strikingly original new worlds from the minds of Fonda Lee and Vivian Shaw; not to mention a massive new collection of Catherynne M. Valente's vastly imaginative stories.
And once you've whetted your appetite with those shorter works, you can conclude Andrea Stewart's epic Bone Shard trilogy or read Emily Tesh's heartbreaking standalone space opera. Finally, fresh takes on everything from Pinocchio to King Arthur—spring is the time to crack open new takes on old stories.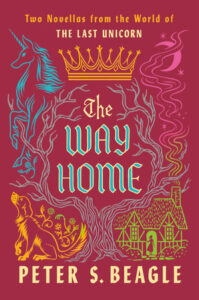 Peter S. Beagle, The Way Home
(Ace, April 4)
The title of Peter S. Beagle's new book set in the world of his beloved classic The Last Unicorn carries emotional resonance for author and readers: After a protracted legal battle in which Beagle finally regained the rights to his works in 2021, this collection of two novellas does sound like returning home after a long absence. Collected here are Hugo-winning novelette Two Hearts, in which a plucky young girl named Sooz encounters the eponymous Last Unicorn, Molly Grue, and Schmendrick the Magician; and the never-before-published Sooz, which reintroduces her as a woman with another journey ahead of her.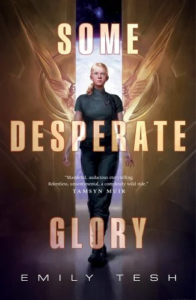 Emily Tesh, Some Desperate Glory
(Tordotcom Publishing, April 11)
Despite not being a fan of space opera with a militaristic bent, nor of Orson Scott Card's Ender's Game (which seems a spiritual influence on Emily Tesh's novel debut), Some Desperate Glory has become one of my early favorites of the year. Tesh embeds the reader so deeply into the bowels of Gaea Station, which holds the last scraps of humanity fighting to avenge Earth a generation after its destruction by the alien majoda and their reality-warping Wisdom device.
But Tesh achieves this not just through plot mechanics but through Kyr herself, trained to become Gaea's greatest warrior and unable to see anything beyond retribution. Her emotional journey—from her disillusionment at being forced to bear sons instead of fight on the front lines, to her slow realization that aliens are people—had me ugly-sobbing on the train.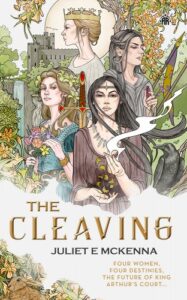 Juliet E. McKenna, The Cleaving
(Angry Robot Books, April 11)
Juliet E. McKenna retells the familiar Arthuriana epic through the eyes of enchantress Nimue, who possesses the same magic as Merlin but has more scruples than he does about interfering in mortal lives. So while Merlin helps Uther Pendragon trick the lady Ygraine into conceiving Arthur, Nimue is by Ygraine's side, disguised as her handmaiden.
While the saga's familiar male characters—Merlin, Uther, Arthur, Lancelot, Mordred—make their big moves through the rhythms of war, The Cleaving focuses on the women's work and equally vital intrigues back at court. When Arthur's half-sister Morgana and future wife Guinevere are brought into the mix, Nimue's interactions with each provide additional context as to why both women make such dangerous choices that will eventually spell the fall of Camelot.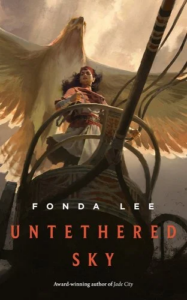 Fonda Lee, Untethered Sky
(Tordotcom Publishing, April 11)
Best known for her epic fantasy crime thriller series the Green Bone Saga, Fonda Lee explores a new world via a standalone fantasy novella with a focus as razor-sharp as the talons of its deadly rocs. After a manticore (a mythical monster that is part-man, part-lion, part-scorpion) tears her family apart, Ester devotes her life to vengeance. Her only means for justice is becoming a ruhker, the humans who train the fearsome birds called rocs. But to do so requires an exacting relationship with Zahra, the fledgling roc she trains, as any miscommunication will result in the roc turning on its ruhker. This tight, tense volume examines how single-minded dedication can so easily slip into life-consuming obsession.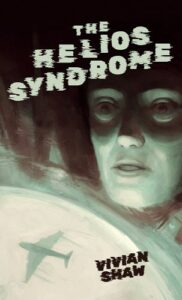 Vivian Shaw, The Helios Syndrome
(Lethe Press, April 15)
If you've ever gone down a late-night rabbit hole reading deep dives about aviation mysteries, this sounds like the novella for you (and at just 140 pages, much more satisfying than the endless scroll). Vivian Shaw's contemporary thriller follows freelance necromancer Devin Stacy, who investigates horrific plane crashes by interviewing their dead. But Stacy is burning out on this gruesome work, and his latest assignment from the National Transportation Safety Board conjures an unexpected side effect: being haunted by a dead pilot. Except that Captain Warner perished in a different crash, so his unfinished business must have something to do with the missing plane Stacy's been hired to find…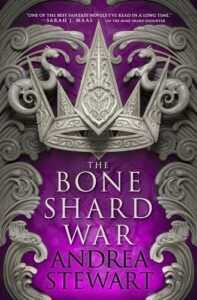 Andrea Stewart, The Bone Shard War
(Orbit Books, April 18)
Andrea Stewart concludes her epic fantasy trilogy the Drowning Empire with the final test for Emperor Lin Sukai to prove herself worthy of holding her family's dynasty together through her hold on bone shard magic. Faced with threats from the Alanga—legendary magicians, returned—and the Shardless Few, Lin tracks down a myth about seven swords, forged centuries ago but waiting to be found. If only Lin can get to them before her enemies do…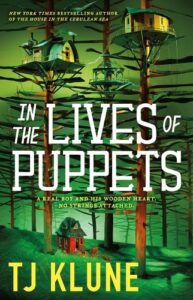 TJ Klune, In the Lives of Puppets
(Tor Books, April 25)
T.J. Klune's latest fable inventively builds upon the familiar scaffolding of Pinocchio, focusing on a found family of robots living in the forest. Android Giovanni Lawson seems like a paternal inventor, saving and restoring android family members like Nurse Ratched and baby vacuum Rambo, while raising his human son Victor. But the family's latest salvage project is an unfamiliar android called "HAP," who shares a dark history with Gio of hunting humans. When Gio is kidnapped to the City of Electric Dreams, Victor must confront his father's past sins and save their family.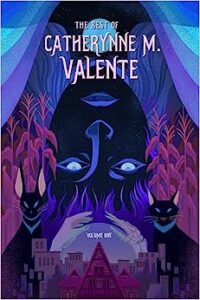 Catherynne M. Valente, The Best of Catherynne M. Valente, Volume One
(Subterranean Press, April 29)
While Catherynne M. Valente's many readers can trace back their individual introductions to her impressive body of work—growing up with the Fairyland series, or more recent discoveries of her incredible sci-fi worlds in Radiance Space Opera—this collection from Subterranean Press spans 18 years and 45 short stories. This first (!) volume includes Orpheus and Eurydice, sleuths in Purgatory, zombies and time travelers and Santa himself, all enfolded within dust jacket illustrations from Alyssa Winans.
---