Five Indonesian Authors You Should Read
OR: Intan Paramaditha on the Inescable Politics of Lists
Making a list is by necessity a practice of exclusion. As someone who has been both privileged and overlooked by such practice, I have an ambivalent relationship with lists. And as an Indonesian woman writer in a field dominated by (heterosexual) men, I have worked with a number of feminist activists to propose counter-lists. Yet here is the contradiction: even though we are aware that any list reflects the biases and politics of selection and representation, we still expect a kind of mainstream list when we start exploring new territory.
Indonesia is the Market Focus Country for the London Book Fair this year (March 12-14, 2019), and twelve authors have been invited to participate in various events at LBF and other parts of the UK. I am honored to have been selected, but I am also confronted with my own privilege; my translated short story collection just came out in the UK, and next year my debut novel will be published in the UK as well. I am still struggling with representation, but I have behind me my agent and publishers in three different countries, a luxury that the majority of Indonesian authors do not have. It is clear that the richness of Indonesian literature cannot be reduced to twelve authors, and we need to keep looking beyond the list.
And here comes another complication: despite Indonesia's enormous size and its diverse cultural traditions and experimentations, only a handful of Indonesian books have been translated into English. Indonesia in general is largely underrepresented, or in other words, excluded from the global lists. The heyday of Indonesian studies seems to belong to the Cold War era, when it was perceived as geopolitically vital from a Western perspective. Today, despite its growing economic power, Indonesia is still exploring neoliberal strategies to promote culture with baby steps, something South Korea did more than 20 years ago. The impacts of inequalities in global politics are severe. As I recommend five books written by Indonesian authors for non-Indonesian readers, I must exclude many extraordinary works that have not been translated yet. Behind this list is a realization that who gets translated and published—and who does not—reveals complex problems related to funding, access, network, symbolic and social capital.
It is clear that the richness of Indonesian literature cannot be reduced to twelve authors, and we need to keep looking beyond the list.
The books selected here experiment with various styles and genres, from the poetic to the grotesque, from fantasy to realism. They engage with pressing issues including political violence, history, religion, as well as feminist and queer discourses, with references that draw from local myths, folk tales, pulp fiction, and Indonesian and Western literary traditions. They are written by authors who have influenced my work, and by peers whose talents I look up to with love and jealousy. However, with all the complexities regarding the politics of visibility, I would like to spend some time mentioning writers and initiatives outside this list.
I have not discussed many exciting, bold contemporary women writers in Indonesia, including Cyntha Hariadi, Clara Ng, and Gratiagusti Chananya Rompas, but I am convinced that their works will soon be available in English. The list does not include Lily Yulianti Farid, Erni Aladjai, Aprila Wayar, dan Dicky Senda, who foreground stories from the Eastern part of Indonesia to challenge the dominant narratives from Jakarta and Java. There are also works by writers from Islamic circles, indie and under-the-radar collectives, and migrant workers in the diaspora. I would encourage readers to explore writers from the 1970s generation such as Sapardi Djoko Damono, Toeti Heraty, dan Budi Darma. Their translated works might not be widely available, but they are considered as the guru of many Indonesian writers. Finally, my list does not include Pramoedya Ananta Toer, an icon of the anti-colonial movement who was nominated several times for the Nobel Prize in Literature, because he is Indonesia's best-known author on the international stage. If you have not heard of Pramoedya, it is time to decolonize your personal reading list.
So, here are five books I recommend as a starting point for non-Indonesian readers. Let's hope more doors will open so that we can transcend this list and explore the vast, polyphonic landscape of literature from the 17,000 islands.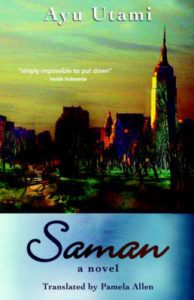 Ayu Utami, Saman, translated by Pamela Allen
(Equinox Publishing, 2005)
I read Saman as a university student and quickly embraced it as an influential feminist text. Published at the end of Suharto's dictatorship in 1998, the novel was considered groundbreaking for capturing the zeitgeist of the political reform (Reformasi) era, marked by freedom of expression and a rejection of the ideological constructions of the New Order regime (1965-1998). Through the stories of four female protagonists and Saman, a former Catholic priest, the book delves into the horror of state violence and political repression while interrogating the taboos around female sexuality. Saman is widely known for its explicit sexual themes, but it also explores the blurred boundaries between secular urban lives, religion, and mysticism. It is a crucial introduction to the discourses of politics and gender as part of Indonesian contemporary history.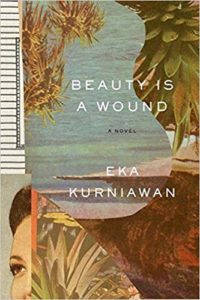 Eka Kurniawan, Beauty is a Wound, translated by Annie Tucker
(New Directions, 2015)
What I like most about Eka Kurniawan's stories is his exploration of the weird and the grotesque, often delivered with a dark sense of humor. Hailed internationally as the next Pramoedya Ananta Toer, the literary star needs no introduction. Beauty is a Wound, an astounding novel that has been translated into 34 languages, features an array of unforgettable characters, particularly the prostitute cum matriarch Dewi Ayu, who names her ugly daughter 'Beauty.' Beginning with the rise of Dewi Ayu 21 years after her death, the novel takes us on a journey through different periods of Indonesia's history, delving into the chaos and brutality of colonialism, the post-war era, the 1965 massacres, and authoritarianism. In this rich, intricate novel, influences from pulp fiction, Western literary tradition, local legends and folk tales mix in quirky and surprising ways.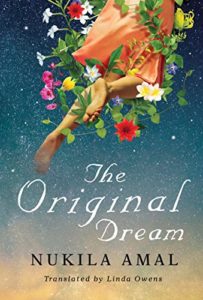 Nukila Amal, The Original Dream, translated by Linda Owens
(Amazon Crossing, 2017)
The Original Dream is one of the most beautifully written novels I have read in the Indonesian language. First published in 2003, The Original Dream garnered praise from critics for its playful, unconventional experimentation with language. Moving back and forth between dream and reality, the novel questions the boundaries between truth and imagination, masculine and feminine, center and periphery. We follow the fantastic—as well as philosophical—quest of Maya, an independent woman who questions social values in fast-moving cosmopolitan Jakarta. Maya's life is turned upside down when she encounters her doppelgänger Maia in the city of Ternate, which leads her on an odyssey to a remote island where she meets a dragon, Cala Ibi. Although structurally it can be baffling sometimes (and perhaps this is Nukila's way to question frames and borders), it is always thrilling to read about a woman who asks questions and ventures outside her comfort zone in search of meaning.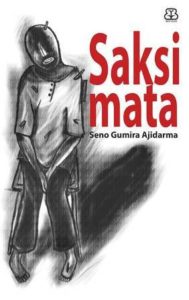 Seno Gumira Ajidarma, Eyewitness, translated by Jan Lingard
(Lontar Foundation, 2018)
Seno Gumira Ajidarma, the Market Focus Author of the Day for the 2019 London Book Fair, has published more than 30 books throughout his career as a writer, journalist, and academic. I first encountered his short stories in the 90s and noticed his distinctive style. While he engaged with popular themes in that period such as poverty, social marginalization, and a critique of developmentalist policies, he also explored new frontiers through a weird, uncanny treatment of reality, often mixed with fantasy and horror. To start learning about Seno's works, I recommend Eyewitness, a dark short story collection about violence and brutality conducted by Indonesian soldiers in Dili, East Timor, in 1991. Seno was dismissed from his position as a magazine editor after he published a report on the 1991 Dili massacre, and he chose fiction to provide counternarratives to destabilize the official accounts of the New Order regime. Seno is famous for his quote, "When journalism is muted, literature must speak."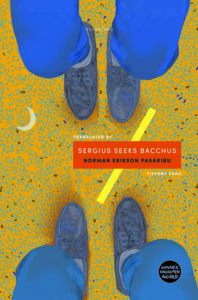 Norman Erikson Pasaribu, Sergius Seeks Bacchus, translated by Tiffany Tsao
(Tilted Axis Press, 2019)
Norman Erikson Pasaribu is a fresh, uncompromising voice to highlight from the London Book Fair Market Focus program. His poetry collection Sergius Seeks Bacchus was translated by the brilliant writer and translator Tiffany Tsao and is forthcoming in the UK via Tilted Axis Press. A PEN Translates Award winner, Sergius Seeks Bacchus provides a unique queer perspective on love, loneliness, persecution, society, and religion. Norman's background as a Christian in Muslim-majority Indonesia and as a Bataknese, an ethnic group characterized by a strong patriarchal culture and heteronormative masculinity, has informed the complexity of his writing. In increasingly conservative Indonesia, Norman's work is a significant contribution to wider public debates around culture, nationhood, and identity. It is a must read for international readers, especially those who are committed to promoting non-Western perspectives in queer literature.
*
Intan Paramaditha is one of 12 authors representing Indonesia as Market Focus country at The London Book Fair. She is taking part in English PEN's Literary Salon at Olympia on Wednesday 13th March, in conversation with fellow award-winning novelist Sharlene Teo.
---