Five Great Contemporary Mexican Writers
A reading list for Cinco de Mayo
Cinco de Mayo is a minor Mexican holiday at most, but in the US it's become the most ubiquitous, massive, schlockiest excuse for racist stereotyping perpetrated against our neighbors south of the Río Bravo, or Rio Grande as it's called this side of the border. But if we can twist this holiday around and make the tiniest bit of good from it, let's. And let's start with Mexican literature, which is in the midst of a breathtaking (dare I say it) boom of creativity, with a decent number of wonderful books appearing in English translation. The Three Percent Translation Database shows that around eight to ten works of literature from Mexico are published in English for the first time in any given year. Not nearly enough. But of those that are published, we have some recommendations for five authors (not published by Deep Vellum!) to start reading. And just know this list could have gone on ad infinitum, and should go on ad infinitum, as I can already picture which five authors I could recommend this time next year, repeating none.
At Deep Vellum, I'm glad to play a part in increasing awareness and a readership for the greatness of contemporary Mexican literature: the first book we published in December of last year was Carmen Boullosa's Texas: The Great Theft (translated by Samantha Schnee), which won the 2014 Typographical Era Translation Award and is currently shortlisted for the PEN Translation Award. And this year we're publishing the first two books ever in English by Sergio Pitol (both translated by George Henson), with another slated for late 2016, which will appear around the same time we publish the debut novel by Eduardo Rabasa, who works for my favorite Mexican publisher (Sexto Piso) and who was just named to the Hay Festival's México20, as one of the top 20 writers in Mexico under 40. For those so inclined, there is still so much unbelievably good Mexican literature out there remaining to be translated and published for us to read in English.
Jacob the Mutant, Mario Bellatin 

(translated by Jacob Steinberg, Phoneme Media)


The legend of Mario Bellatin precedes the author's work. But the work of this incredibly inventive, prolific, profound, mindblowing writer cannot be praised more highly. Phoneme Media is doing us all a massive favor and bringing several of Bellatin's books into English, some are already out from City Lights and Phoneme, and Jacob the Mutant is the perfect place to begin to become obsessed with your new favorite writer.
Sidewalks, Valeria Luiselli
(translated by Christina MacSweeney, Coffee House Press)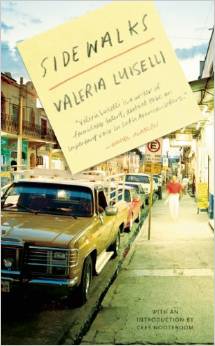 Mario Bellatin is Valeria Luiselli's mentor, and Luiselli is one of the brightest literary talents in the entire English-speaking world right now, not just the translation world. Luiselli is the type of writer in dialogue with the entire history of literature, and so I recommend her essay collection Sidewalks, which is as beautiful and poetic as her fiction (Faces in the Crowd is amazing, and so is her forthcoming The History of My Teeth). She recently won the Los Angeles Times Art Seidenbaum Award for First Fiction for Faces in the Crowd, and Sidewalks is shortlisted for a PEN/Diamonstein-Spielvogel Award for the Art of the Essay…these specific awards never go to a work in translation! A huge win for all of us readers, all Mexican literature, and for Valeria, who is our future.

Season of Ash, Jorge Volpi 

(translated by Alfred Macadam, Open Letter)


In a way, contemporary Mexican literature is filtered through Bolaño's The Savage Detectives and those scenes of the Infrarealists in Mexico City in the 70s. If you're the type of reader who loves literary movements and manifestos (LIKE I AM!), then Jorge Volpi is the writer for you. Volpi is one of the founders of the "Crack" movement in Mexican literature that seeks to move beyond magical realism and mimics the ideals of the 1968 Latin American literary "Boom" (check out their manifesto), which has been extremely influential but woefully undertranslated. Start with Season of Ash, an epic novel that defies description, but has been heralded as a masterpiece by any reader fortunate enough to read it. Including me.
Signs Preceding the End of the World, Yuri Herrera

(translated by Lisa Dillman, And Other Stories)


An awesome writer, who mixes humor and pathos in a delicate balance, and who is praised on the cover of this volume as Mexico's greatest writer by none other than Francisco Goldman. That alone ought to sell you on it. And Other Stories (who also publish another amazing and hilarious Mexican author, Juan Pablo Villalobos) have signed on at least two more books by Herrera and I for one thank the heavens for publishers making longterm investments in authors like this so that I the reader can grow with the author.
Natural Histories, Guadalupe Nettel

(translated by J. T. Lichtenstein, Seven Stories)


As Luiselli wrote in her review of Guadalupe Nette's Heralde Prize-winning newest novel, Despues del invierno: "Nettel has become an example of the most luminous face of contemporary Latin American literature…dispensing a deep and penetrating knowledge of human nature." The NY Times called this collection of stories "flawless." Nettel is the future. Her work is profound and intimate at once, the mark of true literature. And her winning the Herralde is no small feat, tragically few women authors from the Spanish-writing world have won the prize in the past, but the prize's winners have included Roberto Bolaño, Álvaro Enrigue (who won last year for Sudden Death, coming out later this year from Riverhead, and who could have easily been on this list), and Deep Vellum's own Sergio Pitol. Amazing company. Read her. Drink in the power.
ETERNAL INFINITE MEXICAN LITERATURE HALL OF FAME
Pedro Páramo, Juan Rulfo  
(translated by Margaret Sayers Peden, Grove Atlantic)


I wanted to induct one work of Mexican literature into the pantheon of eternal greats, and I believe the greatest Mexican novel ever written is Pedro Páramo by Juan Rulfo. A slim but infinite novel, Pedro Páramo changed the way that literature is written, read, processed, and remembered when it was published in 1955. Any writer who has read this book has found new inspiration for the way that they can construct their own narratives. Rulfo is a master, breaking with antiquated notions of time and space to give us a story of eternal life that has impacted the way the entire world reads and writes, from Garcia Marquez, who claimed that this novel is what inspired him to create his own version of magical realism, down to the Spanish/Argentinian Andrés Neuman, whose majestic Traveler of the Century pulls from the transcendence of Pedro Páramo in a major way towards building a new form of the great novel. This is the book that changed everything, if you have never read it, let it change you.
---