Five Books Making News This Week: Shakespeare, Novellas, and National Parks
Anne Tyler, Dorthe Nors, Terry Tempest Williams, and More
Lisa McInerney's Glorious Heresies, awarded the Bailey Women's Prize for Fiction two weeks ago, wins the Desmond Elliott Prize for best first novel. "We knew we had found a major literary figure of the next generation when we made our choice last month," notes the head judge, novelist Iain Pears. "Lisa is a genuinely exciting writer–there is electricity running through her prose." The Hurston/Wright Foundation will honor Ernest Gaines for lifetime achievement and inspiration and Junot Diaz for work advancing social justice on October 21, and announce award winners in four categories (finalists here). Richard Ford adds Spain's Princess of Asturias award to his shelf. A Danish author shakes up fiction,  Anne Tyler remakes Shakespeare, Terry Tempest Williams looks at our national parks with an activist's concern, Cathleen Schine writes another sort of coming-of-age story, and the psychiatrist/author who made Prozac a celebrity drug is back with a new evaluation of antidepressants.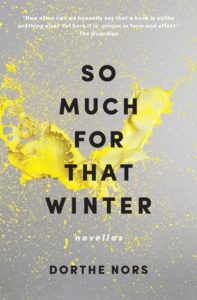 Dorthe Nors, So Much for That Winter
Award-winning Danish author Nors offers a duo of novellas—radical experiments with form that reflect our digital age. She gets positive feedback.
"On the heels of the Karl Ove Knausgaard and Elena Ferrante series-novel fever, it comes as a relief to read a slim volume divided into two even slimmer ones," writes Agatha French (Los Angeles Times). "This isn't to say that So Much for That Winter, is insubstantial. Nors' writing is by turns witty, gut wrenching, stark and lyrical. Her characters seesaw between longing for human connection and the space in which to lick their wounds. That she achieves all this while experimenting with form is something of an impossible feat."
Lexi Pandell (Wired) welcomes Nors' newly translated duo. "Social media is still largely considered a cheap and unsophisticated medium. But does that mean those forms of expression shouldn't, or can't, be adapted into something more highbrow? Dorthe Nors sets out to do just that in So Much for That Winter, a pair of novellas about navigating middle age and womanhood in the 21st Century. In addition to Nors' poetic flair, the thing that separates these stories from other contemporary tales of woe and redemption is the forms they take to match. The first novella, "Minna Needs Rehearsal Space," is told in status-update-sized chunks and the second, "Days," is written in listicles."
"Nors is plainly taking on the tight emotional space of the digital and attempting to do what she always does: zap it with lightning to make it grow bigger," writes Jonathon Sturgeon (Flavorwire). "It's the second, succinctly-titled novella, "Days," that opened my eyes to the radicality of what Nors is doing. And though it also resists summary, I can just tell you that the novella's protagonist is organizing her life in listicle form — or, rather, format. Nors modulates it to weird (and, again, humorous) effect…"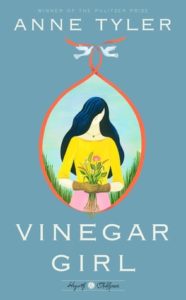 Anne Tyler, Vinegar Girl
The latest in Hogarth's Shakespeare updates gives novelist Anne Tyler free reign over Shakespeare's The Taming of the Shrew, with results that delight critics.
"Both novel and play adopt the archetypal tale of a befuddled father juggling the marital prospects of two difficult daughters: a beautiful blond ingénue and a crusty, independent brunette," writes Valerie Miner (Boston Globe). "Anne Tyler's 21st novel, however, is a light, frothy comedy compared to the rugged farce of her muse."
Tyler, writes Heller McAlpin (NPR), "has tamed the Bard's shrewish battle of the sexes into a … politically correct screwball comedy of manners that actually channels Jane Austen more than Shakespeare. It's clear that she had fun with Vinegar Girl, and readers will too."
Mike Fischer (Milwaukee Journal Sentinel) is also a fan: "This jeu d'esprit embodies all the reasons readers love Anne Tyler: it's fun, lighthearted, clever, compassionate and filled with Tyler's always extraordinary love for her characters, liberating them here to love each other."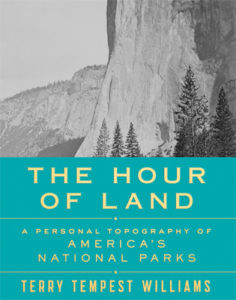 Terry Tempest Williams, The Hour of Land
In honor of the centennial of the founding of the National Parks Service by President Woodrow Wilson, citizen activist (and bestseller) Williams offers up a personal trip through a dozen of the country's 411 parks and national monuments, with an emphasis on the spiritual sustenance we take from these protected lands ("breathing spaces for a society that increasingly holds its breath"), the dangers they face, and the layers of history they embody.
"The Hour of Land is one of the best nature books I've read in years," writes Andrea Wulf (New York Times Book Review). Two chapters stand out, Wulf adds: A visit Williams and her father took to Theodore Roosevelt National Park in the badlands of North Dakota, some 70,000 acres surrounded and encroached upon by the Bakken shale oil field, "which at that time produced more than a million barrels a day," and the chapter on the Gulf Islands National Seashore in Florida and Mississippi, which  "focuses on the BP Deepwater Horizon disaster, which she observed as a reporter, arriving in July 2010, on the 100th day of the oil spill."
Jenny Hendrix (Slate) calls The Hour of Land "imperfect but necessary:" Williams shows that "in the midst of political and environmental threats… the parks stand as examples of resilience and peace."
As she beautifully and truthfully writes, in a kind of haiku, even "on dark days, when everywhere we turn war is waging and violence around the world seems to be rising, a dozen trumpeter swans fly in formation over snow-covered peaks." In preserving these places—which will not be resilient forever—she argues that we are not only preserving habitat for other species, we are also preserving habitat for a form of authentic emotional experience that has grown endangered in a climate of egoism, conflict, and fear that leaves human beings psychically wounded.
Karen R. Long (Newsday) calls Williams' book " a meandering read—best tackled as discrete chapters on different days," and adds, "Williams is frequently a lyrical writer and an intrepid thinker. She notes, for instance, that reintroducing condors in the Grand Canyon has helped park rangers locate the dead, cutting the search window by days in a place notorious for suicide."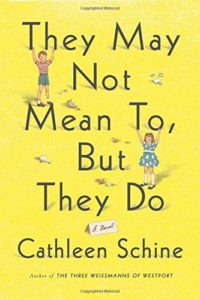 Cathleen Schine, They May Not Mean to, But They Do
Schine's new comic novel takes its title from a Philip Larkin poem; she writes of dementia, decline, and second romance among octagenerians—and how their children react.
Penelope Lively (New York Times Book Review) focuses on the matriarch. "Widowed after a long marriage, Joy is a persuasive character, intelligent, independent, with a flair for witty responses and wry thoughts… Despite its subject matter, They May Not Mean To, but They Do is a very funny novel….serious subjects are treated with a deliberately light touch, a tactic that doesn't imply insensitivity or lack of empathy but simply accepts the fact that humor may be the best way of dealing with the unavoidable."
Connie Ogle (Miami Herald) calls Schine's new novel "one of the must-reads of the summer." "Life holds loneliness and sorrow, yes, but also random joys and delights," she concludes. "Schine never loses sight of life's quirks and ironies, and she writes with an empathetic, breezy confidence about the most difficult of subjects."
"Schine turns the conventional 'coming of age' novel on its head by examining the ways in which unexpected, late love upends identity," writes Lauren LeBlanc (Minneapolis Star-Tribune). "They May Not Mean To, but They Do confronts the simple-minded perspective that assisted living kills romantic love. Second acts don't have an age limit."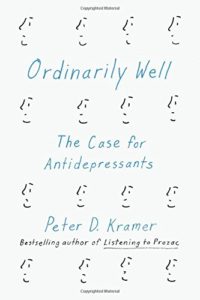 Peter D. Kramer, Ordinarily Well
Kramer's 1993 Listening to Prozac ushered in a new era of antidepressants. Now  psychiatrist/author Kramer is back to evaluate the new state of the art of treating depression.
Jennifer Senior (New York Times) suggests skipping Kramer's preface:  "Dr. Kramer, who has written so well about the curse of melancholia — that thief who steals your blood and slyly replaces it with lead — has done something very valuable: He has waded into the contentious debate about the efficacy of antidepressants. It's an important and confusing subject. One in eight Americans rely on these medications, hardly a trivial number. Dr. Kramer shouldn't risk losing readers so early in the climb with rickety little cairns of humblebrag."  Recent studies, she notes, suggest antidepressants are no more effective than placebos. "Dr. Kramer regarded these studies warily and wearily, knowing that they flew in the face of his clinical experience. Yet his own patients had started to internalize the message of this research. Could their improved mood and function be chalked up to a placebo effect? Dr. Kramer's answer is an unequivocal no. And he spends much of Ordinarily Well trying to prove it."
"Ordinarily Well is an ambitious, persuasive, and important book," writes Jonathan Rosen (The Atlantic). "The nether region of Ordinarily Well is less fun than the Freudian underworld where bird-headed gods dance with your mother; it is also more frightening—at least for humanities majors. It is the dwelling place of randomized trials, effect sizes, blind studies, confounds, meta-analysis, placebo effects, and the Hamilton scale. But Kramer is an excellent guide as he subjects evidence-based purism—'a near-exclusive reliance on the findings of randomized, controlled, double-blind outcome trials'—to the scrutiny he believes it needs."
---