Five Books Making News This Week: Immigrants, Westerns, and War Crimes
Sunjeev Sahota, Boris Fishman, Edna O'Brien, and More
AWP, that sprawling high-octane gathering of 12,000+ writers, poets, narrative nonfiction and hybrid writers, MFA students and faculty (aka the Association of Writers and Writing Programs), settles into downtown Los Angeles Wednesday night for four days of words and schmoozing (and boozing). Literary stars orbiting the gathering include Claudia Rankine, whose keynote address challenges MFA programs for "tokenizing" writers of color and draws applause when she says, "Unintentionally discriminating is as bad as intentionally discriminating because the result is the same." Also on the scene: Marlon James, Phil Klay, Hector Tobar, Amy Wilentz, Jonathan Franzen, Joyce Carol Oates, Natasha Tretheway, and Juan Felipe Herrera, who will be honored next weekend with the Los Angeles Times lifetime achievement award. Folks from wintry places brave bright sunshine, freeways, streets not meant for walking.
The Los Angeles Times book editor Carolyn Kellogg announces a rotation of critics at large including Alexander Chee, Rigoberto Gonzalez, Marlon James, Laila Lalami, David Kipen and Susan Straight, almost all highly visible at the conference. Edna O'Brien's new novel launch coincides with headlines of a war crimes conviction, Kathryn Harrison's new essay collection weaves together several generations of family tales, a Man Booker shortlisted first novel gives us the immigrant experience in London, another newcomer draws comparisons to Oliver Sacks and Annie Dillard. Plus a second novel from Boris Fishman that takes on the dream of the American West with a comic twist.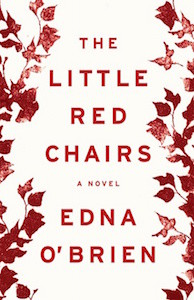 Edna O'Brien, The Little Red Chairs
"Edna O'Brien's chilling new novel inspired by the life of Radovan Karadzic arrives just as the Butcher of Bosnia has finally been sentenced to 40 years in prison for genocide," writes Ron Charles (Washington Post). "If Karadzic's long-delayed punishment brings some element of resolution to the Bosnian civil war, O'Brien's novel picks at that war's scars, forcing us to feel the lingering, outlying disfigurement wreaked by an evil man." He continues:
At a time when our best writers are such delightfully showy stylists, O'Brien, who has been publishing novels for more than 50 years, practices a darker, more subtle magic. Surprise and transformation lurk in even the smallest details, the most ordinary moments. Craving company one night, Fidelma wanders into a pub and sits down: "Behind her, on the windowsill, there are a few flowers in a small vase and when she touches one, she jumps in terror, dismayed by that tenderness, that touch."
Brace yourself for that same charge when you touch this novel.
Natalie Serber (San Francisco Chronicle) is captivated:
The emotional pendulum…swings wide in The Little Red Chairs. Some scenes are lacerating, with rats that "sup" on spilled blood, while others rise off the page with lyric descriptions of the landscape, with its "sad debris of the night, plastic bottles, condoms, cigarette butts, damp wads of newspaper" and quotidian details of life. Of dog walkers calling out to one another in the night, she says they are "dangling their pooh bags, which were of a ruby color, dangling them with an insouciance, as if they were evening bags." The interface of fear and familiarity captivates the reader, making this book hard to set aside.
"O'Brien is clearly fascinated by how a man can be both brutally cruel and literarily sensitive," notes Priscilla Gilman (Boston Globe). "Oughtn't there to be something that would reveal the killer in the healer? Of equal interest is how smart, essentially 'good' people can deceive themselves; how guilty is their blind enablement?"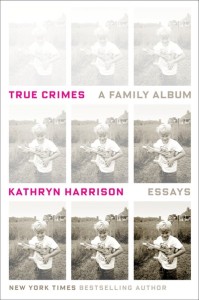 Kathryn Harrison, True Crimes: A Family Album
Amanda Fortini (New York Times Book Review) is "mesmerized" by Harrison's "nervy confessions: odd and idiosyncratic, as original as any personal disclosures I've read and yet not obviously calculated for inflammatory effect…Once you have written about your incestuous affair, I wondered, does your inner self become easier to excavate?"
"Like all great memoirists, Harrison … knows that the real magic happens when the reader is lulled into thinking they're reading something ordinary," notes Sarah Marshall (The New Republic). "It's hard to think of other memoirists who match not just Harrison's unsparing clarity of vision, but her empathy for both her loved ones and her tormentors (a combination of qualities that is also necessary if a writer is to show us a life, as Harrison does, in which those two categories are impossibly enmeshed). Mary Karr and Tobias Wolff certainly come to mind, but it is yet more intuitive to compare Kathryn Harrison with master magician Ricky Jay: We don't know what we're seeing until we've seen it."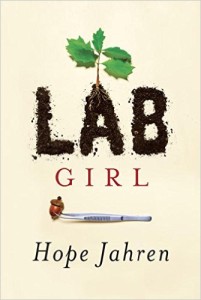 Hope Jahren, Lab Girl
Personal and scientific research and revelations underscore this first book by a writer who gains comparisons to extraordinary hybrid authors.
Jahren's memoir, writes Michiko Kakutani (New York Times) "is at once a thrilling acoount of her discovery of her vocation and a gifted teacher's road map tot the secret lives of plants—a book that, at its best, does for botany what Oliver Sacks's essays did for neurology, what Stephen Jay Gould's writings did for paleontology."
Leah Greenblatt (Entertainment Weekly) calls Lab Girl "a fascinating portrait of [Jahren's] engagement with the natural world: Alternating personal anecdotes with brief chapters that read like especially pithy TED Talks—no doubt honed by years of teaching easily bored undergrads—she investigates everything from the secret life of cacti to the tiny miracles encoded in an acorn seed, studding her observations with memorable sentences like 'You may think a mushroom is a fungus. This is exactly like believing that a penis is a man.'"
Meganne Fabrega (Minneapolis Star-Tribune) hails Lab Girl as "the beginning of a career along the lines of Annie Dillard or Diane Ackerman."
"Lab Girl is a totally original work, both fierce and uplifting," writes Elizabeth Royte (Elle).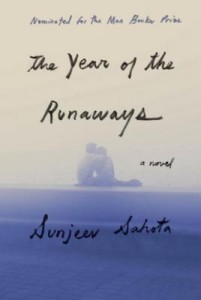 Sunjeev Sahota, The Year of the Runaways
A finalist for last year's Man Booker award offers quotidian detail on a new generation of immigrants to Britain, calling out high praise from critics.
Sahota's "masterly immigrant saga," writes Sam Sacks (Wall Street Journal), "doesn't deal directly with present events. But this intricately woven story of a group of Indians who have come to England seeking work powerfully reminds us of just what immigrants seek in the West…Finding and keeping work is the preoccupation of these men, nearly their guiding purpose in life, and the novel follows their unmarked paths to construction sites, corner stores, fast-food restaurants, night clubs and even the city sewers to make money flushing out rat's nests."
Michiko Kakutani (New York Times) is also enthusiastic.
No recent novel does a more powerful job of capturing the day-to-day lives of such immigrants than Sunjeev Sahota's second book, The Year of the Runaways, which was shortlisted for the 2015 Man Booker prize.
Mr. Sahota — whose grandfather came to Britain in 1962, and who grew up in Derby, England — writes with intimacy and feeling about his four main characters, three of whom have arrived illegally from India to try to make new lives for themselves in Britain or make enough money to support their families back home.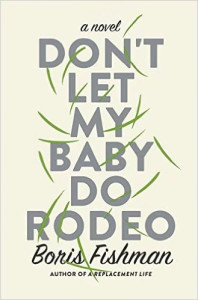 Boris Fishman, Don't Let My Baby Do Rodeo
An adopted child shows unusual behavior, which moves his Russian Jewish parents to take him back to his roots in Montana. Fishman's second novel is, the critics note, both comical and moving.
"In his first, widely acclaimed novel, A Replacement Life, Boris Fishman, who left his native Belarus at age 9, looked eastward, for an intricate fiction about an American author who gets into trouble with German authorities for forging Holocaust reparation claims," writes Steven G. Kelmann (San Francisco Chronicle).
Fishman, notes Heller McAlpin (NPR) "shares a satirical edginess with Gary Shteyngart, but his tragi-comic worldview and inverted sentence cadences evoke Bernard Malamud as he zeroes in on the rub between his characters' native and adoptive lands and the theme of reinvention."
Don't Let My Baby Do Rodeo, concludes Cathleen Schine (New York Times Book Review) is "a novel about finding the right words for what was once foreign but is no longer. It is suffused with sadness as well as humor, with hope as well as weary despair, and Fishman describes the turmoil of family, parenthood and cultural emotion with urgent, sly detachment. His language has the originality and imagination of someone who comes to English with unexpected thoughts and rhythms in his head, and he is, simply, a joy to read."
---