Five Books Making News This Week: Gambling, Grant, and Government
Jonathan Lethem, Ronald C. White, Ha Jin, and More
When Paul Beatty's The Sellout won the Man Booker award, making him the first American winner, I couldn't help but think that the nonprofit National Book Critics Circle, with its 24-member board evaluating books for  awards, continues its tradition of finding each year's literary gems. (Full disclosure, I'm a past NBCC president and current vice president/online.) Beatty's novel won the NBCC's fiction award in March. Last year's Man Booker winner, Marlon James' A Brief History of Seven Killings, was an NBCC fiction finalist (as was his Book of Night Women). Jennifer Egan's 2010 A Visit from the Goon Squad and Junot Diaz's 2007 The Brief Wondrous Life of Oscar Wao both were honored with NBCC fiction awards before winning Pulitzers. So, a shout-out to my colleagues on the NBCC board, which is moving into the heavy reading season (finalists will be announced in January). Meanwhile, Madeleine Thien's Do Not Say We Have Nothing, also on the Man Booker shortlist this year, has won Canada's Governor General's Award. Hurston/Wright Legacy Awards have gone to Sanderia Faye's Mourner's Bench (debut fiction), James Hannaham's Delicious Foods (fiction), Pamela Newkirk's Spectacle: The Astonishing Life of Ota Benga (nonfiction), and Vievee Francis's Forest Primeval (poetry). Finalists for the American Library Association's Andrew Carnegie Medals include Michael Chabon's Moonglow, Zadie Smith's Swing Time, and Colson Whitehead's The Underground Railroad (fiction) and, in nonfiction, Patricia Bell-Scott's The Firebrand and the First Lady, Matthew Desmond's Evicted, and Patrick Phillips' Blood at the Root. Jonathan Lethem wanders into James Bond territory with his new novel about a backgammon hustler who finds himself having brain surgery in Berkeley, Man Booker shortlisted David Szalay's All That Man Is breaks the novel form, American Ulysses revises an earlier view of President Grant, Brit Bennett's first novel has "fantastic" reviews, and Ha Jin's latest novel is "Orwellian."
Jonathan Lethem, A Gambler's Anatomy
A backgammon hustler with a secret gift is at the center of Lethem's latest noirish novel, which draws admiring reviews.
"I could imagine Lethem in a glamorous locale like one of those mentioned here, maybe the Raffles Hotel in Singapore, a Scotch in hand, saying, I bet you I can make a novel about anything to a mysterious figure hidden in shadow," writes Alexander Chee (Los Angeles Times). "But even when Bruno and his Berlin prostitute love interest  are, near the end, in cars opposite each other, each making sure the other is alive before being separated, perhaps forever, this is a novel about desperate people living desperate lives as playthings to the rich, with Bruno seeing himself as no different from the half-naked woman serving the sandwiches."
Is it allegory? Is it genre? Is it literary or wanting to be literary? These were questions I kept asking as I read. . . . Bruno is the blot, an unprotected point in the game, a game as hidden in some ways as the tumor in his face—a global economic system that makes gamblers and playthings of us all. In the end, it is a novel about the loneliness of life in a world made to serve only the richest, one that leaves the rest of us to make what deals we can to survive.
Lethem, writes Dwight Garner (New York Times), "has intense gifts: nothing he writes is a waste of time. He lived for many years in the Bay Area as a young man; he was frequently employed as a clerk in Berkeley's used bookstores. He has a fine sense of this place . . . The prose in A Gambler's Anatomy is nearly always this good, and Mr. Lethem has a touching sense of the lives of obsessive misfits. They're his tribe."
"Lethem is often compared with Pynchon and Don DeLillo," notes Kurt Anderson (New York Times Book Review). He concludes:
This book shares some DNA with Inherent Vice, Pynchon's detective novel set in the late 1960s, and with DeLillo's novels published in the '70s, when he still fully exercised his knack for humor. But even more, it reminded me of Paul Theroux's novels from that time—specifically Saint Jack, about a middle-aged American rogue in Singapore. So I wasn't surprised to discover that Lethem attributes his "fascination with Singapore" to the movie adaptation of "Saint Jack" and that he, no surprise, reread Graham Greene as he was dreaming up this tale. Back in the '70s, Theroux's books (and even Greene's), no matter how intelligent and virtuosic, were too colorful, plotty and cinematic to be granted full respect by the snobbiest literary gatekeepers. Nowadays, esteem isn't much withheld from people who write thoughtful, first-rate novels that also happen to be page-turners, like "A Gambler's Anatomy." The boundaries between high and low—or between serious fiction and "entertainments," in Greene's binary classification of his work—are no longer prissily enforced. That's progress.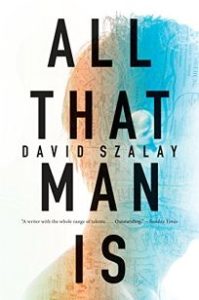 David Szalay, All That Man Is
Szalay's new novel in nine stories, shortlisted for this year's Man Booker Award, is provocative ground for critics.
"All That Man Is takes the novel form and shakes out of it a few essential seeds," notes James Wood (The New Yorker). He writes:
It tells not one long story but nine shortish tales, each about a different man. These stories are not without plot, but they don't have much in the way of conventional fictional shaping; each seizes on a moment of crisis in a man's life and quickly dramatizes it. The entire book is narrated in an urgent, poking present tense, and the pithed characters, of different ages, are presented without complex histories—indeed, without much history at all. There are a few light links between the chapters, but these connections are not especially persuasive or meaningful. Szalay says that each chapter, released into community with its fellows, is not expected to carry "its own solitary burden of meaning." The stories are "points on an arc rather than being arcs themselves." The effect is something like emergency writing for our times: intense, direct, daring, and also somewhat limited and repetitive. The men's slightly different crises are united in being crises.
"David Szalay writes with voluptuous authority," writes Dwight Garner (New York Times). "He possesses voice rather than merely style, and you climb into his new novel…as if into an understated luxury car.The books has a large, hammerlike engine, yet it is content to purr. There's a sense of enormous power held in reserve."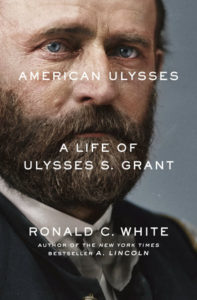 Ronald C. White, American Ulysses
American Ulysses is the latest in a series of books intended to rebuke William McFeely's 1982 Grant: A Biography. Critics find it worthy.
T.J. Stiles (New York Times Book Review) writes, "This worthy book solidifies the positive image amassed in recent decades, blotting out the caricature of a military butcher and political incompetent engraved in national memory by Jim Crow era historians. It illuminates Grant's loving marriage, the sense of honor that made him agonize over debts, also his fundamental decency. It convinced me of his deep faith, and that his drinking has been grossly exaggerated." By the end, Stiles concludes, "readers will see how fortunate the nation was that Grant went into the world—to save the Union, to lead it and, on his deathbed, to write one of the finest memoirs in all of American letters."
"In this sympathetic, rigorously sourced biography," writes Matthew Price (Newsday), White "conveys the essence of Grant the man and Grant the warrior. The author's sharp reassessment of Grant's political career doesn't quite pack the oomph of the sections on the war years, but he reveals Grant's profound commitment to the rights of African-Americans."
White "charts important new territory," writes Harold Holzer (Wall Street Journal). "His subtitle could well be, 'Ulysses S. Grant, Civil Rights Advocate,' for that is the news here. Grant used his presidency to protect black voting rights in the Reconstruction-era South, doing battle with the Ku Klux Klan as relentlessly as he had once combatted the Army of Northern Virginia—although, ultimately, with less enduring success. One wishes that Mr. White had devoted even more space to this unappreciated aspect of Grant's record. What he does provide is fresh, well-documented and surprising."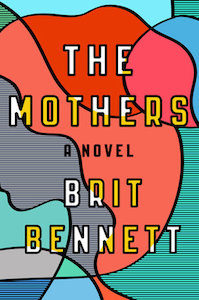 Brit Bennett, The Mothers
In 2014, in the wake of Ferguson, Brit Bennett wrote a buzz-generating essay for  Jezebel called "I Don't Know What to Do with Good White People." Her first novel, a coming-of-age story about three young people in a Southern California community, has broad appeal.
Ismail Muhamad (The Millions) opens:
Much like the Southern Californian communities in which it takes place . . . The Mothers is deceptively buoyant. Reading through it for the first time, readers are likely to find themselves seduced by its prose. Its surface is serene and appealing, carried forward by a brisk narrative. But like Southern California, this novel's pleasant surface begins to ripple the more you linger over it, eventually giving way to something far more nuanced and disturbing than its façade let on.
 Bethanne Patrick (Washington Post) calls The Mothers "fantastic." She concludes:
Some novels take place as you read them, while others grow more complicated as you think back on them. Bennett has written that rare combination: a book that feels alive on the page and rich for later consideration. If you read The Mothers, you will learn a lot. You will learn what it's like to experience a mother-shaped absence at the center of your life, as well as what it's like to feel your mother's hot, judgmental breath on your shoulder every second. You'll learn that men, even when they do the wrong thing again and again, have feelings about babies born and unborn. You'll learn that rigidly cruel actions have roots in sad, earned wisdom. And you'll learn that Brit Bennett is a writer to watch.
Leah Greenblatt (Entertainment Weekly) has high praise: "As much as The Mothers is steeped in black culture, it's also pointedly, poignantly universal in its depiction of young love and friendship and hard choices. Maybe that qualifies as revolutionary, or maybe it's just a really good novel, one that makes all the mess and magic of being young feel both new and familiar in the best kind of way."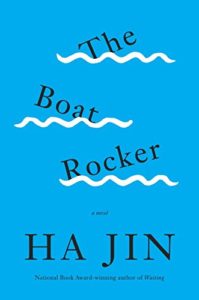 Ha Jin, The Boat Rocker
Ha Jin new novel features a Chinese immigrant who writes a column "shining a light onto the towering corruption of Chinese politics and media" for "the only independent Chinese language news agency left in the west." His new target is his ex-wife, author of a "landmark novel" supported by the Chinese government and President George W. Bush.
Rebecca Steinitz (Boston Globe) calls The Boat Rocker "hilarious and sobering." She  concludes, "Jin shows what happens when truthful stories hit the wall of Chinese politics, and it's not pretty. At the same time, in crafting a memorable hero and a narrative that is both entertaining and thought-provoking, he affirms the value of fiction itself as not simply a source of profit, but a powerful vehicle for the truths of our times."
Julia M. Klein (Chicago Tribune) notes, "As much a polemic as a work of fiction, The Boat Rocker describes an Orwellian world in which a single questionable judgment, coupled with a stubborn adherence to principle, exposes Danlin to life-shaking consequences."
Mike Fischer (Milwaukee Journal-Sentinel) also mentions the Orwell. "There's a nearly Orwellian aspect to Danlin's lonely struggle to hang tight to what he believes, even as those around him follow the footsteps of his onetime wife, sacrificing youthful idealism for power and prestige.  'I felt like Don Quixote,' he tells us, 'charging at windmills with a broken lance.'"
---