Five Books Making News This Week: Awards and Aftershocks
Madeleine Thien, Rebecca Solnit, Megyn Kelly, and More
National Book Awards finalists read tonight at the New School, with hosts Isaac Fitzgerald and Saeed Jones of BuzzFeed. Winners will be announced tomorrow night beginning at 7:40 EST with the Literarian Award being presented to Toi Derricotte and Cornelius Eady of Cave Canem and the Medal for Distinguished Contribution to American Letters to Robert Caro. Livestreaming, with host Larry Wilmore, here.
The shock of this week's election brings books by Rebecca Solnit and Megyn Kelly to the fore. David Constantine's new novel draws raves, as does Madeleine Thien's Do Not Say We Have Nothing, winner of Canada's Giller and Governor General's awards. T.C.Boyle's new novel spins out of the  1991 Biosphere 2 experiments in the Arizona desert.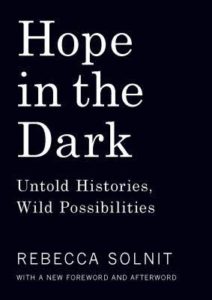 Rebecca Solnit, Hope in the Dark
In the wake of this week's election, Solnit wrote a Facebook message offering a week of free downloads of the new edition of her 2004 book, written in the time of George W. Bush's invasion of Iraq. "Hope is an embrace of the unknown and the unknowable, an alternative to the certainty of both optimists and pessimists," she writes on Facebook. "It's the belief that what we do matters even though how and when it may matter, who and what it may impact, are not things you can know beforehand."
Maria Popova (Brain Pickings) calls Hope in the Dark "a robust anchor of intelligent idealism amid our tumultuous era of disorienting defeatism—a vitalizing exploration of how we can withstand the marketable temptations of false hope and easy despair."
Booklist's Donna Seaman's response to the first edition: "Solnit's rousing celebration of people who work tirelessly behind the scenes and courageously on the streets for justice and environmental health harmonizes beautifully with Studs Terkel's Hope Dies Last and helps readers understand more clearly where we stand as individuals, as Americans, and as citizens of the world."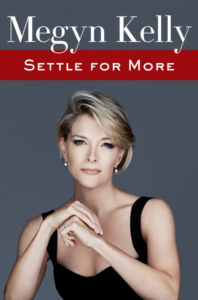 Megyn Kelly, Settle for More
The Fox News anchor's memoir becomes news in the wake of the biggest disruption in American politics in the past century or so.
Kelly, writes Jennifer Senior (New York Times), "was the hen in the Fox house, taking it upon herself to ask at nearly every turn: Shouldn't we be concerned that the Republican nominee for president is profoundly disrespectful of women in his public discourse? And accused of being a sexual predator at that?" Senior lists the book's revelations. "After reading Ms. Kelly's book," she writes, "I must say I feel nervous for her. According to her book, Mr. Trump did not take kindly to Ms. Kelly's questions, and he appeared to retaliate in creepy, personal ways. Many journalists are already concerned that he has little regard for their professional responsibilities or First Amendment rights. Settle for More won't allay their fears."
Senior's review becomes the basis for this in the Washington Post, this in Fortune and this in Entertainment Weekly, among other reports.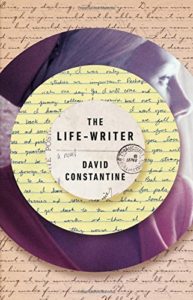 David Constantine, The Life-Writer
A widow's discovery and retelling of the story of her late husband's youthful love affair with a French woman is at the heart of Constantine's new novel.
Sam Sacks (Wall Street Journal) praises the novel's opening:
Eric Swinton is dying of cancer. He's 68 and has accepted the inevitable—"I have a sort of freedom," he says. His wife Katrin, though, is desperate to hold on to him. In quick, cascading prose, David Constantine captures the tender sadness of their final days together. The first chapter of The Life-Writer is as good an opening to a book as I can remember.
"The beauty of Constantine's writing lies in his extraordinary patience and precision with every whorl of consciousness, his unabashed fascination with every leaf and branch of the inner life," concludes Stacey D'Erasmo (New York Times Book Review). "His emotional intelligence is as abundant as his linguistic gifts, and as necessary to the story he's telling, which, at heart, is that of a woman, newly widowed, reckoning with her own unexpected desire for a task she can't complete, a task no one can complete . . . The Life-Writer isn't so much a love story, or even an unrequited love story, as it is the story of a late, beautiful and painful awakening."
Claire Harman's take, (The Guardian): "Constantine proves himself yet again one of the greatest analysts of feeling working in fiction today, and one of the most lyrical. The first chapter is so shockingly accomplished that I had to stop, go back and immediately reread it. It includes a brilliant description of moonlight invading the house of the dying man, "a thin blade, like a visible draught, at the threshold of the sick-room", and Eric's ecstatic jumble of memories in his last moments: "there's more, so much more, I've hardly begun, I'm not on the ferry yet [. . .] so good it all was, so good."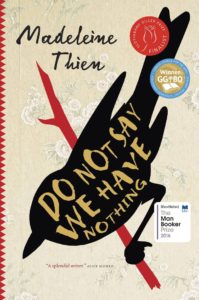 Madeleine Thien, Do Not Say We Have Nothing
Do Not Say We Have Nothing, about a Chinese exile who flees after the Tiananmen Square protests, wins the $100,000 Giller Prize this week, after winning the Governor General's Award for fiction and being shortlisted for the Man Booker.
Jennifer Senior (New York Times) writes, "Ms. Thien captures painfully well the depersonalization and numbness of living through the Cultural Revolution, particularly the 'day-to-day insincerity' of casual conversation, larded with perfunctory praise for the party and Chairman Mao. (It sounds as if it's coming from a Communist Twitter bot.) Her depictions of the Red Guard's brutality are graphic and difficult to read: Zhuli's parents, property owners, are trussed like chickens, beaten and sent to re-education camps. The novel culminates, perhaps inevitably, with the protests in Tiananmen Square. It's a virtuoso stretch of writing, rendered with a blue-flame intensity, blazing and tactile and full of life."
Isabel Hilton (The Guardian) calls Do Not Say We Have Nothing "a vivid, magisterial novel that reaches back to China's civil war and up to the present day. At its heart are the interlocking fates of a set of characters who live for and by music, until their world is destroyed by the events the revolution unleashes."
Thien "strives mightily to decant the tragedy of revolutionary-cum-communist China into a literary epic," writes Rayyan Al-shawaf (The Toronto Star). She "manages the feat—this tale of a voracious totalitarianism devouring several memorable characters registers an intense and lingering emotional impression—yet keeps having to expand her story's spatial and temporal margins to accommodate the overspill."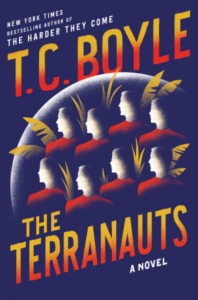 T.C. Boyle, The Terranauts 
Boyle discussed the 1991 Biosphere 2 experiments in the Arizona desert, which inspired his new novel with Wired 's Charley Locke, who notes that "John Allen, the eccentric visionary behind the project, was also a playwright under the pen name Johnny Dolphin, and he made the Biosphere 2 inhabitants act in plays." "It's all theater of the absurd," says Boyle. "The Biosphere 2 experiment was theatrical as well." Critical response is mixed.
Boyle's "intertwining narratives recall early reality television shows such as "Road Rules" and "Big Brother," where everything is being recorded, revised, edited and shared," notes Nancy Hightower (Newsday).  "While entertaining, Boyle's characters could have used more development and felt one-dimensional. Boyle's descriptions of the biosphere are intriguing, but the reader wants more of them—after all, the problems encountered by the eight companions here actually did occur in the real biospheres, and they have relevance for how we grapple with environmental concerns today."
"Boyle navigates his well-worn territory with sensitivity and finesse," writes Jason Heller (NPR). "By the middle of the story, the team's web of power plays, personality tics, petty conflicts, grudges, crushes, and buried agendas is drawn taut. Even his excessive attention to detail makes sense; as he unfailingly does when writing historical, fact-based fiction, Boyle recreates the period vividly, right down to subtle Nirvana references and the use of 'carbo' instead of today's more common 'carb.'" 
"The Terranauts definitely has surprises in store for readers who stick with it," writes Michael Berry (San Francisco Chronicle), "but like the project it describes, the narrative sometimes feels claustrophobic and extended past its optimum length. Perhaps the plot would seem less soap operatic if we had not had decades of reality-TV survival shows to wear away some of its urgency."
Ron Charles (Washington Post) is not amused:
If only we could have heard more of those plays that the Terranauts are forced to perform after making dinner and cleaning out the water filters," he concludes. "That's such a delightfully weird element, and the selections are so telling—from "The Skin of Our Teeth" to "No Exit." But there's little room for theater amid this torrent of gossip. Sartre claimed that "Hell is other people," but sometimes, Hell is another chapter.
---