Five Books Making News This Week: Anecdotes, Architects, and Anti-Social Behavior
Robert Gottlieb, Teddy Wayne, Witold Rybczynski, and More
"Literature is a road map and it's also a piece of history," says Jacqueline Woodson as she is honored with the Brooklyn Book Festival's "Best of Brooklyn" award, presented Saturday by Johnny Temple, chair of the Brooklyn Book Festival Literary Council for work that "gives voice to Brooklyn past and present, for readers of all ages." Woodson, who grew up in Bushwick and won a National Book Award for Brown Girl Dreaming (2014), speaks of being influenced by writers like Paule Marshall and Betty Smith, adding, "I'm honored to be part of the Brooklyn narrative." It's a big week for Woodson, who also is named to the National Book Awards fiction longlist for her novel Another Brooklyn. Forty writers are on longlists for fiction, nonfiction, poetry and young people's literature.
The Man Booker shortlist includes Paul Beattie's The Sellout, which won the National Book Critics Circle award for fiction, and Eileen Moshfegh's Eileen, an NBCC finalist. This year's National Humanities medals go to Rudolfo Anaya, Ron Chernow, Louise Glück, James McBride, Louis Menand, Elaine Pagels, and Isabel Wilkerson. Teddy Wayne's third novel takes a dark look at a Harvard freshman, Emma Donoghue is back with another child confined by circumstances, Robert Gottlieb's memoirs spool back decades of American literary history, Witold Rybczynski defines chair-sitting and floor-sitting cultures, and Affinity Konar takes "an unorthodox, though not unprecedented" approach to the horrors of Auschwitz.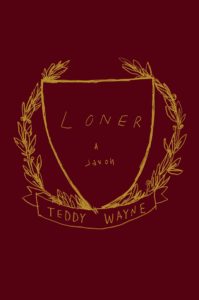 Teddy Wayne, Loner
A Harvard freshman's attraction to a classmate sets the stage for Wayne's third novel. "The Secret History is an obvious antecedent," Wayne tells Electric Literature's Ryan Chapman. "But I was guided more by a few other non-campus works of art: The Talented Mr. Ripley, Lolita, Notes from Underground, and Taxi Driver, especially. If you take the flesh of one genre and hang them on the bones of another, you often get interesting results." Wayne talked with Esquire's Maris Kreizman about how the Twitter hashtag #MasculinitySoFragile applies to his book and to Vanity Fair's Mike Sacks about watching "video of the sentencing of T.J. Lane, a teenager who had shot and killed three classmates in his high-school cafeteria" in 2013, which helped shape the novel.
Julia M. Klein (Chicago Tribune) points out, "Wayne's examination of Harvard's social hierarchies—as well as his satirical view of today's politically correct academy, with its 'microaggressions,' 'privilege' and 'safe space'—incline us toward a grudging sympathy with his protagonist….There is comic brio, but also an insider's precision, to Wayne's depiction of an institution riddled with entitlement, academic pretense and social traps, like a sophisticated version of the old children's game Chutes and Ladders."
Kevin Nguyen (GQ) notes, "There's a sense of dread that hangs over the novel, and you're left wondering just how dark things are going to get (spoiler: PRETTY DARK!). But Loner works because Teddy Wayne keeps careful, measured control over his novel."
Maureen Corrigan (NPR) invokes Fitzgerald:
Is David smitten like Gatsby is with Daisy, or is he simply a stalker type? The answers ingeniously lie in the final papers David and Veronica turn in for the semester, both involving scholarly theories on the predatory male gaze. At bottom, Loner, like all good suspense stories, academic or otherwise, test readers on our close reading skills.
"Just when you think you can't stand him anymore—nor can you put the book down—the explosive ending hits," writes Marion Winik (Newsday). "Loner is a fascinating study of how young people turn to anti-social behavior. "You can't go wrong just being yourself," his mother tells David when she drops him off at college. Wayne wants us to know that you can."
Sam Sacks (Wall Street Journal) concludes:
Loner moves ahead to its climax (and a superbly executed plot twist) with the sickening momentum of a horror movie. Though the study of a brainy, insecure Harvard kid has parallels to the movie "The Social Network," Mr. Wayne is working with far darker material. This is Neil LaBute territory, full of misogyny, compulsion and duplicity. It stands in stark contrast to Mr. Wayne's previous novel, The Love Song of Jonny Valentine (2013), a funny, sympathetic portrait of a teenybopper pop star. The range shown in these two books, which move from the ridiculous to the chilling, is evidence of a rising talent.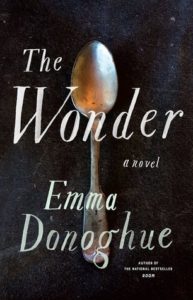 Emma Donoghue, The Wonder
Donoghue's latest novel is based on the 1869 case of Sarah Jacob, who Charles Dickens called "the fasting girl of Wales," who seemed miraculously or fraudulently, to live on air. She sets her protagonist, an English nurse, against Anna, an 11-year-old Irish girl who has apparently lived without food for four months. The Wonder draws inevitable comparisons to her 2010 novel Room, with its child narrator and claustrophobic setting.
Alexandra Schwartz (The New Yorker) notes, "Donoghue, the author of more than a dozen books, has developed something of a specialty in putting children in situations of harrowing confinement… Most extreme is Room, Donoghue's blockbuster from 2010, and the basis for the Oscar-winning movie of the same name… The secret at the heart of The Wonder is lodged in the inner world, not the outer one. Once again, an adult is made responsible for the welfare of a trapped child, but only the child knows what confines her."
Julie Myerson (The Guardian) has praise ("the first half is indeed a deliciously creepy gothic cocktail, enticingly set up and chillingly, suspensefully dragged out") and a quibble or two: "Maybe it's that Donoghue's settings, like her plots, are so suffocatingly precise, so tightly wound that, in a way, they leave you nowhere to go. Or perhaps it's just that she is such an undisputed master of the small and the slow, of the uneasy fragmenting of time that happens when human beings are contained within four walls, that all you want is for her to go on doing what she does so well."
Katherine A. Powers (Boston Globe) calls The Wonder "a fine work, adept and compelling in voice, plot, and moral complexity."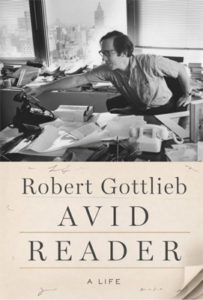 Robert Gottlieb, Avid Reader
Gottlieb gives a genial and juicy account of his six decades as an editor and publisher, working with Toni Morrison, John Le Carre, Robert Caro, Joseph Heller, and Roald Dahl, among others.  It's the celebrity bios he edited that drew Vanity Fair editor Graydon Carter's attention, leading to excerpts describing Gottlieb's experience editing best-selling autobiographies by Lauren Bacall and Katharine Hepburn. "In giving us the inside story of how these books were written and edited," Carter writes, "Gottlieb, the sharpest of observers, shows us wholly new sides of these two great Hollywood stars."
Sarah Weinman (The New Republic) welcomes Avid Reader: "As far back as 2009, as part of an online book club about, of all things, a Dan Brown novel, I wished Gottlieb, the man who may well define editing for the second half of the twentieth century (and a good part of the twenty-first), would 'stop dithering and write his memoirs.' She applauds the book and its author:
I took heart, as someone steeped in genre, at Gottlieb's lack of snobbery about popular fiction. Rather he understands, from decades-long work with the likes of Michael Crichton, John Le Carré, and other category masters, that bestselling fiction writers are, in essence, their own genre. "Detective novels are a genre, but so is Agatha Christie. Spy novels are a genre, but so is John Le Carré. And something I've always found heartening is that the reading public usually gets it right. Yes, there are inferior genre writers who become highly popular, but on the whole the most popular ones are the ones who are the best at what they do.
"One of the pleasures of Avid Reader," writes Dwight Garner (New York Times), "is watching this apparent wallflower—in a cartoon, he'd be drawn by Roz Chast or Edward Koren—begin to sprout wild hairs. A good deal of fun is recalled in this book: dinner with Bob Dylan, who tried to do the dishes; pajama parties with the novelist Edna O'Brien; raiding the refrigerator with Bill Clinton at 1 a.m.; ice cream fights with the choreographer Twyla Tharp. Mr. Gottlieb emerges as a kind of Zelig of American publishing. The most acclaimed editor of the second half of the 20th century, he seemed to have a hand in everything that mattered."
Michael Dirda (Washington Post) concludes:
Avid Reader will be avidly read by anyone interested in the publishing world of the past 60 years. After all, not since Max Perkins worked with Hemingway and Fitzgerald has there been a more admired editor than Robert Gottlieb. His has been, he would admit, a privileged and enviable life, which is really just another way of saying that it has been a life filled with books.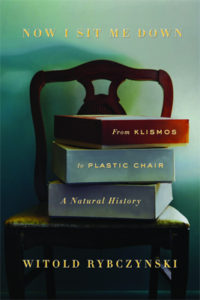 Witold Rybczynski, Now I Sit Me Down: From Klismos to Plastic Chair
Architect Rybczynski takes on the history of the chair. "Like many architects, I've always been fascinated with chairs–I suppose because so many early modern architects designed chairs," he tells Mark Medley of the Globe and Mail , "And because chairs really are like little buildings. They have an important structural side, they're aesthetic objects, but they're also practical—you have to sit in them, and they have to be comfortable."
"Rybczynski's most striking point," notes Uri Friedman (The Atlantic), "is that there's nothing natural, nothing inevitable, about humans sitting on chairs, despite their 5,000-year-plus history. There are two types of people in the world, at least within the remit of Rybczynski's study: those who sit on the floor and those who sit on chairs." And, Friedman adds,  Rybczynski found that "whether you live in a floor-sitting or chair-sitting society has an impact on much more than how you sit. It can influence everything from your clothing to your house layout to your muscle development.'"
Elizabeth Blair (NPR) notes how he "celebrates the work of husband and wife team Charles and Ray Eames who began designing chairs in the 1940s. They designed shiny, smooth shells  made of wood or a kind of plastic used in the linings of army helmets….The Eames revolutionized chair production."
Henry Petroski (Wall Street Journal) concludes, "This is a book to savor in a favorite chair. Maybe you'll even find the one you're sitting in reflected in its pages: Now I Sit Me Down is charmingly illustrated with postage-stamp-size images of many of the chairs discussed—all drawn with obvious care by the author."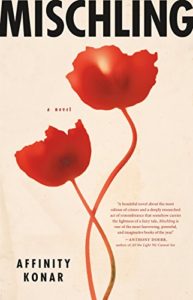 Affinity Konar, Mischling
In Konar's second novel, 12-year-old twins accompany their mother to Auschwitz, only to be separated from her and subjected to the infamous Dr. Joseph Mengele's experiments. "I didn't want to obscure torment," Konar tells Kirkus Review's Benjamin Rybeck,"but I wanted to show how someone would obscure torment in order to survive it."
"There is a reason Mengele's experiments are rarely discussed," notes Ruth Franklin (New York Times Book Review). "Even in the context of the Holocaust, they are almost unspeakably horrible. Konar's novel takes an unorthodox, though not unprecedented, approach to these horrors: She describes them beautifully, lyrically, in the language of a fable. Mischling is not for everyone, not least because it is excruciating to read about such pain. I do not remember the last time I shed so many tears over a work of fiction. And it will surely offend those who still chafe at the idea of fictionalizing the Holocaust. But readers who allow themselves to fall under the spell of Konar's exceptionally sensitive writing may well find the book unforgettable."
"This is not an easy novel to read," writes Patty Rhule (USA Today), but Affinity Konar's evocative storytelling, fierce characters and haunting prose make Mischling equally hard to put down. Stasha and Pearl are based on real-life Auschwitz survivors Eva and Miriam Mozes, who were among 3,000 twins who became guinea pigs for the demented genetic experiments of infamous Nazi Dr. Josef Mengele. Pearl and Stasha are captivating heroines."
Steven G. Kellman (Dallas Morning News) concludes, "Konar's novel is filled with exquisitely crafted phrases; for example, when Stasha comes upon a family of refugees hiding in a haystack, she sees 'a peepery of eyes. They were scattered in the manner of constellation, and with equal glitter.' Nevertheless, the aesthetic achievement of Mischling cannot redeem the world after Auschwitz. It merely illuminates it, woefully, brilliantly."
---