Five Books Making News: Love, Science, and Loneliness
Richard Russo, Emma Straub, Adam Haslett, and more
Memorial Day weekend brings summer reading season, with "to read" lists popping up at the New York Times Book Review, the Wall Street Journal, NPR (Maureen Corrigan's summer suspense), the Washington Post (10 soccer books), and the Chicago Tribune, among others. Keeping it real, the George Orwell prize winner Arkady Ostrovsky's nonfiction book The Invention of Russia, which details media manipulation in post-Soviet Russia, is called "the most Orwellian winner to date." Adam Haslett's second novel, Imagine Me Gone, draws critical praise. "My father committed suicide when I was 14," Haslett told NPR's Scott Simon. "My brother indeed suffered from anxiety. And I've been no stranger to those states myself, luckily, for some unknown reason, not in the same severity of my father or brother. But when I came as a fiction writer to this material, I needed to find a way not so much to tell the story of my family but to tell a kind of counterfactual history, a sense of what might have been." During a Litquake conversation with me last week, Haslett spoke movingly of the autobiographical elements of the novel; "I feel stronger for having done it," he told me. Plus sequels from Pulitzer Prize fiction winner Richard Russo and Emma Straub, a prequel from Pulitzer Prize nonfiction winner Siddhartha Mukherjee, and Moira Weigel's provocative history of dating.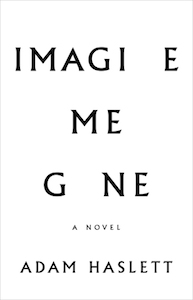 Adam Haslett, Imagine Me Gone
Haslett's second novel is an empathetic and illuminating exploration of the effects of mental illness on one family. Haslett calibrates how the father's eventual suicide—and his genetic legacy—affects each of the survivors over several decades.
"Although by no means a light or easy read, Haslett's new novel forcefully demonstrates that he is unrivaled at capturing the lasting reverberations of suicide and the draining tedium and despair—along with the occasionally fabulous flights of fancy—that accompany intransigent mental illness," writes Heller McAlpin (NPR). And he achieves this with an extraordinary blend of precision, beauty, and tenderness." She concludes:
Haslett's signature achievement in Imagine Me Gone is to temper the harrowing with the humorous while keeping a steady bead on the pathos. You want sympathetic characters? You want a narrative that showcases love as a many-splendored thing capacious enough to encompass stalwart, long-suffering spouses, loyal siblings, suffocatingly obsessive crushes, and casual, noncommittal relationships (both gay and straight) that morph as if by magic into soul-sustenance? You want writing that thrums with anguish and compassion? It's all here.
Imagine Me Gone is "refreshingly replete with surprise," writes Bret Anthony Johnson (New York Times Book Review). "It sneaks up on you with dark and winning humor, poignant tenderness and sentences so astute that they lift the spirit even when they're awfully, awfully sad."
The novel's most rewarding surprise, he concludes, "is its heart. Again and again, the characters subtly assert that despite the expense of empathy and the predictable disappointment of love, our tendency to care for one another is warranted. Whether it's a choice or a learned behavior or a genetic imperative of the species, our constant slouching toward compassion is a lucky obligation. Even when confusing or crazy-making, it's the higher calling of our blood. It's a responsibility, a relief. Even when it's difficult or terrifying or impossible, especially when it's impossible, the impulse to calm those we hold dear is an absolute privilege."
Tom Beer (Newsday) calls Haslett's character Michael "the center of the novel, "and certainly Haslett's most original character: An inconsolable baby, a precocious and verbal teenager, a disco and house-music fanatic who is rigidly politically correct and falls hopelessly in love with black women (one of them a lesbian). In one chapter he offers a wiseass history of his medications and their effects: Luvox, Paxil, Serzone, Anafranil, Celexa, Effexor, Lexapro, Wellbutrin . . . you get the idea. For the reader, as for his family, Michael is strangely dear, utterly maddening and ultimately heartbreaking."
Haslett "expertly evokes family behavioral patterns that simply repeat themselves, taxing everyone's patience, before precipitating into panic-inducing crises. ('Where did it end?' Celia asks of Michael's plight. 'What level of need couldn't he surpass?')," writes Michael Upchurch (Boston Globe).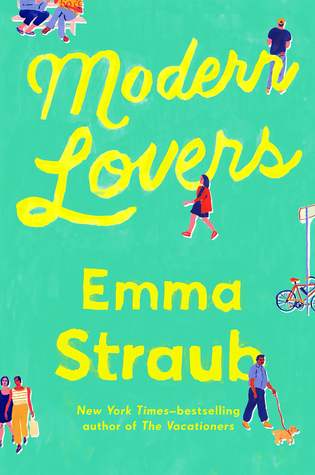 Emma Straub, Modern Lovers
The sequel to Straub's The Vacationers involves a staycation in Brooklyn, where two families sweat out the summer while contemplating the past. The novel hits its target, making multiple "summer reading" lists.
"Summer in the city has never felt so good," writes Carol Memmott (Washington Post).
All of Straub's lovable characters are feeling time rushing by. A father wonders "how it was that he wasn't the child anymore, how his baby boy had become a teenager, and how it was possible that he—Andrew Marx!—would soon be fifty." Three doors down, Jane Kahn-Bennett also mourns the past and longs for the time when she and her wife, Zoe, first fell in love. "It was all balloons, all hope," she remembers. "Now that they knew what the future held—what the future looked like—it was much harder. Why couldn't everyone stay young forever?"
Marion Winik (Newsday) calls Modern Lovers another "au courant family-and-friends novel, a perfect encore for fans of 2014's The Vacationers. This time the Brooklynites are staying home in their Victorian houses in Ditmas Park—'a hundred miles from Manhattan (in reality, seven)'—and in two of them, we find the intertwined families of Modern Lovers."
"Straub lets her characters fall apart and come together in their own messy, refreshingly human ways—always older, sometimes wiser, but never quite done coming of age," writes Leah Greenblatt (Entertainment Weekly).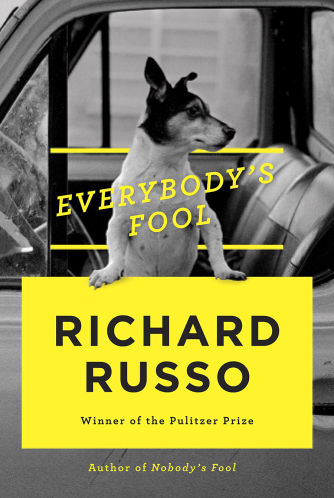 Richard Russo, Everybody's Fool
In this sequel to his 1993 novel Nobody's Fool, Russo brings back the irascible and beloved Sully (played by Paul Newman in the 1994 Robert Benton film adaptation). Russo tells the Wall Street Journal's Jennifer Maloney why he returned to his fictional North Bath, and how he built up the character of Officer Raymer, a bit player in the first novel.
T.C. Boyle (New York Times Book Review) concludes, "Taken together, at over 1,000 pages, the two Fool books represent an enormous achievement, creating a world as richly detailed as the one we step into each day of our lives. Bath is real, Sully is real, and so is Hattie's and the White Horse Tavern and Miss Peoples's house on Main, and I can only hope we haven't seen the last of them. I'd love to see what Sully's going to be up to at 80."
"Russo writes old-fashioned novels, the kind with characters and plot development, not asterisks or moody ellipses," writes Paul Wilner (San Francisco Chronicle). "And his subjects are old-fashioned people who live in the kind of blue-collar small towns where everyone knows everyone else's business, but (usually) reserves judgment… Russo's compassionate heart is open to the sorrows, and yes, the foolishness of this lonely world, but also the humor, friendship and love that abide."
Jeff Baker (Seattle Times) calls Everybody's Fool "a welcome return to North Bath, a place that by any name is worth an extended visit."
"The novels of Richard Russo circle and descend upon upstate New York dissipation like some Google Maps drone that has been programmed to survey the carrion of formerly dynamic industrial burgs," writes Jan Stuart (Boston Globe). "Typically, Russo favors action and citrus-tart dialogue over physical description. But for a few snapshot images of North Bath's many corpulent residents, the novel's most vivid passages capture characters facing down chaos: wriggling off a crumbling porch roof, stranded on a tree limb, trapped in the dark with a reptile."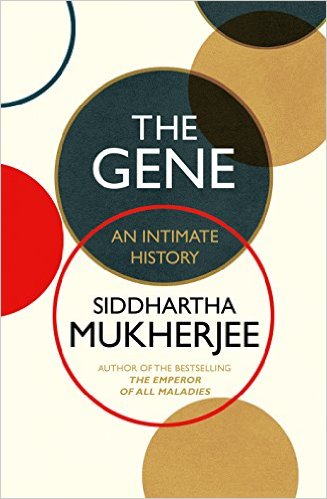 Siddhartha Mukherjee, The Gene
The Gene serves as a prequel to Mukherjee's Pulitzer and National Book Critics Circle award winning biography of cancer, The Emperor of All Maladies. Once again, Mukherjee has distilled a grand topic and enriched it with his own narrative.
James Gleick (New York Times Book Review) traces Mukherjee's contribution to the relatively new history of heredity:
First the idea of the gene had to be invented. Then the physical entity, present in each cell of our bodies, in every living thing, had to be discovered. The story of this invention and this discovery has been told, piecemeal, in different ways, but never before with the scope and grandeur that Siddhartha Mukherjee brings to his new history, The Gene. He fully justifies the claim that it is 'one of the most powerful and dangerous ideas in the history of science.'"
M. Sophia Newman (The Millions), also notes the scope of The Gene: "Mukherjee tackles the entire history of genetics, from its origins as a passion project of a Czech monk named Gregor Mendel to Charles Darwin's journeys to Galapagos to the Nobel Prize-winning discovery of the structure of DNA by James Watson, Francis Crick, and their colleagues. After rehashing that relatively well-known history, he traverses more recent, obscure, and often contentious topics, including eugenics, gene therapy, and the daunting ethical challenges of the future. In short, the work serves as a kind of primer on the whole of the topic, an unsurprising repackaging of a few major sections of an undergrad biology degree. That said, it's more appealing than any other molecular biology text I can recall."
Newman mentions her own research on mental health in the Bengal region, where "mental health was taboo enough to prompt flat rejections—and occasionally open anger—from my colleagues in health research," to underline the value of the personal narrative Mukherjee includes in his book. "Mukherjee's forthright discussion of his own Bengali family's psychiatric health is rare and courageous. It's also worthwhile. If ethical issues in genetics are to be solved (or even communicated effectively to the public), we'll need not only skepticism and compassion, but also a clear understanding of the humans our choices affect."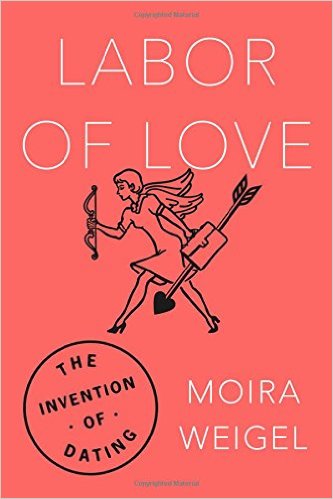 Moira Weigel, Labor of Love
Finding herself in a romantic quandary—the reluctant third in a love triangle—Weigel set out to write a history of dating to de mystify the process. For most of her friends, she writes, "dating felt like experimental theater. You and a partner showed up every night with different, conflicting scripts." Her findings are revealing, and troubling to at least one critic.
Alexandra Molotkow (The New Republic) calls Weigel's book "quixotic," and admires its "organization and readability:
She has managed to write a substantial book about dating for a popular audience, in the hope that, by understanding historical patterns, we'll better understand our own tendencies. The lesson is smooth, but the effect is alienating. The book tells us about how people have dated and why, with reference to social forces, but it skirts the deeper whys of happiness and desire; it seems to confirm the author's, and my, anxiety that dating has little to do with people. The difference between a transaction and an interaction is one of disposition—in this economy, one has to learn to toggle back and forth—so why mire ourselves in the sort of reasoning that flattens human motives to sheer self-interest?
My reservations about the book had less to do with the book's argument than the fact that I fail to connect with Weigel's sensibility. And because these universals—of love and fulfillment—are so personal, it felt jarring to be caught in her logic. Dating for anyone involves a measure of cold appraisal, bullshit, and exchange; it carries the risk of rejection, unrequited affection, sexual humiliation, shame about oneself or one's body and its functioning, and worse. But dating is also a joy, and the real work of dating, as I see it, is the trick of knowing enough to take care of yourself without thinking too much about the underside.
In dating as with anything, you accumulate permission to be how you are.
It's not her, it's me, in other words.
Reading Labor of Love, concludes Alexandra Schwartz (The New Yorker), "you can get the sense that women are now pinballing among the worst of the dating systems that have come before. Like the shopgirls of the twenties… we turn ourselves into commodities, typing up dating-site profiles as if they were product descriptions… We drift into reluctant long-term commitments like the monogamists of the fifties did. Young women are still warned, as the career women of the eighties were, that we're 'daing on a deadline,' and have only so much time before our eggs dry up—if we haven't frozen them, in which case we must not let prospective partners in on the decision, lest they fear entrapment in the plans we've worked out for the future. It's enough to cause an identity crisis…."
---