Five Audiobooks That Might Be Good For a Laugh This Week
James Tate Hill with the Recommendations We Need
"The best comedy lives on the edge of what's acceptable," writes stand-up Judy Gold in Yes, I Can Say That: When They Come for the Comedians, We Are All in Trouble. "Jokes are nourished by tension. Laughter is a release."
That said, comedy can be subjective. If you don't believe me, look at the bestsellers in humor on a giant unnamed online retailer, where at the time of this writing George Orwell's 1984 sits at #1. A few spots behind that totalitarian knee-slapper lies his other laugh riot, Animal Farm, followed by Ray Bradbury's barrel of chuckles, Fahrenheit 451.
If you prefer humor that generates laughter, I might be able to help. This month I recommend five audiobooks to feed your inner clown. You'll laugh; you'll cry; you'll forget for a few hours to check the news.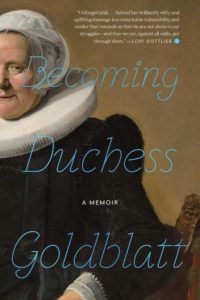 Anonymous, Becoming Duchess Goldblatt
Narrated by Gabra Zackman, Lyle Lovett, and J. Smith Cameron · Houghton Mifflin Harcourt/HMH Audio
5 hours and 31 minutes
"Don't let anyone shame you for your love of an imaginary friend. Religions have been founded on less," tweeted Duchess Goldblatt in 2016. For those unfamiliar with the Duchess, she's a fictional eighty-one-year-old author of imaginary titles like Feasting on the Carcasses of My Enemies: A Love Story, hailing from the fictional town of Crooked Path, NY. Sprinkled throughout with the surreal wit of the beloved Twitter persona, Becoming Duchess Goldblatt is the unique and moving (true) story of a newly single mother who finds genuine community in her pseudonymous creation.
As an audiobook, Becoming Duchess Goldblatt is both a faithful adaptation of the printed text and a distinctive experience. J. Smith-Cameron, most recently of HBO's Succession, delivers the Duchess's tweets with coquettish glee. Lyle Lovett narrates his own interaction with both Duchess Goldblatt and her creator. A meaningful friendship develops from the singer-songwriter's love of the account, which he labels performance art. The Duchess might be imaginary, but the adoration of her followers is quite real.
Meeting Lovett before one of his concerts, revealing to him her true identity, the author never expects to see him again. "I had become very used to losing people by that point, and I had no intention of getting attached to anybody new. One way or another, everybody leaves. There are hidden benefits to being a fictional person. If people can't find you, they can't break your heart."
As Lovett explains, however, Duchess is far more than her wit and kindness. Her account becomes a community, inspiring friendships among her followers. "You are the Duchess," Lovett reminds the author, who has been regarding the character as another person, separate from herself.
The always-excellent Gabra Zackman narrates as Anonymous, shifting nimbly between the book's humor and melancholy. Memories of a mentally ill brother and a withholding mother still haunt the author, helping to explain the person and character she became. It's a touching, frequently hilarious memoir, even if you're visiting Crooked Path for the first time.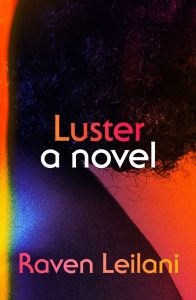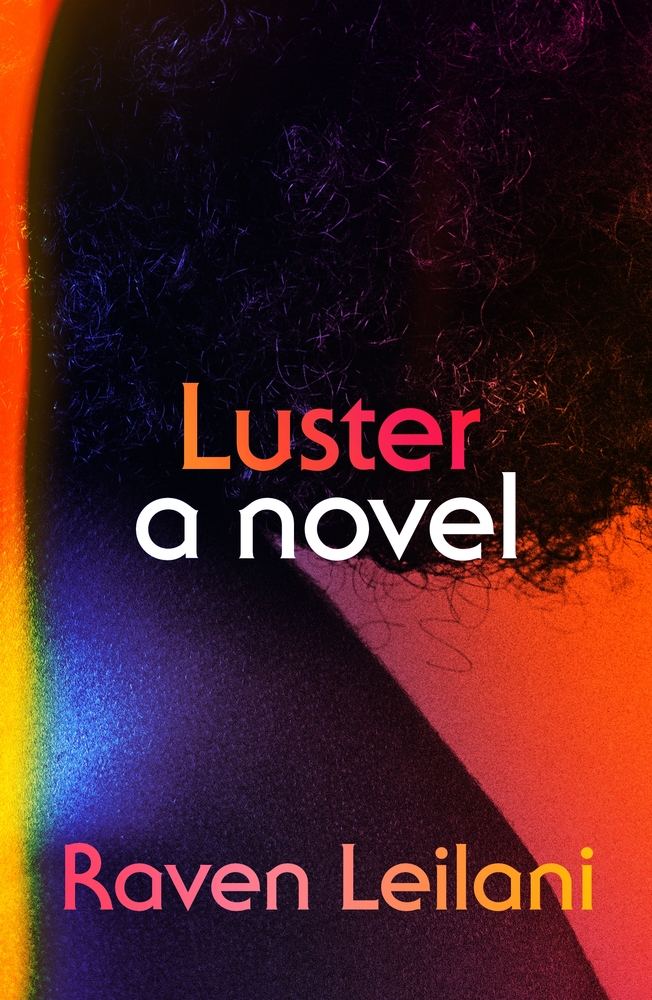 Raven Leilani, Luster: A Novel
Narrated by Ariel Blake · Farrar, Straus and Giroux/Macmillan Audio
6 hours and 39 minutes
Twenty-three-year-old Edie is the managing editorial coordinator for a New York publisher's children's imprint, "meaning I occasionally tell the editorial assistants to fact check how guppies digest food. I call meetings where we discuss why bears are over and why children only want to read about fish." Never mind the details because shortly into Luster, Raven Leilani's dab-your-eyes sad and laugh-out-loud funny debut, Edie has been fired for sexually inappropriate behavior at work. "What they say about not shitting where you eat only holds if they pay you enough to eat."
Luster's tone darkens whenever Edie is with Eric, a married man whose abusive streak shines a light on Edie's masochistic streak. Eric's wife, Rebecca, aware of her husband's infidelity, invites Edie to live with them, possibly to mentor the couple's foster daughter who, like Edie, is black. Broke and still attracted to Eric, Edie accepts.
One job of an audiobook narrator, maybe the most important job, is to capture a book's tone. This can be tricky when a novel straddles the line between elegy and comedy, when even the humor wavers between self-deprecating and self-loathing. Ariel Blake nails Leilani's blend of humor and sadness with a less-is-more approach, locating the author's wit inside her language.
If an unhappy ending feels inevitable after Edie moves in with her boyfriend's family, nearly every paragraph of Luster contains surprising insights and turns of phrase. Many will find Edie's story as tragic as it is comic. Back story about Edie's family, woven seamlessly throughout, tips the book toward the former, but if we can't laugh at Rebecca turning down the lights at a party to perform a sincere cover of "In the Air Tonight," clapping for herself when it's over, comedy might be dead.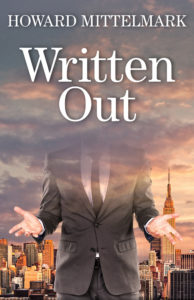 Howard Mittelmark, Written Out
Narrated by John Rubenstein · Permanent Press/Blackstone Audio
7 hours and 26 minutes
Roger Olivetti, the "homeless, jobless, wifeless, hopeless" narrator of Howard Mittelmark's latest novel is not, in Olivetti's own words, a sympathetic character. "My goal here," he says, "is not to convince anyone that I made good choices, just that, at the time that I made them, my choices were neither unreasonable nor particularly perverse." He is, in spite of those choices and thanks to Mittelmark's indefatigable humor, exceptionally charming company.
Olivetti is an editor and writer, though not nearly as successful as his famous novelist wife, "but famous novelists weren't actually famous. They were just famous to other novelists, who aspired to being famous novelists, and to readers, who still only aspired to being novelists." The successful novelist has thrown him out of their home, and after moving in with his mother, Roger's questionable favor for an attractive high school classmate is his first bad choice.
John Rubenstein narrates the audiobook as Olivetti, landing the author's punchlines with skill and panache. His exaggerated voice work with supporting characters makes sense, described as they are as caricatures. It's notable, too, how deftly the audiobook's narrator handles a fast-paced novel that also explores quieter moments of desperation.
Another high school classmate and aspiring novelist, lends Roger a car, another bad choice. The outlandish, improbably credible plot involves a violently broken toe, organized crime, murder, and the well-endowed movie star who has begun dating Roger's estranged wife. Written Out is both crime novel and publishing satire, balancing both genres as deftly as Adam Langer's 2010 gem, The Thieves of Manhattan. That this reader cheered for Roger so thoroughly says less about me, I hope, than the skill of his creator.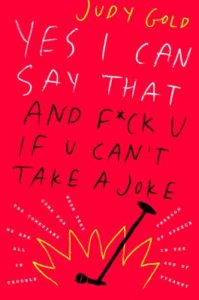 Judy Gold, Yes, I Can Say That: When They Come for the Comedians, We Are All in Trouble
Narrated by Judy Gold · Dey Street Books/HarperAudio
6 hours and 32 minutes
"Laughter brings people together, but lately it seems like a lot of people are making the choice to be outraged by a single word, term, or thought rather than considering the context or a speaker's intent." A stand-up comedian since 1981 and a self-described six-foot-two Jewish lesbian, Judy Gold is referring to political correctness, but with far more nuance than we've come to expect when that term arises. Yes, I Can Say That is a rebuke to the left as well as the right. It's also a lively history of stand-up comedy through the lens of free speech.
Gold explains how stereotypes have been used by comedians like Moms Mabley, Richard Pryor, and Joan Rivers, to name just a few, to expose bigotry, not to promote it. So much depends, of course, on the speaker's intention. "As with all fraught language, it's the comic's responsibility to generalize appropriately. Otherwise, it's all about hate."
Gold narrates the audiobook with a stand-up's panache and expert timing. Yes, I Can Say That is thoughtfully written, but the audiobook offers an additional layer of context in the author's delivery. It's also, simply put, much funnier coming from the mouth of Judy Gold.
Gold's warning extends beyond the world of comedy. Samantha Bee, Stephen Colbert, and Kathy Griffin have all apologized for jokes in the age of Trump, and they represent a long tradition of censored dissent. During the rise of the Third Reich, the humorless Hitler passed the Treachery Act of 1934, making anti-Nazi jokes, or even listening to them, acts of treason punishable by imprisonment or death.
"Barricading ourselves in safe spaces," Gold writes, redirecting her ire toward the left, "where even the slightest possibility of discomfort is intolerable, leaves us emotionally stunted and, dare I say, unhappy." To put it another way, quoting Lenny Bruce, "Take away the right to say fuck and you take away the right to say fuck the government."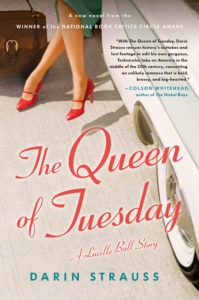 Darin Strauss, The Queen of Tuesday: A Lucille Ball Story
Narrated by Tavia Gilbert and Darin Strauss · Random House/Random House Audio
11 hours and 32 minutes
"She was the first woman with power in television. She was the first person who made televisual power worth having. She would come to run an entire studio, the first woman to do so." She, of course, was Lucille Ball, star of TV's first enormous hit show, I Love Lucy, and subject of Darin Strauss's dazzling novel about the legendary actress.
Much more than biographical fiction, The Queen of Tuesday begins at a 1949 party at Coney Island, where a pre-television Ball meets Isidore Strauss, grandfather of the author. The two kiss, but their love affair unfolds slowly, both parties still married. The actress fantasizes about a love not tarnished by a brazenly unfaithful, belittling husband. Isidore, previously content in his own marriage, wonders if "Technicolor love screamed its Hollywood footage for him just long enough for day-to-day life from ever again seeming tolerable?"
Tavia Gilbert handles most of the audiobook narration, more than meeting the challenge of voicing a beloved performer. The novel's prose crackles with the cadence of showbiz, and Gilbert, whose work this reader has not previously encountered, turns in one of the great audiobook performances in recent memory. It isn't only her range and dramatic flair, both of which are impressive, but her deep respect for words that makes the reader forget she didn't write them.
Smaller sections are narrated by the author, whose less dramatic delivery contrasts charmingly with Tavia Gilbert. Brief segments throughout the book remind us that Isidore Strauss was, like Lucille Ball, a real person. Grandson Darin meets with entertainment executives, hoping to tell the story his grandfather never got to tell. How much of that story is true remains a mystery until the novel's final pages.
Though its subject is one of history's great comedians, The Queen of Tuesday isn't quite a comedy. If comedy is tragedy plus time, Strauss's novel shows time itself to be the tragedy. "How can we say we want today to mean something without saying it?" Lucille and Isidore wonder at the height of their affair. Neither knows, leaving it to this book's author to find the words.
---