Finding Your True Self in Middle Age: Ten Midlife Coming-of-Age Novels
Sarah McCraw Crow on the Richest Time for Finding Our Truer Selves
There's a jokey cultural shorthand for middle age—comically embarrassing midlife crises and the sense that one's desirability has plummeted. But midlife can be the moment we cast off the parts of ourselves that never fit. While it may be true we come of age throughout our lives, stepping bravely, or tentatively, into new identities as the old ones chafe, midlife might be the richest time for finding that truer self, a time when we're young and old, all at once.
As I wrote the pages that would become my novel The Wrong Kind of Woman, I saw that my character Virginia, newly widowed and adrift, would have to rethink her whole life. She's suddenly forced to see herself, her husband, and her community—the traditional, Animal-House-like men's college where her husband taught—in an unflattering new light. That's partly because the novel takes place in 1970-1971, with a setting loosely based on Dartmouth College, pre-coeducation, with the background pressures of the Vietnam War, anti-war student protests and more radical activism, and the emerging second wave of the women's movement: a time of great change. But it's also because Virginia has reached middle age.
As my character Virginia helps her new friends bring change to their community, she begins to discover a truer identity and a way forward for the rest of her life. At forty, she's come of age.
I love finding characters in other novels who've done the same. Here are some notable midlife coming-of-age novels.
*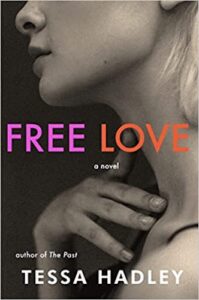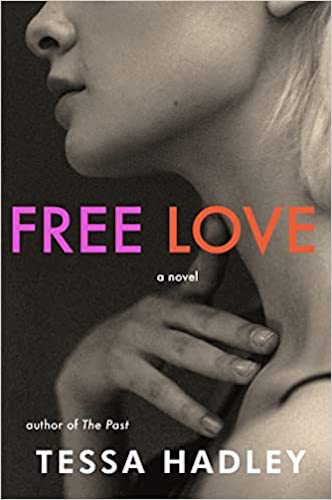 Tessa Hadley, Free Love
(Harper)

British novelist Tessa Hadley writes gorgeous evocations of characters at all ages, but especially women in midlife. Free Love follows forty-year-old Phyllis Fischer, who makes a seemingly silly and precipitate decision: After a kiss with a twenty-something family friend, she leaves her suburban life and her husband and kids behind. Within days, she's entered a very different life in swinging-Sixties-grungy-mod London. Though this new life takes some turns for the worse, Phyllis finds her own way, twenty years after marrying, having children, and living as a suburban wife.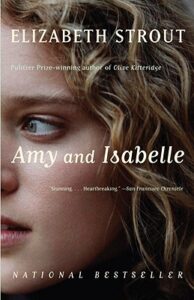 Elizabeth Strout, Amy and Isabelle
(Vintage)
Elizabeth Strout's debut novel, which roves between the perspectives of a mother and teen daughter, is a dual coming-of-age novel. Single mom Isabelle and sixteen-year-old daughter Amy live in the small and gossipy New England mill town Shirley Falls. It's the late Sixties, and Isabelle is determined to live a proper life, despite her singlehood. As teenage Amy (naturally) rebels against Isabelle's repressive strictures, falling in love with the wrong guy, Isabelle in turn struggles, resentful of Amy and unable to figure out how to parent her. The two move through a rough summer. By summer's end Isabelle, the mom, is the more changed character, the one who sheds her false old self and really begins to live, and to love her daughter unconditionally.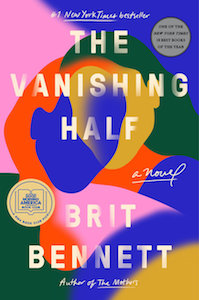 Brit Bennett, The Vanishing Half
(Riverhead)
Brit Bennett's The Vanishing Half is an absorbing family saga, as well as a penetrating look at racism and colorism. At the heart of the story are Desiree and Stella Vignes, twins who grow up in 1950s Mallard, Louisiana, a tiny all-black town where everyone is light-skinned, a town that's not on any map. At sixteen, they run away to New Orleans, where Stella is mistaken for a white woman in a job interview, and she decides to disappear from her life, taking on a white identity. And Desiree, after moving to Washington, DC, marrying a black man, and having a baby, flees home to Mallard when the husband becomes abusive. Though Desiree's and Stella's lives have significant parallels—each has one daughter, around the same age—they unspool in opposite ways, Desiree mired in her old life in Mallard, and Stella anxiously living a lie, though a moneyed, southern-California lie. Until they reunite in midlife, neither twin can grow up. For Stella, that means living a more truthful life, and for Desiree, it means leaving Mallard behind, and to begin at last to think about her future.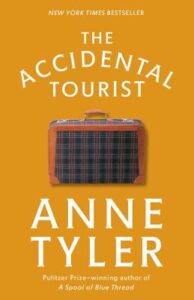 Anne Tyler, The Accidental Tourist
(Vintage)
Anne Tyler might be the master of the midlife coming-of-age novel (see also Breathing Lessons, Ladder of Years, Back When We Were Grownups, The Amateur Marriage, The Beginner's Goodbye). In The Accidental Tourist, Baltimorean Macon Leary is adrift after the violent death of his twelve-year-old son. His wife has left him—even before their son's death, Macon's unhappy rigidity, rule-making, and uptightness had begun to drive her away. More or less alone in the world, Macon sits at home writing travel guides for businessmen (like him) who hate to travel, his only friend his badly behaved dog. After resisting overtures from Muriel Pritchard, a lonely and odd young dog trainer, Macon gives in and begins to connect with her. Macon slowly and painfully comes of age as a more whole, loving self, a journey that's by turns grief-suffused and laugh-out-loud hilarious.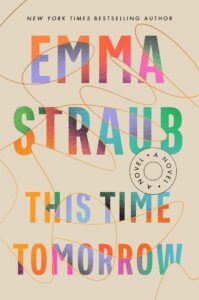 Emma Straub, This Time Tomorrow
(Riverhead)
In This Time Tomorrow, Alice Stern, a born-and-bred New Yorker whose life has stalled and whose beloved dad is dying, gets too drunk on her fortieth birthday in an underground subway bar. She wakes up in the mid-90s as her sixteen-year-old self in her childhood home on the Upper West Side. Straub's latest novel is a time-travel story—Alice goes back and forth between her forty-year-old and sixteen-year-old selves, trying on slightly different identities each time. Through these Groundhog Day-ish episodes, Alice grows and changes, from stuck and sad to a happier, richer sense of herself.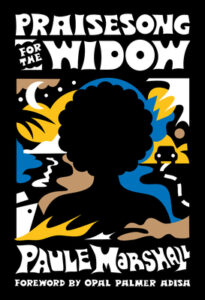 Paule Marshall, Praisesong for the Widow
(McSweeney's)

The timeframe of Paule Marshall's short novel Praisesong for the Widow runs only a few days: middle-aged widow Avey Johnson, disturbed by a dream of her long-dead great-aunt, abruptly decides to leave the Caribbean cruise she's taking with two friends, and then gets stuck on the island of Grenada before she can fly home to suburban New York City. But what happens on that short island stay—an encounter with ancient African dances that Avey recognizes from long-ago visits to her great-aunt's island home off South Carolina—brings Avey back to her childhood self, and forward to her future. As Avey's memory roams over decades, she realizes that the endless work of striving to become "respectably" middle-class, despite crushing racism, made Avey and her husband Jerome strangers to each other, and made Avey a stranger to herself. She returns home with a very different future in mind.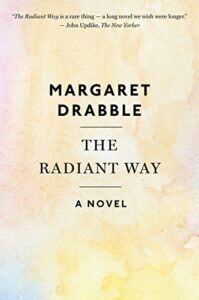 Margaret Drabble, The Radiant Way
(Harper)
Margaret Drabble's 1987 novel The Radiant Way is a big social-issues novel with an expansive timeframe, 1979 to 1986, following three friends in their mid-forties: Liz, a psychologist, outwardly the most successful with her career, big house, BBC-exec husband, and kids; Esther, an art historian; and Alix, who teaches in a women's prison. Throughout, there's lots of commentary, as Drabble depicts Thatcher-era England as a bleak wasteland, and in the background, a serial killer is cutting off women's heads. But the heart of the novel is the way these women, who met in the Fifties as idealistic Cambridge students, have their lives upended in big and small ways at midlife. By the novel's end, Liz, Esther, and Alix have all reached different understandings of themselves.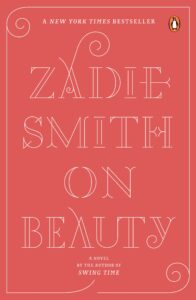 Zadie Smith, On Beauty
(Penguin Books)
Zadie Smith's On Beauty is a layered family story, and an homage to E.M. Forster's Howard's End, set in the 21st century in a Harvard-Cambridge-esque community, where Smith has a lot of fun puncturing academic culture. The Belsey family—Howard is a white British art historian, married to Kiki, a black American and a nurse, and their three young-adult kids—are suddenly forced into contact with the Kipps family—Monty Kipps is a right-wing academic and Christian pontificator, and rival to Howard, and Monty's wife Carlene a serene and perplexing presence. (For Howards End fans, Kiki Belsey takes the sympathetic Margaret Schlegel role, and Howard and the three kids share aspects of impulsive younger sister Helen Schlagel.) Howard Belsey is trying to keep his marriage together after an affair, and flailing at work. Kiki is the more serious, less-satirical heart of the novel, and as she decides whether to leave Howard, she's drawn to the mysterious Carlene Belsey. As Kiki and Howard wade through their crises, both come of age, apart and together, in unexpected ways.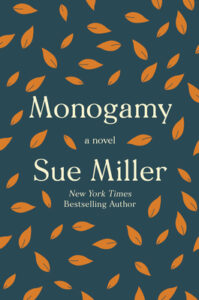 Sue Miller, Monogamy
(Harper Perennial)
In Sue Miller's novel Monogamy, Annie and Graham have made a good life in Cambridge, MA, Graham as the gregarious owner of a thriving neighborhood bookstore and Annie as an artist; they've been married for thirty years and have a grown daughter in med school. Graham has a son by his first marriage, and both Graham and Annie are friendly with Graham's first wife. But after Graham dies suddenly, Annie goes from almost-catatonic deep mourning to learning a terrible secret about Graham, and finally to a new sense of herself, her husband, and her marriage. As its title suggests, Monogamy is a partly a layered look at the complications of a long marriage, but at its heart, it's the story of a woman who finds a very different understanding of herself and her life after her husband dies too soon.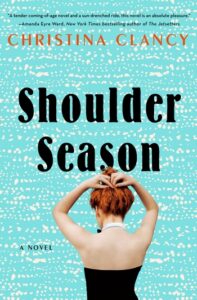 Christina Clancy, Shoulder Season
(St Martin's  Press)
Set in 1981 with a present-day frame narrative, Shoulder Season tells the story of Sherri Taylor, who at nineteen gets a job as a Playboy bunny at a Playboy resort on a Wisconsin lake (yes, there was a Playboy resort on the shore of Lake Geneva, WI). Naïve and lonely, Sherri makes some poor choices that end in a tragic accident, and she flees the resort for California, where she lets her life careen out of control. It's not until many years later, when she's almost sixty but still haunted by the accident and living a half-life, that she's drawn back to Wisconsin and begins to face the most difficult moments of her youth. And that's when she's finally freed to become herself.
___________________________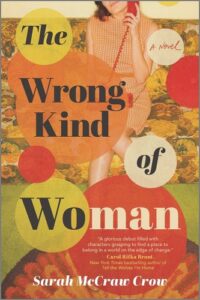 Sarah McCraw Crow's The Wrong Kind of Woman is available now in paperback.
---