Finding Power in the Collective Voice of Kurdish Women
Houzan Mahmoud on Anthologizing the Stories of a People
During the Iraq-Iran War in the 1980s, my younger brother and I would beg our mother to tell us stories as we huddled in our basement, taking shelter from the bombing. I still remember them; her tales were rich with vibrant characters, and they reflected the history of the region, handed down across generations through the oral tradition.
Like most women of her generation, my mother did not receive an education. She was nevertheless a wise woman, as well as a great storyteller. One regret that still hurts me deeply is that it never occurred to me to record all her stories before she died.
Many of the songs and stories invented by women and passed down the generations have been similarly lost due to a lack of proper archiving and even a biased written history that, by default, erases women and their contributions to every aspect of life and culture. War, the colonization of Kurdistan, and life under successive fascist dictators who enacted genocidal policies against the Kurds have also contributed to this cultural loss, along with women's limited access to higher education, a dearth in research and writing by women for women, and an inadequate feminist consciousness among the public. Writing requires financial resources and, in many cases, the right connections and access to the establishment.
In 1929, Virginia Woolf published A Room of One's Own, in which she rightly points out women must have space and money in order to be able to write. She wrote her essay in the time period between the two World Wars, which resulted in mass poverty, hunger, and destruction, and which would see the map of the world redefined and reshaped. In my homeland, the fate of millions of Kurds was decided by British and French colonizers after the fall of the Ottoman Empire in the First World War. Since then, Kurdish women have suffered from a double oppression—national and sex-based violence. Kurds have been deprived of their mother tongue, education, and employment, and have been victims of political persecution, imprisonment, forced exile, and genocide.
It can be a struggle just to be heard, especially if you are a woman from the global South or stateless, as in our case.
Past that point, women who could receive an education were taught in languages that were not theirs. As part of government-forced assimilation programs, they had to study in Arabic, Farsi, and Turkish. The exception was in Iraqi Kurdistan, where, after a long fight, the Iraqi government was forced to allow Kurds to educate one another in Kurdish. Even this small achievement was under threat of being revoked until the fall of Saddam Hussein's regime in 2003—one reason why proper research and writing by women for women are still not fully developed.
I am writing these lines exactly 92 years after Woolf wrote her essay, yet the predicament she writes of still holds true for many women around the world. They do not have access to education, clean water, or even a roof over their own heads, let alone the economic independence necessary to write. Kurdish women, in particular, have had to struggle to stay alive and to fight erasure and fascism. Being able to write has been a luxury very few women could afford.
Writing is not an easy task, especially if you are born in the wrong place at the wrong time, without access to educational resources and the right connections needed in the world of publishing. Not even war, exodus, the death of loved ones, trauma, or patriarchal violence could stifle human creativity, though.
Oftentimes, we hear about famous powerful women, around whom entire histories are constructed. This is frequently because they are women from powerful families, who, at most, did some "charity" work or who simply replaced their powerful late husbands and fathers to exercise power over the rest of the population. Yet, a close look at the women whose impact is blown out of proportion only reveals the power of wealth and the right connections to the establishment of the time. It is this status that gives them voice, power, and history. Those creative women who are not a part of the circle of power and influence, however, are easily overlooked and their contributions erased. As a result, we cannot truly have an accurate picture of how most ordinary women lived, struggled, suffered, loved, learned or died.
The more I immerse myself in feminist literature and the stronger my own feminist consciousness grows, the more I realize that our collective voice is our only weapon in the fight for survival amid erasure and violence. As women, we must try to recover our foremothers' fragments from history. It is for this reason that I decided to put together a book that would preserve the stories of Kurdish women, as told by them. It took me two years with my colleagues at Culture Project, a cultural organization I co-founded alongside other Kurdish writers and feminists, to curate, compile, and edit 25 stories from Kurdish women from all parts of Kurdistan and the diaspora. The book Kurdish Women's Stories, published by Pluto Press in London and University of Alberta Press in Canada, contains stories told and written by five generations of women.
Borrowing Virginia Wolf's concept in A Room of One's Own, I thought that this collection of stories could be the first book of their own—a collective endeavor by Kurdish women to tell their own stories to the world. Such a book was long overdue. It was time for Kurdish women to claim their rightful place in history and write themselves back into existence.
Through self-writing, Kurdish women assert their own subjectivity. As small a space as it may be, it is nonetheless an opportunity to pronounce their rage against those who turned their lives upside down, whether government forces, men, or society at large. These self-narratives—full of upheaval, loss, love, struggle, survival, and optimism—could be seen as a daring ritual for the feminine voice.
Navigating this divided world defined by wealth, class, race, sex, privilege, and the right connections, it can be a struggle just to be heard, especially if you are a woman from the global South or stateless, as in our case. My quest is to arrive at the roots of our divisions, the suppression of our liberties, and the power relations that have defined our lives. We can only achieve this by reclaiming history in its entirety—by including all of its voices, not only the privileged ones.
__________________________________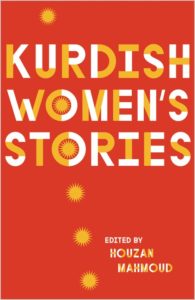 Kurdish Women's Stories is available via Pluto Press.
---