Finding My Father Through His Relationship with Judaism
Deborah Tannen on Growing Up in a Proudly Jewish—if Not Necessarily Religious—Household
Everything about my father is Jewish: his love of reading, of ideas, of learning make him much like a Talmudic scholar; his wry, self-deprecating humor; the jokes he tells; that he's a master joke teller who knows a joke—a Jewish joke—for nearly every circumstance and topic that arises when he's in a social situation. Even his distaste for pets—he put up with my adored cats, but never approved of them—reflects a discomfort with the very notion of animals in a home, which, I learn as an adult, is common among orthodox Jews. (When my new kitten mistakes my father's long leg for a tree and tries to run up it, using claws to hang on, I fear she's proving him right.) For almost all his life, the people my father is close to are Jewish. The Warsaw community he grew up in was entirely Jewish. The street whose name I heard so many times, Twarda Ulica, was one of the main streets in the Hasidic community of Warsaw. The families who live on the block in Brooklyn where I grow up are almost all Catholic, but the two couples who become my parents' close friends head the two other Jewish families living on our block. When my parents move to Westchester, most of those who live in their condominium complex and all their friends are Jewish. The same is true when they move to Florida.
My sisters' and my biblical first names reflect our father's devotion to Jewishness: Naomi, Miriam, and Deborah—and Rachel for the fourth daughter he wanted—were his choices. Our mother's preference, reflecting her desire to be a modern American Jew, shows up in our middle names: Louise, Barbara, and Frances—names none of us use. The foods we ate at home were Jewish. Not just lox and bagels but chopped liver, gefilte fish, borscht, blintzes, and matzoh ball soup. Except in our house there weren't any matzoh balls; there were only kneidlach. The English I heard at home growing up was part Yiddish, though I didn't always recognize it. We called my mother's mother Babi, which rhymes with "lobby," and my father's mother Bubi, with the vowel in "book." Throughout my childhood I thought these were completely different names. It wasn't until I grew up and heard others refer to their "bubbees" that I realized Babi and Bubi aren't names at all, but different ways to pronounce the Yiddish word for "grandmother."
My English is still Yiddish-rich. I save my father's witty quips in a file I call "Dad's chochmes." That's the Yiddish word my father uses when he tells me the funny or charming things my little nieces and nephews say. "Have you heard the latest chochmes from . . . ?" he begins, then recounts something worthy of Kids Say the Darndest Things, like when my sister's little boy asked, "Grandpa, why are you bald? What happened to your hair?" and he replied, "It fell out." The boy then grabbed a fistful of hair on top of his own head, tugged it, and said, "Mine's stuck!"
I automatically use Yiddish words and expressions in conversation. I describe someone as a nudnik or a schnorrer, then have to explain what the word means. But the English translations—a pest, a sponger—never capture the words' true meanings, which is why I use the Yiddish words in the first place. I say, "You needed that like a loch-in-kop," to show sympathy when someone tells me about an inconvenience or stroke of ill luck. I could say, "You needed that like a hole in the head," but in English it sounds lame, and flat. When I say it in Yiddish, I hear my mother's voice, then I see her, and I like bringing her into the room by echoing what she would say.
The older he gets, the more Yiddish my father uses in conversation. When he's ninety-seven, he says, "Malokh hamoves, the angel of death. I feel he's hovering over me, sending me signals saying 'It's time. Come on.'"
My experience of Passover is a pale trace of what my father's was.
His using Yiddish words and sayings is one of the things I love about talking to my father—and miss most poignantly after he's gone. But the Yiddish words I hear are misshapen by my English ears. One day my father remarks, "It's halomoid, the plain days of Passover." "Halomoid" is the way I write it down, because that's how it sounds to me. Reading my notes, I turn to Google and find the Yiddish term Chol Hamoed—the days between the beginning and ending holy days of Passover. I like this phrase, though I'm not sure how to pronounce it. I also like the concept, though to me Passover is a one-day holiday: the first or second night, when I attend a seder. (Here I confront the merging of Yiddish and English. At first I think I should put "seder" in italics, because it's a foreign word. But to me it's an English word, so I don't.) The literal translation of Chol Hamoed, Google tells me, is "the weekday of the festival," but I prefer the way my father defines it: "the plain days of Passover."
This phrase reminds me that my experience of Passover is a pale trace of what my father's was, when life in his grandfather's home was shaped by the elaborate preparations for, and strict observance of, Jewish holidays. But there's a connection, too: during my childhood, Passover brings my extended family together as holidays did when my father was a child in Warsaw, though the tone is different. Our annual seders were joint productions of my mother's sisters and brothers and their families. With fourteen adults and eleven children who otherwise rarely gather all together, it feels more like an exuberant celebration than a somber religious observance. Though Uncle Albert makes a heroic attempt to read aloud the Hagaddah—the text telling the story of Exodus, as tradition requires, before dinner begins—he never manages to make it through, because Uncle Norman keeps interrupting with irreverent jokes and asides, till it all breaks down with everyone talking and laughing and demanding to eat. It was at a seder that I had my first public speaking experience. When I was five or six, I stood on a chair and called out an injustice: everyone was telling the children to stop making noise, I announced, but the adults were making more noise than we were.
During my childhood, we don't talk about being Jewish; we just are. The vast majority of my classmates at public school are Jewish, because most of the Catholic kids in my neighborhood go to Catholic school. All my teachers are Jewish, too, so the school closes on Jewish holidays. But I feel connected to Christmas, too. I look forward to it, because I love the way houses in our neighborhood are festooned. I know what decorations each house will have, and I have my favorites among them: the colored lights that fringe the entire porch of the house next door, and the Santa aboard a sled pulled by reindeer on the lawn of a house a few blocks away. At home, we open gifts Christmas morning—a ritual our parents observe so we children won't feel left out or deprived—but we know they come from our parents, not Santa. And we don't have a tree, except one year when my father's mother goes away for the season—my mother's mother has passed on—and we have a small one, which we call a Chanukah bush. We know that's funny, and that it captures the way we adapt aspects of Christian culture while remaining thoroughly Jewish.
My father's skepticism about religion makes the world a safer place. While I'm in elementary school, my Catholic friend Claudia moves to Long Island and invites me to spend a weekend there. On Sunday morning, the family goes to church, and I go with them. I'm excited to experience something new, and am glad that Claudia's mother gives me a coin to put in the plate that will be passed around during the service. When I get home, I eagerly tell my parents about my visit. My mother listens with calm interest until I mention that everyone kneeled in church, and I did, too. "Why did you kneel?" she demands, her voice thick with alarm.
"What else could I do?" I ask, mortified to learn I did something terrible.
"You could have stood at the back!"
My father absolves me: "It's a meaningless ritual, so there can't be any harm in doing it."
My father's Jewish identity is inseparable from the experience of anti-Semitism. "We were a fairly self-contained Jewish community," he recalls, but I remember the dread everybody felt when a troop of Cossacks on horseback would ride through, wielding leather whips. I was told they would sometimes use them to strike Jews who were within reach. I personally never witnessed that, but I caught the attitudes of the others and felt fear, though at the same time I admired the horsemen.
In Poland, animosity against Jews was endemic, a perennial physical threat.
One time—it was before the war, my sister and I may have been maybe seven and five—Mother had taken us to a big celebration. It must have been a religious, Catholic celebration; they were very colorful and interesting and there were parades we used to watch on occasion. That's why I remember them so well. The Poles, on their holy days, used to bring out the priests in their full regalia with the fancy crosses and gilded accoutrements. This time we were in the midst of a plaza, with thousands of people, and my mother had my sister and me by the hand, and we were enjoying the parade. I couldn't see too much, I was too small. And all of a sudden Mother said, "Let's go." She took Ella's hand and mine and we ran home. It frightened me. I couldn't understand why. But I learned later when she was explaining it to the adults that they started anti-Semitic talk in the crowd, and she was afraid they were going to start attacking Jews. It had an effect, that I was in danger, that we were in danger. That was the atmosphere in which Jews had to live in Poland.
Another scene my father recalls from his childhood also ends without incident but is a reminder that it might not have:
In 1919, in the summer, we were staying in the country, in Michalin. My uncle Bernard came to say goodbye; he was leaving for America. At the time it didn't occur to me that we'll be following him a year later. Bernard was eighteen, only seven years older than I was. He took me and a friend of mine, the three of us went to a brook. And of course nobody had any bathing suits, or had thought of bathing suits. We were naked. We saw coming along three other boys, bigger boys than I, but not bigger than Bernard, and we were a little concerned that we were going to have trouble with them. We knew that they were gentile, and they knew that we were Jewish, because only the Jewish boys were circumcised, and none of the gentile boys were circumcised. But they didn't start up with us. Very often they did.
When I went to school—schools were not free, education was not compulsory, in those years, when Poland was under the Russians. So Jews and gentiles had their own schools. And sometimes we'd get out at the same time from the schools, and fights would break out. And we had some, but they weren't too serious. But these boys—we used to call them black eyes—I used to try and avoid them.
The image of trying to avoid threatening boys from another school brings back a scene from my childhood. When I walked to and from elementary school in Brooklyn, I hoped to avoid the tough boys who went to a nearby Catholic school, Holy Innocents. I saw irony in the school's name; to me these boys were holy terrors. In the winter, they threw snowballs at the public school girls. But I didn't think they picked on us because we were Jewish. I assumed they picked on us because we were girls.
In Poland, animosity against Jews was endemic, a perennial physical threat. Though he didn't experience pogroms—rampages where Christian mobs destroyed Jewish homes and shops, killing any Jews they could find—my father knew they were taking place elsewhere, and sensed adults' fear that attacks against Jews could occur closer to home. How lucky I am to never have felt that. When I first heard that the white supremacists attending the infamous demonstration in Charlottesville, Virginia, chanted, "Jews will not replace us," I had never heard that expression before; it sounded bizarre, and I was uncertain what it meant. I now know it's a theme common among white supremacists. During that year, 2017, according to FBI statistics, 60 percent of religious hate crimes were anti-Jewish (17 percent were anti-Islamic and 5 percent anti-Catholic).
Then there is a massacre in a Pittsburgh synagogue: eleven people killed and many others wounded because they're Jews. There follow attacks on Jews in California, New Jersey, and New York. My feeling of safety starts to seem like complacency.
My father is perplexed when my sister Naomi's husband, Joe, converts to Judaism, and together they join a synagogue, observe the Sabbath, and become interested in Jewish spirituality. He asks Naomi, "Why would anyone want to join a despised people?"
The assumption underlying this comment finds its way into my father's humor. He also says, "I like converts. They're less likely to be anti-Semitic." If I tell him of a minor frustration—say, another driver grabbed a parking spot I was heading for—he quips, "Maybe he's anti-Semitic." It's funny because it's so obviously absurd, but it's revealing, too: that anti-Semitism is ubiquitous and inescapable, is part of the landscape of my father's world.
I'm reading aloud to my parents a commencement address I'm going to give at a community college in upstate New York, where few Jews live. In it, I refer to being Jewish. "You shouldn't mention that," my father says. "It might turn some people against you." But being Jewish is at the heart of my academic research: my doctoral dissertation and first linguistics book are about New York Jewish conversational style. So I don't take the reference out of my commencement address, and I don't think it could turn anyone against me. I'm no longer certain I was right.
My father's assumption that anti-Semitism is ubiquitous grows out of his experience—and underlies his commitment to Israel. When he's ninety-three, having just returned home from the hospital, he says, "I had a great opportunity to have a good death. Unfortunately, I passed it up."
I ask, "Are you really sorry you didn't die?"
"No," he says. "If asked, I'd stick around. Israel is in such a difficult situation. How can I leave her in the lurch?"
During my childhood, I remember setting foot in a synagogue only once. I don't recall why we went; maybe my father thought it would be a good way to remind us kids of our Jewishness.
We all got dressed up and walked to the synagogue off Coney Island Avenue. I was excited about getting dressed up and about the prospect of seeing the inside of the synagogue, which I passed on my way to school every day. When we arrived, the service was already under way, so we filed in, my father first, the rest of us behind him in a line, and stood along the back wall. After a very short time—I remember it as only a few minutes—a whisper went down the line, from my father at the far end to me, at the other: "We're leaving. Daddy wants to go." Since I was the youngest and the last one in, I had to lead us all out. Once outside, my father told us that hearing the Hebrew prayers brought back the hours, days, years he suffered in religious study throughout his childhood, starting with cheder.
Cheder (pronounced HAY-der)—the religious school for Hasidic boys—is key to an irony: my father is why I feel deeply Jewish and also why I grew up without ever attending a synagogue.
"I was sent off to cheder," my father recalls, when I was four years old, and I hated it. I hated parting from my friends and hated them for being able to continue playing while I had to sit at a desk every day from nine to four, listening to things I didn't understand and didn't want to know. I did get some satisfaction when a visitor came. I was taller than the others, so I was sitting in the back, which was fair so I can see above them. But when they expected an examiner, the rabbi put me in the front seat. And then, to show the examiner, he said, "Well, we'll take one of the boys and have him read." And I was the boy that he picked. You know [he laughs] just by coincidence, he picked me—any boy. And I read very fast. Ivre they called it, reading. I must have been still under five, because the rabbi was showing off that I could read fast, the Hebrew, Genesis. I did get some satisfaction from that.
But most of the time I got punished. I got punished because I used to look out the window wistfully. Among my earliest memories—I must have been five—is looking out the window. It was winter, and growing dark early, and a man was lighting the tall streetlamps with a long pole that had a flame at its end. I guess I remember because I wanted so badly to be outside myself.
My father describes this scene often. And he always uses the word "wistfully" to convey how forlorn he felt.
Cheder turned me against religion. I could see that what they were teaching wasn't logical. One time the rabbi was telling us about a great holy man. He was so holy, the rabbi said, if you looked at him you'd go blind in one eye. If you looked at him again, you'd go blind in the other eye. And if you looked at him a third time, you'd be struck dead. I asked, "How can you look at him if you're blind?" He didn't say anything. He just walked over and smacked me.
I often got punished for asking bad questions that I shouldn't have asked, and for pointing out contradictions. Another time the rabbi was telling us that the good people are rewarded and the bad people are punished, and I said, "But that isn't the way it works here!" He came over to me, picked me up by the ear, and he tore it away a little bit. There was a drop of blood—a little bit came out. When I came home I complained to my mother what he did. She said, "You must have deserved it." But we had a servant at that time, Salka, who liked me. The next morning Salka took me to the cheder, and she went over to the rabbi, and she said, "If you ever touch that child again, I'm going to come back here and I'm going to tear your beard out! Hair by hair!" I was in such awe of the rabbi, that it amazed me to see him cowed by our Salka. After that, the only punishment I got was a smack with a ruler on the hand.
The misery my father associates with Hebrew prayers and texts leaks out when I send my parents my first published academic paper. My father calls to tell me he read and admired it. He praises my close analysis of language, then adds that the way I pick apart the subtle meanings of words reminds him of studying the language of the Talmud, which he was forced to spend so many hours doing—all day in cheder when he was little, and all evening with a tutor when he was older and attended high school during the day. As describing these experiences brings them back, he blurts, "I don't know how you can stand it!"
Though he turned against religion, he never turned against Judaism.
There was another way that my father was forced to sit through interminable, incomprehensible Hebrew prayers when he was very young. He recalls:
After my father died, my grandfather took me by the hand every single day for a year to say kaddish—the prayer for the dead—in the synagogue. Not the shtibel across the street from our apartment, but a real synagogue, a big one, some distance from our house. I had to stay there for the entire service. I guess it was this experience, more than any other, that predisposed me against attending a house of worship for the rest of my life. But I can understand the sentiments and feelings of religious people of every faith. When I was very young, my sister, Ella, was in the hospital having surgery—an appendix operation—and I spent the entire day praying, reading tehillim, with such fervor and concentration, I had the absolute conviction that God was listening and will be moved. I must have been under six because I became an atheist at that age.
Though my father became an atheist at six and remained one for the rest of his life—in an impassioned, not a casual way—that early fervor and conviction, the devout faith of his grandfather and the Hasidic community he was raised in, are an indelible part of him. Sometimes it underlies his wry humor, presuming the existence of the deity he doesn't believe in, as when he says, "I can imagine how God hates me, the way I talk about him," or ridicules the rules that render some foods kosher and others not: "Why should God care if I eat a shrimp?" He mocks Hasidic rituals that he learned in his grandfather's home: they'd say a prayer over every little thing—before you eat, before you wash your hands, before you use the toilet. Yet he absorbed the spirit of Hasidism, even as he abandoned its forms: saying prayers over every little thing means you're reminded, again and again, to be grateful; my father never loses that stance. He says, "Aren't we lucky to have plenty of food?" "Aren't we lucky to have clean water, flush toilets?" When he has excruciating pain from sciatica all along his left side, and people ask how he is, he says, "I'm wonderful. The whole right side of my body doesn't hurt." My father knows that his gratitude is a form of prayer. Telling me how much he enjoys his new walker, he says, "I tell you I feel so wonderful when I use it. I want to pray to God, to thank him, but I can't, so I'll have Naomi and Joe do it for me."
I once heard a rabbi say that atheism is the fourth denomination of modern Judaism, the other three being orthodox, conservative, and reform. My father's life shows a way this is true. Though he turned against religion, he never turned against Judaism. He felt proud of being Jewish, and taught us to be proud of it, too.
My father's atheism came with his Communism, which was rooted in a wish to make the world, and the lives of the people in it, better—and that, too, is deeply Jewish: the classic rabbinic injunction to repair the world, tikkun olam. This insight is brought home to me by—of all people—an Episcopal priest. In her book Holy Envy, Barbara Brown Taylor describes aspects of religions other than her own that she deeply admires. She is drawn to Judaism, she explains, because Jewish identity doesn't reside, as Christian identity does, in what you believe, but in how you live: Jews are called to make the world better, and to consider the effects of their actions on others. From this perspective, my father hewed to the Jewish religion, even as he distanced himself from his grandfather's Hasidism. Yet in a way, he hewed to that, too. The word "hasid" derives from the Hebrew word for "kindness," reflecting the focus on actions that help others, which Reverend Taylor describes as fundamental to Judaism. When I ask relatives and friends about their impressions of my father, nearly every one of them, in describing him, uses the word "kind."
When my parents are old and my sisters' children grown, we have family reunions at a resort still owned and run by the Workmen's Circle, an organization my father joined as a teenager and remained a member of till he died. "Workmen's Circle" is the English translation of Der Arbeter Ring, the name given to the organization when it was founded in 1900 by people just like my father: Jewish immigrants in New York, dedicated to helping workers and to Yiddishkeit—everything Jewish, except religion. At Circle Lodge, everyone in my family appreciates the Yiddish-culture focus of the activities, but to my father it's something more: a remnant and reminder of his early life in this country. And gathering his large loving family in this place must also remind him of his early life in the vibrant but already waning community of Jewish Warsaw, and of everything that happened—to him and to that community—from the time that he left it. I think when my father chose this Jewish setting for our family reunions, he was recalling what his grandfather said to him, in their last meeting before my father left for America. Holding his grandson on his lap, as tears rolled down his cheeks and into his beard, the old man said, "Never forget that you are a Jew." When my father himself is old, he tells me he wonders, Did I betray him?
You didn't, I think. You remember you're a Jew by remembering him. I remember I'm a Jew by remembering you.
__________________________________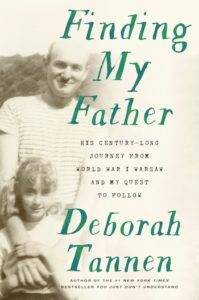 Excerpted from Finding My Father copyright © 2020 by Deborah Tannen. Used by permission of Ballantine Books, an imprint of Random House, a division of Penguin Random House LLC. All rights reserved. No part of this excerpt may be reproduced or reprinted without permission in writing from the publisher.
---