Exploring the Forgotten Writerly Playground of the European Aristocracy
Destination Baden: Hot Baths, Good Conversation, and a Lot of Gambling
This excerpt from Orlando Figes' new book, The Europeans, follows the influential 19th-century mezzo-soprano Pauline Viardot, and the Russian novelist (and Viardot's frequent collaborator) Ivan Turgenev.
*
In 1863, the Viardots left France and made their home in Baden-Baden, the fashionable German spa town on the edge of the Black Forest. They had spent four months in Baden (as it was generally known) in the summer of 1862, when Pauline was engaged to sing there for the season, and had enjoyed themselves so much that they decided to move there. Towards the end of their stay they had bought a large house with extensive grounds in the Tiergarten area, a wooded hillside on the southern outskirts of Baden, from which there were lovely views across meadows towards the old ruined castle above the town. Ordering major renovations and the building of a gallery-cum-concert hall, the Viardots returned to Paris for the winter, but they came back at the start of May, after Pauline's last performance of Orphée.
Turgenev followed them with Paulinette, then aged 20, and her governess, renting rooms for the three of them in Lichtental, not far from the Viardot villa, although his daughter did not like it there, could not stand the Viardots, and soon returned to Paris, where she lived at first at their old address in the rue de Rivoli, and when the lease on that expired, in a smaller apartment in Passy. Whether Pauline felt guilty for driving her away is hard to say. In her diary, in July 1863, she remarked only that Paulinette was "a bad girl" whose main fault was not to appreciate her "adorable father."
After years of separation, Turgenev and Pauline had become reunited during recent months. Their relationship was calmer and more stable, closer to a marriage than a love affair, and the move to Germany represented a new start for them. "We are in paradise," Turgenev wrote to his friend, the poet Louis Pomey, shortly after his arrival in Baden: "the countryside is delightful, the weather delightful, the atmosphere delightful, and I have found a delightful small apartment where I intend to give you a delightful evening."
Baden was an international town, cosmopolitan in its outlook, liberal in its attitudes.
The move was mainly Pauline's decision. Her singing voice had lost its force, worn out after years of stretching over its extraordinary range, and was "no longer beautiful," in the view of Clara Schumann's daughter, Eugenie. Having been rejected for a major part in Les Troyens, Pauline had decided to retire from the Paris Opéra and the other major houses of Europe to concentrate instead on teaching and composing, limiting her stage performances to small provincial theaters, which in her view were of a higher standard in Germany compared to France. "In Paris it is impossible for me to do anything satisfactory," she wrote to Rietz. "I should have to sing bad music prettily (I hate prettiness in art), and do other things that honorable women ought not to do. Ah, dearest friend, you have no idea of the baseness which rules here now in art and in every sphere of public life."
The seriousness of German music culture was an attraction for the Viardots, but politics was also driving them away from France. For Louis, a convinced republican, the move was rooted in a "great hatred" of Napoleon III, as Turgenev described it in a letter to Flaubert. Unlike other radicals of 1848, who had made their peace with the Empire's authoritarianism, Louis remained implacably opposed to the imperial regime, whose crackdown against the press and academic freedom continued to offend his democratic principles well into the 1860s, when censorship was loosened and liberal reforms were introduced. Still, as long as Pauline had a chance of singing on a major Paris stage, he remained with her in the capital and refrained from writing anything that might make life more difficult for her. Following her triumph in Orphée, she appeared for two more seasons at the Théâtre Lyrique, and even made a comeback at the Paris Opéra, singing in Alceste, Il Trovatore and Les Huguenots, the last in a performance for Napoleon III and the King of Sweden in August 1861. The next year she had a successful run with La Favorite at the Opéra. But as soon as Pauline had retired from the Paris stage, Louis's opposition to Napoleon drove them both into self-imposed exile.
As for Turgenev, he had never liked Paris, though how much that was due to his own situation as a foreigner is difficult to judge. "I cannot tell you how deeply I hate everything French and especially Parisian," he wrote to his friend Fet in 1860. The French thought that "everything that is not theirs is wild and stupid," he told Tolstoy; their heads were filled with clichés and received ideas. Germany was more to his liking. He had been a student in Berlin, spoke the language fluently, and felt a close affinity to German culture. But he would have followed Pauline anywhere. He could not live without the Viardots, he told his friends, and would go wherever they went—to Copenhagen or Stockholm, "the two most boring cities in the world, or even to Australia."
There was another reason for Turgenev's readiness to follow them to Baden, which for him involved a final rupture with Russia. In 1862, his novel Fathers and Sons had received a hostile reception in his native land. Everyone attacked the book—the left because they thought Turgenev had sided with the fathers and because they saw in Bazarov a monstrous caricature of the student radicals; the right because they believed on the contrary that he had taken the side of the sons by failing to denounce the novel's radical hero. Turgenev was dismayed by these attacks. For a while he thought of giving up writing. He was particularly upset by the vitriol of the young Russian radicals, who had thrown at him a "huge amount of mud and filth (and continue to throw it)", as he explained to Pietsch in 1869. They had cursed Turgenev as a "Judas, fool, and donkey," even as a "police spy." These attacks were behind his decision to make a home in Europe in 1863. They were why he would remain there—making only short trips back to Russia—during the next 20 years.
The art of conversation was so highly valued that the central landmark of the town, the casino, was housed in the Konversationshaus.
Baden was an excellent choice for all three of them. It was located near the French border, with a good train service to Paris, following the opening of the Rhine Bridge near Strasbourg in 1861; it had an active cultural and social life; and there was excellent hunting in the lovely countryside around the town. "In effect," wrote Louis, "it has all the advantages of nature—a fertile and pretty country with well-kept farms, mountain forests, healthy air and beneficial thermal waters, hunting, fishing and amusements of all sorts—and moreover it is at the center of Europe, where all the major routes converge, easily reached by visitors who may not have it as their final destination but who willingly would stop there for a while for the pleasures it offered."
As one of Europe's leading spas, famous for its doctors, sulfurous baths and healing waters, Baden was an ideal place to live for Louis, now in his 60s with an ailing liver, as well as for Turgenev, who suffered terribly from gout. With its luxurious hotels, landscaped parks and promenades, casino, opera house and music festival, it was one of the most fashionable watering places in Europe, a playground for the aristocracy, regularly visited by kings and queens, leading statesmen and ambassadors. So many politicians spent their summers there that it became known as "Europe's summer capital." According to a French guidebook of 1858, "When someone wants to know what is Europe's capital city, one must answer: in winter Paris, in summer Baden."
Baden was an international town, cosmopolitan in its outlook, liberal in its attitudes—in many ways a symbol of European culture before the age of nationalism ushered in by the Franco-Prussian War and Bismarck's unification of Germany.
Baden was part of a European network of continental spas and sea resorts which became the focus of the summer "season" for an international public. Its winter population was 8,000 inhabitants, three quarters of them German, but in the "season" between April and October it played host to 50,000 visitors, who came from all around Europe. The most numerous were the French, who arrived by steamers up the Rhine and by trains that took just ten hours from Paris. There was a Franco-German atmosphere in this summer capital. French was spoken in the town; the local newspaper, the Badenblätter, was printed both in French and in German; and French food was served in all the restaurants. But Russians also came in large numbers, around 5,000 every year. The Grand Ducal house of Baden had strong connections to the Romanovs going back to the marriage arranged by Catherine the Great between her grandson, the future Tsar Alexander I, and Princess Louise of Baden in 1793. Since then Baden had become one of Europe's major destinations for the Russian aristocracy, who built mansions there, as well as a retreat for writers such as Vasily Zhukovsky and Gogol.
The town existed solely for pleasure. Mornings were given over to the mineral baths, but in the afternoons promenaders strolled along the Lichtentaler Avenue, a tree-lined parkland walk where men would sit at tables playing dominoes or chess, and pass the time in  conversation with other passers-by. Conversation was a prized activity—the simple pleasures of sociability being one of the main attractions of spa resorts such as Baden. The art of conversation was so highly valued that the central landmark of the town, the casino, was housed in the Konversationshaus, or Salle de Conversation, where all the promenaders would converge to take refreshment in the garden cafés in front of the casino and listen to the orchestra, which played all day in the bandstand.
This is the scene that opens Smoke (1867), Turgenev's novel set in Baden, when the orchestra performs "a potpourri from La Traviata, then a Strauss waltz, then "Tell Her," a Russian romance set to music by a diligent kapellmeister"—the last to please the many Russians in the crowd. Carriage rides with picnics in the woods, shooting and fishing were also popular activities. Every other afternoon there were horse races at nearby Iffezheim, the "Goodwood of the Continent", in the estimation of one English visitor, where "princes, barons, dukes and duchesses" were seated in the stand, there was "the best music" between races, and "an excellent restaurant" supplied "hock, champagne, fruit, and the creature comforts so necessary to refresh the exhaustion of excitement." In the evenings, the main excitement was to be found in the casino in Baden, but there were also operas and concerts in the Baden Theatre, and sometimes in the Salle de Conversation, when the gambling rooms were closed.
The casino was the key to the development of these cultural attractions. Its profits helped to pay for Baden's parks and walks, grand hotels, pavilions, theaters, music festivals, resident bands and orchestras. Jacques Bénazet, an immigrant from France, had spotted its financial potential during the 1830s. He was following the example of Barbaja, who had used his gambling concessions to finance opera houses in Naples 20 years before. Securing the concession for the Baden casino in 1838, Bénazet invested heavily in the lavish restoration of its gambling rooms. He turned it into a major international attraction, especially for visitors from neighboring France, where gambling had been outlawed by the July Monarchy.
On Bénazet's death, in 1848, the concession was taken over by his son Édouard, an astute businessman and impresario who had studied at the Paris Conservatory and had good connections in the music world. In 1855, he built new rooms in the casino, opulently furnished in a classical French style, and three years later opened the racecourse at Iffezheim. From the profits of his gambling enterprise, Bénazet financed the annual music festival run for him by Berlioz with a budget large enough to attract the top musicians from Europe. He also paid for the building of an opera house. Completed in 1862, the Theater Baden-Baden was inaugurated in August of that year with  the premiere of Berlioz's opera Béatrice et Bénédict.
Berlioz had first come to Baden for a concert series in 1853, and had been the mainstay of its music festival since 1856. He loved the natural beauty of the place, a "paradise" he called it, with its "woods, mountains, streams and fragrant air." He was in his element in its society, "intelligent and cultured people who speak French." But most of all he liked the money he made there, 2,000 francs for organizing just one concert every year. Bénazet was the ideal impresario for Berlioz. His generosity "has greatly exceeded anything ever done for me by the princes in Europe to whom I am most indebted," Berlioz wrote in his Memoirs. What satisfied him most was that he was left alone by Bénazet.
As he wrote in 1859, everything is organized in favor of the conductor who is in charge; he does not have to put up with penny-pinching and no obstacles of any kind are placed in his way. In the conviction that the best course of action is to let the conductor act with complete freedom, M. Bénazet does not interfere in any way and considers his only function is to pay the bills. "Do everything in a royal style," he says, "I am giving you a free hand." Three cheers! With music that is the only way to achieve something elevated and beautiful.
No expense was spared on the lavish decoration of the Salle de Conversation when it was "transformed into a concert hall, adorned with shrubs, flowers, brilliantly lit up, and filled with the most fashionable public in Europe," in the words of Berlioz. The best singers and virtuoso players came to Baden for the festival—among them Clara Schumann and Anton Rubinstein, the violinist Henri Vieuxtemps, and Pauline Viardot, who was the star guest every year from 1859 to 1864.
——————————————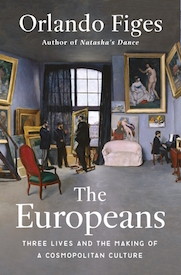 From The Europeans by Orlando Figes. Used with the permission of the publisher, Metropolitan Books. Copyright © 2019 by Orlando Figes.
---