Exempt From Certain Physical Laws: 8 Books That Will Make You Love Tennis
Just in Time for the US Open
"Tennis and writing," Geoff Dyer once wrote, "mirror each other in that within certain shared rules one's style is as thoroughly imprinted with one's DNA as a strand of hair. There is broad agreement on how to execute each stroke, coaches are always trying to smooth out little kinks in someone's game—and yet a player's style remains so distinctly his or her own that, even if their faces and clothes were blurred out, we would recognize any of the stars by their movements alone."
Many writers have an affinity for tennis. Dyer is one of the literary world's most committed players; Martin Amis is another. In his time, Vladimir Nabokov was too. David Foster Wallace, of course, is the undisputed tennis king of letters (or the undisputed literary king of the court, depending on your seats). While there's much less literature directly concerning tennis than there is say, about baseball, it seems that there are (anecdotally) rather more writers who actually play it. More importantly, there is something that strikes me as inherently literary about the sport. You play alone, for one thing—or more precisely, you are a team of one, but require, for full expression, an opposing force to receive and return (a reader, say). There is also the repetitive nature of both endeavors, the sense of repeatedly returning to the same space, with the same tools, to perform what seems a simple, ordered, straightforward task, but never really is.
The US Open officially kicks off today, so even if you aren't a fan, you may find yourself hearing rather more about tennis than is strictly usual in your day-to-day life. (If you are a fan, you've more than likely heard of most of the books below.) If you don't care about tennis, but think you might like to, consider starting easy, on the couch, with a book. You can shell out for tickets next year, when you've made it through this list and love the game eight times over.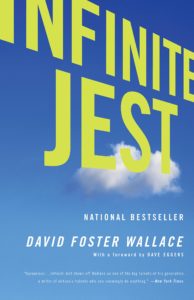 David Foster Wallace, Infinite Jest
Let's start with the obvious, shall we? Wallace's gargantuan masterpiece takes place, in part, at Enfield Tennis Academy, an elite tennis school where young players prepare for the Show—and/or do a bunch of obscure drugs, as the case may be. Wallace himself was a regionally ranked player as a youth, and his intricate knowledge of the sport played by teenage boys—with all their myths and weirdnesses—makes the ETA sections of the novel a delight. Plus, there's Eschaton, their precision-based end-of-the-world downtime, which surely ranks as the greatest imaginary game in literature.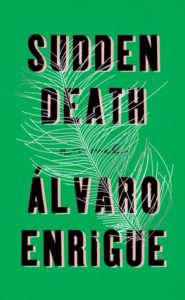 Álvaro Enrigue, Sudden Death
One of my favorite novels of last year happens to be structured around a tennis match—a tennis-match-cum-duel between the Spanish poet Francisco de Quevedo and the Italian painter Caravaggio, played with a ball made from Anne Boleyn's hair. Which is really only scratching at the surface of this novel, which isn't really about tennis, but instead uses tennis to be about everything. Still, the fact that tennis can be used in this way, in this novel—as clash of culture, as conflict of space and time, as war and as truce and as history—makes it much more fascinating in real life.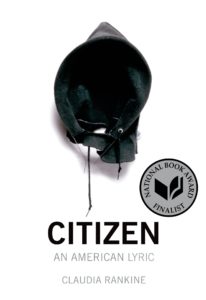 Claudia Rankine, Citizen
Rankine's urgent book-length poem on race and the American imagination includes a long section on Serena Williams, perhaps the best athlete of our time, and the layers of racism she is obliged to sift through on a daily basis. Rankine is also a tennis player, and her intimacy with the sport makes her discussion of it all the more vivid—and lets her apply its lessons outward to the whole book, not to mention the whole country. She describes the famous 2004 game, Williams vs. Capriati, during which umpire Mariana Alves repeatedly made bad calls against Serena:
The serves and returns Alves called out were landing, stunningly unreturned by Capriati, inside the lines, no discerning eyesight needed. Commentators, spectators, television viewers, line judges, everyone could see the balls were good, everyone, apparently, except Alves. No one could understand what was happening. Serena, in her denim skirt, black sneaker boots, and dark mascara, began wagging her finger and saying, "no, no, no," as if by negating the moment she could propel us back into a legible world. . . . Though no one was saying anything explicitly about Serena's black body, you are not the only viewer who thought it was getting in the way of Alves's sight line.
A few pages later, at the end of the section, there is a full-color, bleed-to-edges photograph of blonde-haired, blue-eyed Caroline Wozniacki, her bra and shorts stuffed with towels to impersonate Serena. I dare anyone who had never before known about this, never followed Serena's career, never cared about tennis, to read this book and not look up the video, not read more, not go into a Serena Williams-shaped rabbit hole for at least an afternoon.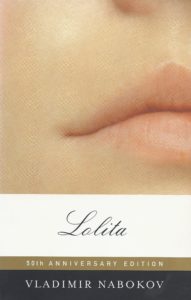 Vladimir Nabokov, Lolita
Nabokov was a great player of tennis (see his letters, too, for many mentions of more-and-less memorable matches) as well as a coach; he knew his stuff. Buried deep in the back half of Lolita is a really remarkable tennis sequence, the game played by Dolores Haze, but of course, seen through Humbert Humbert's eyes:
The exquisite clarity of all her movements had its auditory counterpart in the pure ringing sound of her every stroke. The ball when it entered her aura of control became somehow whiter, its resilience somehow richer, and the instrument of precision she used upon it seemed inordinately prehensile and deliberate at the moment of clinging contact. . . . My Lolita had a way of raising her bent left knee at the ample and springy start of the service cycle when there would develop and hang in the sun for a second a vital web of balance between toed foot, pristine armpit, burnished arm and far back-flung racket, as she smiled up with gleaming teeth at the small globe suspended so high in the zenith of the powerful and graceful cosmos she had created for the express purpose of falling upon it with a clean resounding crack of her golden whip.
It had, that serve of hers, beauty, directness, youth, a classical purity of trajectory, and was, despite its spanking pace, fairly easy to return, having as it did no twist or sting to its long elegant hop.
(Still, he's satisfied enough to beat her when they play, and there is something deeply cruel in this—a kind of piling on.) So perhaps this is only to say that Nabokov could get me to care about anything, but I watch tennis now awaiting—and sometimes finding—this kind of visual magic, this poetry in motion.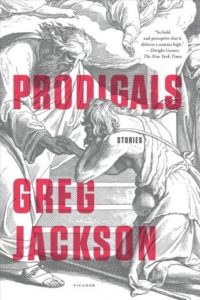 Greg Jackson, Prodigals
Just for "Serve-and-Volley, Near Vichy," the collection's second story, (you can also read it here, at VQR) in which a man and his ex-tennis pro girlfriend visit her ex-tennis pro friends (one of whom, Léo, was once a top player, and is something akin to famous) in the French countryside. It's an existential treatment to be sure—self-consciousness, consciousness of self, characters asking if they exist with varying levels of sincerity—but evokes something very real of the magic of the sport, and the way we think about its players.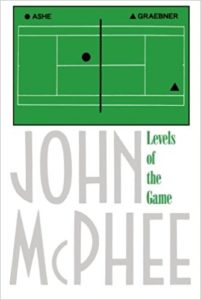 John McPhee, Levels of the Game
The classic, in which McPhee both provides a beautiful stroke-by-stroke narration of the 1968 US Open final between Clark Graebner and Arthur Ashe, and profiles both elite players, Graebner white, Ashe black. McPhee uses these two thrusts to delve deeper than most sports narratives, turning the game into a mirror for the world outside the court, painting a portrait of the changing world and a racial dichotomy taut as racket strings. Plus, McPhee's a phenomenal writer, which doesn't hurt.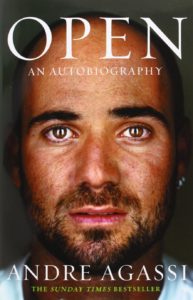 Andre Agassi, Open
I know, I know—but here's a sports memoir that is actually good, and not only good, but real literature, written in collaboration with Pulitzer Prize winner J.R. Moehringer, who insisted that his name not appear on the cover or title page. It is famously revealing (Agassi did crystal meth, Agassi threw matches, Agassi wore lifts in his shoes) but also intensely evocative, especially of Agassi's relationship with his hard-driving, hard-minded father ("Violent by nature, my father is forever preparing for battle. He shadow boxes constantly. He keeps an ax handle in his car. He leaves the house with a handful of salt and pepper in each pocket, in case he's in a street fight and needs to blind someone."). Sam Tanenhaus, writing in The New York Times Book Review, called it "one of the most passionately anti-sports books ever written by a superstar athlete—bracingly devoid of triumphalist homily and star-spangled gratitude." It will bring you inside tennis in a way that no other book will. That is, a really bad way. (But I mean that in the best of ways.)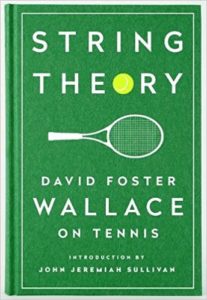 David Foster Wallace, String Theory
Wallace's fiction is legendary, but Wallace's essays are even legendarier—particularly his essays on tennis. Most people I know would describe him as the best tennis writer of all time (BTWOAT?), so it seems fitting for him to grace this list twice. This volume includes five essays about the sport, including the much-lauded "Federer as Religious Experience." Take it from Lin-Manuel Miranda, who told The New York Times Book Review that Andre Agassi's Open (see above) "and David Foster Wallace's Federer essay turned [him] into an avid tennis fan." Or from Geoff Dyer again, who noticed, memorably, that "as a writer Wallace is as compulsive as Nadal, forever rearranging his water bottles and pulling his shorts out of the crack of his ass; he's as twitchy as Lleyton Hewitt; as much a monologuist as Murray. This, it needs emphasizing, is all part of the fun."
I should also mention that the (wonderful) introduction to the book is written by the exceptional essayist John Jeremiah Sullivan, a tennis fan whose "Venus and Serena Against the World" is also well worth a read.
---
Listen: Claudia Rankine talks to Paul Holdengräber about objectifying the moment, investigating a subject, and accidental stalking.
---