Everyday Horrors: Life at the Intersection of Art and Death
Gina Nutt on the Appeal of the In-Between
I used to imagine wanting someone alive would revive them, if caught right after dying. If I went after them, buoyed by reflexive hope, I might bring them back. Like losing something—a bracelet, a pair of sunglasses, a plastic sandal—over the side of a boat, seeing the outline dim as it sinks. I'd flood with instinct. Dive into the water right away, head first, to retrieve what was lost.
If I look at the sky at the right moment, evening and morning mirror each other—the light, the sky, the air's vague smell. A hazy line blurs the intervals, deepens my readiness to disorient myself, to lean deeper into dreams where I am falling and feel awake.
I have become acquainted with the creature feature: Life emerged from lake or sea, an isolated town, a gash in arctic ice. Ugly, ancient, miraculous. Some living thing scientists have not yet discovered. Some living thing scientists created, or found, and hid.
How body horror wrecks the human form: An infection, a botched experiment. The skin newly revised: a brilliant rash, cracking dryness, molted to accommodate a larger shape. Eyes bloodshot or jaundiced, blacked through by change. Pupils dilated wide, irises pressed into rings too thin to see. The spine, a seam where a costume zipper may hide.
I have watched rituals summon the supernatural and accidents awaken ghosts. Someone calls back from beyond the grave. Sometimes they take someone back with them.
Zombie and vampire films are familiar: Infectious bites and apocalypse templates. Eternal afterlife outlines for the undead. Survival strategies for the living.
Occasions for a slasher: Slumber party. Football game. Summer camp. Sorority. Cabin getaway. A too-perfect-to-be-real small town, often harboring secrets. A dream becomes a nightmare. First times. Making love in cars, on basement couches, living room couches, in the woods. Holidays and celebrations. Halloween, Christmas, Valentine's Day, birthdays, graduation, prom.
Events inspiring chainsaw massacres: Summer vacation, a road trip. A cannibal family living in a house of hoarded, dusty objects collected from victims. Almost everyone dies. Someone gets away in the end, but not really because the driver in the flagged-down car is a villain. Or the survivor goes to a hospital and when she stares out the window all she sees is a sunset and a fence, a man in a suit, tie, and white shirt. The man swings a chainsaw at the horizon. The blade splits the sky from the earth.
*
Someone noted as we walked around a city together that I ran across the crosswalk when the pedestrian light changed. Scamper, scamper, scamper, he sweetly teased. Breaking this habit is tough. My husband knows. He reassures me, You don't have to run.
*
Hands cupped as if asking for a communion wafer, I crept into the kitchen from the garage, approached my mother to show her what I'd found. The mouse was tiny and brown. The mouse was dead. I hadn't known. This is a story I have been told. I don't remember being there. Hearing a memory is like listening to someone describe a movie I can't remember seeing.
I used to imagine wanting someone alive would revive them, if caught right after dying.
I remember the afternoon I set a butterfly in a doll house. The wings flickered and flattened, a black and orange mosaic like Halloween decorations laid in a box for storage. I ran the elevator, thinking one motion may inspire another, a domino effect, or seeing an object and finding the word to name it: plate, book, door. Whichever parent noticed may not have said dead, but this is as far back as I grasped the word uniting with the act. On its own, dead seemed inert and distant, different from understanding what it means to die, the feeling of being a witness.
The still wings unfolded a familiar fall in me. I sensed it watching a girl and her dog run from a funnel the sky focused on Kansas; an orange cat in a box floating down a river, missing his dog friend, listening to night sounds; a sea witch rising from ocean depths. I felt it when I saw night darken the golf course beyond the backyard and the photo of a bicycle found without a girl and her school picture in the newspaper; my parents warning someone could take me. The feeling may have been dread, a widening twinge, an ache I felt but could not name.
*
Some films suggest death is a temporary symptom relieved by waking. I remember Snow White in a glass casket, surrounded by forest animals gathered in collective mourn; Sleeping Beauty in bed, her hair fanned out on a white pillowcase. Movies about dream places seemed related. Dorothy carried by flying monkeys to a tower where she watches the red sand of her life nearly run out. This seemed tame compared to the sequel, in which Dorothy is admitted to a clinic for electrotherapy. A thunderstorm knocks out the power. A candy striper rescues her from the gurney. The girls run into woods beyond the clinic, a rushing river carries Dorothy back to Oz, which is in disrepair, populated with evil creatures. A princess steals heads to swap with her own, displaying her options in a hall of glass cases. She wakes one night to shattering, her headless frame rising from the mattress.
The in-between appealed to me. Pressing my cat's paws—the pink jellybean pads—against my closed eyelids, shapes and colors appearing. Swirls spun from blackness, circles and diamonds in pink, blue, and green. I liked how my body made that light.
*
The cartoon wolf movie is streaming this month. The birthday I turned eleven, my mother's boyfriend hauled sound and light equipment from work into our living room for my party. He spelled my nickname in neon light on the wall. I wore an outfit from Limited Too, my hair scrunchied in a ponytail. A boy with a bowl haircut gifted the cartoon wolf movie. I added the tape to my family's video shelves and didn't watch it. I still have it in a bin in my basement.
I worked for my English teacher during eighth-grade study hall, stapled packets and hole-punched worksheets to snap into three-ring binders. She brought me snowball snack cakes, marshmallow and pink-tinted coconut around chocolate crumb. The week the boy with the bowl haircut took his life, I arrived at study hall to work, instead of attending the wake with my classmates. My teacher seemed surprised. My mother may have called the wake morbid.
By then I knew about my great uncle's death. A principal dancer for the San Francisco ballet, he died by suicide during the company's 1969 run of The Nutcracker. I'd researched and written about him for projects and reports, because as a young girl I too was an aspiring ballet dancer. My grandmother, who was his sister, humored my interviews. I questioned whether all her stories were true—like the one in which my great uncle danced on a cable above the Golden Gate Bridge for a popular variety show. I craved a full picture of his inner weather. I wanted to hear something different and better understand. I wanted him alive for the brief spell earned when talking about someone who is dead.
*
I've heard each time a person remembers or shares a recollection, the mind archives the recall. The telling becomes a memory. New details emerge or sharpen, others blur or fade.
I've heard each time a person remembers or shares a recollection, the mind archives the recall.
A Syracuse news clip from December 1986 shows a shopping mall, a movie theater marquee—titles, times, ratings. Lights aglow, framed film posters. The anchor describes a holiday boost in shopping and movie attendance: Nat Tobin from USA Cinemas credits the surge in moviegoers to producers who are making a variety of movies that offer an alternative to what's already on cable and available for home video systems. So while producers may turn out more blockbusters, only time will tell if they'll be as successful as some of the old classics.
The anchor highlights forthcoming films. One clip shows a monstrous plant in a flower shop, belting a plea for human blood. The plant's stems and leaves wave, its giant puppet-mouth flaps.
Preference and context may influence a personal canon; the things we like matter as much as the things we experience, or the moment we see, or re-watch, a film.
I plug in my laptop, click on the TV. Repetition is not new. Titanic's home video release came as two tapes. I watched so many times the VCR choked on the first one. My mother pried it out with a screwdriver.
I play something familiar, a movie or show I've already seen. I repeat seasons. I stopped counting how many times. I don't think I ever counted. I don't call this catharsis; it's closer to the feeling I get watching a slow-burn, how the movie expands my capacity for dread as it delays a jump scare or reveal.
In Scream, the horror nerd who works at the video store and drops genre tropes and rules throughout the movie says: It's the millennium, motives are incidental.
I may say an intersection is not a sameness, movies aren't life, but a recognizable flicker, an event witnessed or experienced. A tape rewinds. The images replay. What fades? What is apparent this time? What did I miss before?
*
An index can obscure a feeling. A catalogue can footnote specificity. Both things can be true.
I once watched my brother spiral dish soap and water into a mixing bowl. He guided a wasp into the mixture and clapped a dinner plate over the top. I looked on, ready to run. My brother lifted the plate, revealed the wasp kicking in the soapy water. I felt a splash, a flutter, the bubbles in the frothy solution rupturing inside me.
The composer John Williams says of music in movies: It's one of the beauties of the film medium that it's the combination of the visual and the situation—this being the shark or the knifing scene in Hitchcock's Psycho—combined with the notes; that combination of sound and image forming a memory.
A man approaches a beautiful woman in a mint-green bathtub in a vast, old hotel; a boy peers over the edge of his bed to gleeful laughter; a swimmer's legs kick through water, deep ocean-floor thumping, an orchestra accelerates. No matter how many times I watch these scenes, I still hold my breath. I may be waiting or hoping something different will happen.
I know another fin may appear on the horizon, my impulse to think shark when the fin could belong to a dolphin.
I used to imagine I'd get to say goodbye to everyone. I saw a serene, floral sleep, my hair on a satin pillow, many well-dressed mourners. I saw in what I watched. Context turned consequence. Prick a finger. Bite an apple. Get in the car, walk home alone, go in the room, go down the stairs, board the plane. Stay in bed and await an unseen funnel to swallow me. Go to sleep and forget: the stove, the deadbolt, how gas smells, which isn't how gas smells in its natural state, but mercaptan, an odorant added so dwellers recognize a leak by the smell of rotten eggs.
An index can obscure a feeling. A catalogue can footnote specificity. Both things can be true.
A woman or girl alive when a horror movie's credits roll joins an ancestry of women and girls who have done the same. They make a lineage of final girls. Each outlasted a struggle knowing she'd someday die, that anyone's immediate survival is only as urgent as the danger before them.
A rope split the shallow end from the deep. I sat on the diving board, kicking my toes in the water, while my brother cleaned the pool. I had on a blue jumper with a whale my mother painted on the front pocket. My brother swept the net through the water. He raised the skimmer, palmed a frog. Reaching for it, I fell in. My dress billowed around me. I saw the sky and sun clear through the water. I didn't think of swimming or drowning. The movements I learned in swim class were taught at the surface, my sinking happened below, too fast to pick a stroke. It almost didn't seem to be happening at all. I let myself fall back. Like action playing backward on a screen as a tape rewinds, slipping into the VCR's hum and whir.
If we attach ourselves to art, maybe art can attach itself to us. Do I find the movies or do they find me? I am making a lineage of what lingers. I am trying not to be afraid anymore.
__________________________________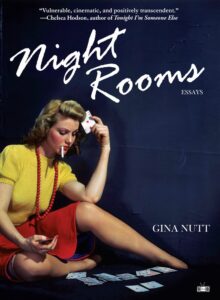 Night Rooms: Essays by Gina Nutt is available now via Two Dollar Radio.
---