Evan Hughes on Writing the Book Behind Pain Hustlers
"The saga I'm obsessed with is getting another life."
Evan Hughes's 2022 book Pain Hustlers (formerly The Hard Sell) is the inspiration behind the new Netflix film starring Emily Blunt and Chris Evans, premiering today. It's "the inside story of a band of entrepreneurial upstarts who made millions selling painkillers—until their scheme unraveled, putting them at the center of a landmark criminal trial."
To celebrate the premiere, we asked Evan what it was like to have the book adapted (by fellow author Wells Tower), his favorite book-to-screen adaptation, and more.
*
What notes or pieces of inspiration did you share with the creators?
One of my favorite aspects of reporting is learning the lingo of the subculture you're covering. For a piece I published this year about short sellers on Wall Street, for example, I was delighted to find out that if you think a company is destined to go bust, you call it a "bagel." A bagel is shaped like a zero, and that's where the stock is headed.
In reporting my book, I picked up some of the argot of pharma sales. For a drug rep, the essential skill is "getting back"—finagling your way past the "gatekeepers" at the front desk of a medical office so you can schmooze with the doctor face to face and make your pitch. I remember sharing tidbits like that with the screenwriter, Wells Tower, who seemed to get the same kick that I did.
What's the best part of having your work adapted for film?
I'm fascinated, of course, by the story I spent years covering for my book. Power, greed, suffering, betrayal, it's all there. It's an incredible human drama that also sheds light on a tragic national crisis. The movie isn't a straight adaptation or retelling—it takes the book as an inspiration and point of departure—but it means that the saga I'm obsessed with is getting another life, in a different form, and reaching a new audience, and I'm pleased about that. I'm naturally hoping that viewers get curious about the book as well.
What's your favorite book to screen adaptation (other than your own)?
I think No Country for Old Men, directed by Joel and Ethan Coen, is a spellbinding movie, a suspenseful crime story with an undercurrent of nihilism and an unforgettably terrifying performance by Javier Bardem. Cormac McCarthy first wrote the story as a screenplay, which was never produced, before writing the novel that inspired the film.
If you could play a minor role in the adaptation, what would it be?
You get a few glimpses in the film of regular people who are confronted, for a moment, with the outrageous chutzpah of the characters at the heart of the story. Some are just stunned while others are completely snookered, taken in by unscrupulous people with a gift for gab and real powers of persuasion. Those are good roles.
If you could see any book adapted, what would it be?
I'm among the many people saddened by the fact that a screen adaptation of Jonathan Franzen's The Corrections did not pan out. Let's hope for another attempt. There's also a true story that took place in Buenos Aires that I think has the makings of either a great book or a movie or both, but someday I might take a crack at it myself, so I'm not telling.
________________________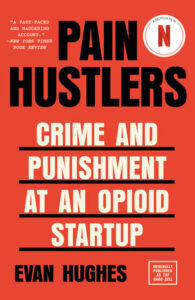 Evan Hughes's Pain Hustlers is available now from Anchor.
---