Escaping the Solitude of the Writing Life Through Letters
Anuradha Roy on Her Writing Residency Tradition
In April this year, I turned the key in the door of an apartment on the tenth floor of a grey building and walked into an ocean of light and sky. A bare, enormous room with white floors and walls, a few pieces of furniture including a brown couch in an advanced state of infirmity. The eastern wall was entirely glass—sliding doors from floor to ceiling, leading out into a balcony overlooking an endless stretch of water where the Loire met the Atlantic. Seagulls swooped past the window to the lighthouse nearby. The apartment felt like a ship—nothing but water on every side. Holding on to the balcony's banister and looking at the sheer drop downward, I saw Icarus tumbling through the burning sky.
The manager of my first-ever writing residency handed me a single sheet of paper before she left. "Dear Anuradha Roy," it began, "I am writing you these words to wish you a warm welcome in Saint-Nazaire. I hope you will find inspiration in the contrasting sceneries of this port city with the peaceful surroundings of your house in, as I picture it, a snowy Himalayan village."
The letter was from a woman who did not know me, as I did not know her. In the tradition of this residency, the writer whose term preceded mine had written to welcome me. "I truly hope you will find in this city as much inspiration as I did myself," she ended. "Please accept this letter as a token of our literary friendship."
For the first fortnight of the seven-week-long residency, my husband was with me. We discovered the flat together. He found remnants of olive oil and balsamic vinegar in the kitchen, I found an unopened packet of coffee. Salt, pepper, honey, rice. Aspirin. If you were stranded on a desert island, what could be more fundamental to survival? These had been left on the shelves, maybe by the writer before me, or perhaps she had inherited some of it from her predecessor. On the shelves were books in many languages, and a Complete French Grammar in which some previous resident had made a valiant attempt to grapple (in meticulous penciled exercises) with infinitive verbs, before giving up, around about page 7.
Two weeks later, alone in the flat for the first time after my husband had gone back to our dogs and publishing house, it seemed cavernous and deathly quiet. My voice bounced off the walls and uncarpeted floors when I talked on the phone. At night the ocean was dark, the streets empty, the blinds grated and rustled as if mice lived in the flaps, the wind sighed and sometimes screamed, and the bridge to Saint-Brevin-les-Pins on the south bank of the river was a moving stream of headlights flowing into infinity. What was I doing here, I wondered, so far from home, in the middle of nowhere? When I had finished five novels in my chaotic little cottage which fitted in four dogs and our publishing house, what need had I to be on this ship that went nowhere? As I tried to push back my panic at the thought of the next few weeks, I reached out for a sheaf of old letters on the shelf from resident writers to their successors.
"When you have lost count of the passing ships, you can always restart," suggested a Chinese writer.
"And of course the remedy is always the ocean…" wrote a writer from South Asia.
"Although they call me "the Chernobyl writer," don't worry, I didn't leave any radioactivity in the apartment," wrote a writer from Ukraine.
"Doing the laundry.
Watching the pigeons.
Solitude is a science."
A poet's contribution.
*
Solitude is a given for a writing life. It has not only to do with the hours spent alone at a desk, but a sense of being alone in the world. Writing is not a team sport. Lifelong feuds between authors over an unkind review are the stuff of legend, while subtle put-downs and comparisons are hazards every writer has to deal with. But these are not the only ways in which writing is solitary.
Solitude is a given for a writing life. It has not only to do with the hours spent alone at a desk, but a sense of being alone in the world.
Coming from India, where the public space has been shattered by violence, censorship and fear, a writer can be an acutely marginal figure. What matters in India are politics, cricket, film stars, and increasingly, caste and religion-centerd battles fought in homes, streets, the internet. It feels like a country on the brink of civil war, perhaps already in a version of civil war that takes the form of ceaseless, daily attrition. How to admit, in such a situation that you are a writer? I have never dared call myself one, taking refuge in my other identity as a designer for our press. That seems a somewhat legitimate, even useful, profession.
Here, in this small French town by the sea, the only identity I have is that of a writer. In the apartment building, everyone knows that on the tenth floor, every few months, comes a new writer from far away, to stay, write, leave. During exchanges in the elevator and at neighborhood shops I have learned to answer in my mangled grammar: "Oui, je suis une écrivaine… je suis romancière." As I say the words, I sense that this conversation has taken place many times in this building, where that tenth floor flat has been home to transient literary-minded beings for the past thirty-four years. In this flat filled with echoes, I sense a fellowship of writers who have faced the same struggles as I do, mundane or profound, spanning recalcitrant flushes and great themes.
"I can only tell you that in that space of the apartment for the residents, ten stories up, everything is written but also everything is blank, like a beautiful clean and arranged page… On the one hand, there is a past from which, in one way or another, we come, a tradition if we wanted to call it that, where we have a large family of other writers who preceded us and whom we summon according to the state of our mind and our spirit…." wrote one writer here to his successor.
In several of my novels, I now realize, there are epistolary sections. In a narrative sense, since letters are written in the present, and since they are written to an individual reader, they create a sense of the present moment, and of direct, intimate revelation, as few other narrative forms do. And, as with the novel, the form of a letter allows infinite freedom—it can have poems, reflections, digressions, news, riddles, questions, confidences. In the age before email, when letters went back and forth in envelopes, they could include material objects such as dried flowers. That is freedom even the novel has never experienced.
*
Caro O—,
I am writing this letter to you in the form of advice, like an older brother who before you had the experience of living in Saint Nazaire … If you happen to [drink too much], first do a memory exercise: the elevator is immediately on the right, from the fifth to the tenth floor the path is all uphill … I left you an Italian coffee machine. You must know that it cannot stand imperialist or globalized drinks. To please her, the best you can find in Saint Nazaire is Lavazza Gold. . .
Yours, M.A.
In one sense, these letters are a metonymy for fiction itself.  The entire shifting, sliding, iridescent, kaleidoscopic view of the universe in fiction and memoir is distilled and concentrated here, and a procession of writers over time, from different parts of the world, and in languages as varied as Chinese and Portuguese, write of the same ocean, the same sofa, the same struggle to find meaning and story in their few weeks in this apartment. In another sense, if reading is an intimate relationship between writer and reader, these letters intensify the intimacy to a level beyond compare. In which book or essay could I have entered the room described in the book, used the same coffee machine, walked the same streets, and sat suspended on the same battered sofa in a dreamlike state, hardly noticing the hours pass, looking at boats sailing by in the same estuary?
You may feel as I do that it is a magic TV in front of you. This TV broadcasts the same programme. This is a programme in which nothing much happens. The only occurrences are the everyday movements of the living city and the port. But it's a great programme!
Where did that writer go back to, with the magic TV lodged in his head, I wonder; what did the others end up doing after they returned to their own, daily lives? There is a sense of being in disguise here, of being lifted and placed in someone else's skin. Did the others feel this way too? Did they write books with bits of our life in this town studded through the narrative like raisins in a fruitcake? The bookshelf here still holds scribbled notes about a character one writer was coaxing alive. I chanced upon the notes and set them back after my first glance, feeling I was intruding. On the work table is a set of printouts from a novel in progress by someone else—I cannot tell who. There are books the others have left, as well as yoga mats, doodles, dictionaries, coins, shells, an oil painting. And most touching, a postcard showing Professor Calculus of Tintin collapsed on the floor, stars in red and yellow spinning around his dazed and muddled head. Every now and then I look at the postcard and tell him, "Professor, I know how you're feeling."
Chére. Caro. Querida. Liebe. In this flat high above the Loire estuary in a small town on the west coast of France, I am discovering love in new languages, from strangers. In these other languages, scattered through pages in disarray on my new table, the words are intimate, gentle, compassionate. They reach out across time and space to tell me they understand. They know my sense of vertigo, uncertainty, and hope because they have been here before. Literally.
With the letters nearby, it feels as if the sympathetic ghosts of writers past are watching over me. It is a sheltering gaze. "I did not kill the two very dead plants in the balcony," I will write, to the Bolivian writer who will be here after me, "they were dead when I came. Please sprinkle the birdseed I've left for the sparrows and pigeons." I will leave him things to make his first days easier, olive oil and vinegar of course, maybe rice and lentils too. He will feel as I do here, cared for by the many writers before me whose footsteps are printed forever into the sands of the Loire-Atlantique. And his work, as mine, will grow in the soil nourished by writers before us.
___________________________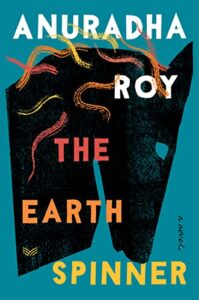 Anuradha Roy's The Earthspinner is out now from HarperVia in the US and Mountain Leopard Press in the UK.
---